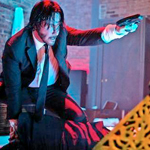 I never figured Keanu Reeves would become an action hall-of-famer, but here we are. Of course he stars in the great POINT BREAK, but we can't lie, we all kinda chuckle at his FBI surfer dude Johnny Utah in that. And then he was good in SPEED, but would that be enough? If that was enough Matt Damon would be an action legend. Of course, playing Neo in THE MATRIX trilogy sealed the deal, Reeves learned to do all that kung fu and that hadn't really been done by a normal actor like that before and those movies and those fights hold up today. Still, it seemed like an anomaly in his career. He would always be Neo to the world but that would be it for Action Keanu, right?
Nope. Because he directed last year's martial arts gem MAN OF TAI CHI and played the villain, creating and performing some more classic fight scenes. When I saw that I realized it was time to acknowledge his greatness. 47 RONIN put a little bit of a damper on that though because it was so boring I never even wrote a review. If I had it would've said "Some of the monsters are cool" and that's about it.
But after JOHN WICK, Reeves's strong connection to Badass Cinema cannot be denied. This is a fun, violent, straight-ahead revenge action movie. Reeves did not direct it, but his stunt double from the MATRIX movies, Chad Stahelski, did*. So it's probly a style of directing too dangerous for Reeves to perform.
I'm always excited for movies from stuntmen-turned-directors, but they're not always a sure thing. These guys keep the dream alive, not only utilizing their experience as 2nd unit action directors but also really knowing how to tell a story and design and shoot a stylish movie.
As we knew from watching the trailer over and over like a kid watching the Lego movie, Reeves plays John Wick, a retired hitman who was so elite the Russian mafia he worked for called him "Baba Yaga." He started a new life when he got married to Bridget Moynihan, but she just died. Of a disease, though, nobody killed her, so it's not like he can avenge anybody for that.
But let's just say this would be a bad time to fuck with him.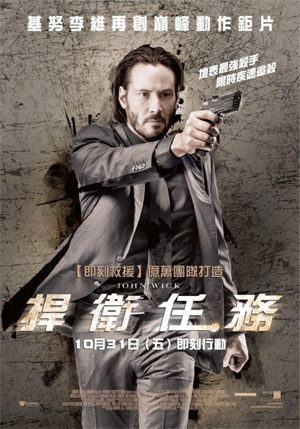 You guys know I love a good movie like this that doesn't feel the need to try to reinvent or comment on its genre, it's perfectly comfortable just glorying in it, doing a good job of it. A movie can feel like it's dusting off all the old cliches, but in this it feels like it's honoring the old traditions. I think you will all notice that JOHN WICK proudly uses two of the absolute bedrock action tropes that I love: the "just how badass is he?" speech and the "let's put down our guns and fight like men" climactic duel. Because guns are so… uncivilized. Inelegant imho. Just my 2 cents.
And of course there are plenty of other ones. The one where the hero is brooding in the shower and we see for the first time that he has a huge tattoo on his back. (It could've also been scars but in this case they go with tattoo.) And he's got lots of the Old Friends who would be willing to die for him and/or are quick to betray him. It seems like everyone he runs into is someone from the old days and they're on a first name basis. And they're in awe of him. Everybody knows who John is and what he's capable of.
Everybody, that is, except Iosef (Alfie Allen from Game of Thrones), son of Russian mob kingpin Viggo (Michael Nyqvist, leading man in the Swedish GIRL WITH THE DRAGON TATTOO trilogy, so now he plays various European villains in American movies). Iosef and a couple of his asshole friends think they're cool driving around pumping the bass, doing jobs for daddy, drinking champagne in hot tubs with the ladies and feeling entitled. So when Wick won't sell them his awesome '69 Mustang they attack him at home, steal the car and – man, this is a mistake – kill Daisy, the puppy that Wick's wife had sent to him after her death. They think he's just some random dude they can get away with doing this to.
So basically this is about how the young generation doesn't know shit, and now it's time for them to learn.
The writer, Derek Kolstad, already did two pretty good DTV movies about colorful criminal underworlds, ONE IN THE CHAMBER and THE PACKAGE, both co-starring Dolph Lundgren. This one reminds me a little bit of a different DTV movie, THE TOURNAMENT, because it takes place in a cartoonish world where elite hit-people are so plentiful they have a fancy hotel they can all stay at where they're not allowed to kill each other. But plot-wise it's a little bit like OUT FOR JUSTICE because it's so simple: he's chasing this guy and everybody knows he's gonna kill him but they still try to get in the way and they die. He doesn't bully people quite as cruelly as Gino, but he wastes no time just walking into a room and killing somebody. Even if the room is a church and the somebody is a priest.
Viggo's verbal response to finding out what his son did is a classic moment. He immediately believes that Iosef's death is inevitable, and tells him as much. But he's the dad so he knows he has to go through the motions of trying to protect him. He's the rare villain who doesn't necessarily believe he's gonna win.
There's a great cast of supporting players, lots of guys with good action backgrounds popping up for a bit. Daniel Bernhardt (BLOODSPORT 2-4) is one of the main henchmen. John Leguizamo (OUT FOR JUSTICE, EXECUTIVE DECISION) has an excellent scene as the guy running a major chop shop. When he sees the Mustang he's so positive John Wick is gonna pay him a visit that he already has a glass set out to pour him a drink when he arrives. David Patrick Kelly (THE WARRIORS, COMMANDO) performs an important service for the assassination industry. Wrestler Kevin Nash (THE PUNISHER, DOA: DEAD OR ALIVE) has a really good little guest appearance. Mixed martial artist Keith Jardine (RECOIL, TACTICAL FORCE) is another henchman, although admittedly I didn't recognize him now that his facial hair is more tasteful. And Ian McShane (DEATH RACE) and Willem Dafoe (TO LIVE AND DIE IN L.A.) and Adrianne Palicki (GI JOE'S RETALIATION) and others. Oh, and Randall Duk Kim, the Keymaster from MATRIX RELOADED-REVOLUTIONS has a nice little cameo.
But who are we fooling, this is Keanu's show. The story is all about building up Wick as a legendarily bad motherfucker, and then when it's time Reeves lives up to it with a whole bunch of great fights, many featuring a unique type of gun play. So many modern action movies – let's take the recent THE EQUALIZER, for example – you just gotta take their word for it that the hero is able to come into a room and just kill everybody. They use closeups and quick cuts and you like the actor so you pretend along with it. In JOHN WICK it's easier to swallow because of the way Reeves moves his lanky limbs. He shoots most of his opponents but usually at close range after exchanging martial arts blows. It doesn't look like he's on wires in this one, and he adds a bunch of grappling to his repertoire. Most importantly he's allowed to kill a whole bunch of people in a row without a cut, and more often than not with the camera pulled back enough to show all his physicality.
And it's a good acting performance too. He gets to be menacingly quiet, deliver a couple funny lines and at one point explode into an angry yelling monologue.
I mean, there must be something special about Keanu. He pulls off hair dos that none of us could.
As much as this is a kinetic and exaggerated action movie I think they do a good job of anchoring it in some emotions right at the beginning. The opening scenes about the death of his wife don't feel like perfunctory setup. They take their time, use some POINT BLANK/THE LIMEY style elliptical editing to blur the line between present and past, and make you really feel sorry for him. Poor John Wick. Things were bad enough before these pricks came into his life. Hard not to root for him to stick a knife in a guy's chin.
A favorite detail: he keeps his dead wife's bracelet on his night stand, so after they kill his puppy he puts her collar there next to it. All this happens the day after his wife's funeral, so he's still got alot of mourning to do. He has lots of old friends but he hasn't talked to them in years, since getting out of the game. His way of dealing with it, it seems, is getting up at 6 am to go do donuts on an airstrip (the guard knows him and lets him in). It's the car version of that part in FOOTLOOSE where he goes to the warehouse to dance away his angst.
And by the way, after they steal his Mustang he rides the bus. He's a car guy but he's not afraid of public transportation.
I'm confident that this will earn the approval of most of the Badass Cinema community. It immediately made me want to go back and watch MAN OF TAI CHI and the MATRIXes again. And then JOHN WICK again. It's an excellent capper to a run of enjoyable theatrically released asskicking movies in the last couple months. Those were pretty solid but this is something special. Stick with Wick.
*IMDb and numerous articles say it was co-directed by David Leitch and Chad Stahelski, but the movie and poster only credit Stahelski.
This entry was posted on Monday, October 27th, 2014 at 11:59 am and is filed under
Action
,
Martial Arts
,
Reviews
. You can follow any responses to this entry through the
RSS 2.0
feed. You can skip to the end and leave a response. Pinging is currently not allowed.