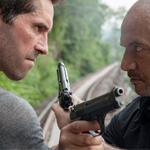 It's weird that they would make a HARD TARGET 2, huh? I mean, it's a DTV sequel, and the kind that doesn't have any of the same actors or characters, just the title and the premise. But the part that surprises me is that it means the Master Control computer and its algorithms have figured out that we love HARD TARGET, that it's a title that means something to us. I hope HARD BOILED isn't next. Maybe STONE COLD would be okay though if they did it right.
Anyway, they went ahead and made it, so I'm glad they got a solid group of people working on it. The director (and also director of photography) is Roel Reine, helmer of such enjoyable DTV part 2s as DEATH RACE, THE MARINE and THE MAN WITH THE IRON FISTS, and he filmed it in Thailand, where he has alot of experience. The script is credited to the relatively unknown Matthew Harvey & Dominic Morgan (FUTURESHOCK: COMET, one episode of Taggart), but a press release also named George Huang, the director of SWIMMING WITH SHARKS. (Not a shark movie. Ask somebody who was into film in the '90s.)
In the lead is our greatest modern action star, Scott Adkins. He does not sport a mullet or Cajun accent, and he's not playing Chance "My Mama Took One" Boudreaux or his son Fingers Crossed Boudreaux or anything like that. He's Wes "The Jailor" Baylor, rising MMA star exiled to an underground fighting circuit in Thailand after accidentally killing his best friend in the ring.
He's not too mopey about his humble life living in a shed, and he's reluctant to take an offer from some rich asshole at a party named Aldrich (Robert Knepper, HOSTAGE, TRANSPORTER 3) to fight for big money. But he goes with him to Myanmar, where he finds that, like the homeless veterans in the original HARD TARGET, he's actually been hired to be hunted by rich people. (Donald Trump's sons have definitely done this, by the way. You know this.)
Knepper's character is not hugely different from Lance Henriksen's, but he gives it his own brand of bordering-on-mega intensity. His Arnold Vosloo style right hand man is Temuera "Grand Army of the Republic" Morrison, who also worked with Reine in THE MARINE 2 and THE SCORPION KING 3. He gets less to do than Vosloo, but I believe he does get to fire the same type of metal-tipped arrows.
A smart addition to the proceedings is to give the hunters personalities and gimmicks. There's a video game designer (Jamie Timony) who assumes Baylor will recognize him from the cover of Wired (it turns out maybe he doesn't read Wired). There's a famous matador (Adam Saunders) who would like to murder a human every once in a while instead of a mere bull. The most memorable is Rhona Mitra as a cold-hearted oil company heiress. She exhibits many cliche female stereotypes, but she does it so well! She seems like more of a formidable opponent than the men, and she not only fights the female lead (Ann Truong as a local who Baylor meets when he rolls down a hill and bumps into some elephants) but has a long one-on-one with Baylor where she holds her own for a while before getting kicked through a wall. All throughout, the camera glorifies her in the types of shots Milla Jovovich thrives on, for example when she fires two mini-crossbows while walking away from an explosion.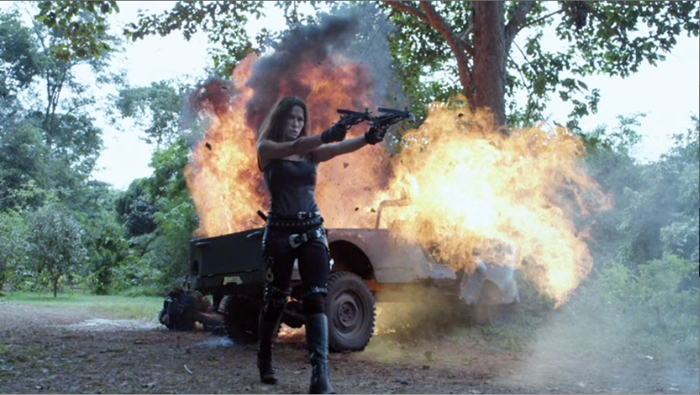 We get to see that from a couple different angles, too.
Unfortunately the hunting all takes place in the jungle. Nice scenery, and I know it's to save money, but a hike through trees pales compared to an urban New Orleans setting in my opinion. But just as I was thinking about the first one being better partly because of great motorcycle action, a truck pulls up to distribute motorcycles to the hunters. Nothing matches the classic slow-motion motorcycle vs. car chicken game, but Adkins does get to one-up the kicking-motorcyclist-in-face scene by doing his trademark two-person kick on two motorcyclists.
Also worth noting: the motorocycles have machine guns, rockets and other gadgets built in.
The fighting is very clear and pretty varied. You can tell Adkins does many of his own stunts, which include alot of jumping away from explosions, off of bridges, or into the air to fire an arrow, as professional fighters have been trained to do, I'm sure.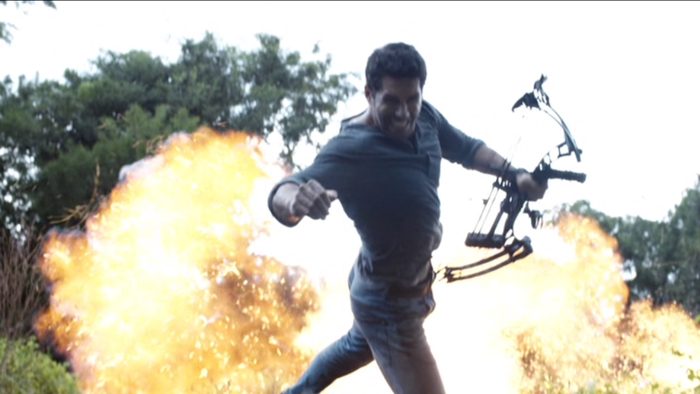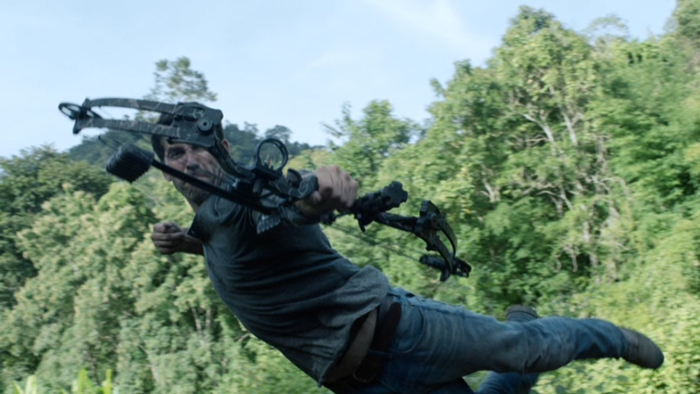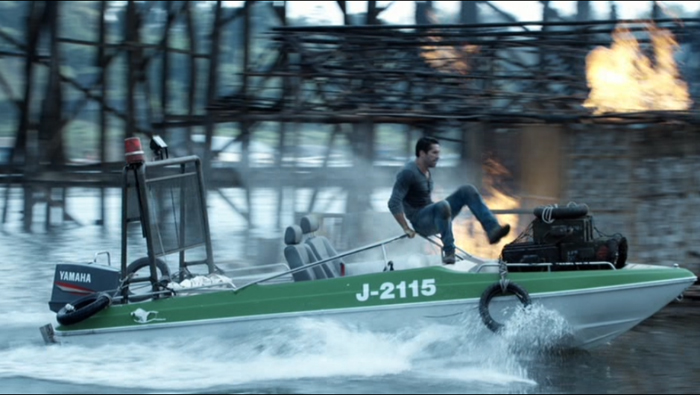 He punches and kicks, occasionally uses guns, shoots arrows, sets off landmines, rides a motorcycle, a boat, all kinds of things.
This is absolutely a good movie of its type, but I have to admit that as a connoisseur I had hopes and dreams for a HARD TARGET 2 that it didn't completely fulfill on arrival. It's just too much to live up to, unfortunately. One problem you have is that Adkins himself has starred in several of the best DTV action movies ever made, movies I mention every other day but in case I have to specify they include: UNIVERSAL SOLDIER: DAY OF RECKONING, UNDISPUTED 2–3, NINJA 1–2. And this is not gonna knock any of those off the list.
More importantly it's hard to completely avoid comparing this to HARD TARGET, a movie that we've had decades to fall in love with, that was made with four times the budget, in a different time, by one of the greatest action directors who ever lived, at very close to his artistic peak. And though he was struggling with the studio you can still see the hunger there to make a good movie in this different system. Just compare it to all the other American action movies of the time, or even other Van Damme movies, and you can see how much lightning he squeezed into that bottle.
By the way, when this movie was first announced they said it would be produced by Woo, but his name is not on the credits. I wonder what happened there?
I like Reine's nods to Woo: the first shot is of a pigeon in a cage, Baylor sleeps in a shed surrounded by doves, he has an inexplicable walking-slow-motion-with-doves-scattering shot, and there's a brief Mexican standoff. He also gives Aldrich the same distinctive pistol as Henriksen's Fouchon, which he says on the commentary track means that the two characters are related (I kept expecting them to say something like that in the movie).
I don' think you can expect anybody to match Woo in the action department, so I won't. But I do think it's fair to think this rehash of the story removes some of the crucial elements of the original without finding enough new things to make up for their loss. With its vivid depiction of soup kitchens, long shoremen fighting for work, and long lines waiting for jobs passing out porno flyers, HARD TARGET painted a stark contrast between the desperate hunted and the degenerate hunters. Part 2 continues with the class differences by mentioning the corporate backgrounds of most of the hunters, but as a former star athlete living humbly in Thailand Baylor is too much of anomaly to have the working class hero appeal of penniless Boudreaux. Maybe more importantly he just doesn't have as much personality. Adkins is great, and he does have a few good tough guy lines, but I miss the color (and style) of Chance.
To put it another way, we can tell the difference between Chance and any other Van Damme character. But Baylor could be pretty much any Adkins character with an American-ish accent.
And there's one part that I consider an action faux pas, at least to my fellow fans of Jeeja Yanin, the amazing star of CHOCOLATE, RAGING PHOENIX and THE PROTECTOR 2. To my surprise (but not yours anymore – sorry) Jeeja pops up for a cameo near the climax, when five of Aldrich's "friends" show up to try to kick Baylor's ass. At the center, with the coolest pose, is Jeeja, and he singles her out for ridicule.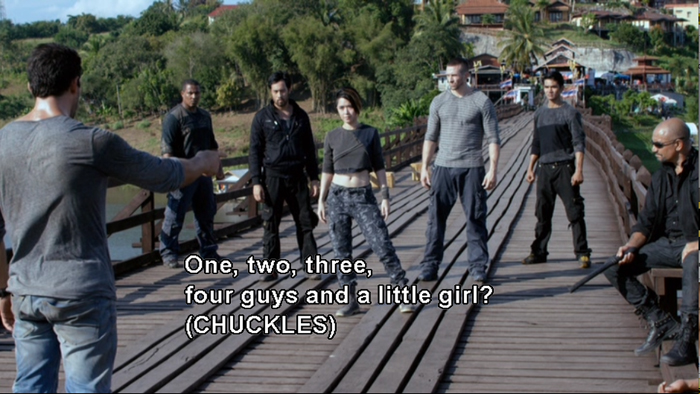 Even if you don't know who Jeeja is, you know what this implies: this "little girl" has to give him a way harder time than he expects. But she doesn't. She gets in some fast spinning kicks, but no more than the guys do, before he grabs her by the hair and punches her out. I like that female fighters are given full equality in this movie, and the abruptness of that finishing move is great. I also gotta assume they would've liked to do more of a scene with her but time did not permit. Still, if you know who she is it feels a little insulting to her. Only big Hollywood productions are supposed to treat martial arts icons as anonymous thugs.
(Fortunately NEVER BACK DOWN: NO SURRENDER gave her a good guest appearance earlier this year.)
Since all these things are complaints about what the movie is not, instead of what it is, I hope they won't matter as much (if at all) when I watch it again some time down the line. Which I definitely will. Whether or not it's worthy of the HARD TARGET title, it's another respectable entry in the Adkins catalog. I mean, this is in the movie: