Ladies and gentlemen, I present to you the best find of my Back To School Special. Maybe THE SUBSTITUTE is better, but I'd already seen that one before so I knew what to expect. This is a surprisingly natural hybrid of the inspirational teacher movie with the American martial arts star vehicle. It embraces the necessary corniness of both genres and seems a little more sincere about the turning kids around aspect than THE SUBSTITUTE does. And it came out in '93, three years earlier.
It stars American Iron Chef host Mark Dacascos and it's directed by long-time Van Damme collaborator Sheldon Lettich. This is his third directational work after LIONHEART and DOUBLE IMPACT. Dacascos plays Louis Stevens, a peace time Green Beret who fell in love with the martial art capoeira while stationed in Brazil. He was apparently some kind of troublemaking kid until a good teacher named Mr. Kerrigan (EVERY WHICH WAY BUT LOOSE sidekick Geoffrey Lewis) turned him around and convinced him to join the military. Once he gets out he returns to the school to see if there's any way he can work there and try to make a difference in other young people's lives. The school is a hellhole and he pretty much gets tossed out on his ass.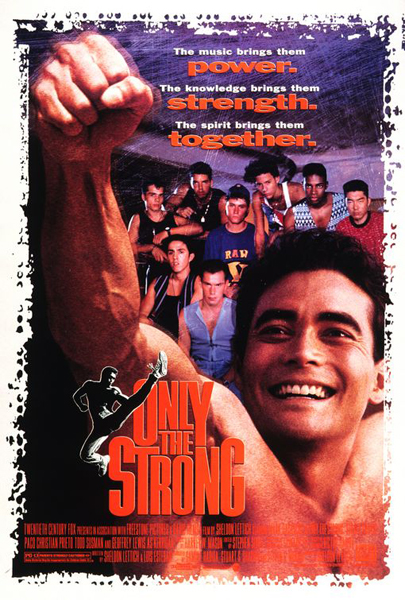 But as he's leaving he sees the Haitian lieutenant of a drug gang causing trouble and ends up getting in a fight with the guy, using acrobatic capoeria kicks and flips. Kerrigan sees how the deadbeat students' eyes light up when they see a guy kicking ass like that, and he gets an idea.
Long story short, they start a daring new program at the school where Louis takes the 12 biggest troublemakers in the school out to an abandoned building and teaches them how to kick ass. Some of these kids are real dorky, like characters from a later ELM STREET sequel. For example there's a white kid (Ryan Bollman, BLACK DAWN) who wears sunglasses and plays shitty dance music on a big boombox. These goofballs have the nerve to laugh at Louis when he starts playing Brazilian drum music and doing the dance moves that make up the foundation of this fighting style. But then the boombox guy takes the tape home and does his own remix of it. (Bonding.)
Dacascos has a weird appeal in this movie. Like now he's a cross between a badass and a pretty boy – he's got muscles and very convincing moves but his face looks like a GQ model. And moreso than now he has a quiet, kind of boyish voice. It makes him seem like kind of a nerd, which totally works for this character. He has to struggle a little to win over the kids.
The teaching part of the movie is enough to make it enjoyable, but there's a big turning point scene that completely sold me on this as a '90s action gem. Orlando (Richard Coca, LONE STAR) is the one student in the class who refuses to participate, and Louis really needs to get through to him because he knows he's been working for his crimelord cousin Silverio (Paco Christian Prieto, who fought Van Damme in the swimming pool in LIONHEART). Louis tracks down Orlando on a basketball court outside of school, trying to win him over like Belushi did that one kid in THE PRINCIPAL. But Silverio and his henchmen are there and try to make Louis leave.
Of course, Louis ends up busting out the capoeira and beats up all of the henchmen. Silverio is impressed so he tries to hire him to train his men, but of course he refuses. So Silverio – who by the way did I mention happens to be a capoeira master himself – fights Louis.
After this first fight Louis is bloodied and beaten. A storm is brewing in the sky. Thunder explodes in the background as the camera dramatically zooms in on Silverio and he declares that Louis isn't good enough to train his men after all. Orlando will learn the basics from Louis and then come to him to complete his training.
I try not to use this term because I don't want to wear it out, but… fucking awesome. What a scene. Nice operatic filmatism, several good fights, a great heavily accented (and pony-tailed) villain, and an actual dramatic twist. The stakes are much higher because now Louis not only has to win over the kid through capoeira, but worry what he's gonna use it for.
Have you ever noticed that capoeira has all the vowels in it except u? That's because there's no 'you' in capoeira. Or something.
Unlike THE SUBSTITUTE this one doesn't keep the action to the school, but that's okay, because this one isn't as school-teacher-themed. He doesn't even teach them at the school anyway. He does drive a school bus instead of a car, that's pretty cool. I laughed that he was driving it for their field trip, but it's even better when he keeps driving around in it afterwards. I kind of doubt the school district okayed that. And when the gang decides it's time for war they bust into the school, make a big pile of desks and things and start a bonfire using an American Government book as the kindling. (No wonder Silverio has a restraining order to keep him off of school grounds.)
When Louis decides to fight back he puts on his camouflage. This is the movie communicating with us, sending us a message:
MOVIE: Remember, he's not just a martial artist, he was in the military too.
AUDIENCE: A ha! So that's why he has the skills to sneak around and take on a bunch of trained fighters.
MOVIE: Exactly.
AUDIENCE: And him putting on the camouflage reminds us of that fact.
MOVIE: That's the idea.
AUDIENCE: Well, thank you for that.
MOVIE: No problem man.
AUDIENCE: By the way I really enjoy your work, you're awesome man.
MOVIE: Thanks, that means alot to me man.
AUDIENCE: No, really though.
MOVIE: It means alot.
(awkward silence)
AUDIENCE: Well, see ya later.
MOVIE: Yeah, see ya.
In a scene reminiscent of Dolph's ARMY OF ONE, Louis attacks Silverio's men at a chop shop. It's a good sequence but by far the best part is when a welder comes after him in full welding gear. They're having a martial arts fight and the guy is trying to burn him with the welding torch. And Louis seems to forget that the welding equipment is armor and not the guy's actual skin, so he punches him hard in the mask, hurting his fist.
Great scene, and even better when you see the credits and realize the welder was Frank Dux, the real guy who Van Damme played in BLOODSPORT. He's also the fight choreographer for this one.
Another supporting actor worth pointing out is Silverio's Haitian henchman, the guy Louis fights at the school at the beginning. I noticed it was Jeffrey Anderson-Gunter, who I like to call "the guy who looks kind of like Richard Pryor in MARKED FOR DEATH." I tried to find a picture of him from that movie so I could have a graphic that says "the guy who looks kind of like Richard Pryor in MARKED FOR DEATH," but I couldn't find one. What I found was much better: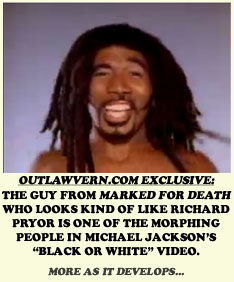 I highly recommend ONLY THE STRONG to fans of the old Van Dammes and those types of movies. It's a real solid example of the genre but also stands out because of the corny school aspects and because it's as far as I know the only movie completely based around capoeira. Lettich co-wrote it with Luis Esteban, who never wrote another movie, but was transportation co-ordinator on SOUL PLANE. I'm sure he's pretty good at coordinating, but maybe he should get back to co-writing.
This entry was posted on Thursday, October 1st, 2009 at 10:07 pm and is filed under
Action
,
Martial Arts
,
Reviews
. You can follow any responses to this entry through the
RSS 2.0
feed. You can skip to the end and leave a response. Pinging is currently not allowed.