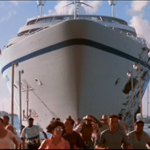 I never watched SPEED 2 before. When I decided the day had come I actually got excited about it for a minute. Wait, so there's a studio blockbuster in the DIE HARD or UNDER SIEGE type of subgenre that I haven't seen? What was I waiting for? I mean, I know it was almost unanimously hated, and that it was an early example of the PG-13-sequel-to-R-rated-action-movie, but when has that stopped me before? I am an individual with an open mind and an open heart. I am ready to welcome SPEED 2 into the hospitality of my mental space.
I thought. But the mob was right on this one. SPEED 2 is pretty sucky. It's the SPEED 2 of SPEED sequels.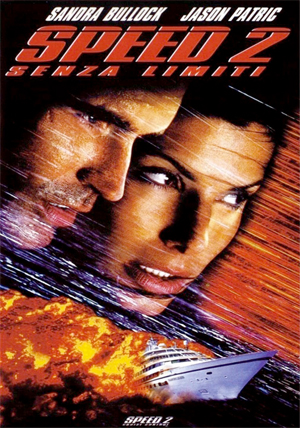 And the biggest problem is the obvious one that any sucker could've guessed: Keanu Reeves said no. You can't really do the bus gimmick again, and you killed the villain and the partner. That leaves us with the heroes, Jack and Annie, their continuing adventures and relationship.
It's obvious that's what they wanted to do. After the extreme circumstances of The Bus That Couldn't Slow Down, Jack and Annie went ahead and dated. But his police work and danger addiction are getting in the way. She wants him to cool it, so he takes some vacation time to go on a cruise. Little does she know he's more serious about her than he lets on, and is nervously planning to propose to her.
Since Reeves wouldn't do it they should've a) not made it or b) started over with a story where Annie is the hero. Instead they just slightly rewrote it so she refers to her ex-boyfriend Jack, and then Jason Patric plays Alex Shaw, a new guy she's dating who's also a supercop working for Joe Morton just like Jack was. Maybe this would be okay except we're supposed to be invested in this new guy we've never seen before wanting to propose to the old character we already know. And I know – Keanu, whoah, ha ha ha – but I'm afraid Jason Patric here doesn't have the screen presence of Reeves or the chemistry with Bullock. So it's like your friend got a new boyfriend that you're not sure you approve of.
Man, what if Bruce turned down DIE HARD 2 and they made Holly have a new husband who's also a cop who's trying to meet her for the holidays? That would be fucked up.
There are several corny callbacks to the first one. In part 1 Annie said she didn't have her driver's license, and now a couple years later she's taking classes. Ha ha, she's terrible! The teach is scared! More ridiculously, they bring back Glenn Plummer, whose BMW Jack commandeered in part 1. Now he has a condo in the Caribbean and his boat gets commandeered. Okay, it's kinda amusing, but again, it's obvious they didn't rewrite it much, it mostly sounds like he's talking to Jack.
Oh yeah, so once again a disgruntled employee with explosives expertise is demanding money in exchange for not bombing the boat. Similar to Travis Dane in UNDER SIEGE 2: DARK TERRITORY he designed the computer systems but then got laid off. So he comes aboard with a plan to control the ship and plant and set off bombs. One of the things that made SPEED different from DIE HARD or UNDER SIEGE was that it was a lone madman, no henchmen to pick off one-by-one. In that aspect it was more like IN THE LINE OF FIRE. SPEED 2 repeats that, which is weird since otherwise it's closer to the other fomula. It's UNDER SIEGE but with only one guy they gotta kill. I guess that would be the second biggest problem with the movie. This type of thing feels pretty empty when you remove the part about sneaking around having to kill different henchmen.
The lone madman is Willem Dafoe (xXx: STATE OF THE UNION). He disguises his equipment as golf clubs and balls – do they security screen for cruises? I guess they must if he needed to do that. His weirdest quirk is that he smuggles leeches onboard and puts them on himself to suck out toxins and keep himself alive longer. This was before Obamacare, obviously. The only real relevance to this is that he's not afraid to die, but I appreciate the weirdness.
Also I like when he tries to fit in with the real tourists for a selfie.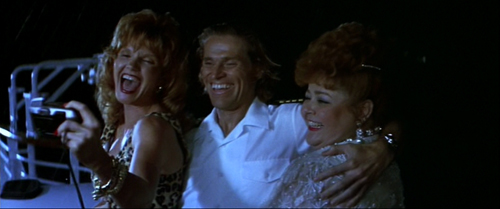 Hans Grueber does his fake American accent in that one scene but he would never have been able to pull off that smile.
Another strange aspect that I'm not as comfortable with is the little deaf girl who befriends Alex because he knows sign language. I mean, that part is fine but she gets a crush on him and starts trying to dress hot for him, and the way De Bont shoots her a couple times it seems like you're supposed to go "Hubba hubba." I don't think he really wants that, but maybe the filmatic language he's using there was poorly thought out in my opinion. It's kinda gross.
This being a fancypants cruise and everything there's a part where the British pop reggae band UB40 are the onboard entertainment. If de Bont really wanted to make a crowdpleaser here obviously he would've had these guys blown to bits or skull-crushed with golf clubs. I say that not because I don't like their music but because I do like when celebrities play themselves in movies and then get killed (Redman in SEED OF CHUCKY [spoiler for SEED OF CHUCKY]). Anyway, their fate is unspecified. They're probly supposed to be among the passengers that get away in the escape boats, or maybe they had already left on a VIP helicopter and were relaxing in a beachfront condo where they were ultimately smooshed by the ship off screen.
There are some good part 2 actors in the cast. The captain is played by Bo Svenson (WALKING TALL PART 2, KILL BILL VOL. 2). He doesn't last long (SPOILER) but next in charge is Temuera Morrison (THE MARINE 2, STAR WARS EPISODE 2). These people notice they're off course and then get threatening messages and have to evacuate. Meanwhile, Patric inserts himself as LAPD guy in charge without that much resistance. Luckily he got possessive and jealous when he saw Annie talking to Dafoe at the bar, so it doesn't take him long to figure out who's behind all this.
The big action setpiece is at the end when the giant cruise ship goes straight into the harbor and Godzillas its way through the docks and buildings at the shore. This is when the De Bont we know from TWISTER gets loose. It's lots of good destruction with corny disaster movie jokes like the asshole yuppie with the fancy car that almost gets by unscathed, but then a giant anchor drops on it. Then a dog comes out! Ha. Dogs. Funny.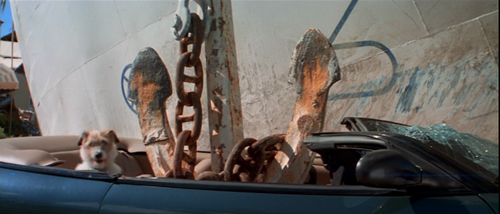 See, it causes alot of different mayhem, not just the direct boat-on-building smashing. It causes different chain reactions. I forget how, but somehow this speed boat gets launched through the side of a "unisex hair salon." Man, that's gonna screw up some dude or lady's afternoon tip frosting session.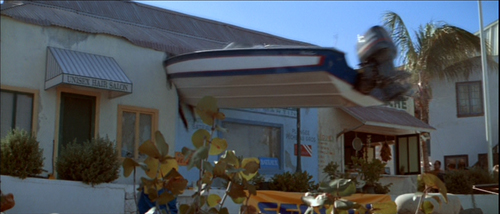 The logistics of the harbor crash don't seem to add up to me. It goes on for quite a while, as if traveling a mile or two through solid earth, but then when they show the aftermath it looks like it just barely poked into the shore. Look at this: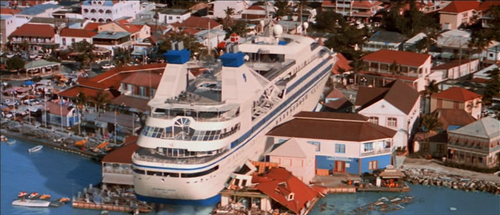 It's less than the length of one boat! But it seemed like miles. Maybe the cool part we saw as the entire climax of the movie was a subjective RASHOMON type interpretation of the events.
One thing is for sure though: it's not moving very fast. The only real speed is in the opening, when Patric is involved in a motorcycle chase. Like Reeves in part 1 he's introduced with his vehicle dropping impossibly from above the frame. (Upper left.)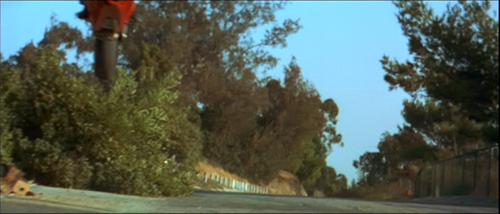 To be fair it's just called SPEED 2, not HIGH SPEED 2. Whatever slow-ass rate this ship is traveling at is technically a speed.
I hate to do this but I gotta agree with the consensus that this is a bad movie. But I respect it for at least putting the good shit at the end. Dafoe's death (sorry, he loses [spoiler]) is a good one. It involves an explosion with a propeller flying toward the audience, kind of a de Bont trademark in a way. (I wish it was the cow from TWISTER, though.) The way it happens to him is a thing of beauty.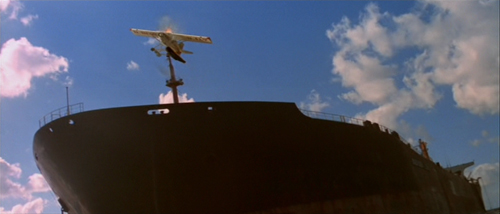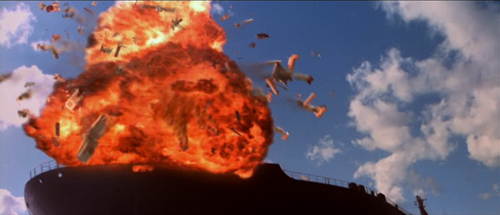 He's in a small escape plane but he crashes into a pole and just sticks on it like a shishkebab. And he sits there for a bit before the explosion, which de Bont certainly isn't gonna skimp on. Anyway the best part is before the fiery death, when he's just stuck there on that pole and he realizes how weird or dumb it is that this has happened to him and that's gonna be that. He just starts laughing. Hey man, he has a sense of humor about himself! He's not that bad.
I kinda feel sorry for the leeches now. They're gonna miss having that guy around.