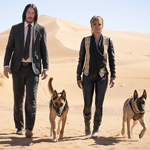 I don't want to raise anyone's expectations too high. I know some are saying JOHN WICK CHAPTER 3: PARABELLUM is fun but lesser, and that could very well end up being the conventional wisdom. In my mind, though, it's more than that. It's an outstanding achievement, a new action classic that outdoes the excellent CHAPTER 2 in both garish spectacle and elaboration on the strange mythology of this secret world of elite assassins.
Like all JOHN WICK movies, it's full of things you never knew you needed to see, things that are ludicrous, but treated with knowing seriousness, increasing their level of awesomeness. For example, you know that cliche where a character you like gets shot and drops to the ground and you have to wait and hope for the reveal that they were saved by a bullet proof vest? That happens with a dog.
And what about John Wick walking through a desert, but dressed like John Wick? If James Bond goes out into the desert – hell, even if Batman does – he wears different gear. But there is no Desert Action John Wick. When he treks through Moroccan sand dunes he wears the same suit and tie we just saw him wearing in a New York downpour. I suppose maybe he cancelled his debit card when he came back and doesn't know how to buy new clothes without access to his usual services. But I think it's more because he's an icon. That's his uniform. That's John Wick. And because director Chad Stahelski knows it's surreal to see this guy in drastically different settings across the world without changing his blood-stained clothes.
I love the rollercoaster structure of this thing. It picks up just after the end of 2, with the rare scared John Wick (Keanu Reeves, STREET KINGS) running down a rainy New York City street, having been declared "excommunicado" for killing in the neutral zone of the Continental Hotel, and given an hour head start before every killer in town (which seems to be pretty much ever person in town) comes after the $14 million bounty on his head. The tattooed switchboard operators count it down, the people on the streets eye their watches, and John Wick – untitled dog at his side, off-leash – desperately tries to enact his escape plan before the small hand hits the six. Even before it does, he runs into a couple cheaters and CHAPTER 3 fires itself like a cannonball into a stretch of incredible action sequences sustained enough to have me wondering if this was it, it was just gonna be hurtling down fury road until the end credits.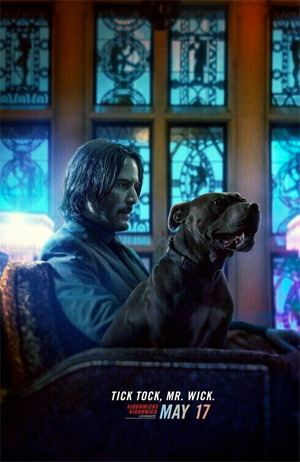 Then screenwriter Derek Kolstad (THE PACKAGE) – this time credited alongside Shay Hatten (ARMY OF THE DEAD) and Chris Collins (The Wire, Star Wars: The Clone Wars) & Marc Abrams (The Bernie Mac Show) – begins a gradual morph from spectacle to procedural to fable. After the GAME OF DEATH style fight with a giant (76er Boban Marjanovic), the hilarious and inventive multiple knife fight, and the insane horse vs. motorcycle battle, it stops to take a breath – a long breath that delves further into the JOHN WICK world, introducing "The Adjudicator" (Asia Kate Dillon, Orange is the New Black, Billions). She's sort of like the hated regional manager who swoops into town representing The High Table and dropping the hammer on anybody who did any favors for John Wick, including hotel manager Winston (Ian McShane, DEATH RACE) and lord of the homeless assassins Bowery King (Laurence Fishburne, CHERRY 2000). So we get to see some (not all) of the previously established cast of characters, with a little extra shine for the beloved concierge Charon (Lance Reddick, JONAH HEX). We also learn about a new faction of the underworld and yet another tantalizing chapter of John Wick's old days as he plays all his emergency cards and begins a literal journey to his last hope, located at a figurative crossroads at the edge of mortality.
There are several very different sections within this chapter, one of the best being when John Wick collects a favor from old, not-happy-to-see-him friend Sofia (Halle Berry, THE FLINTSTONES). The way they paint themselves into a corner and the way they get out offer more excitement than many whole movies do. It's a thrill just to see Berry be so cool, let alone perform complex gun-fu long-takes that were unimaginable for a Best Actress winner pre-Charlize. And this is truly a type of action sequence I've never seen before: a complex shootout with two attack dogs in the thick of it mauling motherfuckers. It goes on for a while and it never gets old.
It's such an invigorating breath of fresh air to see a theatrically released American action movie by filmmakers clearly aware of and trying to be competitive with the state-of-the-art in international action filmatism. You could definitely fault them for being too derivative of the astonishing motorcycle chase/sword fight in THE VILLAINESS, but they sure come close to matching it. And the Indonesian wave of THE RAID and THE NIGHT COMES FOR US certainly seems to have influenced the relentless onslaught of headshots, stabbings and slashings. They cast THE RAID 2's Cecep Arif Rahman and Yayan "Mad Dog" Ruhian not just as cameos, but as the showstopping big brawl before John Wick faces the top guy.
That top guy, credited as "Zero" but unnamed in the movie, is a sushi chef/master ninja played by the great Mark Dacascos (ONLY THE STRONG, CRYING FREEMAN, DRIVE). I've been paying tribute to his career all week in anticipation, but I really didn't know which way this would go – more often than not these exciting returns of our genre icons end up being underwhelming. To the contrary, this scene-stealing villain is unquestionably a career highlight for Dacascos. He has an effective build up, an aura of menace and is the first lead villain to pose a serious martial arts challenge to John Wick. He also gets some of the biggest laughs in the movie. (This is definitely the funniest of the series so far.)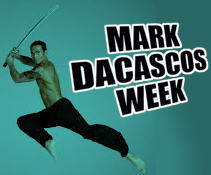 It's so cool to see a movie that exalts this great worker of b-movies and TV guest appearances right next to Hollywood's action Buddha, he who was born of POINT BREAK and SPEED, evolved through THE MATRIX, given flight through JOHN WICK and MAN OF TAI CHI. While Reeves was doing his Francis Ford Coppola movie, Dacascos was doing a Sam Firstenberg. While Reeves did a Bernardo Bertolucci, Dacascos did a Sheldon Lettich. But they're treated as peers in this movie directed by Chad Stahelski, a guy who was in the Jeff Wincott DTV classic MISSION OF JUSTICE, but uses a theater marquee as his chance to reference Andrei Tarkovsky.
You may remember that Stahelski's JOHN WICK chapter 1 co-director David Leitch had a much bigger nod to the Russian master of "slow cinema" in ATOMIC BLONDE, staging a fight behind a screen showing STALKER. In fact, a fight between an Academy Award winning actress and the star of the BLOODSPORT sequels! (Note: Stahelski played "Max Omega" in BLOODSPORT III.) It makes sense that that these veteran stuntmen push the envelope so hard on the action sequences that the envelope breaks through a window, falls onto the windshield of a car and causes the car to swerve into a building and explode. And let's face it, that would be enough for me. Yet both directors also go beyond the call of duty in conjuring sumptuous colors, dreamy atmosphere, and strong acting performances that ground operatic characters in a recognizable humanity. Most action sequels don't have a cinematographer (Dan Laustsen) known for his work with Ole Bornedal, Christophe Gans and Guillermo Del Toro. Stahelski and Leitch, like Reeves himself, are a miraculously unlikely combination of talents and interests, a dream come true, a gift to the world.
There's a meta kick to seeing Reeves work not only with his stunt double as director, but with players from his previous works. Along with ol' Morpheus we also get the return of The Doctor played by MATRIX RELOADED keymaster Randall Duk Kim, and there's a fight with Tiger Chen, who Reeves met on RELOADED and then directed and fought in MAN OF TAI CHI. And so much of the movie is pure Keanu, from the distinct lanky movements of the fights to the weird bits of humor. I don't know if anyone else will make this connection, but there's a good joke that involves sitting on a couch that's reminiscent of a funny bit he does in KNOCK KNOCK.
I wouldn't say there's fan service, but there are possible allusions to action movie history. The introduction of Zero echoes Sonny Chiba's entrance in KILL BILL VOLUME 2, there's an odd but unmistakable nod to ROCKY, and the finale is staged in a high tech one-upping of the ENTER THE DRAGON mirror maze, a confounding chamber with layers of glass that are sometimes reflective, not always visible, and look and sound super cool whenever a blade crunches or scrapes them. (This is also an elaboration on CHAPTER 2's art museum fight, adding even trippier video screen backdrops and an endless supply of glass display cases for John Wick to be thrown through.)
The bar for excitement is set so high so early that as the last act approached I got seriously nervous it might pull a HUNGER GAMES 2 and suddenly cut it off before the anticipated payoff. If anything I should've worried about it going too far – so many motorcycle-helmeted heads get exploded like watermelons that a few times I had to wonder if it's bad to have so much fun with this in a society so plagued by real life gun worship. There are honestly only two minor spots where I felt they might've dropped a very small ball. One, the fight that passes vats of molten metal without ever dipping a motherfucker into one. Two, the buildup to a high ranking new character who seems ripe for the casting of an icon (like Franco Nero in 2) and then turns out to be… a guy who looks kind of familiar. But Saïd Taghmaoui was in LA HAINE and a bunch of David O. Russell movies, so maybe he's exciting to somebody. All is forgiven.
As ridiculously fun as the violence is in this series, and as opulently as its practitioners live, their lifestyle is one without love or happiness. One of John Wick's apparent mentors, The Director (Anjelica Huston, CAPTAIN EO) believes that life and art are misery. He comes from a people who are divided by gender – the women are skeletal, and practice ballet until their toenails fall off, the men have beefy upside down triangle torsos and wrestle each other all day. At some point, though, they make a devil's bargain to become killers who wear expensive clothes and live in luxurious suites but can never have families. His friend and peer Sofia's life is centered on the belief that she can never see her daughter because it would get her killed, and that crushes her. These characters live by the rules of the High Table, and when they break the rules for a friendship, things get even worse for them. (IMPLIED ENDING SPOILERS COMING UP) The person who comes out on top in this one does it through betrayal. And to fight back in chapter 4, John Wick has to align himself with the people who willingly give up most luxury and modern technology and don't believe in the rules. We'll see how much they really believe in honoring personal relationships.
Things I'm now hoping John Wick will be able to get back in the future: 1. His car. 2. His wedding ring.
Whatever happens with all that, I'm not actually rooting for John Wick to get this shit straightened out right away. Based on the strength of this chapter, I hope it ends up being a really long book.
This entry was posted on Friday, May 17th, 2019 at 5:40 pm and is filed under
Action
,
Martial Arts
,
Reviews
. You can follow any responses to this entry through the
RSS 2.0
feed. You can skip to the end and leave a response. Pinging is currently not allowed.