After directing movies to showcase the martial arts skills of Bruce Lee, Jackie Chan, Jim Kelly, and the guy from GYMKATA, director Robert Clouse figured "why not the white lady from YES MADAM?" That's five time World Karate Champion in forms and weapons between 1981 and 1985 Cynthia Rothrock, playing the title character.

When the movie begins, China O'Brien is teaching martial arts to inner city toughs, I think in L.A. One student, a guy named Termite, disrespectfully goes to get a cup of water during class. When China tells him to get back in line he says "All this fancy shit don't mean nothin on the streets. I'd like to see you against the Bloods," and challenges her to fight 5 of his friends in an alley that night. Although she's against violence she agrees.
When she shows up for the fight (wearing a pretty scarf, by the way – a distinctly feminine form of showing she's not scared at all) she doesn't realize that Termite has been jumped and never showed up, and the dudes she's fighting are just the random creeps that attack anybody that goes into an alley in a movie of this era. So they must think she's a weirdo explaining all of the moves she's using on them and saying "If you have any questions, please see me later."
Eventually Termite does show up, and China notices a hand emerging from the shadows pointing a gun at Termite's head. So she pulls out a gun and shoots the gunman… who turns out to be really young, so she feels bad.
BAM – cut to China quitting the force, handing in her gun and badge willingly. This is unusual for a couple reasons:
1. usually the chief has to angrily demand a gun and badge in order for them to be turned in
2. If you're gonna willingly quit the force you're supposed to throw your badge in the water like at the end of DIRTY HARRY and most importantly
3. the movie doesn't tell us she's a cop until the moment she's no longer a cop.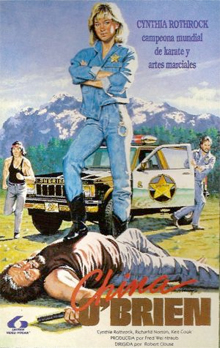 Oh, so that's which plot this is. This is the one where the big city cop returns to the small home town only to discover that it's being controlled and corrupted by bullying thugs. China's dad (David Blackwell) is the Sheriff of Beaver Creek, Utah, which seems to be even worse than the city as far as randomly being attacked. China has to beat up a bunch of assholes at the Beaver Creek Inn. They're rednecks, so one of them says, "Shit, you see that? She's one o' them chop suey fighters!" Weirdly, everybody she fights seems to also be one o' them chop suey fighters, doing their chop suey moves on her.
There's a corrupt judge and corrupt sheriff's deputy. Later in the movie there will be car bombings and a drive-by shooting of a picnic while people are singing "For She's a Jolly Good Fellow" in China's honor. A watermelon and a jar of pickles meet their maker. Where can you go to be safe? Not the city. Not not the country. We're doomed!
There are some good people in Beaver Creek, too. There's China's high school boyfriend Matt (Richard Norton), who still lives in Beaver Creek even though he's been in the Special Forces and turned all badass since she dated him. I guess maybe he traveled around the world and that's how he got an Australian accent. Also there's a young Native American man named Dakota (Keith Cooke), who is introduced as a guy playing Asteroids at the Inn who gets involved in the brawl to help China. Then he blatantly follows her around on his motorcycle for days and helps her in a fight where criminals are trying to kill her and her father, then follows her more, and then eventually she and Matt decide to talk to him for the first time and find out what his deal is. So we find out why he has a prosthetic hand that screws onto his motorcycle handlebar.
China needs friends like Matt and Dakota, because the movie quickly turns into WALKING TALL and she's running for sheriff against criminals who are trying to rig the election. Even the firefighters are corrupt, they drive in during one of China's rallies and try to put out a celebratory bonfire. Matt beats them up and stops them. You wouldn't see that in a post 9-11 movie.
The action is comparable to other Cannon-level American martial arts movies of the '80s. (Well, this is 1990.) Rothrock is obviously good at what she does so it's fun to watch her kick people, but let's be honest, Clouse was not making an effort to maintain an ENTER THE DRAGON level of quality throughout his career. The biggest fight is probly the brawl that happens as a result of attempted voter fraud at a polling place. That means the school gym, so almost all of the fighting takes place on safety mats. They do manage to work alot of different exercise equipment into the choreography. Two guys try to push a barbell down onto Matt, which makes them reverse spotters.
Keith Cooke definitely seems to have studied Bruce Lee's poses and expressions. He went on to be in KING OF KICKBOXERS, to play Reptile in MORTAL KOMBAT and Sub-Zero in MORTAL KOMBAT ANNIHILATION.
If you're wondering about the name, they never explain it. It seems like it's her given name, and not a nickname she got for being interested in Asian martial arts. They also don't make a point of her being Irish.
Rothrock's obviously not a real polished actress, and is kind of laughable in the scene where she gets hysterical about the car bombing. I mean yeah, it's a tragedy, but this is behavior unbecoming of an action hero. I don't think Mallory Kane would do that. But I think Rothhrock is likable. I don't know, she has kind of a square quality that's a good contrast to her asskicking. And being that it's 1990 I appreciate that she doesn't have some horrible perm. She does think it's okay for a sheriff to wear acid washed jeans, though.
According to Wikipedia there's a song on the soundtrack called "Distant Storm" by "Tess Makes Good, with additional vocals by Ellen Amos." Apparently this is the singer Tori Amos before anybody ever heard of her. Anybody but the makers of CHINA O'BRIEN, so don't condescend to them, they were there before you guys were. I like the idea of the movie getting rented all the time by Tori Amos fans. And they gotta watch the whole thing because they probly don't know where the song is.
P.S. Did they ever use the tagline "She will, she will Rothrock you" for any of her movies?
This entry was posted on Thursday, May 17th, 2012 at 11:22 am and is filed under
Action
,
Martial Arts
,
Reviews
. You can follow any responses to this entry through the
RSS 2.0
feed. You can skip to the end and leave a response. Pinging is currently not allowed.