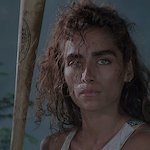 BLOOD GAMES was released straight to VHS at the end of 1990, and made in 1989, but it feels more like something from the late '70s or early '80s. It's about as elemental an exploitation movie as you could have, since it's about a group of attractive women in short shorts fighting to the gory death with a bunch of sweaty redneck rapist shitbags. It's not a great movie, but there's something kinda beautiful about how it cranks the realities of misogyny so far into overdrive the story becomes almost mythic.
It's written by men: story by Jim Makichuk (2 episodes of Highlander: The Series), screenplay by Craig Clyde & James Hennessy (CHINA O'BRIEN II) & George Saunders (BLOODSPORT 4: THE DARK KUMITE, BLACK ROSE). But it's directed by a woman, Tanya Rosenberg, who has no other credits. According to an actor interview on the Vinegar Syndrome blu-ray she and the crew were Israeli, and that's the complete sum of information I was able to find about her. In the tradition of the female directors making b-horror for Roger Corman, Rosenberg uses the same butt shots and locker room shower scenes as a dude would've, and puts them in underwear, crop tops or short shorts. But arguably her view of the sleazy, disgusting men who disrespect them is even more extreme than the industry standard.
The movie opens in the middle of a men vs. women softball game for Roy (Gregory Scott Cummins, HACK-O-LANTERN, STONE COLD, the devil in the "Murder Was the Case" video)'s birthday party. Roy's dad Mino (Ken Carpenter, ELVES, TAMMY AND THE T-REX, Camerahead from HELLRAISER III) is some kind of powerful, feared figure in the community, a stern combat veteran who Roy's adult friends look up to like a gang boss. For the birthday he hired a traveling all girl team called "Babe and the Ballgirls" to play against Roy and his buddies. Also he was nice enough to spring for a banner.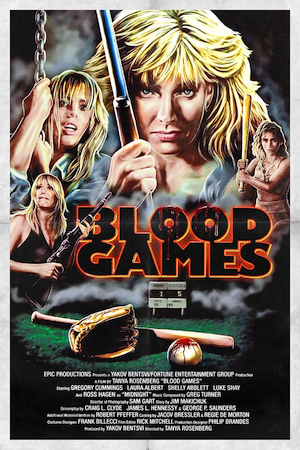 Babe (Laura Albert, HELLRAISER: BLOODLINE) is the team captain, and her dad, Midnight (Ross Hagen, AVENGING ANGEL) is the manager. They have a full team and a bus with their name on it and they did this gig for only $500. Midnight also has a $1,000 bet on the game with Mino, but even assuming they always win, we're talking like $150 each before gas and food. And how many games are they doing a week? Doesn't seem like a good business plan.
The game establishes the opposing forces here: very intent women with their shirts tied and shorts hiking up to show a little butt cheek, but playing a serious game, vs. a mob of pulsating toxic masculinity. Some of them burly jocks, some just hairy dudes with bellies, making threatening and lewd comments, grabbing asses, tripping, elbowing a woman in the face. A dude in a Rowdy Roddy Piper ringer tee with a tobacco can in his back pocket gets tagged out by somebody, calls her a bitch. The audience of old folks in cowboy hats, trucker caps and visors yells for blood. Roy gets chewed out by his dad for losing. Maybe because of the bet, but also because not one of these people can face a reality where a collection of local dipshits can't easily defeat a team of professional female athletes just on the basis of being dudes.
Anyway, Babe and the Ballgirls do the right thing and nail one of the guys in the dick with the ball. Also they win the game.
The funniest of the redneck characters is unfortunately named Vern (no relation), but he's played by George Buck Flower (THE FOG, ESCAPE FROM NEW YORK, MANIAC COP, THEY LIVE). Wearing a hat that says, "THE CHECK IS IN THE MAIL," he's the horniest and dumbest of the bunch. When he's bragging about his sexual prowess one of the other guys says, "Vern, you can't even beat your own meat," and he says defensively, "I can beat it better than you can!"
After the game Vern gets caught trying to peep on the Ballgirls in the shower, and they make him regret it. But he's there to tell them Mino isn't gonna pay the money he owes.
Midnight goes by himself to try to get the money. Roy's birthday party continues with beer and arm wrestling at a local bar, and I'll give you one guess which short-lived pro-slavery confederation defeated by the United States a century and a half ago has their stupid battle flag hanging proudly on the wall. Midnight sneaks in and brutally attacks a guy on the shitter but meanwhile some of the Ballgirls come looking for him, and Roy and his buddy Holt (Don Dowe, EVIL TOONS, RUMPELSTILTSKIN) see them on the street. To these guys, a woman existing is an invitation to sexual assault.
So, long story short, Roy shoots the woman driving the bus and it crashes into him and crushes him against a dumpster. So Mino offers the various birthday party yahoos $1000 per dead Ballgirl. Suddenly it's a military operation, they're setting up roadblocks, saying shit like, "Eagle 2, those bitches are headed your way" over walkie talkies. And it turns into a bloody, sweaty, dusty chase and battle through the woods, with many deaths on both sides.
I definitely feel there's not enough to distinguish the different Ballgirls from each other – I couldn't tell you which is which. Only three of them did other acting: Laura Albert, Randi Randolph (HOLLYWOOD BOULEVARD II, MALIBU SUMMER) and Paula Manga (a couple TV shows). But they're all pretty cool – they have sufficient screen presence for this cheesecake-turned-savage-warrior type thing they have going.
At least two of the male actors (Cummins and Hagen) were in ACTION U.S.A., and this does have a little bit of that "scrappy movie made by stuntmen" type feel, even if it's not the case. Lead actress Albert, who had played "Nude Dancer" in ANGEL III, "Strip Joint Girl" in ROAD HOUSE and would follow this with "Joe's Girlfriend" in STONE COLD, was so impressed by her stunt double Cherie Tash (A NIGHTMARE ON ELM STREET 5, BLIND FURY, DEATH SPA, BRIDE OF RE-ANIMATOR, KILLING ZOE) that she decided she should try to get into stunt work. It worked out: her impressive stunt resume includes SPEED, DOUBLE DRAGON, FIST OF THE NORTH STAR, CASPER, VIRTUOSITY, STRANGE DAYS, SUDDEN DEATH, ESCAPE FROM L.A., THE LOST WORLD: JURASSIC PARK, SPEED 2: CRUISE CONTROL, SPECIES II, WILD WILD WEST, THE FAST AND THE FURIOUS, THE SCORPION KING, TERMINATOR 3, THE PUNISHER, xXx: STATE OF THE UNION, BATMAN BEGINS, TODAY YOU DIE, M:I 3, WANTED, THE TOWN, FAST FIVE, THE ARTIST, SEVEN PSYCHOPATHS, ALEX CROSS, NIGHTCRAWLER, plus doubling Jamie Lee Curtis in TRUE LIES, HALLOWEEN H20 and VIRUS. And she's still going. Not bad!
I love the few times when they work softball gimmicks into the action. The best is when they use their pitching signals to communicate during a hostage standoff. There's also this great shot of holding aloft a baseball bat – the tool of their trade turned means of defense.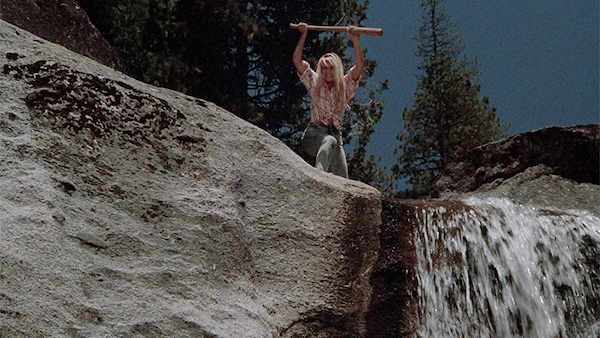 That was one of two images that reminded me of the ending of TEXAS CHAINSAW MASSACRE 2. The other involved climbing up a grain silo in boots and cutoffs, not unlike Stretch escaping the lair and climbing that mountain. The sunny, dusty atmosphere, the film grain (cinematographer: Sam Gart, first assistant camera, BREAKIN' and BREAKIN' 2) and the gloomy ending contrasting the injured, exhausted survivors with happy moments from earlier give it a bit of a FRIDAY THE 13TH/I SPIT ON YOUR GRAVE sunny-vacation-in-Hell sort of vibe. And that's the perfect landscape for this heightened drive-in opera where amplifying gender stereotypes and tensions inevitably causes a just-for-fun battle of the sexes to escalate into all out carnage.
In Australia it was released under the insulting title BASEBALL BIMBOS IN HILLBILLY HELL according to IMDb, and in other territories it was MEN ARE FROM THE STICKS, WOMEN ARE FROM SOFTBALL according to a thing I just made up.