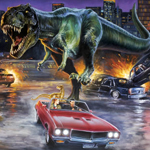 Man, this review has been in development almost as long as JURASSIC WORLD. After I typed this up I found an old version I wrote in a notebook a couple years ago, when I had mentioned liking THE LOST WORLD and readers wanted me to defend my position. I went in and stole a few phrases out of it, like I found them encased in amber.
I always thought THE LOST WORLD: JURASSIC PARK was a solid part 2 to a very enjoyable part 1. Maybe it helps that I didn't consider the first one to be such a classic at the time. I loved it as a fun execution of a cool gimmick, but I was comparing it to JAWS and that's a way to make it seem kinda dumb. Over the years, as it's continued to hold up and be better than many similar movies that have come after, I respect it more. Even still, I enjoy watching part 2 and I think it's miles better than Part three-claw-scratches. Much of the world disagrees with me, though, so here is my brilliant Perry Mason style defense. Or something.
This is the only non-INDIANA-JONES sequel that Mr. Spielberg has directed, and it opens with pure Spielberg filmatism. Ominously crashing waves intimidate the frame as a rich British couple, their young daughter (holy shit, I never realized that was 10,000 BC's Camilla Belle, in her movie before Seagal's THE PATRIOT) and a pack of yacht crewmen stop for an impromptu picnic on the shore of an unsettled island. It must be nice to be rich, be able to do anything you want. But next time don't do it on the island that Jurassic Park used to breed their dinosaurs. When Mom worries about the girl running off to play, an obvious concern would be the violent tides, but of course the real threat comes from within the island. She meets a tiny, quick-moving lizard. "What are you, a bird or something?" It's a cute little thing, and she feeds it a piece of meat from her sandwich. But then all the sudden there are more of them, and they want some too. And next thing you know there's a swarm, and they're jumping onto her like piranhas on a cow, and she's screaming…
Later in the movie Jeff Goldblum's Ian Malcolm makes fun of the new characters being in awe of the dinosaurs. "Oh, yeah. Ooh, ahh, that's how it always starts. Then later there's running and, um, screaming." But this scene zooms in on Mom's face as she screams in terror… which dissolves into Malcolm on the subway yawning. I guess Sam Neill and Laura Dern probly turned the movie down, but it was a smart idea to turn the cynical wisecracker and chief-worrier into the lead. He wears a cool guy leather jacket, gets recognized on the subway, gets to tell off the new InGen head for covering up what happened, and Jurassic Park founder John Hammond (Richard Attenborough) when he tells him that dinosaurs have survived on one of the islands and become their own eco-system.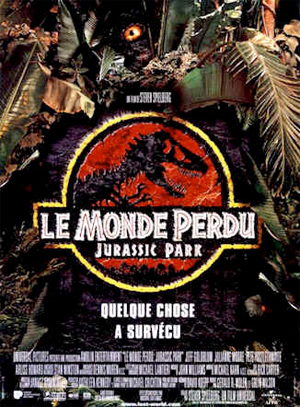 Hammond has become a conservationist and wants Malcolm to join a team going to photograph the dinosaurs thriving free of captivity before the board of directors do something stupid. This yacht incident is making them nervous. Malcolm basically tells Hammond to PG-13 go fuck himself, until he finds out his crazy paleontologist girlfriend Sarah (Julianne Moore, ASSASSINS) already snuck off to go to the island. Then he decides to go as a rescue mission to make sure she doesn't get eaten off the toilet like the lawyer in part 1.
If you think about it it's kinda the same setup as ALIENS, though admittedly he doesn't change or get shit done like Ripley does. He does fight an angry mother and protect a little girl, though.
I can understand that this thing with his girlfriend is awfully convenient, as is the more widely hated story element, the young daughter Kelly (Vanessa Lee Chester from A LITTLE PRINCESS) who stows away with them so they can have a kid there like in the first one. Also, watching it now that it's old enough to vote I notice that Sarah going around spewing paleo-facts like she has Asperger's is pretty grating at times. And there are a few animated parts that to me look more dated than anything in the first one, which relied less on the computer generated imageries since nobody had made a movie like that before. But I don't think any of this gets much in the way of Spielberg's great setpieces, the fun ways that he ups the ante on spectacle, or the moodier cinematography courtesy of Janusz Kaminski, who had started with Spielberg on SCHINDLER'S LIST the same year he did JURASSIC PARK with Dean Cundey.
The good guys are science and nature types, they know they're dealing with animals, not monsters, so they're always trying to understand and care for them. When they're attacked they try to escape from the dinosaurs, not kill them. The bad guys are still capitalists who foolishly endanger the public in their search for money, and now they also have a team of hunters who rough the dinosaurs up and call them names while capturing them.
In place of the majestic dinosaur stampede scenes from part 1 we have a great scene of these rugged adventurers roaring through in Jeeps and on motorcycles lassoing dinosaurs, rustling them like cattle, muzzling them, sometimes having to fight them to put them down. It's a cool VALLEY OF GWANGI type scene with that great Spielberg feel of sounds and activity going on all around you, shaggy-haired professionals doing their work and talking their jargon. They're macho but not evil. They don't respect the animals the way the good guys do, because they're mercenaries. Spielberg plays it just right by not having the good guys say anything about it being wrong what they're doing. He just pulls back to show their sad eyes as they watch it all go down from a hill. That expression is the depressing postscript to the famous look-of-awe shots.
Well, maybe one of them is evil. Peter Stormare is there playing the Peter Stormare character. He tortures a small dinosaur with a cattleprod and he gets what he deserves. His couple of scenes could almost be in a later sequel of some slasher franchise. But he's not in it that much.
One member of Hammond's pro-dinosaur squad is Nick Van Owen (Vince Vaughn, PSYCHO), a videographer who says he used to be with Greenpeace, and is later recognized as "that Earth First bastard." We eventually discover that he's really there for his experience in sabotage, which means he's gonna open the cages and let out all the dinos they just caught. The triceratops ramming a Jeep during a satellite meeting with investors is an enjoyable piece of mayhem, and the only one done by the good guys on purpose. It's a dangerous thing to do, but it reflects the movie's belief that now that man has played God he must allow his children the right to live.
They also make the foolish decision to bring an injured baby t-rex to their medical facilities. They understand what they're risking, but their desire to right the wrongs of the InGen team, and mankind in general, takes precedence. Plus it proves Sarah's theory that t-rexes were protective parents after all, and that leads to a Spielbergfest where the trailer hangs off a cliff with them inside and Sarah is on a window that's slowly cracking under her weight.
I think Pete Postlethwaite's character Roland Tembo is interesting. In a sense he's the most obviously "bad" guy besides Stormare, because he's a macho big game trophy hunter in a Crocodile Dundee hat who doesn't want payment for his services, he just wants to be allowed to hunt one t-rex, "a buck!" And he does this by cruelly tying up a crying baby t-rex, breaking its leg in the process. He plays it as cold-hearted, but not evil, and when dinosaurs kill his partner he doesn't turn vengeful like a true bad guy does. He gets disgusted with it all, quits and goes home. So there's a little something to him.
To make it more intriguing, he is possibly gay. I remember long ago a buddy obsessed with these movies told me that there was some comic book adaptation or something with an extra scene that revealed that the "partner" he's upset about losing later is not a business partner, but his life partner, and that later this scene was put back in the movie for the extended TV version. I've always believed this to be true, but now that I found what I believe is the scene on Youtube I guess maybe not:
I'm not sure hugging the guy and sending him cologne every year (even added to Tembo's prominent earring seen throughout the movie) are enough evidence for that. They just act like old friends, not even ones who see each other that much. I still believe Tembo might be meant to be gay, but if so it was never made explicit like I'd been led to believe.
The deleted scene is interesting in another way, though, because it would've introduced Tembo in what is usually a heroic scenario: the character seeing some yahoos harassing a helpless person in an eating or drinking establishment, then intervening, not being taken seriously and surprising the bully with an extraordinary and humiliating ass-beating (see also: BILLY JACK, A BETTER TOMORROW 2, ON DEADLY GROUND, DELTA FORCE II). This shows Tembo as a badass who stands up for the innocent, although his friend then spins it as a sign of his boredom and hey man want to hunt a dinosaur? They have dinosaurs now.
Although I have not done a scientific poll yet I'm positive that the most hated aspect of the movie is Malcolm's daughter Kelly, and particularly the gag where she spins on makeshift uneven bars to fight off a raptor. Okay, I get that one. This isn't BORN TO FIGHT, so an impromptu gymnastics routine (though foreshadowed in dialogue) seems outside of the reality established in these movies, and a silly way to have her impress her inattentive father. I can't really defend it except to say that I thought it was funny, so sue me. This is a sequel to JURASSIC PARK, where two kids were on the dinosaur island and one was an expert hacker who used her computer skills to help save the day. I prefer this more absurd contribution and the punchline it sets up for her dad ("They cut you from the team?"). I also think Chester gives a very natural, likable performance and gets some odd laughs.
A word about Kelly: she's black. For some reason that bothered some people. Hopefully they've gotten over it by now. Do you guys know the @AmznMovieRevws twitter account? It always cracks me up with its collection of stupid and/or befuddling user reviews found on Amazon. A couple months ago there was this one:
The Lost World: Jurassic Park. pic.twitter.com/Dk6sXJGVQW

— Amazon Movie Reviews (@AmznMovieRevws) April 26, 2015
… and I found it weirdly heartening, because the fact that he posted that review shows that it's seen as an unexpected and crazy thing to write about the movie. But I'm old enough to remember that it was a very common complaint at the time.
(Here and here are some of the debates that happened on the current films newsgroup.)
What is so confusing about Malcolm having a black daughter? Maybe her mother is black, maybe she's from a previous marriage but Malcolm raised her, maybe she's adopted (like Spielberg's kid). Who knows? Who cares? There are various possibilities, none of which are relevant to the story. I'm pretty sure Spielberg didn't slip up and not look at the headshot closely enough during casting. Why is this an issue? It suggests weird racial hangups that I can't fathom. I shudder to think what kind of cringe-inducing idiocy unfolds when these people run into various types of foster children, mixed race families, gay parents, children from surrogate mothers, or any other type of not-the-most-common family situations. It's gonna end up being either an uncomfortable faux pas or one of those horror stories you hear about where somebody accuses a parent of kidnapping their own child.
A less offensive common complaint at the time: it seems like it's over and then there's more. I never understood that one either. They leave the island, that would be a very unsatisfying conclusion. The payoff to the movie is when InGen does exactly what has been feared throughout the movie: they try to bring a dinosaur to human civilization, foolishly thinking they can keep it under control. Spielberg does a great JAWS-buoy type move, giving us a boat headed for the shore, not responding to communications. So it's just a boat coming at us but we all know what's inside: an angry tyrannosaur that must've somehow overpowered its captors. (Another good one happened earlier when raptors attack the group in tall grass and we mostly just see the people getting snatched and disappearing.)
The t-rex loose in San Diego is a great sequence unlike anything else in the series. One of my favorite horror themes: polite society invaded by the inexplicable. It's also the theme of that opening scene. Back when John Sayles was writing JURASSIC PARK 4, the one where genetically modified dinosaurs were teamed up like the Dirty Dozen (which must've evolved into the trained raptors that ended up being in the new movie), I read somewhere that his opening scene involved dinosaurs attacking a little league game. That's the kind of shit I want to see!
I mean, imagine just going about your business, going to rent a video or driving home from work or something, and all the sudden there's a bear right in front of you.
That would be fucking terrifying, right? Now imagine that it's something bigger and more vicious and known to be extinct for millions of years! What the fuck. That's a hell of a thing to come across on the street.
I could do without a couple of the broader jokes (Japanese tourists running like it's a GODZILLA movie, jokey fake movie posters in a vintage Blockbuster Video) but most of it works. I like how Spielberg invades the picturesque suburbs famously depicted in some of his other movies. Little boy sees a t-rex in his backyard, goes to tell his parents, they don't believe him. Real cute joke, and then it eats their dog.
In the city the panick-stricken drivers do more damage than the actual dinosaur, freaking out and driving backwards to get away, crashing into each other. And there's a great moment where we've seen a Union 76 station with its big round sign, and then from offscreen it comes rolling down the street like a giant bowling ball.
Come to think of it maybe it's a good thing this wasn't more loved, because with JURASSIC PARK being only the subtitle people could've started thinking of it as the LOST WORLD series and the titling scheme would've gotten all fucked up like after RAMBO: FIRST BLOOD PART II.
I'm not gonna hang this movie up in a museum, and I'm not gonna claim it's one of the greats. But it's a solid entertainment with at least 5 or 6 great setpieces that only Spielberg could do, and plenty of fun in between. I like it.
This entry was posted on Monday, June 8th, 2015 at 11:39 am and is filed under
Reviews
,
Science Fiction and Space Shit
. You can follow any responses to this entry through the
RSS 2.0
feed. You can skip to the end and leave a response. Pinging is currently not allowed.