Strange days we're livin in, here in the futuristic year of 1999. Everywhere you go there's people getting chased, cars on fire. I just saw 2 people beating up Santa Claus on the sidewalk. Can you believe gas has gotten up to three whole dollars a gallon? What a nightmare! And man, I almost miss junkies. They were so much better than these "wireheads" you got now, who plug into recordings of the brain responses to sex and bank robberies and stuff. Those guys make me sick.
Okay, you got me, this is actually late 2009 when I'm writing this, and that was a made up science fiction scenario that did not end up happening in '99. I would remember if it had. Isn't that weird? In less then two months we'll be at the 10th anniversary not of this movie, but of the future it takes place in. So it's ironic that it's about people stuck on re-living old experiences, and meanwhile we're watching it comparing it to the actual New Year's Eve 1999 we experienced.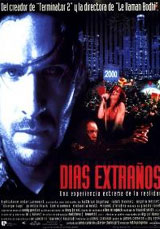 Funny, I don't remember it being so dystopian. It was an intense time here in Seattle though, because the WTO craziness had just happened on November 30th. Then on  December 14th a border guard in Port Angeles noticed that a guy seemed real nervous, so she searched his car and found a trunk full of explosives. This made the authorities take intelligence about terrorist attacks at New Year's celebrations more seriously, and the mayor chose to cancel ours, which was widely considered an overreaction. It did turn out the guy was planning to blow up LAX, not the Space Needle, but after 9-11 the threat seems more serious than it did at the time. He turned out to be a valuable intelligence source about al Qaeda and proof that a terrorist can be interrogated without torture and convicted without military tribunals.
But at the time we were more concerned with the so-called "Y2K Problem." Remember, everybody was worried the computers were gonna crash at midnight and everything would go to hell? You heard about it so much you couldn't help at least be slightly nervous. I remember the street lights on the block I was at went off right at midnight. Everybody kind of gasped and then they went back on. I thought I would've written about it at the time but all I could find was this column I prepared in advance.
No mention of "the Y2K Problem" in STRANGE DAYS, so either they hadn't heard about it yet or they saw that one for the paranoid horse shit it was. Either way, well played.
James Cameron produced this one and co-wrote it with Jay Cocks (GANGS OF NEW YORK). The director is Kathryn Bigelow, her next after POINT BREAK. It's their version of
*"See… I can get you what you want, I can. I can get you anything, you just have to talk to me, you have to trust me. You can trust me, 'cause I'm your priest, I'm your shrink… I am your main connection to the switchboard of the soul. I'm the magic man… Santa Claus of the subconscious. You say it, you think it, you can have it. "one of those "cyberpunk" stories they had in the '90s, with the big city and different low lifes using illegal sci-fi technology and there's a badass female bodyguard and they end up having to fight the power. The lead is Lenny Nero, a rare case of Ralph Fiennes playing a streetwise American. He buys and sells the brain recordings I explained earlier, so he's sort of a sleazy drug dealer with a corny rap* and way too proud of his expensive ties and fake Rolexes.
Like a cyberpunk story it's like a noir story. Lenny is supposed to be an ethical low life (he refuses to deal in "blackjack clips" where people die) but he's stalker-like in his obsession with Faith (Juliette Lewis), his ex-girlfriend who's now a rock singer and moll to sleazy record label owner (Michael Wincott). Through a prostitute friend they all find themselves mixed up in a plot involving police corruption, assassination and a serial rapist.
Angela Basset's first IMDB credit is as a prostitute, but she went on to play Betty Shabazz (twice – in MALCOLM X and PANTHER), Rosa Parks, Tina Turner, plus the mothers of the Jacksons and Notorious B.I.G. as well as authoritative fictional characters like the CIA director on ALIAS. And she was in CRITTERS 4. She's definitely the best part of the movie playing Mace, Lenny's driver, bodyguard and unconditional friend. She does a bit of her trademark emotional yelling theatrics for the Oscar clip, but it's also her chance to beat people to death and drive a burning car off a dock into water and then escape. Especially after WHAT'S LOVE GOT TO DO WITH IT she had a reputation as a strong woman, but this is the only one I've seen where she fits the Sarah Connor definition.
Bigelow has directed some great action sequences in her time, and in this one some of them are done as continuous POV shots. It kind of shows that good action chops are in the blood, because she's able to capture the chaos of one person running through a robbery in a continuous shot without ever making it confusing. Somehow all these shakycam directors today can't make their scenes half as clear even without the limitations of making it look like it's shot from one character's eyes.
But it's not all fun and thrills. The technological gimmick is also used in really upsetting ways, because there's a rape scene done from the POV of the rapist. To make it even more harsh Lenny watches it and shows it to other people. Everybody sitting around feeling what it was like for a guy to rape their friend. They're pretty subtle about how sick it is, which is nice. They don't rub it in too much.
For some reason this "virtual reality" nonsense fascinated everybody in the '90s. So they take a pretty neat gimmick and find believable ways for it to be used and abused. It makes sense that if this technology existed it would be on the black market and people would do crazy shit so they could sell the experiences and other people would spend their lives trying to live other people's. But a sci-fi movie of this type is better when it seems to say something about where we're going, and I'm not sure this one does. I guess Lenny reliving his old sexual encounters makes sense at the dawn of the home sex tape era. But I don't think being obsessed with living your old experiences turned out to be a consequence of the technology that was developing in the '90s. If anything the problem is that people ended up to in the boring present, always moving on to the next little clip on Youtube and telling Facebook and Twitter what TV show they're watching.
I think this is a pretty good movie though, smarter than average, well directed and acted with some interesting ideas, and makes a pretty good time capsule of what people were thinking about in the '90s. But it's not on the level of Bigelow or Cameron's best, and I think my problem is mainly with the ending. The mystery is solved, we find out what this is all about, and tension comes to a head. The heroes know an explosive secret, they've got to make people believe the truth, but there's corruption everywhere and people are going to kill them for knowing.
Meanwhile, it's New Year's Eve and tens of thousands of people are in the street partying in that one way that Prince always encouraged people to party. If the secret gets out this could turn into a race riot – in fact, even without the secret getting out a couple of corrupt cops start beating Mace, a pretty, unarmed black woman, right in the middle of the crowd. The cops also have a shootout where they hit several innocent bystanders. It's not even a situation where it could get ugly, it's already ugly, it's just that it seems pretty definite that it's about to get way uglier.
So that's a hell of a corner they've painted themselves into. How do they resolve it?
By giving the evidence to the police commissioner. Turns out he's clean as a whistle, so he arrests the bad guys. The end. For a movie where most everything gets messy, that sure is an unbelievably clean solution to all their problems.
But there's an aspect to the end that I do really like. For the whole movie Lenny is obsessed with Faith, who keeps telling him she doesn't love him anymore. But there are signs that she really does and is just playing along with her sleazy boyfriend in order to protect Lenny. It seems like he'll get her in the end. Instead, he realizes she's bad news and finally recognizes that his badass black bodyguard is the right one for him! You want it to happen, but you don't expect it to. She's smarter, she's classier, she's tougher… but she's black, so you wouldn't think it would happen. (The only question though is why she can't do better than Lenny. I'm pretty sure she could.)
Cameron wrote it when the Rodney King riots were still fresh on the mind, so racial tensions play a part. It all centers around the murder of a political rapper called Jeriko 1. Cameron, who had young John Connor wear a Public Enemy t-shirt in T2, obviously had respect for political rappers. But based on what we see this guy is pretty wack. He's not even really rapping, more of an angry harangue that happens to rhyme, like the non-rapper guy from X-Clan or maybe a failed audition for the Last Poets. He's not in it much so they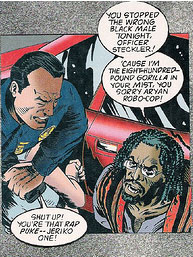 could've gotten a real rapper to play him, but instead they got Glen Plummer (THE SUBSTITUTE, SHOWGIRLS). And then when he gets pulled over by the cops he's a total dipshit, yelling stupid things at them before they even do anything. Not that KRS-One is perfect or anything, but he's sure more charismatic than this asshole. This guy is not likable enough to be the sort of prophet of the people we're supposed to accept him as.
It got me thinking – that heavy political hip hop was pretty big in the late '80s, early '90s, but for it to peak in '99 was a bad prediction. In fact, when STRANGE DAYS came out we'd already been through the "G-Funk era" with Snoop and Dre, and were seeing the beginning of Wu-Tang dominance. Some of the classic albums of '95 include the solo debuts of ODB, GZA and Raekwon, plus Mobb Deep's "The Infamous," all sounding at least as hard and dark as Jeriko 1, but not trying to bring politics to the people. That was kind of a thing of the past, for better or worse.
By the time of the real 1999 there was alot more respectable "positive rap" like "Things Fall Apart" by The Roots and "Black On Both Sides" by Mos Def, but little in the way of militant revolutionary poets. Meanwhile, Dr. Dre returned to prominence with "The Chronic 2001" and "The Slim Shady LP." That was the start of Eminem's fame, before he always complained about it, and he was really smokin with his guest appearances around then. So maybe if he was on a song somebody would've listened to Jeriko 1's album. Otherwise, I don't buy it.
But ignoring some big details the movie seems weirdly prophetic when you consider Tupac was killed less than a year after it came out. He wasn't generally thought of as a political figure, but was definitely an icon and hero to many people, and even talked about being a political leader. Michael Wincott is the Suge Knight of the movie – both are powerful, dangerous owners of record labels who were worried by rumors that their artists planned to leave them. In the movie he wasn't involved, though, and corrupt police killed the rapper spontaneously. In real life, according to the most popular theories, Knight hired corrupt police officers to take part in the murder. We'll never know what really happened, though, because nobody was plugged into a SQUID device to record it.
All of that is a long way of saying that Cameron, Cocks and Bigelow were doing some exploring of black-white relations during the rise of mainstream hip hop. They weren't all that right about where things going, but at least they were looking. In the end, though, Lenny and Mace doesn't feel to me like Bigelow and friends saying "Can't we all just get along?" It's more like, of course you'd choose this amazing woman over that skinny, skanky girl. What kind of fool wouldn't choose Mace?
I'm giving this one to the women. Angela Bassett and Kathryn Bigelow for the win.
This entry was posted on Saturday, November 21st, 2009 at 10:19 pm and is filed under
Reviews
,
Science Fiction and Space Shit
. You can follow any responses to this entry through the
RSS 2.0
feed. You can skip to the end and leave a response. Pinging is currently not allowed.