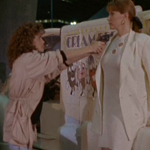 ANGEL III: THE FINAL CHAPTER, the third and last of the four ANGEL movies, finds Molly "Angel" Stewart far from her roots. She is no longer played by Donna Wilkes or Betsy Russell, now she's played by Mitzi Kapture (Silk Stalkings, Baywatch, The Young & the Restless). She's not a prostitute or a lawyer or runner anymore, now she's a photographer helping out the police (we see her go along on a gambling bust to take pictures of people running away) and in her spare time trying to work on a photography book about street kids. Most drastic of all she doesn't live in Hollywood anymore, she lives in New York.
On the positive side, New York is still a place we can see some good movie theater marquees to let us know what time period we're dealing with here. In fact, we get one in the very first shot: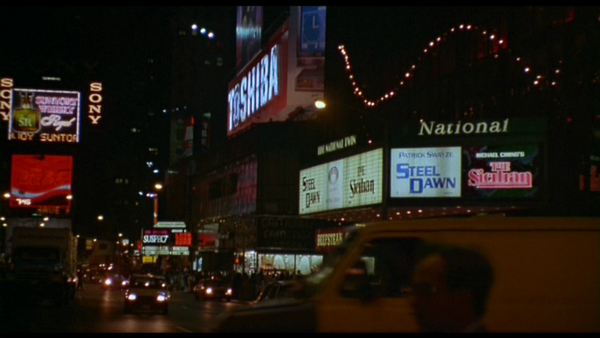 If you can't read that we have in the foreground the Patrick Swayze post-apocalyptic joint STEEL DAWN along with Michael Cimino's THE SICILIAN starring Christopher Lambert. Further down the block a theater is playing SUSPECT (Peter Yates movie starring Cher, Dennis Quaid and Liam Neeson) and LESS THAN ZERO. That means this is 1987, even though that was the year that part 2 took place.
Also notable for the timeline: Molly mentions that her mother abandoned her 14 years ago. STEEL DAWN – 14 years = 1973. Part 1 took place in 1984, and I think she was 14 then, so that would mean she's been on her own since the age of 7. You gotta hope she was selling lemonade or something for a while. Or wearing a Twiggy from Buck Rogers costume and posing for pictures with tourists on Hollywood Boulevard. But they say she was 12 when she was abandoned, so this must be taking place 12 years after part 1, which means we're looking at a simultaneous re-release of four 1987 movies in 1996? I don't get it.
Anyway, one night at an art show Part III Molly sees and photographs a woman (Anna Navarro) who she recognizes as her mother, who you remember abandoned her when she was a teen. Donna Wilkes or earlier. She doesn't get to talk to her but tracks her back to an art gallery back in California. After discussing it with a friend over this New York lunch of champions: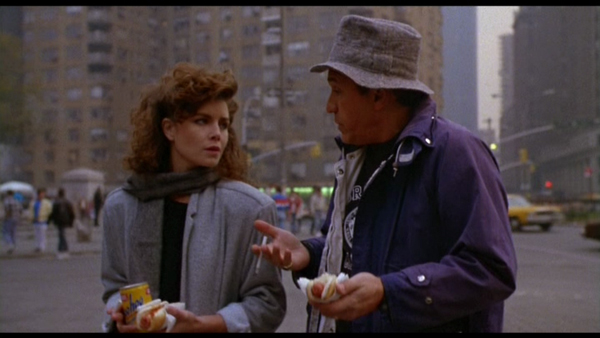 (hot dog, cigarette and Yoohoo)
she flies to California to confront Mom.
This got me thinking: did Punky Brewster ever find her mother who ditched her at a grocery store when she was a kid? And will they ever make a gritty followup TV movie or mini-series where adult Punky (wearing adult versions of her pink denim vest and mismatched Chuck Taylors) tracks her down? I hope so. I would consider getting HBO for that.
Anyway, Molly is a part time vigilante, so she has a little of the old Paul Kersey/Buford Pusser curse. So the reunion with her mother is short-lived.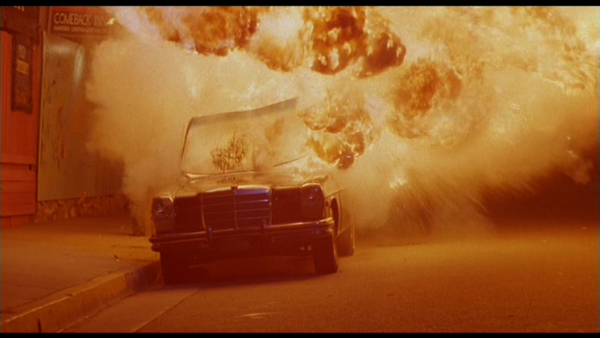 But Molly talked with her mom just long enough to find out that she had a half-sister named Michelle (Tawny Fere, ROCKULA) who was in some kind of trouble. So Molly becomes Angel again and briefly walks the streets without turning tricks again. She uses her connections to get into some porn shoots, gets to know the porn actresses and uses them to get hooked up with Nadine (Maud Adams, Octopussy herself), who provides high class escorts, including Michelle, for rich dude parties. (Coincidentally this all ties in to the riverboat gamblers Molly photographed in New York at the beginning, although I don't think she makes the connection.)
One thing that's addressed for the first time in the ANGEL series is the existence of pimps. The previous movies are sympathetic toward prostitutes and root for them to get away from street life, but never acknowledge that there are people keeping them there and taking their money. In this one Angel meets Shahid (Emile Beaucard), who pulls a knife on her but is easily tricked with the ol' "I'm going to have sex with you so take your clothes off in the car here and don't worry I won't kick you out and leave you naked on the street" trick and then somehow she never has to deal with him or any other pimp again.
She also manages to make it in the porn industry nearly degradation-free. She just gets to be a background extra wearing a skimpy cavegirl outfit. It might be hardcore, because they mention there's gonna be a handjob later, but all she has to be around is two topless women wrestling in water. No dicks or anything.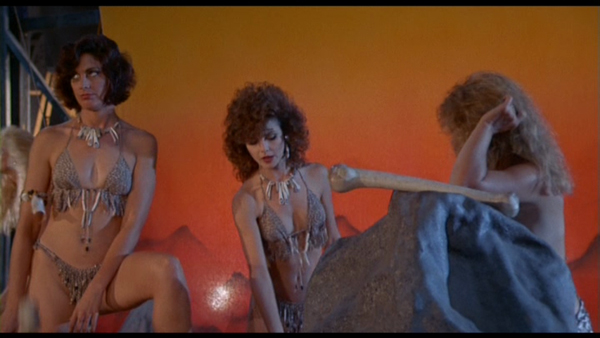 New writer/director Tom DeSimone was perhaps best known for HELL NIGHT and REFORM SCHOOL GIRLS, but not surprisingly he did a ton of porn movies under the name Lancer Brooks. I doubt they were as classy as the cavewoman epic there. But for those who watched these movies just looking for boobs, this is the one that delivers by having many topless prop women in the boat casino, on the porn set and in a mansion party. They had to do something I guess, because there's not much of the personality that made the other two movies fun. There's barely even any Hollywood Boulevard footage, other than this scene of goofy rapper/beatboxers credited as "Bebop Bedlam":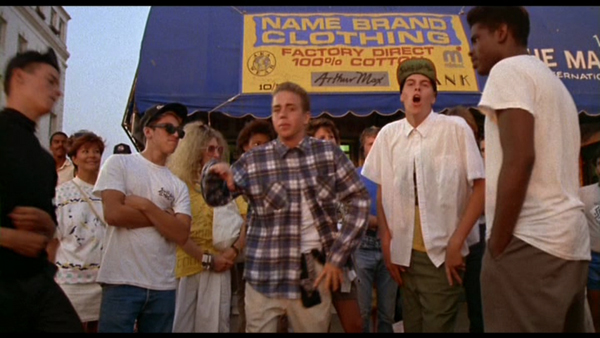 Note the Suicidal Tendencies hat.
Part III doesn't have the quirkiness or the heart of the previous two. The Angel we know and love didn't need a real family, she made a family from her ragtag band of piss-ant vigilantes. She was part of a close-knit community of hookers, drag queens, street performers, fringe artists and nuts. This Angel doesn't have that anymore, and even the local prostitutes don't accept her. The closest thing to a weirdo she hangs out with in New York is this art gallery lady with the Vampira fashion sense: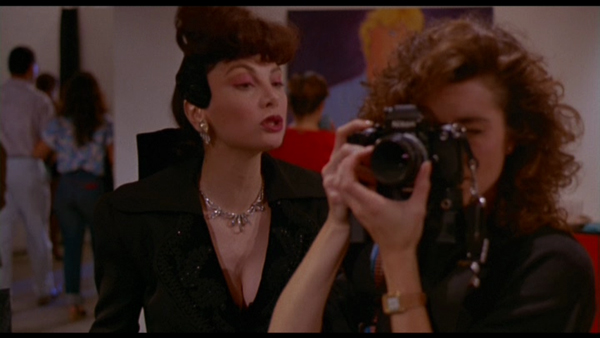 On the west coast she seems like a total square, and less take-charge than before. She even has handsome Kin Shriner protecting her. There are no returning characters besides Angel. There's only mention of Solly (her mom knew Solly would take care of her when she was abandoned). There's some guy named Spanky (Mark Blankfield, star of THE JERK, TOO) who supposedly is an old friend from the Boulevard, I think maybe he was supposed to be a transvestite hooker like Mae, but I'm not sure. He's not really a fun weirdo, just a vaguely flamboyant gay guy with lots of movie posters in his apartment. Oh, and since they drove around in a pet cemetery hearse for part 2 he has a wacky cartoon-character decorated ice cream truck for this one.
In the Ossie Davis cop slot they have Richard Roundtree in a few scenes.
Luckily Mitzi Kapture is another charming lady as Angel. But she doesn't even really dress like Angel for the most part. She does get to drive fast and fire a gun at the end. It wasn't necessarily a bad idea to have the bad guys be mansion-dwellers, because they could have a class warfare theme here. But since Angel doesn't really seem to be of the streets anymore you don't really see that clash. It's just a pretty generic TV episode type of conflict.
Well, except she does one awesome thing at the very end. The main bad guy – I forget who he is exactly but he had a mustache – has some girl hostage. I think he already killed her sister (possible spoiler). Angel pulls a Leatherface and sticks a hook in his back, but this is high in the rafters of a warehouse. Then she kicks him away from the catwalk and he dangles high above, firing off his gun. And it's a real stunt. That made watching until the end well worth my time. Other than that scene this one really doesn't live up to the misleading tagline "Angel spent years making men happy. Now it's time to make them pay."
Overall, this is a disappointing final chapter, but hopefully the last one is better.