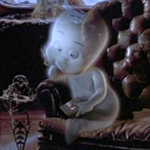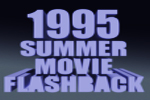 I got a feeling a couple of you probly grew up liking 1995's CASPER, the big Universal movie adaptation of the famous friendly ghost of comics and cartoons, and you're gonna tell me it's pretty good. But if so I will disagree. In my opinion it's not cuttin it.
Why would I expect otherwise? Well, #1, as a positive individual I believe in the possibility of great art coming from anywhere. #2, as a striver for excellence I expect all artists to take a shot at said greatness. #3, This was produced by Steve Spielberg, with what at the time were groundbreaking effects by Industrial Light and/or Magic. Remember, this was only two years into the modern age of digital effects started by JURASSIC PARK. Computer generated imageries were still novel and scarce. This was the first movie to have an all c.g. main character. Of course, he's deliberately cartoony, and transparent to boot, so it wasn't gonna blow people away with its realism. But this was about half a year before TOY STORY came out, so I'm pretty sure it was the most computer animation that had been seen in one movie up to that point. So it was new.
An older generation than you CASPERheads now talks with deep nostalgia about "Amblin movies" as this beautiful type of family-friendly movies from the '80s. They're specifically talking about E.T., GREMLINS, GOONIES and BACK TO THE FUTURE, I believe. And then you can pad it out with HARRY AND THE HENDERSONS and *batteries not included I guess. I doubt they mean the serious Amblin productions like THE COLOR PURPLE, CAPE FEAR, SCHINDLER'S LIST or THE BRIDGES OF MADISON COUNTY.
Anyway, the Amblin family films of the '90s were not exactly of the E.T. pedigree. We're talking HOOK, THE FLINTSTONES, THE LITTLE RASCALS, LITTLE GIANTS, and then CASPER, intended to be in that same vein I'm sure, but not successfully. The main character being a ghost may be a metaphor for the death of that whole Amblin thing. It lives on in our memories.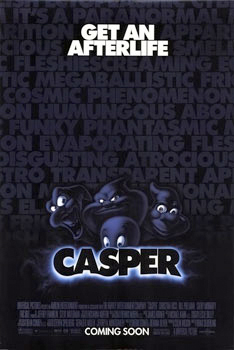 Christina Ricci (BUFFALO 66, SPEED RACER) stars as Kat Harvey, a middle schooler who has no friends because her widower father (Bill Pullman, THE GRUDGE) drags her all over the country for his work as a "ghost psychologist," on a mission to help spirits solve their unfinished business so they can move on, and also to find the spirit of his wife. I'm not sure they totally thought this premise through, because Casper ends up having a number of breakthroughs without it ever being addressed whether he should get to move on to a better place. Everybody else that's dead can aspire to that but he'll just be a friendly ghost forever I guess.
Anyway, like in BEETLEJUICE there's a mean rich lady (Cathy Moriarty, COP LAND) with a wacky henchman (Eric Idle) who becomes owner of an old haunted house in a small town and wants to get rid of the ghosts (Casper and his three emotionally abusive uncles), in this case so she can search for treasure. Casper sees a profile of Dr. Harvey on Hard Copy and for some reason it includes TMZ type footage of his daughter, who the ghost gets a crush on, so he tricks the lady into hiring the doctor to do ghost therapy on the uncles. And Kat discovers Casper and they become friends and it's supposed to be real sweet.
Kat tries to fit in at her new school and volunteers her famously spooky house for a Halloween party/school dance. There is a CARRIE-esque subplot where a dreamy boy asks her to the dance but really so a mean popular girl can humiliate her. But Kat spends most of her time with the ghosts, dodging the uncles' painful jokes, trying to get Casper to remember his life, discovering a hidden underground laboratory with a ghost-resurrecting machine that Casper remembers his dad invented. Then they end up fighting with the rich lady who comes up with the questionable plan of ax-murdering her assistant so he can use ghost powers to go through the wall and get the treasure and then she'll use the machine to bring him back. There's only enough potion for one resurrection, but everyone takes it on faith that 1) this definitely for sure is a real machine and not just the work of a crazy person 2) it is still in working condition.
The script is by Sherri Stoner (an actress from Little House On the Prairie) & Deanna Oliver (an actress in HOT TO TROT and A GNOME NAMED GNORM and the voice of THE BRAVE LITTLE TOASTER). They had been writers for the Spielberg-produced TV cartoons Tiny Toon Adventures and Animaniacs, and I don't know, maybe their type of jokes were funny to kids at the time. Ha ha, he was pouring coffee but he wasn't looking and the ghosts were making the coffee pour out of the cup! Ha ha, Casper turned into a shirt, and a balloon! He can be different shapes besides ghost shape! There is some real lightweight pop culture reference humor, such as cameos by Father Guido Sarducci and Dan Aykroyd in his Ghostbusting uniform, and a part where Bill Pullman looks in the mirror and his face morphs into Clint Eastwood (BRIDGES OF MADISON COUNTY), Rodney Dangerfield, Mel Gibson (BRAVEHEART) and The Crypt Keeper (TALES FROM THE CRYPT: DEMON KNIGHT).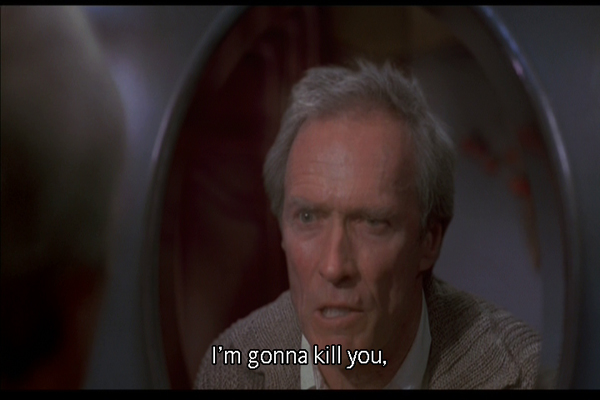 I guess that was a thing back then, because of ALADDIN and THE MASK. If you're a cartoon then you turn into different shapes, or Arsenio Hall, or whatever. The worst one here is when Casper turns into a generic super hero, but then does an Arnold Schwarzenegger imitation: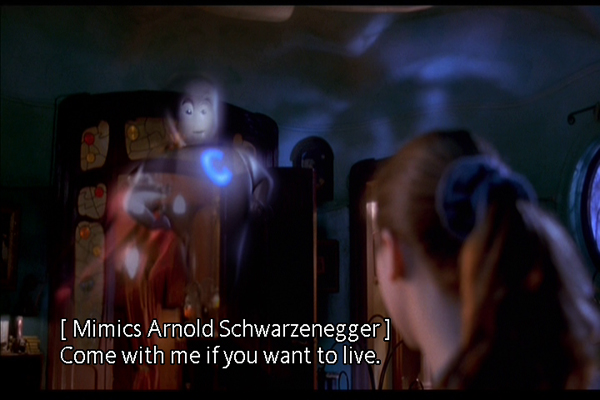 Did the animators not know what the voice was? Did the voice actor not see the animation? I don't get why a Super Casper would be a Terminator. I guess at least I like this type of, you know… humor or whatever it is, better than the stuff with Moriarty and Idle. Anyway, in my opinion this afternoon cartoon style of frantic, broad jokiness does not work so hot with live action actors and a James Horner orchestral score underlining every joke.
And then that type of crap has a hard time transitioning into serious heartstring-pulling scenes like the one where Casper gets some of his memory back and sadly recounts the tale of his slow death from pneumonia or something after a sledding accident, and how hard it was on his father.
By the way, if his father lived such a troubled life (he lost his son and then they put him in an asylum because of his Lazarus Machine invention) why didn't he become a ghost? And if the Ghostly Trio are Casper's uncles does that mean they were his dad's brothers? How the fuck did they all die? And why did they end up in Casper's house? Did they live there too? I guess they must've, because they have beds there that say Stinky, Stretch and Fatso. Or were those ghost beds? And if Casper didn't remember anything about his life before then how did he know those were his uncles? I'm so confused.
For sure the key to success would be to pull off a sweet relationship between Casper and Kat. They definitely try, but to me it's kinda creepy. Not just because he's dead and seems like an even younger kid than her, and is a cartoon, and had to explain that he had five fingers when he was alive even though he has four now, but also because they both seem too young to be in such a rush to fall in love. They're kids, can't they just be friends? Instead they go for this bittersweet EDWARD SCISSORHANDS unrequited love business where he sacrifices his chance at resurrection to save Kat's dad (I forget to mention that he plummets to his death after a drunken night of karaoke with the ghosts) and in return he gets one night to be alive, live action, five-fingered, and he uses it to dance with her and kiss her. (In live action he's Devon Sawa, who went on to stalk Eminem.)
I know our hearts are supposed to break when Casper whispers "Can I keep you?", because they have him do it twice. But I'm not so sure about him snuggling up on her and kissing her while she's falling asleep.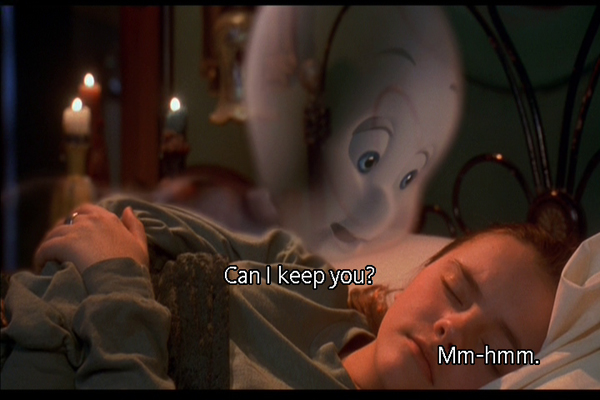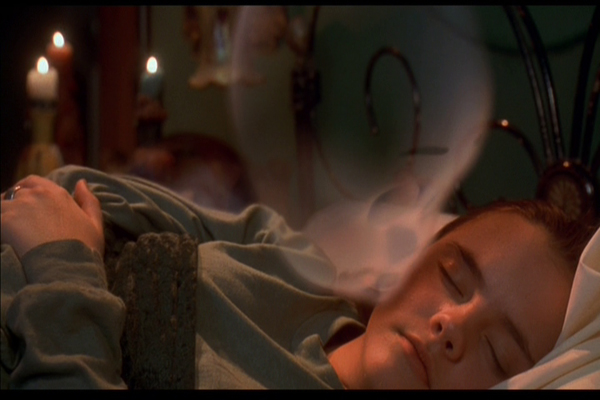 Especially after his reaction when he first saw her: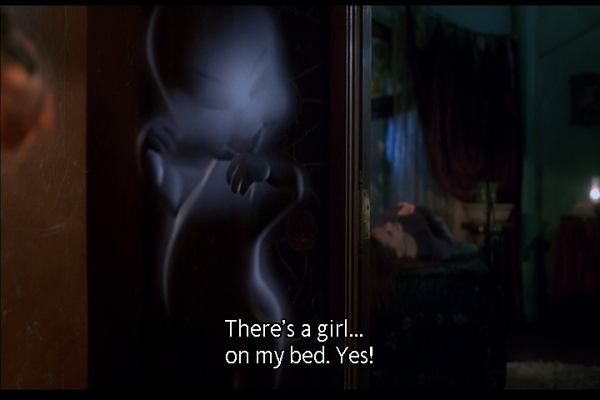 And then how he tried to pull a sneaky move on her: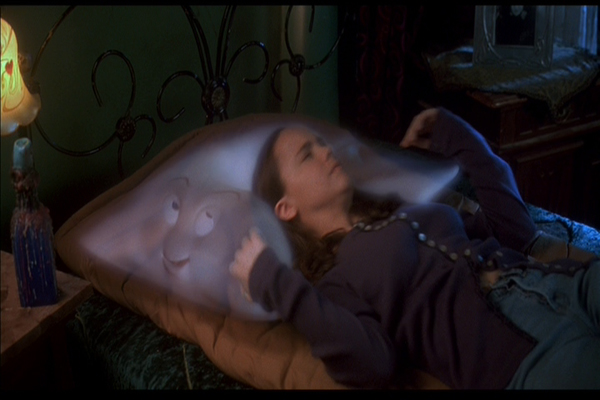 He might be a little too friendly of a ghost in my opinion.
To me this comes off as a square imitation of the cartoon gothiness of Tim Burton or even the ADDAMS FAMILY movies with Ricci. You can have morbid jokes, curvy architecture and old timey Rube Goldberg inventions but you need more style and tonal control than this to pull it off. But I guess this isn't the worst thing in the world. The animation is pretty good. I kinda liked when Bill Pullman got turned into a cartoon: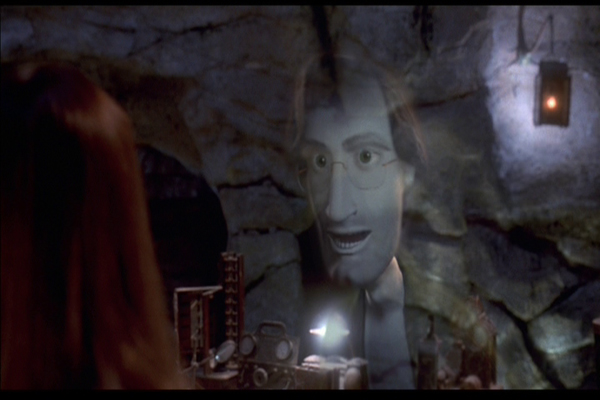 And they were playing it pretty smart because if they needed to fire Pullman and replace him with Jeff Daniels they could've used the same ghost.
Anyway, not a fan of CASPER. This is one ghost I wouldn't mind busting. But to be fair bustin' does make me feel good. So your mileage may vary.
Post-script:
CASPER was actually a big hit, opening at #1 and eventually making $287 million worldwide, the #8 box office movie of 1995. It did better than JUMANJI! But it doesn't seem to me like it stuck in the public consciousness. Animation director/H.G. Wells great-grandson Simon Wells (AN AMERICAN TAIL: FIEVEL GOES WEST, MARS NEEDS MOMS) was set to direct and co-write a sequel, but it never came to fruition. Saban Entertainment (the Power Rangers people) did make two DTV Casper pictures, CASPER: A SPIRITED BEGINNING (1997) and CASPER MEETS WENDY (introducing Hilary Duff) (1998) and then there was an all computer animated CASPER'S HAUNTED CHRISTMAS. I guess the true continuation of this movie was in 52 episodes of a Fox Kids computer animated series called The Spooktacular New Adventures of Casper, which started in '96. It was made by Amblin and writers Sherri Stoner and Deanna Oliver, and featured the characters of Kat Harvey and her dad.
This was the feature debut of TV director Brad Silberling, who went on to direct the beautiful looking LEMONY SNICKET'S A SERIES OF UNFORTUNATE EVENTS and the pretty funny flop LAND OF THE LOST.
Ricci briefly continued being a star of kid movies (GOLD DIGGERS: THE SECRET OF BEAR MOUNTAIN, THAT DARN CAT) but in the year 1998 alone she appeared in THE OPPOSITE OF SEX, BUFFALO '66, FEAR AND LOATHING IN LAS VEGAS, PECKER, I WOKE UP EARLY THE DAY I DIED and DESERT BLUE.
This entry was posted on Tuesday, May 26th, 2015 at 11:36 am and is filed under
Comedy/Laffs
,
Comic strips/Super heroes
,
Reviews
. You can follow any responses to this entry through the
RSS 2.0
feed. You can skip to the end and leave a response. Pinging is currently not allowed.