THE ARTIST is an enjoyable, cleverly made tribute movie by the French director (Michel Hazanavicius) and star (Jean Dujardin) of those O.S.S. 117 movies, which from what I have heard are also enjoyable, cleverly made tribute movies. In this one the guy plays George Valentin, beloved silent film star, on top of the world right before the dawn of the sound era. And then he's in trouble.

His trouble is partly because the industry is changing, but partly because he's a dumbass. He blatantly flirts with Peppy Miller (Berenice Bejo), a new screen star discovered when she was just an autograph-seeker photographed by paparazzi kissing George on the cheek. So this doesn't go over well with his wife (the similarly-named Penelope Ann Miller), and his other adorable shtick (smiling at himself in the mirror, having his dog sidekick do tricks at the dinner table when she's obviously upset that he seems to be openly and publicly cheating on her) doesn't solve the problem. So after a while he throws him out on his ass, he has no money and has to auction off all his rich person shit (furniture, statues, giant paintings of himself). The poor scamp.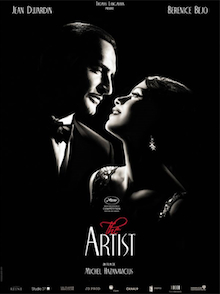 It's a classic Hollywood type of story – those old movies about the rise and fall and sometimes re-rise of fictional stage or screen stars – but done in the style of a silent film. Yes, please be aware that this is a silent film, no dialogue except for intertitles. It sounds cute and all but I imagine some people will sit down to it and then realize that on second thought they actually don't want to see that. To make it easier on us it uses modern cinematic cheats. The picture is clear and not sped up, so unlike most actual silent films you can read their lips and expressions alot of the time, and what they're mouthing is often modern speech too, there's not as much of a cultural gap there. Also there's a full orchestral soundtrack correctly timed to the movie. And one song with vocals.
That's one of the times it cleverly uses the coming of the sound era as an excuse for little tricks. I'll only give one more vague example, so as to not ruin too much: there's a dream sequence where he discovers he can hear sound effects. So the movie's playing with the fact that it doesn't really have the limitations it's mostly sticking to.
Dujardin deserves alot of the credit for the movie working. Even without the power of speech he has the look, charm and mustache of one of the old movie stars like Gene Kelly or somebody. They don't have leading men like that anymore so he makes the gimmick more authentic than if it was some recognizable Hollywood guy more blatantly of our era. On the other hand there are some of those in the supporting roles though: John Goodman as the studio boss, Malcolm McDowell in like one part, Borat's sidekick in another part, James Cromwell as George's driver, and in the role of Peppy's driver I couldn't believe it but it was Ed motherfuckin Lauter (DEATH WISH 3, BREAKHEART PASS, WHITE BUFFALO, DEATH HUNT, RAW DEAL, CUJO, REVENGE OF THE NERDS 2, etc.).


Bejo also works well as a spunky rising ingenue of the time. She's adorable when she dances and smiles. I'm gonna start using 'ingenue' in my other reviews also, not just to evoke a certain era. Like, "Erika Eleniak, the young ingenue who jumps out of the cake topless," that type of thing.
Despite the presence of Mr. Lauter this is one of those movies where it's only playing on one or two screens in town so you gotta get there early and be prepared to be with one of those crowds of mostly people that see only a handful of movies a year (either foreign, independent or Oscar bait) because their bourgeois friends said it was real good. When the guy next to me kept saying "Hmmm" or "Ahhhh" at each line of text on the commercials I was a little concerned about getting through a silent movie near him, but it turned out to be fine. Also I almost got the spelling of bourgeois correctly in one try. I had an 'e' on the end but otherwise got it right. So not only am I real open minded to go see a movie like this without even knowing Ed Lauter was gonna be in it, but I'm also real smart and stuff. I would like a little credit here.
Because of all the acclaim this movie has gotten (97% Fresh Organic and Locally Grown on Rotten Tomatoes, 6 Golden Globe nominations, Best Picture honors from Alliance of Women Film Journalists, Boston Film Critics Association, Detroit Film Critics Society, New York Film Critics Circle, Oklahoma Film Critics Circle, Phoenix Film Critics Society and Vancouver Film Critics Society, Best Director from Alliance of Women Film Journalists, Critics' Choice Movie Awards, Denver Film Critics Society, Detroit Film Critics Society, New York Film Critics Circle, Oklahoma Film Critics Circle and Phoenix Film Critics Society, heavily favorited for Oscar nominations and for Best Picture – Comedy, Musical or Fake Silent Film at the Senior Choice Awards) you might go in expecting some kind of overwhelming innovation, greatness or soul-shattering depth or insight of some kind. If so you're not gonna even come remotely close.
The trailer below, not coincidentally created by legendary Oscar hoggers the Weinstein Company, tries to make it seem like it turns real serious and emotional at some point. And maybe the title makes it seem like it's supposed to be some kind of statement about creating art or the power of art or something like that, a topic which really probly never will need anything ever said about it again, but which probly causes audible boner sproinging at all critic's screenings. This isn't even about that, I'm not sure why they chose the title and I don't think it ever occurs to George Valentin (who's not a writer or director anyway) to create some kind of statement or emotional journey with his movies. He just likes dancing with pretty girls and being adored. I think even if you try to create a comparison of the end of the silent era to the way digital technology has completely upended the movie, TV, music and publishing industries in recent years and changed everything you'd have trouble coming up with a believable argument for the movie having much depth or relevance.
I'm not saying I want it to have any of those things. It's like CHARLIE'S ANGELS, it might not even work as well if it had deeper characters. This is a real good, cute movie and I don't think the filmatists wanted you to think it was anything more than that. They weren't begging for a best picture. That's why in addition to all those other accolades it's a heavy favorite for this year's Perfectly Good Movie That I Start To Unfairly Resent After It Wins a Bunch of Awards Award. Previous honorees include THE KING'S SPEECH and LITTLE MISS SUNSHINE.
But it perfectly achieves what it sets out to, which is to be a funny and sweet piece of fluff that pays loving tribute to a couple bygone eras of film. It takes tropes from a certain type of cinema and exaggerates them to be more silly but maintains a little bit of sincerity about using them, and lovingly imitates an out-of-fashion style of filmatism, making a few postmodern type jokes playing with the form and our modern sensibilities and what not. In that sense it's pretty much the same type of movie as BLACK DYNAMITE. The one way it's better than BLACK DYNAMITE is that it has a couple big tap-dancing scenes, which I enjoyed. On the other hand it doesn't have any kong fu, so it evens out. What I'm saying is why wasn't BLACK DYNAMITE nominated for best picture you racist assholes.
In conclusion I liked THE ARTIST it is good. thanks
This entry was posted on Saturday, January 14th, 2012 at 6:42 pm and is filed under
Comedy/Laffs
,
Reviews
. You can follow any responses to this entry through the
RSS 2.0
feed. You can skip to the end and leave a response. Pinging is currently not allowed.