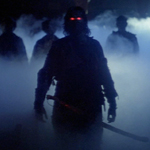 Five minutes before midnight and the 100th anniversary of the founding of his coastal California town of Antonio Bay, John Houseman tells a ghost story to a group of kids gathered around a campfire. He claims the town was founded on gold stolen from a deliberately sunken pirate ship (like in the cool samurai movie GOYOKIN, or the Tom Laughlin western THE MASTER GUNFIGHTER), and the original owners will be coming back tonight for what's theirs. This would be corny as a wraparound story, but it's perfect as a prologue and a warning. We enjoy the art of oral storytelling and a brief pause before the movie marches into an atmospheric title sequence set to a great synth score that could only mean this is a John Carpenter film.
This is more of an ensemble than many Carpenter movies. I'd say the lead is Stevie Wayne (Adrienne Barbeau), local DJ who broadcasts out of a lighthouse she owns. She ties the other characters together because they hear her voice and music wherever they go. She plays mostly old timey jazz, which makes for a good soundtrack and also can sound eerie when echoing tinnily in an empty room.
Then you have Nick Castle (Tom Atkins), a local driving home late at night who picks up a young hitchhiker named Elizabeth (Jamie Lee Curtis). Think about this. Curtis as Laurie Strode, with her presumed virginity, was patient zero for the claim in SCREAM and other places that only a virgin can survive a horror movie. In this one her character gets picked up by an older stranger and is in bed with him within the hour. This is never implied to be a bad thing and they both survive and are heroic. Isn't that what they call "sex positive"? And does a "sex positive" cancel out a "sex = death"? (I'm not good at math.)
Curtis's real life mother Janet Leigh plays Kathy Williams, who is overseeing the centennial celebration, possibly a bad place to be tonight. Hal Holbrook plays a cowardly priest who discovers the town's dark past in an ancestor's journal and freaks out.
The supernatural threat lurches into the town slowly and steadily, like the relentless thumping heartbeat of Carpenter's music. It starts with a montage of machines malfunctioning: alarms going off, gas pumps turning on, rows of cars turning on or pay phones ringing all at once. Eventually it arrives at people's front doors. A glowing fog rolls in, there is a loud knock. If they answer then silhouetted figures step in and tear them apart with hooks. Slow, otherworldly build up to a quick, vicious burst of brutality.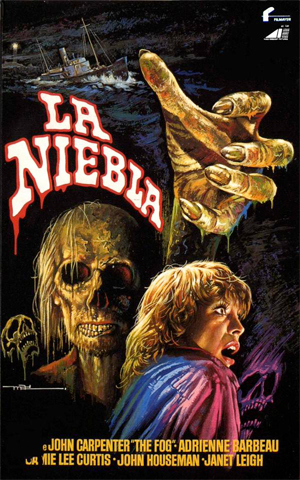 After HALLOWEEN became a huge hit, John Carpenter didn't feel like directing the sequel. He stayed on as writer and producer but focused his attention on what in many ways is a very different type of horror tale. But THE FOG and HALLOWEEN actually do have similarities. Both take place in a small town that we know the name of, and who some of the authority figures are. Both take place on a specific date which is the anniversary of a long-ago infamous tragedy. The audience knows that a silent, faceless, murderous party involved in that event has returned for the occasion. There's a gradual escalation of creepiness during the day and then most of the action takes place over one long night. There are characters who know what's going on, but everybody thinks they're crazy.
What's more, Carpenter basically brought along the Halloween Players here. He's got some of the same crew, including producer/co-writer Debra Hill and director of photography Dean Cundey. Tommy Lee Wallace, who edited, production designed and in some shots played Michael Myers for HALLOWEEN, returns as editor and production designer, plays a ghost and lends his name to George "Buck" Flower's character. (He would go on to write and direct HALLOWEEN III: SEASON OF THE WITCH.) The cast of course includes HALLOWEEN stars Jamie Lee Curtis (Laurie Strode), Charles Cyphers (Sheriff Brackett) and Nancy Loomis (Annie Brackett). Also you have Curtis's mother Janet Leigh, who would have an appearance much later in H20, as well as Tom Atkins (who would later star in HALLOWEEN III) playing a character named after Nick Castle, who played Michael in part 1.
(Incidentally, Cyphers's character is named after Carpenter's DARK STAR collaborator/ALIEN writer/future RETURN OF THE LIVING DEAD director Dan O'Bannon. I think that's funny because it later became a corny cliche for the directors who grew up on this stuff to name their horror characters after horror legends like Carpenter, Wes Craven, Tobe Hooper. etc. Carpenter was able to get away with it because to him it was just his buddy from college.)
An interesting thing about the making of THE FOG: most of its greatness was figured out in reshoots. When they assembled the first cut, according to Carpenter, "it sucked." Initially people would go out into the fog and you wouldn't see what happened to them, but that turned out not to be as scary as hoped. So Carpenter added the gory bits, like the closeups of the hooks. He also added the prologue with John Houseman. And the excellent montage of poltergeist activity with all the machines. And the attack of the fishermen on the boat, and the scene in the morgue, and Stevie fighting the ghosts on top of the lighthouse.
To think there was a version of the movie where you didn't see those ghosts, standing there with their glowing eyes, their silence, lack of expression and relentless pursuit of goals following the tradition of Michael Myers and the gang in ASSAULT ON PRECINCT 13… and maybe the beach ball alien guy in DARK STAR if you want to go all the way to the beginning, but that's probly stretching it. These guys were classic John Carpenter characters and they were Plan B.
Yeah, I'm not surprised it didn't work without all that stuff. And it's interesting that he did something similar as producer of HALLOWEEN II around the same time.
Anyway, they ended up with a good story. Even before the ghosty shit happens it has a good after-midnight feel, people in different parts of the town after hours, lonely, listening to Stevie by herself in her lighthouse, or talking to her on the phone, reminding themselves that there are other people out there. And I like how Stevie feels a responsibility to the town, as the one with the vantage point to see the fog and the equipment to tell everyone about it. She thinks she won't make it out alive, so she apologizes to her son. But she stays and watches where the fog goes and directs the people to safety over the airwaves.
Part of what makes it powerful is the sense of inherited guilt. They know that the ghost pirates have a point. They can put up a statue and have a celebration but they know their little town was founded on blood money. This is a story about a curse from something that happened 100 years ago, and the ghosts trying to avenge the six who conspired against them through their descendants. Notably, Father Malone stops the curse by learning the history of it, sharing it with others, returning what was stolen, and taking responsibility. He doesn't deny his Fog Privilege, he doesn't say it's about Antonio Bay pride, he says okay, you're right, here's your gold that my ancestors stole, and I'm sorry.
Maybe there's a lesson for all of us, whether we live on land stolen from indigenous people, or our people once owned slaves, or we're in denial about a genocide, or whatever.
Then again, Father Malone ends up getting it. So I don't know.
This is one of a handful of beloved Carpenter movies that never quite clicked with me. I can't remember how long it's been since I've seen it, if it was on DVD or VHS. Either way, seeing it on a hi-def TV makes a difference. When you watch the "Inside Horror" extra on the blu-ray and see the fuzzy, cropped clips that were used on TV, you can see what a huge difference it makes.
This is a movie that is primarily about mood and atmosphere. It's about Carpenter's music creating dread under Dean Cundey's wide frames of glowing fog slowly rolling toward the shore. It's about shots that look almost like painted covers for H.P. Lovecraft novels. And whether it's that improved presentation or whether I've just gotten to the right point in my journey as a human being and/or horror fan, this is the viewing where I finally loved it. I finally was in the mood for a good ghost story. THE FOG is great.
Also "Antonio Bay" would be a good alias to use for checking into hotels and stuff.
Sincerely,
Mr. Antonio Bay
Seattle, Washington