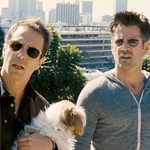 Now that I've seen SEVEN PSYCHOPATHS I understand why the ads made it look so dumb: it's too hard to explain. They made it look like some corny post-Tarantino "isn't it funny, they're hardened criminals but they're arguing over a Shih Tzu!" type bullshit. And that's in there – writer/director Martin McDonagh (IN BRUGES) is about the only guy whose style can remind me of Tarantino in a good way – but overall it's weirder and more distinct than that.
In IN BRUGES the protagonists were hit men, and there was a subplot about a movie being filmed near where they're staying. In this one the movie business is more central. Colin Farrell plays a clearly idiotic screenwriter trying to write something called SEVEN PSYCHOPATHS, but he doesn't have much more than a title. He doesn't even have seven psychopaths, so he just spends his time trying to think of concepts for different psychopaths, sometimes based on stories he's heard or seen in the news. So we see these stories in his head, or going on around him, and fictional reality begins to blend with fiction-within-fiction.
Meanwhile, his asshole actor friend (Sam Rockwell) has gotten into some shit. He has a scam going where he steals women's dogs, then has Christopher Walken show up at their houses pretending he found them, at which point they give him money. But he stole a Shih Tzu from Gabourey Sidibe, and she was actually walking it for a gangster (Woody Harrelson). He loves that dog and leaves a trail of bodies in his quest to get it back.
The self-absorbed screenwriter keeps trying to work on his movie while Rockwell tries to make his life more like a movie, talking about team-ups and a "final shoot out in the desert" and things like that that, of course, end up happening. Lots of meta going on here, but not too cute in my opinion. I think it works.
Meanwhile, everybody keeps offering their advice for SEVEN PSYCHOPATHS, which sounds terrible.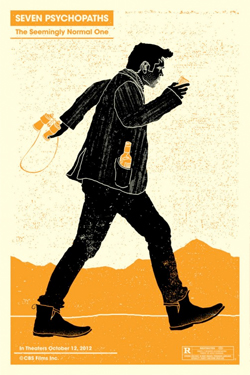 It's a pretty random movie, but it seems to be McDonagh's trademark to have all sorts of seemingly tossed off elements end up tying together. In IN BRUGES it felt a little more natural. Here it's kinda cartoonish the way all these characters we're meeting all over the place end up tying together. But it's funny.
There are alot of great scenes, mostly about conversations. There's the one where Woody Harrelson comes to the hospital to threaten Walken's wife (Linda Bright Clay), but he doesn't seem to know he's found her because he doesn't know that Walken's wife is black. So there's a long, tense scene where they talk and we worry that either he's gonna figure out it's her or that he already has and is drawing it out out of sadism.
But the best scene is probly the one where Tom Waits, holding a bunny, shows up sitting outside Farrell's house, responding to a classified ad that Rockwell never should've written. Waits tells a great story about murdering serial killers. The best part is who the bunny came from.
A buddy of mine told me that McDonagh wrote the script about 15 years ago. He thought it was supposed to be a comment on the post-Tarantino indie crime movies of the '90s and therefore was way too late out of the gate. I thought it was more about movie cliches in general, I didn't notice it being specific to that genre or era, but maybe that broadness is a weakness anyway. It is reminiscent of those movies in one good way: it has a huge cast with a weird combination of beloved and/or under-recognized character actors and unexpected faces. Along with the people I've already mentioned there are appearances by Harry Dean Stanton, Kevin Corrigan, Michael Pitt, Michael Stuhlbarg, Brendan Sexton III and Crispin Glover.
I especially give the movie credit for its use of Walken. Those aforementioned '90s movies pretty much ran his KING OF NEW YORK image into the ground. Now he's getting good at playing this lovable nerdy old guys. Here he combines that with a low life petty criminal. I also liked seeing Harrelson here. Not his best character, but a good one that takes advantage of his perpetually underrated acting and comedy chops. Just now I read that Mickey Rourke originally dropped out of EXPENDABLES 2 to play that character but quit and called McDonagh a "jerk-off." That would've been interesting too because the love for silly little dogs would've been autobiographical. But I like what Harrelson does with it.
It's no surprise though that Rockwell is sort of the center of attention. He's an endearing yet despicable terrible-best-friend character. The character is not a stretch for him at all but since he's great at it why not let him do it?
And I gotta mention Farrell too. He's kind of the more normal guy so you focus on everyone around him, but he's holding it all together. I like seeing him play insecure, vulnerable guys. It's a more natural fit for him than you'd think.
McD is a playwright, so it makes sense that his strength is dialogue and working with actors to deliver it well. There are so many laughs just from the wording the characters choose. Then again my biggest laugh wasn't a line, but a reaction. When an awkward conversation comes up in a bar Rockwell dismisses himself from the situation by casually sipping through a straw while turning his face to the brick wall that's right next to him. Like he's hiding in the corner or something. Don't make eye contact, act natural.
I would say this is not as good as IN BRUGES. It's more scattershot and light weight. But McD might've needed to get this out of his system before going back to something more focused and disciplined. At any rate, it's worth watching. It's a unique movie with alot of laughs, some tension and a great cast who all seem to be having a great time.
This entry was posted on Friday, February 8th, 2013 at 1:29 pm and is filed under
Comedy/Laffs
,
Crime
,
Reviews
. You can follow any responses to this entry through the
RSS 2.0
feed. You can skip to the end and leave a response. Pinging is currently not allowed.