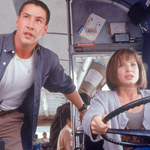 Do you guys know about SPEED? It's like GRAND PIANO with a bus! An L.A. public bus that requires the very precise driving of not going below 50 mph or it will blow up. Even if it went through a school zone it could not slow down to avoid crunching the little ones under its wheels. That's fucked up! I mean they don't run into that problem in the movie but jesus, bad guy mastermind, think of the children.
It's no mystery to us, this is the work of bomber-for-ransom Dennis Hopper (TICKER), who in a pre-bus sequence tries a similar job on an elevator full of Patrick Bateman types, but is foiled by Jeff Daniels (BLOOD WORK) and his young gum-chewing sidekick Keanu Reeves (MAN OF TAI CHI). This was after POINT BREAK but before THE MATRIX, so Keanu as the lead in a big action movie was still a new notion to the world. But what are you gonna do, the Jeff Daniels character gets shot and taken off the streets, it's just not in the cards for it to be a kickass Jeff Daniels vehicle. I'm sorry.

Well, Reeves as Jack Traven is walking to his car when a bus blows up and then a pay phone rings. You never enjoy answering a call like that, you know? It's gonna be trouble. Turns out it's that madman, who lets him know to find this certain other bus to try to rescue. He complains about how many years it took him to set up the elevator job, but doesn't explain why he could then set bombs on two buses overnight. Maybe the experience of working toward the elevator bombing paid off in less direct ways that won't necessarily be apparent right away. Ya ever think of that, Hopper? Why do you need to be rich to feel good about yourself. You're an amazing bomber! Isn't that more important?
Anyway there's this bus, pretty full of commuters, that Jack is told has the bomb on it, and it must be an express bus because he doesn't know it can't slow down but instead of rushing ahead to one of its stops he commandeers random-guy-in-traffic Glen Plummers' car to chase it and jump onto it while it's still in motion.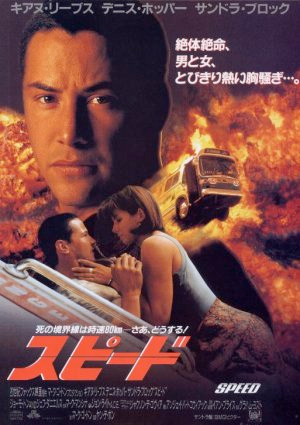 Things do not go well. Let's just say a guy on the bus accidentally shoots the bus driver, so aggressively friend-making passenger Annie (Sandra Bullock, DEMOLITION MAN) has to take over. This is a bus where the regular riders know the driver and some of each other's names. I've never seen that but I'm in Seattle, not small town Los Angeles.
It's a movie all about problem solving. Jack is on the bus trying to keep it at the right speed, but also not to crash, but also negotiating with the madman and coordinating with the department to get the wounded driver safely off the bus, then he has to convince them not to try to get anybody else off the bus because he knows the guy is watching somehow. Also he has to poke his head in the undercarriage to examine the bomb while talking on the phone to Daniels, who is outside using the description of the bomb as a clue in his detectiving to figure out who this guy is and try to find him. (It's not like SAW, he's not on the bus the whole time.)
The action comes with the driving, having to crash through the ol' water-filled garbage cans (but no fruit carts), dodge traffic jams, do an impossible jump, plus some LOST ARK style climbing underneath the vehicle, and pre-FAST & THE FURIOUS high speed vehicle transfer, etc. It's not as cartoonishly over-the-top as it could be, but the opening disavows any loyalty to gravity by introducing the boys on the way down from catching air, as if their car is being dropped in from the sky.
Of course there's some drama among the passengers, but thankfully not too much. When Alan Ruck (later on Justified)'s panicked rambling puts everyone on edge it seems like Jack will give them an inspirational speech… but a scolding look is enough. The movie has an optimistic "we're all in this together!" type of attitude despite its proximity to the Rodney King beating.
When I watched this I didn't realize it was the 20th anniversary this summer, I just had been meaning to rewatch it forever. I was trying to figure out if it was a movie that people still considered relevant. I think everybody knows it, but I'm not sure how much people think about it or go back and watch it. So much of its success was simplicity and timing. It's such a great gimmick, smartly executed. It has two young stars who were on the rise and a veteran counterculture actor regaining his cool because of RED ROCK WEST and TRUE ROMANCE and ready to chew up a fun bad guy part like this. It was probly too derivative to seem influential, but its existence definitely had an impact, at least for a while.
SPEED launched Jan de Bont's directing career like a bus off an unfinished freeway ramp, but it didn't land as smoothly as this bus does. He'd been a brilliant cinematographer on CUJO and of course DIE HARD. The surprise success of SPEED put him on the A-list for a bit, doing big expensive movies like TWISTER and THE HAUNTING but too much mediocrity spoiled his reputation. Holy shit, I either forgot or didn't realize that he only ended up directing five movies. As of now his last directorial work was 2003's LARA CROFT: TOMB RAIDER: THE CRADLE OF LIFE, which was poorly received but in my opinion very enjoyable. His second best movie after SPEED. I wonder what he's doing now? He did somehow get an executive producer credit on Lee Daniels' THE PAPERBOY in 2012. But that could mean it was something he tried to make into a movie years earlier, he didn't necessarily work on it with Daniels.
Anyway, while he was having his brief reign as a top director his own cinematographer for this one, Andrzej Bartkowiak, branched off into directing EXIT WOUNDS, CRADLE 2 THE GRAVE and other ridiculous action novelties of the 2000s. That guy also did five theatrically released movies, plus a TV movie starring Ernie Hudson, plus has one listed as in pre-production on IMDb and still works as a director of photography. And maybe that wouldn't have happened without SPEED, I don't know.
I guess the more important career boosts went to the two hot shot screenwriters. The script was by Graham Yost, who went on to create and run Justified. The dialogue was famously given an uncredited rewrite by script doctor Joss Whedon. In retrospect it makes sense that he wrote "Pop quiz, hot shot" and alot of the other snappy lines. But I think it would be hard to spot without knowing it, it was however many seasons of Buffy the Vampire that developed his use of language and rhythm that is now recognizable sometimes to the point of being distracting. Alot of people seemed to give him a big share of the credit for the movie's success though, and the juice from that got him high profile gigs like his disowned ALIEN: RESURRECTION script before really coming into his own creating those TV shows.
At the time, of course, this was labelled "DIE HARD on a bus," much like UNDER SIEGE had been called "DIE HARD on a boat." I know there has been some controversy around here about whether or not that's accurate, so let's analyze that again.
Honestly I don't consider it that important of a distinction. I do like to delineate whether a DIE HARD type movie is more DIE HARD or UNDER SIEGE based on whether the hero happens to be somewhere and get involved in some shit or whether something comes up while in the line of duty. But really I consider all of these movies that wouldn't exist without DIE HARD to be part of one subgenre of DIE HARD Type Movies. The main thing is that there's some sort of a bad guy (usually called a "terrorist," but in it for money, not a cause) taking control of something or other (building, train, boat, bus, airplane, hockey arena, Chuck E. Cheese Pizza Time Theater) and a hero, lone or with sidekick, that has to overcome great odds to save the day. In DIE HARD the odds are partly that he's completely untrained and unprepared for this shit, in UNDER SIEGE it's just that he's outgunned and undermanned but obviously he's Casey Fuckin Ryback so that's not gonna be that much of a problem.
In fact, the existence of DIE HARD WITH A VENGEANCE expanded the definition of DIE HARD Type Movies to be even further from the original formula. Because I do in fact think of DIE HARDs 3-5 as DIE HARD Type Movies even though they don't have the factor of the villains controlling an isolated structure or vehicle.
The major DIE HARD element that's missing from SPEED is the one of the hero having to sneak around and pick off henchmen one by one to even the odds (or just to protect himself) before he gets to the main guy. I believe that element is present in all DIE HARDs, both UNDER SIEGEs, SUDDEN IMPACT, etc. Since the Hopper character isn't on the bus he doesn't need henchmen, he set up everything in advance, like the asshole from SAW.
So that's very different. On the other hand, it has alot of similarities. Like John McClane he's a cop whose mettle is tested by a condescending mastermind who's threatening hostages to get money. Like WITH A VENGEANCE he's singled out because of a past rescue. Like DIE HARD most of the movie takes place in an isolated location, although that location is moving at high speeds. Like DIE HARD he has limited resources and has to come up with creative solutions, and has to be daring about climbing on the outside of the isolated location without much in the way of safety equipment. Like DIE HARD (and the UNDER SIEGEs) he's in communication with authorities on the outside who are trying to help, and also figuring out who the madman is and what he's up to. Also like DIE HARD the authorities aren't always making the smart move and he has to try to stop them from doing the wrong thing.
In this one he has a sidekick on the inside with him, sort of like what we got in DIE HARD WITH A VENGEANCE, LIVE FREE OR DIE HARD and A GOOD DAY TO DIE HARD. But it's closest to the first UNDER SIEGE because it's a woman hostage who helps out and then they have somehow fallen for each other by the end.
In my opinion this has more than enough similarities to officially be considered DIE HARD on a bus, as long as you don't take that description too literally. DIE HARD is like the Bible, you gotta allow it some poetic license in my opinion. But unlike the Bible we don't need a separation of DIE HARD and state. I personally would not vote for anyone who didn't like DIE HARD, and also would not be opposed to a Thai DIE HARD poster like the one I have being posted in front of court houses and what not. What I'm getting at is that SPEED is pretty good you guys, it holds up.