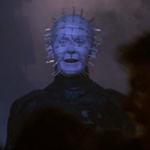 You wanna see a movie that throws all the creepy forbidden-ness and atmosphere of the HELLRAISER movies out the window in favor of inexcusably stupid ideas, terrible taste and corny datedness in a horribly failed attempt to be more like ELM STREET 3? Hey, you're in luck! HELLRAISER III: HELL ON EARTH is just such a shameful embarrassment!
We leave the unspecified, overcast town where the Cottons live for the majesty of New York City. As portrayed by Greensboro, North Carolina. We follow this asshole J.P. Monroe (Kevin Bernhardt, KICK OR DIE [I never heard of that movie, but I like the title]), who owns a big dance club called The Boiler Room which is actually three rooms: one a cheesy '90s dance club with a DJ playing Soup Dragons, one with a heavy metal band performing live and one a fancy restaurant with classical violin players. J.P. seems as sleazy as Frank, but way stupider and douchier. He doesn't seek hell and hooks. He just buys what he thinks is a cool sculpture. It's actually the petrified (or something) column where we last saw Pinhead's face. So when a rat crawls out and bites J.P. and he splatters his blood on it the face comes to life and starts talking to him, trying to make a Julia out of him.
Maybe the most inspired part is when one of his many one night stands gets hooked by the statue, de-skinned and then swallowed sideways. But even this is symptomatic of how less thoughtful the HELLRAISERs have gotten by this point. Julia's victims were macho businessmen indulging a male fantasy, thinking they have power over this timid woman, and they find out otherwise. J.P.'s victim is portrayed as just a dumb bimbo who gets naked and then gets killed. The usual target of bad horror movies.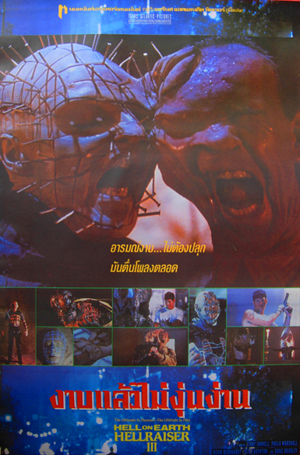 Kirsty, the hero of parts I and II, is seen only in a T2-inspired mental hospital exposition tape. The new protagonist is Joey Summerskill (Terry Farrell, BACK TO SCHOOL, Star Trek Such and Such), your usual "TV reporter who isn't getting the respect or the stories she deserves" character. She stumbles upon a story when she sees a Boiler Room clubgoer dragged into the ER covered in magic hooks and chains. She follows a girl, Terri (Paula Marshall, WARLOCK: THE ARMAGEDDON, I KNOW WHO KILLED ME), who turns out to be one of J.P.'s mistreated girlfriends, and ends up letting the poor thing stay at her apartment.
This time there are reoccurring dreams involved, because why not? Something about her dad being a soldier, and also Elliot, the human form of Pinhead, who ends up facing off with Pinhead in "the window of Joey's mind" because "it's my domain" or some bullshit like that. There is some makeup effects involved but also, I'm afraid, some morphing.
Pinhead wastes no time proving beyond a shadow of a doubt that his power in the movies comes partly from his absence. Here he has way more screen time, dialogue, and chances to totally blow the character's mystique, like when he angrily yells at Joey or, worst of all, when he stands and cackles like a goon in a fucking dance club.
Yes, he decides to manifest in the Boiler Room and massacre everyone there. A metal band called Triumph is playing, girls are dancing in cages, people are playing pool, and the weird sculptures made of barbed wire, dolls and mannequin parts start movie. Then Pinhead comes down the stairs and somehow everyone knows to be scared. He shoots some hooks and rips people up but also does rejected Freddy type shit like having the ice cubes in a cocktail morph into his head and then into a knife that stabs a lady. Boo.
I suppose we can give it points for getting there before VIRTUOSITY and BLADE, and it's pretty disturbing when it cuts to outside with blood pouring out from under the door and the sounds of screams and chains inside. Later Joey walks through the aftermath and there are just bodies piled everywhere, at least in the region 2 Anchor Bay special edition I watched – I guess it's a gorier version. She wakes up to a news report about the "catastrophe," but doesn't notice that HER TV ISN'T PLUGGED IN! OH. MY. GOD! I'm unclear why when she gets there the cops have all left and the bodies are all still there. Seems like an odd thing to pack up early on.
But if you were looking for a way for Pinhead to jump over a shark, you could not do much better than the asinine climax where he sends a group of "hand made" dance club Cenobites to walk the streets of fake New York City. My vote for the stupidest one is the club DJ who gets his CDs stuck in his head…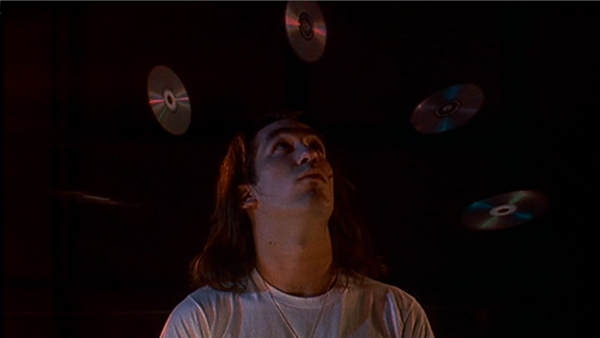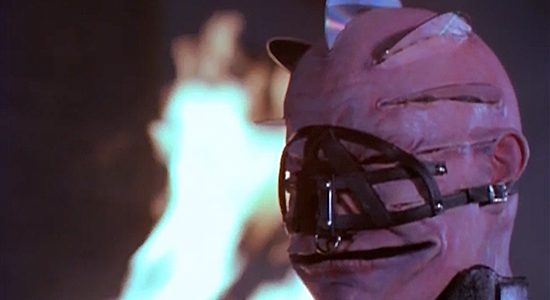 (historical note: DJs did not use CDs at that time), who throws a CD at a taxi driver who screams in terror, somehow knowing that it will slice him up as if it is an actual weapon and not a fucking flimsy plastic CD that could not possibly hurt anybody for crying out loud did you live on the planet earth when you came up with this idea and spent time making it into a major motion picture.
But a close second is Joey's cameraman Doc (Ken Carpenter, TAMMY AND THE T-REX). In a scene that I'm sure haunts Barker's nightmares, he uses his zoom lens eyeball to smash the random longhair who ran into Joey and had this great exchange:
Dude: "Hey baby, where ya going?"
Joey: "Run! Get out of here!"
Dude: "Relax! It's cool!"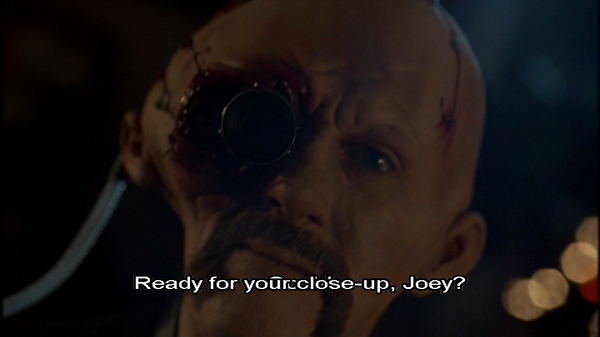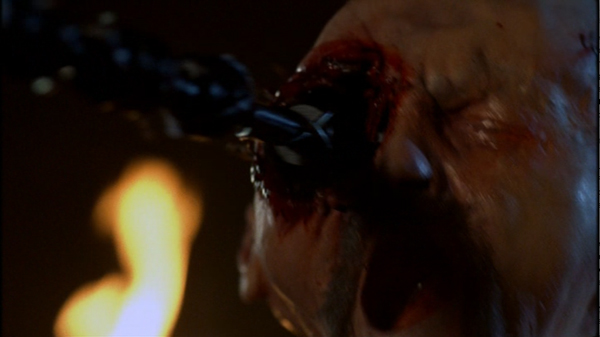 Then somehow the camera lens is long and powerful enough to punch a hole all the way through his head (at least we get a Sam Raimi style shot looking through it), splattering his blood across a window display of Airwalk brand skateboard shoes.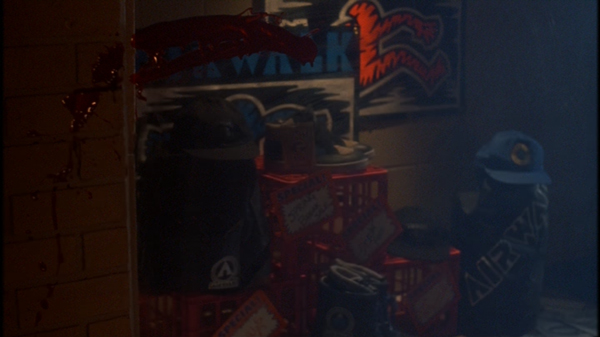 Cowabunga dude! Honorable mention goes to Kool-Aid Man Cenobite: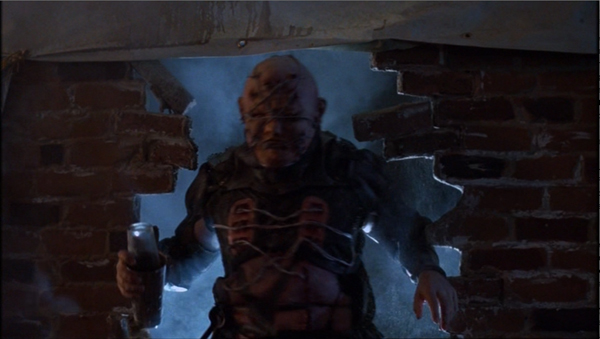 played by screenwriter Peter Atkins. He starts out as the Boiler Room bartender, so he carries a shaker filled with gasoline that he uses to light police on fire.
The end credits are a good symbol for the kind of tone we're dealing with here. They start with Christopher Young's tremendous HELLRAISER theme, which abruptly fades out and is replaced by a newly commissioned Motorhead song called "Hellraiser." We can thank Freddy and his Dream Warriors for that, I guess. But at least that was a movie about outcast teens. It was thematic.
(Barker himself directed the video for the Motorhead song. It has Pinhead sitting down in stadium seating watching the band, and then losing a game of cards with Lemmy.)
To go from two such otherworldly, envelope pushing gems to this type of clueless, teen-pandering bullshit is somewhat unprecedented. It's not even like the budget got lowered or it was made for video or anything. The series just gave in to the temptation, made a Faustian bargain to become a big hit in the mainstream, where pleasure and pain are indivisible. They got screwed though – it made only a little more than part 2, which was still less than part 1.
Director Anthony Hickox had previously done the two WAXWORK movies and SUNDOWN: THE VAMPIRE IN RETREAT. He followed this with WARLOCK: THE ARMAGEDDON and the Mario Van Peebles vampire film FULL ECLIPSE. Eventually he directed BLAST (DIE HARD on an oil rig starring Eddie Griffin) and SUBMERGED, which is on the low end of Steven Seagal DTV films.
When Hickox was a kid he played the young version of one of the characters in THE ADVENTURERS. His dad directed THEATRE OF BLOOD, my favorite Vincent Price movie. His mom edited LAWRENCE OF ARABIA, RAW DEAL, IN THE LINE OF FIRE, OUT OF SIGHT, and, uh, MASTERS OF THE UNIVERSE.
So, shit. He wasn't just trying to live up to HELLRAISER I-II, he was trying to live up to LAWRENCE OF ARABIA. How is he supposed to show this shit to his mom? "Yeah, it's about, they come to earth. It's hell on earth. See, and he has CDs in his head. They shoot out and everything. Hell on earth."
That's alot of stress there. Sorry bud.

Appendix: For context, here are some of the horror movies that came out between HELLRAISERs II and III:
976-EVIL and 976-EVIL 2: THE ASTRAL FACTOR
ALLIGATOR II: THE MUTATION
BASKET CASE 2 and BASKET CASE 3: THE PROGENY
BRIDE OF RE-ANIMATOR
CHILD'S PLAY 2 and CHILD'S PLAY 3
C.H.U.D. II
CLOWNHOUSE
DEMONIC TOYS
EDGE OF THE AXE
THE EXORCIST III
FRIDAY THE 13THE PART VIII: JASON TAKES MANHATTAN
HALLOWEEN 5: THE REVENGE OF MICHAEL MYERS
HIGHWAY TO HELL
THE HORROR SHOW
HOUSE IV
HOWLING V: REBIRTH and HOWLING VI: THE FREAKS
INTRUDER
JACOB'S LADDER
LEATHERFACE: THE TEXAS CHAINSAW MASSACRE III
MANIAC COP III: BADGE OF SILENCE
MISERY
THE NIGHT BRINGS CHARLIE
NIGHT OF THE LIVING DEAD
NIGHTBREED
A NIGHTMARE ON ELM STREET 5: THE DREAM CHILD and FREDDY'S DEAD: THE FINAL NIGHTMARE
OMEN IV: THE AWAKENING
THE PEOPLE UNDER THE STAIRS
PET SEMATARY and PET SEMATARY TWO
PLEDGE NIGHT
PROM NIGHT III: THE LAST KISS and PROM NIGHT IV: DELIVER US FROM EVIL
PSYCHO IV: THE BEGINNING
PUPPET MASTER and PUPPET MASTER II and PUPPET MASTER III:: TOULON'S REVENGE
SCANNERS II: THE NEW ORDER and SCANNERS III: THE TAKEOVER
SHOCKER
SILENT NIGHT DEAD NIGHT 3: BETTER WATCH OUT! and INITIATION: SILENT NIGHT DEADLY NIGHT 4 and SILENT NIGHT DEADLY NIGHT 5: THE TOY MAKER
SLEEPAWAY CAMP III: TEENAGE WASTELAND
SLEEPWALKERS
SLUMBER PARTY MASSACRE III
SOCIETY
SORORITY HOUSE MASSACRE II
STEPFATHER II and STEPFATHER III
TWO EVIL EYES
WARLOCK