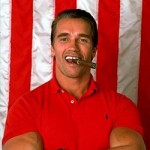 THE TERMINATOR
Summer, 2007. 1:52 AM. Mindless, soul-less, visually indecipherable and crassly commercial garbage such as TRANSFORMERS has invaded America's movie screens disguised as "good ol' summer popcorn entertainment." Labelled a madman for his harsh condemnation of TRANSFORMERS, Vern began to search for proof that a better, more powerful type of summer blockbuster once existed…
I'm obviously a zealot when it comes to this TRANSFORMERS shit. Most people either like the movie or aren't as offended by it as I am. But my contention that they used to make actual smart/good versions of this type of moronic horse shit has met with some sympathy. I was happy that even the morning radio guy Adam Corolla brought up TERMINATOR 2 when discussing TRANSFORMERS on his show. He agreed with his staff that the movie was "fun" but said, "Still… it's no Terminator."
T2 was one of many classic "popcorn movies" I brought up in my TRANSFORMERS review, and it occurred to me that I haven't actually watched that movie in years. It's been even longer since I saw THE TERMINATOR and I've never seen part 3 at all. At the time our country's values were being terminated by Republicans and I was not in the mood for a movie starring Governor Schwarzenegger.
So I started by watching THE TERMINATOR, aka T1 or THE T. This of course is not a big summer blockbuster like TRANSFORMERS, this is the low budget b-movie breakthrough, the calling card that got James Cameron the job on ALIENS. So I guess the equivalent in Michael Bay's career would be that classic early work, 1990's Playboy Video Centerfold: Kerri Kendall.
If you haven't seen THE T or don't remember, this is basically the story of two naked guys from the future fighting in Los Angeles. They arrive with a blast of lightning and a flash of male nudity. It's pretty much like being born, except instead of a mother there is electricity and instead of a hospital or a manger there is an alley or truck depot and there is no umbilical cord and they are adults. Upon further review I guess it's not like being born, it's more like being a pervert in reverse – instead of opening up an overcoat to reveal their sausage, they steal overcoats to cover it.
Representing evil and technology we have Schwarzenegger as the Terminator (R-CA) and on the other side we have human Michael Biehn (PLANET TERROR). The Terminator is a super-robot with human skin sent from the future to assassinate Sarah Connor (Linda Hamilton) before she gives birth to the leader of the post-apocalyptic human resistance against machines.
The role of the Terminator almost went to the great Lance Henriksen (HARD TARGET), which could've been great, but giving it to Schwarzenegger was of course a stroke of genius. His ridiculous muscles are some machine's idea of the ultimate man, and his stiff talking is in line with being a robot. He actually does a very good physical performance, limiting his movements and expressions to seem more machine-like and cold. Like it or not you gotta give him credit as an actor in this one. There are plenty of musclemen who couldn't have done it as well. That said, he is basically Jason Voorhees in this movie. Except he has to make his face into a mask instead of wearing one.
It's nice to watch these two pull themselves up by their bootstraps. They show up with nothing but their swingin dicks so they gotta find clothes, then weapons, then the target. I wonder if maybe this was a mistake, maybe the Terminator should've skipped the clothing part to get that extra jumpstart on Michael Biehn. I mean, he doesn't give a shit what people think of him, he's a Terminator. Of course, a public nudity rap could've slowed him down more than having to steal clothes. I'm sure he was programmed with all the relevant information and chose the most prudent approach. I shouldn't second guess the computer.
The Terminator of course doesn't believe in gun control, so he goes into a pawn shop and protests the 15 day waiting period on the handguns by blowing the clerk away. (Pretty rude, man. I'm sure he could've managed with the shotgun and uzi.) He doesn't know for sure what Sarah Connor looks like so he goes through the phone book and starts murdering everybody with that name. So it's a good "oh shit" moment when our Sarah Connor sees on the news that two people with her name have been killed. I mean even if that was a coincidence you'd still have to feel jinxed if your name was Sarah Connor.
Of course now days when you think of James Cameron you think of giant budgets, "I'm the king of the world!" hubris, digital 3-D technology and obsessive deep sea diving. But in those days he was just some dude who did effects for Roger Corman. This was his second movie as a director (first was PIRANHA II, or P2) and it still had a b-movie feel. He even had Dick Miller as the pawn shop clerk. But you also see the beginning of alot of James Cameron trademarks, like the way the movie keeps seeming like it's over and then some more shit happens. (In this case the Terminator gets blown up but then returns as a clunky stop motion metal skeleton.) And there's all kinds of James Cameron Players in here. Bill Paxton (Hudson in ALIENS, guy who pisses himself in TRUE LIES, submarine explorer in TITANIC and GHOSTS OF THE ABYSS) is a punk rocker killed in the beginning. Lance Henriksen (Bishop in ALIENS) is one of the officers investigating the murders. Michael Biehn (Hicks in ALIENS) is the hero. Linda Hamilton (Cameron's future ex-wife) is the heroine.
This is a good movie that still works, but to me it doesn't work like it used to. It's a good story and has some tension and does well with its low budget, especially in those post-apocalyptic battle scenes, which seem like something out of a nightmare even if they are obviously crammed into one little sound stage. But part of that enjoyment comes from nostalgia and from knowing what these characters and concepts grew into. If I could travel back to 1984 first I would find some clothes and then I would enjoy the movie but I'm not sure I could convince my 1984 self that Cameron would go on to become a legendary action director. The movie showed potential but it didn't prove anything. If this was all he'd made it would be a good movie but I don't think anybody would think he was a great director.
(THE) T(ERMINATOR) 2(: JUDGMENT DAY)
But holy jesus T2 ups the ante. I think ALIENS is even better but still, this is one of the all time great sequels. By the time of this movie John Connor, the future resistance leader, is a juvenile delinquent in a foster home. Sarah Connor is in a mental hospital (same thing Cameron tried to do to Rambo in his script for FIRST BLOOD PART 2). The machines of the future have sent another Terminator back to kill John, but this time it's a more advanced model that can change form and the twist is that the original Schwarzenegger model of Terminator has been reprogrammed to protect John. They say it's the same T-101 model, but I figure it's a T-101.1 because this time it has eyebrows.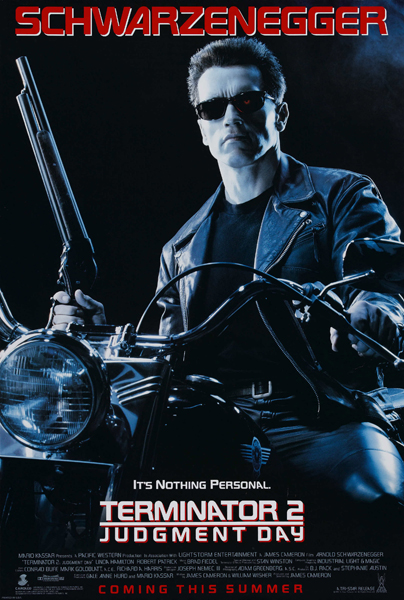 I feel kind of stupid explaining what this movie is about, as if somebody doesn't know, but I've got to assume alot of people these days haven't seen it. Otherwise how do we explain this consensus that big sci-fi movies are supposed to be muddled and stupid? If you would like more details about the plot email me. Arnold Schwarzenegger plays the Terminator, a type of robot, or "cybernetic organism." Don't worry, I'll explain in the email.
Visually the sequel is less gloomy than the original, there's more sunlight and of course it's less confined because they have a big ass budget. Instead of a chase through a small dance club they have chases all over Los Angeles with just about every wheeled vehicle other than a unicycle or a 3-wheeled ice cream truck.
And since the Terminator is a good guy this time they get some humor and sweetness out of him. But I think the T-1000 is an even scarier villain than the OG Terminator was. Robert Patrick's dead eyes convince you completely that he has no sympathy or even understanding of the evil he's doing. To him killing a human is a casual activity like shutting a door or buttoning a shirt. In the scene where he's disguised as John Connor's stepmother and talking to him on the phone he could've thought of a more peaceful way to deal with the stepfather than to impale him through the mouth while he's drinking milk, but why would he bother? He's the T-1000.
And this time the future nuclear war feels like more of a threat. By 1991 we weren't really as scared of that shit as we used to be, but T2 illustrated it better than THE DAY AFTER or any movie like that. The opening credits roll out over the surreal image of a burning playground. Later Sarah Connor has a dream where we see kids on a playground burned alive by the bombs.
A weird thing that never occurred to me before about this movie is that it's basically a more violent and paranoid version of E.T. Instead of a kid who plays with Star Wars dolls and gets in trouble at school for rescuing frogs from dissection you got a kid who hacks into ATM machines and has a criminal record. Instead of befriending a lovable alien from space this kid befriends a deadly killing machine from the future. The kid in E.T. is troubled because his parents are divorced, but the kid in T2 is troubled because his dad hasn't been born yet and his mom tried to blow up a computer factory, got shot and arrested and put in a mental hospital. In both they teach the alien/killing machine how to act more human and the friendship helps fill the hole left by their shattered family life.
In E.T. they ride bikes over the moon, in T2 they ride motorcycles in the L.A. storm drains and get chased by a semi. E.T.'s finger lights up and he heals Elliot's cuts, Terminator cuts the skin off his hand and pulls the bullets out of mom. In E.T. Spielberg later made the movie non-violent by replacing the guns with walkie talkies, in T2 the Terminator obeys his command not to kill by shooting hundreds of cops in the legs. E.T. dies, but the power of a little boy's dream or some shit helps him to come back. The Terminator dies, but the LED light in his eye starts blinking again, his CPU kicks in long enough to find an alternate power source and start going again. Instead of saying "I'll be right here" and pointing at the boy's head, the Terminator says "there's another chip" and points at his own head. Instead of flying off to space, he is lowered into molten metal.
Hell, even the titles are almost the same if they only would've left "The" in the title like in the original "THE TERMINATOR." It would be 9 syllables: THE TERMINATOR 2: JUDGMENT DAY = E.T. THE EXTRA-TERRESTRIAL, and then both are abbreviated to two syllables, two characters: T2 = E.T.
They are the same. T2 is E.T. And E.T. is the New Testament. So T2 is the New Testament.
Okay, the New Testament is arguably more influential in western culture than T2 is. But let's stick with the E.T. comparison. What struck me most watching this movie again after all these years was that, like E.T., it had heart. Maybe not glowing quite as bright as that little alien bastard's did, but it's there. It's got tension and suspense, it's got spectacle and groundbreaking special effects, it's got tons of great action scenes, it's got a whole ensemble of iconic badass characters. Alot of "summer event movies" these days can't pull off a single one of those things, let alone having the genuine sweetness you get by the end of this movie. Schwarzenegger is great at moving like a robot, fighting like a robot, and struggling to understand like a robot. And by the end I believed that he really did learn why people cry. Sarah Connnor's narration about the Terminator being better than any of the father figures John had had is too corny, I could do without that. But the friendship between the kid and the robot seems genuine. Maybe it's because I grew attached to him myself, rooting for his dead machinery to kick back into gear, feeling elated when he comes up on the conveyor belt ready to fire an explosive into the ol' mercury man. And then sad again when he points out that all traces of him have to be destroyed in order to prevent Skynet from ever existing. It's like when your dog dies or something. Fun's over, time to face mortality.
But an even more effective emotional part of the movie is the sad reality of John's relationship with his mother. After he and the Terminator successfully rescue her from the mental hospital she scolds him for taking the risk, angrily saying that she doesn't need his help. She doesn't even throw in a "but thank you" or anything like that, and he's crushed. Near the end his mom seems to be calling out to him for help, but then another version of his mom sneaks up behind with a shotgun. It could very well be that the one with the gun is the T-1000 trying to trick him, but he assumes it's not. Because he knows his mom would never ask for help, would never reach out to him or show her emotions. It's easier for him to picture her as the one with the shotgun. It never really struck me before how god damn tragic that moment is.
In the end Sarah Connor gains faith because if a machine can learn the value of human life then maybe we can too. And what are today's heartless, soul-less blockbusters like THE TRANSFORMERS if not machines? Maybe they too will some day learn the value of human life.
One complaint: at the end, when the Terminator is all smashed up and bloodied, he says "I need a vacation." I thought maybe I missed something where somebody else said that phrase and the Terminator learned it from them. But then I looked it up and it turns out it was an ad-libbed reference to fucking KINDERGARTEN COP. Come on fellas, it makes no sense for the robot to make up his own jokes. Show some discipline.
But the fact that that joke seems so out of place shows one of the things that's great about the movie: it has conviction. It really means it. It has some humor in it but it takes its story and characters seriously. When Sarah Connor tries to explain the coming nuclear war and the robots from the future to her doctors it's chilling because we know it's true and we also understand why it convinces them that she's insane.
But think about it. If they never made a sequel to THE TERMINATOR until 2007 would they have had that same seriousness? I don't think so, I think they'd have some jokes about her explaining that a robot came from the future and everybody laughs. "Oh yeah and what about Bigfoot, where does he fit in?" And I would complain about all the lame jokes and everybody would say "what did you expect prickface, it's about robots from the future, it's a sequel to an '80s Arnold Schwarzenegger movie, it's not supposed to be HENRY V!"
Also I'm glad they didn't have a flashback to the roommate who always listens to headphones rocking out to a band called "Tryanglz". That was one part in the first one that was corny so I'm glad they just left that in the past.
TERMINATOR 3: RISE OF THE MACHINES
By the time they got around to doing a part 3 a couple years ago James Cameron had quit directing to become a deep sea explorer, so they had to get some guy who directed the Kurt Russell movie BREAKDOWN. I never thought somebody besides James Cameron should make a TERMINATOR movie, and I was probaly right. This just isn't the same thing. But it's still pretty damn enjoyable. So I forgive them.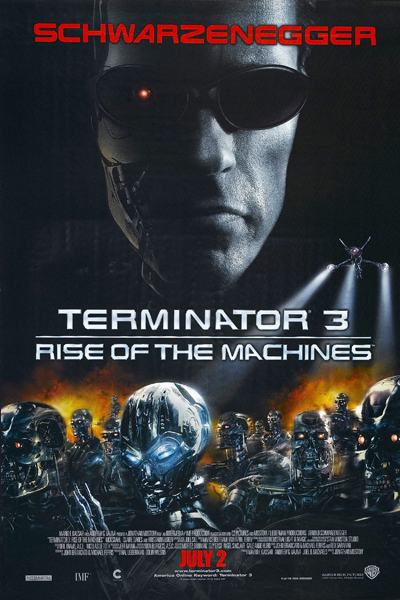 There is a little different feel to it. It doesn't look as real as T2, it looks more art directed. It was made in the digital age, the one ushered in by T2 in the first place, so it's got all kinds of digital effects and as great as they are none of them have a fraction of the kick that that original T-1000 did back then, because we've seen all this shit by now. But what are you gonna do?
The main problem I have with the movie is the jokes. Right at the beginning we get naked T-101 going for his traditional steal-clothes-from-somebody-at-a-bar and they turn it into parody by having him steal his leather from a gay stripper. In fact, a stereotypically gay stripper who teaches him to say "talk to the hand." Who knows what kind of wackiness will ensue? Instead of making him menacing or tough as he walks out of that bar they play "Macho Man" and have him put on Elton John sunglasses. Wocka wocka. Later there's a terrible scene where the doctor who Sarah Connor beat up when escaping the insane asylum coincidentally is there to help the police and sees the Terminator again and gets scared. There's maybe 5-7 of these types of jokes in the movie, not an onslaught. But still, that's 5-7 too many lame jokes that ruin the mood.
[Thank God they cut out the "Sgt. Candy" scene that's on disc 2 of the DVD. This asinine deleted scene/rejected Mad TV skit shows a Skynet promotional film where Schwarzenegger plays a "funny" hick character who was the model for the Terminator robots, which is a terrible idea in the first place. But then they have a joke where Schwarzenegger has somebody else's voice and somebody else has Schwarzenegger's voice. Get it? Funny voices! God damn that is pretty much the stupidest shit anybody ever came up with. How in the fuck did the same people who made this pretty good movie think it was worth actually spending the money to shoot that bullshit?]
And there's a couple points where the movie calls the audience stupid. Let me ask you guys something – we're intelligent people, right? We know that if we haven't seen the other movies or forgot what happened, they are readily available on the DVD format for review. Or you could look them up on this "internet" they have now. But the movie thinks we're lazy so they have this new character played by Claire Danes who the premise has to be explained to. The director, Jonathan Not James Cameron Mostow, says on the DVD extras that you need this character in order for the audience to understand what's going on. Which means he thinks the audience hasn't seen TERMINATOR 1 or 2.
In fact, even John Connor (now played by Nick Stahl from BULLY) doesn't remember what happened in T2. For some reason he thinks this Terminator is the same one from before, even though he destroyed that one! It's like if Elliot was reunited with E.T. ten years later and said "where the fuck have you been?" John might not notice this Terminator is different, but I did. This one talks more, explains too much, and even raises his voice in panic. And there's one scene where he looks like Andrew "Dice" Clay from the back.
So those are some of the things the movie got wrong, but thankfully there's plenty that it got right. For example there are some damn good action scenes. Even more than before the fights between Terminators are super powered fights where they throw and hit each other great distances, crash through walls and destroy all kinds of property. There's a great chase scene with a crane truck knocking over buildings and Terminators jumping from vehicle to vehicle like in MATRIX RELOADED. My favorite part of the movie is a knock down, drag out Terminator fight in the tradition of that great fight in BLADE 2 where he gets his head knocked through a pole. Here the Terminators destroy every part of a bathroom, swinging each other through walls, throwing toilets at each other, etc. Terminator stomps on Girl Terminator's face and it doesn't budge, but the back of her head breaks through the pavement.
The action is pretty comic booky and I complained about those jokes, but there's still a real dark undertone to the movie. There's even a scene that shows nuclear war not from the nightmarish on the ground perspective of T2, but from a distance, and from above, where it looks strangely beautiful. The Judgment Day that they prevented in T2 still looms, in fact, it's supposed to happen later today. So even when they prevent inevitable doom, doom is inevitable. The way the story wraps up is surprising and sets up for what could be some interesting and different sequels.
So TERMINATOR 3 is one entry in a long line of part 3s that are not as good, but are enjoyable if you can accept a reasonable lowering of excellence. There's basically two approaches to a good part 3: either it's in 3-D, or it's fun but you have to forgive alot more than in the first two. This one's not in 3-D. At least you don't have to wear special glasses, I guess.