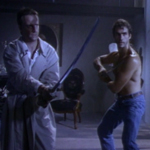 Right now, in 2019, people sure do love a good TV series. Some claim that the premium cable and streaming shows are actually better than movies. As TV shows become more cinematic and cinema becomes more serialized, the two mediums seem to be growing into each other like a very respectable rat king. Big name real deal movie stars can star in TV shows or limited series and collect acclaim and awards instead of scorn for slumming it.
At the same time the industry is obsessed with "intellectual property" and franchises, so naturally we're getting TV shows that prequelize or sequelize a popular movie/movie series. In recent years they've done Terminator: The Sarah Connor Chronicles, Tremors, Taken, Transporter: The Series, Training Day, Limitless, Ash vs. Evil Dead, Cobra Kai, Wet Hot American Summer: First Day of Camp and Wolf Creek, and soon we'll be getting new Star Wars and Marvel tie-ins and maybe Undisputed and all kinds of shit.

That wasn't how it worked in the early '90s, though. There had been a few genre shows connected to movies: Planet of the Apes (1974) (and the animated Return to the Planet of the Apes [1975]), Beyond Westworld (1980), Blue Thunder (1984), Starman (1986-1987) and Alien Nation (1989-1990). None of these ran for very long, few are well remembered. TV was lesser than movies, you could never carry over the cast or the production value, and extending a movie series onto the small screen was not really a good bet.
But shit, HIGHLANDER II: THE QUICKENING wasn't a good bet either. And producers Davis and Panzer, stinging from that loss, weren't ready to leave the blackjack table. Maybe a TV-sized saga of the Immortals could be more than the Starman of the '90s. Maybe it could be the M.A.S.H. of the '90s!
Actually, it got close. Highlander: The Series started in October of 1992 and lasted for six seasons. Since it's an hour long show, its 119 episodes only missed the running time of M.A.S.H.'s 255 episodes by 10 1/2 hours. There's no way I'm going to be able to watch all that and write about it, but I'm aware that the show's protagonist, Duncan MacLeod (Adrian Paul, BLACK ROSE) will appear in the movies later. So I thought I should watch the pilot to see what it's all about.
The episode is called "The Gathering," written by Dan Gordon (PASSENGER 57, WYATT EARP, MURDER IN THE FIRST, THE HURRICANE) and directed by Thomas J. Wright (NO HOLDS BARRED). It introduces Duncan as a much more muscle-y and shirtless MacLeod making passionate love to his girlfriend Tessa (Alexandra Vandernoot, BLOOD OF THE HUNTER) in an antiquities-filled loft much like Connor's in the first movie. But he senses the presence of an Immortal and has to interrupt the sex and get his sword.
He quickly discovers that 17-year-old (though he looks much older) wiseass Richie Ryan (Stan Kirsch, THE STREETS OF BEVERLY HILLS) has broken in to steal some old swords and stuff. The kid immediately gives up and claims it's just "petty theft" when Duncan threatens to behead him. The reason Duncan mistakes this dipshit for an Immortal is that he can sense the presence of Slan (Richard Moll, HOUSE), the asshole in the metal mask and studded leather coat who just then drops through the skylight lookin like the cover of the Quiet Riot album.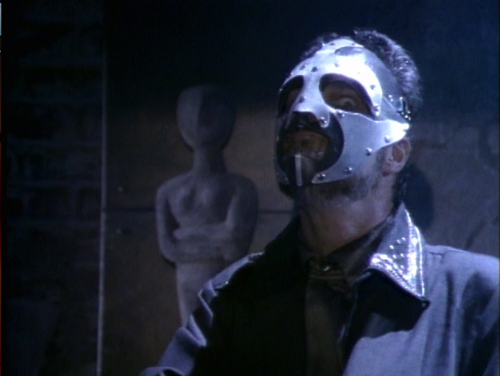 Or maybe it's because Connor MacLeod is also nearby tracking Slan. Whatever it is, Duncan came very close to decapitating a minor just for trespassing, which has questionable legality outside of Florida. I wonder if those kind of Immortal boo-boos happen often?
But yes, Christopher Lambert himself pops in wearing his trademark grey trenchcoat and white shoes (not shown clearly enough to verify if they're still Diadoras). After Slan flees, Connor explains to Tessa, "I'm Connor MacLeod. Same clan, different vintage." Connor is of Duncan's grandfather's generation, and he found him and taught him the ways of the Immortals just like Ramirez did for him. (No word on if he can call his name for help even after death.)
We learn from flashbacks that Duncan once lived as a Native American, following in the great Highlander tradition of Immortals being able to pick and choose cultures that don't match those of the actors. When Duncan's wife and entire tribe were massacred, Connor came to comfort him. Duncan then decided he was "tired of the endless, mindless fighting" and wanted to leave "The Game." He half-jokingly explains that he's going to opt out of the battle between good and evil just for a while, until it comes looking for him.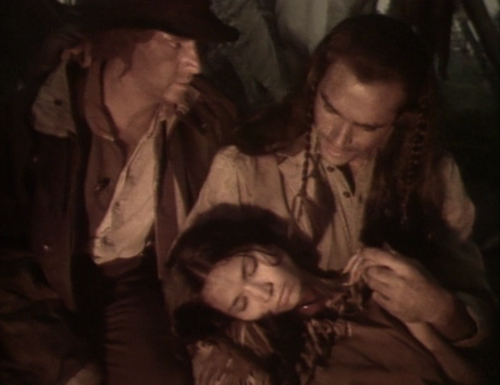 So this episode is when it comes looking for him, and like his mentor in the first movie he begins to worry about endangering mortals by falling in love with them. For her part, Tessa – who has been with Duncan for 12 years – has a birthday, and it makes her worry about the inevitability of becoming physically older than him. Not only for fear of him losing interest, but because "Maybe I want someone I can grow old with."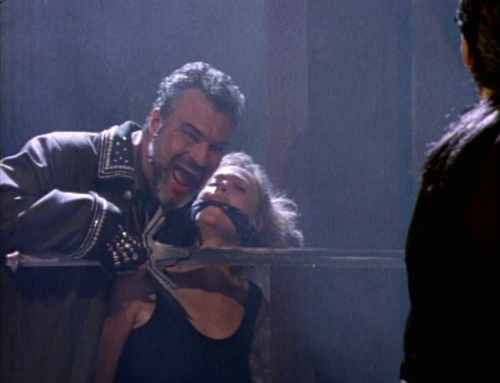 They also argue after she gets held at swordpoint and threatened with power tools by Slan, which, admittedly, is a pain in the ass thing to have to deal with. She ends up yelling "Damn you! Damn your Gathering! Damn your whole race!"
(Don't worry, I think she means Immortals, not Native Americans.)
Moll seems to be having a fun time making crazy faces and shit. There's a pretty cool/funny zoom in on him in a car lookin like a fuckin maniac.
There's not enough time for Slan to get much characterization, but I like this one little visual detail: his car keys are on a soccer ball keychain. Maybe it means he stole the car from a soccer mom, maybe it means he just likes soccer. I don't know. We don't really get a chance to investigate that side of him. But I like the implication Yes, I am a guy with a sword as big as a surfboard and a dumb metal mask and leather and studs because I dedicate my whole life to stalking this one guy to cut his head off, but when I get some down time you know what? I really love to kick a ball around.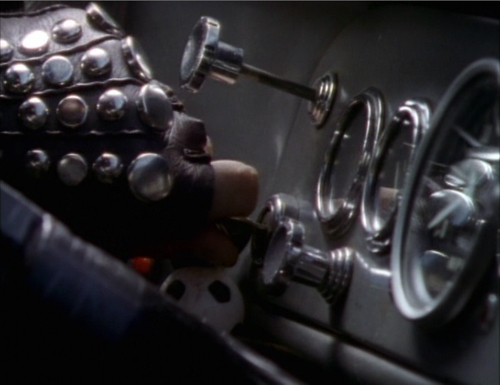 I mean, that's not an "I am obsessed with a particular soccer team" keychain. That's more of an "I enjoy this sport in general" keychain. And Immortals don't have kids, so it's not about his kids playing. I suppose he could be a coach.
Richie – who Duncan chose not to press charges against, but only because of what the kid witnessed – is a passive character who sneaks around spying on Connor and Duncan sparring and things like that. At the climactic bridge duel he crawls out of a car trunk to watch. As I guessed, he will become Duncan's Youthful Streetwise Sidekick for much of the series. Then he will turn out to be an Immortal and Duncan will accidentally kill him thinking he's a demon. Hopefully all that means he gets to actually talk to Duncan – in this episode we just keep cutting to him watching the same thing we're watching, but with more concern.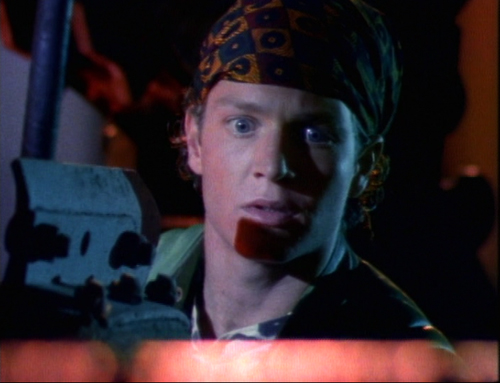 In the end, Duncan does chop off Slan's head and absorb the lightning of The Quickening. They even go through the trouble of re-creating the exploding windshields and headlights and stuff from that famous parking garage scene (or are they just using footage from it?). Of course, the visual effects are chintzier and it's shot on the cheap in 4:3 with television crews in Vancouver, BC (the city is apparently named "Seacouver, Washington" in later episodes!) so it can't really be as cinematic as the movies.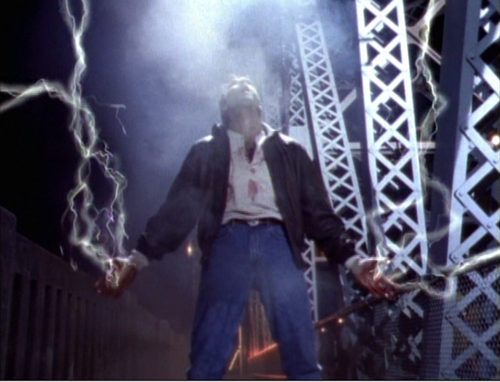 As long as we're sharing cheesy screen grabs I would like to acknowledge the utter '90sness of the opening credits design.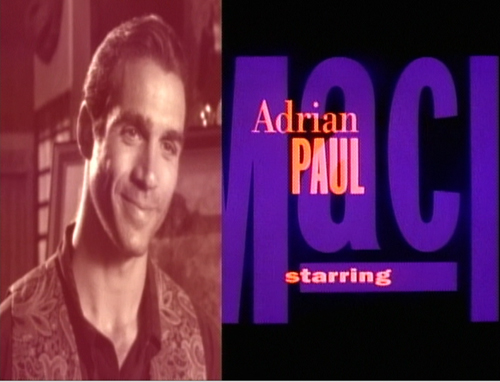 But it's kind of charming to see the show's low budget TV ways of trying to mimic Mulcahy's style, including a slow motion window breaking scene and a couple imitations of Mulcahy's gimmicky transitions, such as zooming in on an eye and dissolving.
Director of photography Manuel Teran had done SAVAGE NIGHTS and later did DISTRICT B13. Here's a nice looking shot of Connor arriving for a duel: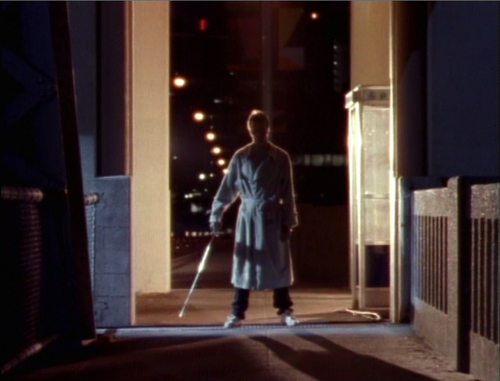 And they definitely chose a good location for the montages of Connor and Duncan sparring. Some of those shots look worthy of the movies.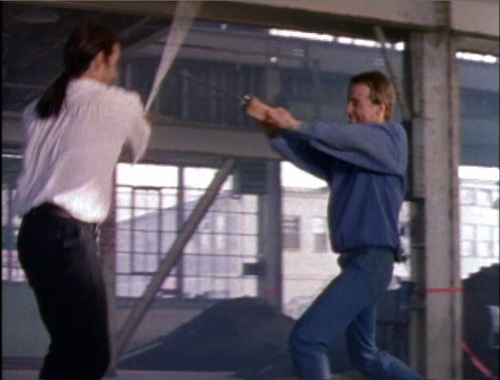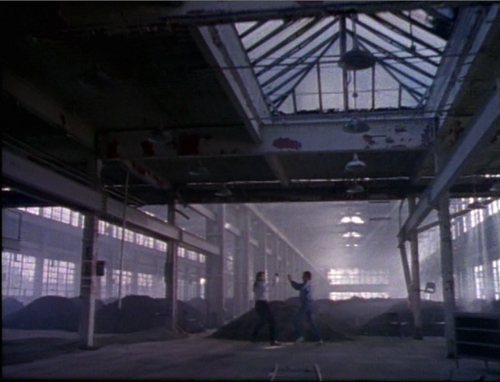 They also get to use the Queen songs. "Princes Of the Universe" is the theme song, and "A Kind of Magic" shows up during lovey dovey scenes.
Though less than two years after HIGHLANDER II, it seems the producers were already eager to dump everything from that movie and start a new continuity. The opening narration says that Duncan was "Born 400 years ago in the highlands of Scotland," no mention of the planet Zeist. But you can't quite say they're going back to the continuity of the first film, either. First of all, Connor still seems to be immortal, and there are many other Immortals still alive, so he hasn't won The Game and collected The Prize. They've also changed what The Prize is. As Connor tells Tessa:
"The last one will have the power of all the Immortals who ever lived. Enough power to rule this planet forever. If someone like Slan is that last one, mankind will suffer an eternity of darkness from which it will never recover."
(Note: Connor saying "this planet" instead of "the world" is a dead giveaway that he's still from the planet Zeist. You can't fool me.)
The show was produced by Gaumont, that French production company that does all the Luc Besson movies and stuff, but specifically for American syndicated television (although there's a little nudity during a shower scene – the DVD must be an international cut). Lambert – who starred in KNIGHT MOVES, MAX & JEREMIE and FORTRESS that year – didn't want to star in a TV show, and Marc Singer, Gary Daniels and Alexis Denisof were among the many considered as replacements. The Dutch actor Derek de Lint (SOLDIER OF ORANGE, BLACK BOOK) was first cast, but left before production "for unknown reasons," according to Wikipedia. Once Paul took over he reportedly requested to have his character rewritten to not be Connor MacLeod so he wouldn't be compared to Lambert and could do his own thing. I'm sure he was worried about doing the voice and accent – it's just Peter Lorre, dude. You could've figured it out.
They were able to afford Lambert for three days of filming to pass the torch from Connor to his dearest never-mentioned-before clansman. He's still very charismatic and does plenty of smiling and laughing with his old buddy.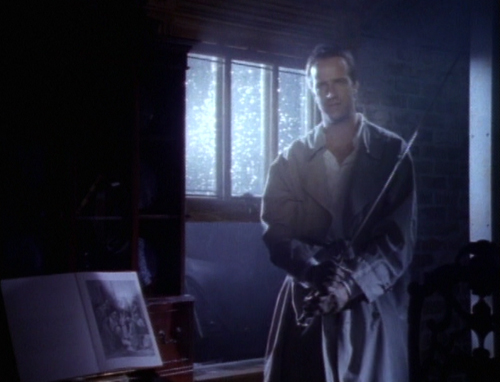 Connor never appeared on the show after the pilot but, according to the Highlander Fandom Wiki, he was mentioned on ten subsequent episodes and in 1995 he appeared in Highlander: The Element of Fire by Jason Henderson, "An original, all-new novel based on the international hit TV series."
But don't worry. We'll be seeing more of both MacLeods in the medium of motion pictures.
CONTEXT:
Some of the other shows that started in 1992:
The Dennis Miller Show, Nightmare Cafe, Capitol Critters, Fish Police, The Young Indiana Jones Chronicles, On the Air, Red Shoe Diaries, Def Comedy Jam, Melrose Place, The Larry Sanders Show, Are You Afraid of the Dark?, The Heights, Martin, Batman: The Animated Series, Eek! The Cat, Rush Limbaugh: The Television Show, The Whoopi Goldberg Show, The Golden Palace, Picket Fences, Renegade, Hangin' with Mr. Cooper
Shows that started in 1992 and outlasted Highlander: The Series:
Dateline NBC, Barney & Friends, The Real World, The Tonight Show With Jay Leno, ComicView, Mad About You
This entry was posted on Monday, May 27th, 2019 at 11:03 am and is filed under
Action
,
Fantasy/Swords
,
Reviews
. You can follow any responses to this entry through the
RSS 2.0
feed. You can skip to the end and leave a response. Pinging is currently not allowed.