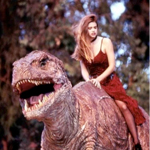 Everybody has that list of the movies they know they should've seen but just haven't yet for some reason. For me right now it includes BARRY LYNDON, THE DEER HUNTER, the ONCE UPON A TIME IN CHINA series, KUNDUN, MASTER AND COMMANDER, THE INSIDER, and others. But it no longer includes TAMMY AND THE T-REX. Progress.
TAMMY is a movie from 1994 that I was vaguely aware of as a cheesy family comedy only released on VHS. I definitely confused it with THEODORE REX at times, but I knew it had young Denise Richards (her first starring role) and Paul Walker (his third movie, after MONSTER IN THE CLOSET and PROGRAMMED TO KILL) and was supposed to be pretty crazy. Then last year there was an important new development in film scholarship: somebody discovered a print of a "gory cut" of TAMMY. Turns out before it was released straight to video it was edited down from a very R-rated horror comedy (both terms used loosely). So it played Fantastic Fest and Vinegar Syndrome released a beautiful Blu-Ray special edition and now it's playing on Shudder.
There's no argument that it's a good movie, but it's the kind of puzzler/oddity I can sometimes get a kick out of, and must've been fun with rowdy crowds. The first mystery comes with the title: TANNY & THE TEENAGE T-REX is what it says on screen. And since all of the opening credits for the actors include character names we get confirmation that at least the person making the credits thought Richards was playing "Tanny." But they are clearly saying "Tammy."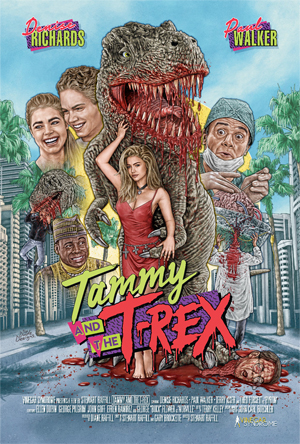 She's a popular cheerleader – high school I believe, but I considered it could be colleged because there's a mention of sociology class, and her best friend Byron (Theo Forsett, M.A.N.T.I.S.) is a flamboyantly gay man dressed in afrocentric garb, which seems like a friend character from a college comedy of the era. But director Stewart Raffill also did MANNEQUIN 2: ON THE MOVE, so maybe he just needed a way to recapture that Hollywood Montrose magic.
Tammy is freshly in love with half-shirt-wearing football bro Michael (Walker), but she pushes him away out of fear of her possessive ex-boyfriend Billy (George Pilgrim, TIMEMASTER), who looks and acts like the leader of a gang of alley mugger/rapists in a vigilante movie. He spends all his time terrorizing Tammy's potential suitors, driving around in a convertible full of stooges including Weasel (Sean Whalen, THE PEOPLE UNDER THE STAIRS, WATERWORLD, ROB ZOMBIE'S HALLOWEEN II, HATCHET III, 3 FROM HELL), who calls him "boss." That does not indicate a healthy teenage friendship, in my opinion.
But Billy didn't count on one thing: that the football player would be wearing a cup when the two got in a schoolyard fight that includes elbow drops and an extended nut-crushing duel. To avenge this humiliation he ambushes Michael at night and leaves him in the woods where he gets attacked by a lion (!) and ends up in the hospital where he does not appear to have a scratch on him but is in "a serious coma" and mad scientist Dr. Wachenstein (Terry Kiser, Bernie from WEEKEND AT BERNIE'S) interferes and lets him die so he can bring him to a warehouse, saw open his skull and wire his brain to an animatronic dinosaur.
Not to get too political but that's unethical in my opinion. It was also a big surprise to me because when I heard Paul Walker's consciousness was transferred into a t-rex I assumed it was a living dinosaur, not a crude machine from a science center display. I honestly wondered if that was what they intended and then they rewrote when they realized how slow and crude this thing's movements and expressions would be. Turns out even better: according to Raffill in an interview with the Bristol Bad Film Club, "Usually it's all part of some tax evasion scheme, so I come in, write it and do it and that's what TAMMY AND THE T-REX was."
"A guy came to me who owned theaters in South America and he said, 'I have a T-Rex.' It was animatronic and was going to a park in Texas. The eyes worked. The arms moved. The head moved. He had it for two weeks before it was going to be shipped to Texas and he came to me and said, 'We can make a movie with it!'"
"You obviously couldn't play it as an actual monster," he said, "because it wasn't that good of an animatronic beast and I had to work with what was available, so that was the concept I came up with."
It's pretty clear that they're just throwing in whatever the fuck they can come up with. It has painfully broad comedy including Michael's corpse getting a giant boner under the sheet. The doctor has a lusty assistant named Helga (Ellen Dubin, NAPOLEON DYNAMITE, Robocop: Prime Directives: Dark Justice) who feels compelled to kiss the brainless teenage corpse. I'm sure it was easy to cut out stuff like that and some of the parts where people get their heads bit off, but I still don't know how this was made into a family comedy. There's a pretty big chunk of it that's a slasher movie structure where the dinosaur sneaks around outside of a teen party eating the people who were mean to him. I like when Weasel goes to pee and sees it and seems more annoyed than surprised that, as far as he understands, somebody left a full life t-rex statue there.
But Tammy figures out it's Michael and tries to protect him, driving him around in a trailer with his head poking out at the top. Eventually she and Byron decide that there's a way to transfer his brain to another corpse and bring it to life, so they go to the morgue and try to pick a new body for him. I didn't really understand Tammy and Byron's disagreement about the size of dick on one of them, but I enjoyed the wackiness of them holding up different dead people to the window to see which one Michael wants, and he's outside rating them with awkward t-rex gestures.
It seemed like such a totally logical and do-able plan, but it doesn't work. Still, Tammy is a capable young lady, she figures out what to do. Of all the abrupt tonal changes, the most jarring is the cut from Tammy crying over the dead t-rex to her driving with a big smile on her face. In the epilogue her parents are worried about her but don't realize that she's hiding Michael's brain in her bedroom. It's alive in a jar and she pours whiskey on it to get drunk with him. It's wired to a camcorder and she plays a tape (there are many rock 'n roll tunez by bands called "Jaded Heart" and "Simon Stokes and the Black Whip Thrill Band*") and dances for him in white stockings. It nearly has a horniness meltdown when she says "I'm gonna screw your brains out." The end.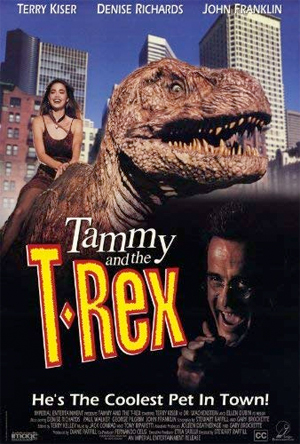 Walker's only in the beginning of the movie, but he's somewhere between normal boyfriend character that comical airhead mode of his MEET THE DEEDLES era. It's kind of cute to see now. There's a part where he talks to Tammy on the phone, she agrees to meet him and he excitedly runs out of his bedroom, then comes back in, pulls a condom out of a drawer, and kisses it.
Richards actually kind of impressed me though. I still think her greatness in WILD THINGS has gone under-recognized, but I can't deny that she's one of those actresses whose outsized va-va-voomness has overshadowed and maybe even gotten in the way of any talent she may exhibit as an actress. So I really respect that early in her career, in an obviously preposterous piece of crap that was conceived and created in two weeks, she gives a totally straight and competent performance. And whether she's riding around on the t-rex, talking to it as her boyfriend or crying over its death she seems completely sincere. Also there's a part where she sleeps curled up with it in a barn and it has its tiny little dino hand on her butt.
Raffill is an interesting guy because he started out as an animal supervisor in the '60s, including on Disney's MONKEYS, GO HOME! and the Tarzan TV series. I guess that explains the random lion in this one. He got into writing and directing with THE TENDER WARRIOR (1971), about a "young swamp-boy" who protects the local animals from "a family of white-trash moonshiners." He spent the '70s doing these G-rated animal adventure movies, most famously THE ADVENTURES OF THE WILDERNESS FAMILY (1975), but he's more associated with the '80s because that's when he directed THE ICE PIRATES, THE PHILADELPHIA EXPERIMENT and MAC AND ME. He's still working, or trying to – IMDb lists a 2019 "mystery action thriller" mini-series called ISABEL & FLO, but it has no cast or other credits listed and suspiciously non-specific promotional artwork.
I have to admit this is my introduction to his works, except for one movie he has a story credit on: PASSENGER 57. But I've decided I need to add MAC & ME to that BARRY LYNDON list. Always bet on Mac.
*Simon Stokes wrote the lyrics for the classic Wings Hauser jam "Neon Slime" from VICE SQUAD
This entry was posted on Tuesday, January 28th, 2020 at 7:28 am and is filed under
Comedy/Laffs
,
Horror
,
Reviews
. You can follow any responses to this entry through the
RSS 2.0
feed. You can skip to the end and leave a response. Pinging is currently not allowed.