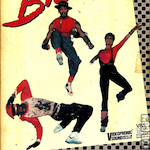 I've written about a bunch of these corny 21st century dance movies, and I always seem to be comparing them to the BREAKIN' movies, but I've never actually reviewed the BREAKIN' movies. That ends now. I'm reviewing the BREAKIN' movies. The world could use more focus on the BREAKIN' movies right now.
In a certain way, BREAKIN' changed the whole world for me. I'm pretty sure it was BREAKIN' and/or the cultural conversation around BREAKIN' that first opened my eyes to this movement of music, art and dancing that older, cooler kids in far away New York had been building for several years. If you weren't alive then I'm not sure you can imagine what a phenomenon it was. I remember a music teacher giving us diagrams of moves, trying to teach us (what she said was) the moonwalk, talking about Michael Jackson being inspired by breakdancers and breakdancers being inspired by James Brown. It was the music part of hip hop culture that would become important to me, and (as I said in my review of the companion movie RAPPIN'), at that time I don't think I even knew the word "rap." I called it "breakdancing music." (And, though I kind of like this soundtrack, I don't associate it much with the type of rap I soon fell in love with.)
It used to seem odd to me that, while the early hip hop scene was so specific to New York, it was partly popularized by this movie taking place all the way across the country in sunny, non-subway-having L.A. But the truth is that the culture had made its way across the country, and Venice Beach is in fact where Cannon Films honcho Menahem Golan's daughter saw breakdancers and encouraged him to make a movie on the topic. Even more than that, BREAKIN' was inspired by a 1983 TV documentary called BREAKIN' 'N ENTERIN', which covered the scene at Radio-Tron, the club in the movie, and featured the stars Adolfo "Shabba Doo" Quinones and Michael "Boogaloo Shrimp" Chambers, as well as Ice-T. (Boogaloo Shrimp is even younger and goofier than in BREAKIN' and has some great scenes talking directly to the camera about how to do moves and things people do in battles that make him mad.)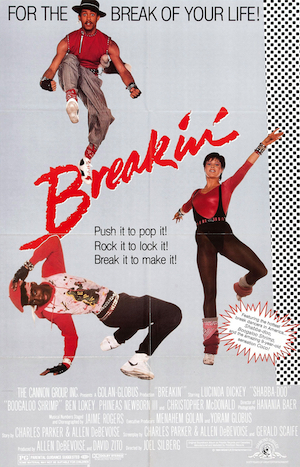 Cannon rushed BREAKIN' into production to come out before BEAT STREET, a film set in hip hop's birthplace of the South Bronx, and itself inspired by the graffiti documentary STYLE WARS. The most drastic difference between the two – one that I had a problem with for many years – is that BREAKIN' takes the point-of-view of a character outside of the culture, a white girl named Kelly (Lucinda Dickey, a former Solid Gold dancer who had finished her starring role in Cannon's NINJA III: THE DOMINATION three weeks earlier).
Kelly works waitressing shifts and takes dance classes, but she's "pushin' 20" and going nowhere. An old friend helped her get an agent, but auditions aren't going well. Things brighten up when her friend Adam* (Phineas Newborn III, a dancer in GIRLS JUST WANT TO HAVE FUN and a CATS-themed episode of Fame) convinces her to come meet "some dear close friends" in Venice Beach. There she witnesses, and then joins, a dance circle with Orlando, street name Ozone (Quinones) and Tony, street name Turbo (Chambers). She has a naive but non-judgmental reaction to their street names and their unfriendly contention that only cool people can use them, but as she's leaving Ozone honors her by christening her "Special K."
I think there's some amount of substance in there – something about identity, the idea of naming oneself and creating a sort of super hero self-image, but only sharing it with people who you respect or who respect you, or who you're willing to let in on your culture, or that part of your life. I guess I could be talking about myself there, but honestly I just think it's an interesting idea to explore here. Anyway, they call her Kelly often in the movies but we will call her Special K out of respect, and because we're cool.
Despite the resistance I once had to this movie's use of the "Black people teaching their moves to the white protagonist" trope, I now find Special K charming because of the total open-mindedness and respect she shows toward this new world she learns about, and vice versa. She doesn't act like a tourist – maybe a guest. And it doesn't turn into a thing where she has to prove herself worthy to gain their respect, as if we should be worried about it being hard out there for a white dancer. Instead it's pretty much an immediate kinship and collaboration between artists. That doesn't necessarily have to be how it works in reality for it to be nice in a movie. And surprisingly it doesn't even do much joking about cultural differences, other than one mild slang joke:
"Hey, that dancin's fresh!"
"It's what?"
"It's bad!"
Special K's never heard that before, but she figures it out, and that's it.
I've read that the writers (Charles Parker, Allen DeBevoise and Gerald Scaife) spent some time with Shabba Doo and Shrimp to get a better idea how they talk, and let them rephrase lines that they thought were corny, and I think it resulted in less laughable dialogue than many youth culture movies.
Turbo and Ozone work a shared shift at a convenience store. Or at least they do long enough to set up Turbo's famous dance with a broom. I can't believe I never questioned this before, but they live together in a garage – and we never find out whose! It seems to be a separate structure next to a house, but a landlord is never mentioned, and it certainly doesn't seem like their parents live there. Quinones was almost 30, but meant to be in his late teens. It's standard for a movie like this to establish that their parents or Turbo's parents died and Ozone had to raise him or whatever. I like that they don't bother with that.
The place is decorated with hubcaps, license plates and graffiti, and there's a bed made out of pallet boards and milk crates. Though this clubhouse style home is a little condescending, other DIY/hand-made aspects of their lifestyle are legit. One thing about this era of hip hop culture that really got lost when it spread across the world was the punk rock side of it; the expression through an outfit – not buying the freshest gear, but drawing on your jacket or shirt or shoes, putting a chain across here, a bracelet or glove, a headband or handkerchief, patches, pins.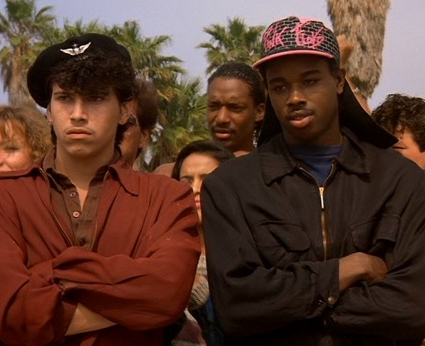 Shabba Doo and Boogaloo Shrimp wore their own clothes in this one, so they're authentically self expressive, and I think a beautiful coffee table book could be made of the painted-up radios and bric-a-brac fashion of the BREAKIN' movies. I love looking at the background characters, because they're wearing odd things that seem authentic. A costume designer might've come up with the skull head band one guy is wearing, maybe even the beret, but probly not the Pink Floyd The Wall painter's cap with tail.
We see lots of stuff like that when they bring Special K to dance at Radiotron (where a still very underground and pre-gangsta-rap Ice-T is performing). She's impressed with the place, later saying it "has an energy that felt really good!" Despite some little brother possessiveness on the part of Turbo (who whines about Ozone "falling in love again"), the three quickly become not only friends but a dance crew, after Special K theorizes that a loss to their rivals Electro Rock was because everyone was checking out the hot girl in the crew. She tries to adapt her acrobatic abilities to their style, and uses her industry connections to find opportunities for all of them, such as entering a dance contest together.
Her new manager James is played by Christopher McDonald (who had been in the cast of GREASE 2 with Dickey), and despite the kind of roles McDonald is now known for, James is actually not an asshole! He worries that her new interests will get in the way of being in a Broadway show or some shit, until he goes to Radiotron himself and admits, "You were right, it was… just phenomenal." His biggest sin is that he causes Ozone to think he's a romantic rival and to get macho about "I don't need anybody!" when Special K says he'll help them.
Despite the rivalry with Electro Rock, the main conflict is appropriately with closed-minded upper class white people. As will happen in STEP UP 2 THE STREETS and elsewhere, the villain is a cartoonishly snobby dance instructor. Franco (Ben Lokey, CAPTAIN EO, THE WOLF OF SNOW HOLLOW) is very respected and feared by dancers and uses his clout to lord over Special K, pressuring her into private lessons and forcibly kissing her, so she quits. But he's entering the same contest, so he becomes their opponent, and gets chances to gloat about the "disciplined arts" of "the real dance world" being superior to the street (or is it really beach?) dancing.
The funniest thing about Franco – and I lean toward this not being intentionally funny, but it doesn't matter – is that he keeps talking up this amazing high class modern dance piece his troupe is developing, and only at the actual competition do we learn that it's western-themed so they're doing ballet in cowboy hats and bolo ties and look like total jackasses.
Of course there's also elitism (and, let's be honest, racism) among the dance judges, who disrespect their style of dancing to the point that even James tries to get Special K to give up on the idea and "be reasonable." I like when she says, "I don't wanna be reasonable. I've been reasonable all my life, it's gotten me nowhere."
They bust past the gatekeepers by putting on tuxedos, top hats and white gloves, then using the power of poppin' and lockin' to transform the judges from total stick-up-the-ass fuckwads into open-minded celebrants in, like, a minute or two. (At least it's a less cringey than the comparable scene in RAPPIN', where a town hall meeting is won over by Mario Van Peebles' atrocious freestyling.)
On one hand, Ozone, Turbo and Special K achieve the artist's dream, getting to star in a show based around their style of dancing. On the other hand, it's called Street Jazz, and takes place on a stylized set of buildings with lightup graffiti, and there's a part where a little kid dancer (maybe "the amazing 9-year-old sensation Coco!" mentioned on the poster?) climbs out of a garbage can… I mean, I don't know. I don't feel prepared to vouch for the artistic integrity of Street Jazz.
I'll vouch for BREAKIN' though. It was directed by Joel Silberg (a veteran Israeli director who later did RAPPIN', CATCH THE HEAT and LAMBADA). I think it's a movie that has gotten better with age. In the long run the hip hop culture obviously won, and the Francos of the world lost – I'm sure he thinks the Alexander Hamilton rap musical was a ripoff of his cowboy ballet – so I don't think we have to worry as much if Cannon Films didn't really get it at the time. The film's lack of purity now seems like less of an issue considering how much of a time capsule we get of the dancers, fashion and music of Radiotron. And obviously there's nostalgia for the music and the look of the thing.
The credits at the beginning and end make the whole thing feel like a celebration. I love the closeups of Ozone in the opening, putting on his gauntlets, handkerchief, dangly earring, etc., like a Rambo or Batman suiting up montage. A hand swipes a spraycan across a brick wall as the drippy-font credits appear. The end credits begin with a freeze frame mid-air jump of the three stars, with the logo, and Ice-T rapping about what we've learned over a montage of highlights. The credits use a cool font that rolls on a red background (when have you ever seen that?) and is interspersed with logos for Cannon, BREAKIN' and the already-in-production sequel. As exciting as it was the first time we saw BACK TO THE FUTURE II and THE MATRIX RELOADED hype up their filmed-back-to-back followups at the end, neither of them had Ice-T rapping, "This story's through / But wait for part 2!"
Allow me to do the same. Join me tomorrow when I will glorify the more fantastical sequel and attempt to explain my sincere belief that these movies are almost literally magical.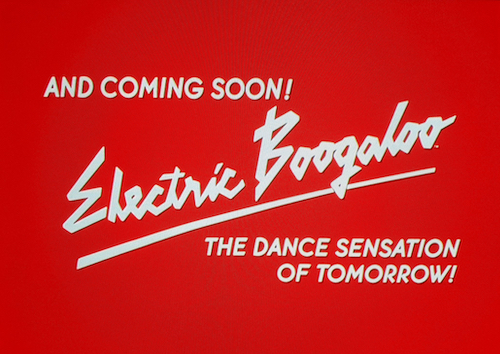 *I thought this non-jokey portrayal of a clearly gay friend seemed unusual for the openly-homophobic '80s, so I did a little research and found this article from The Advocate that calls a character played by Charles Grodin in THE WOMAN IN RED "perhaps the earliest example of the classic Gay Best Friend character." It sounds more boundary-pushing than BREAKIN', because he's not a woman's dance class friend, he's a friend to Gene Wilder's character and "portrayed as just another one of the guys, who happens to be gay." Still, BREAKIN' was released a few months earlier, so give them credit!

TRIVIA:
THIR13EN GHOSTS and GHOST SHIP director Steve Beck is credited as "Main Title Design Artist," so he must've done the cool graffiti font.
By now I think everybody knows about Jean-Claude Van Damme being in the crowd in that scene dancing at Venice Beach. They may or may not also know that the shirtless guy next to him his friend Michel Qissi, who later played the evil Tong Po in KICKBOXER.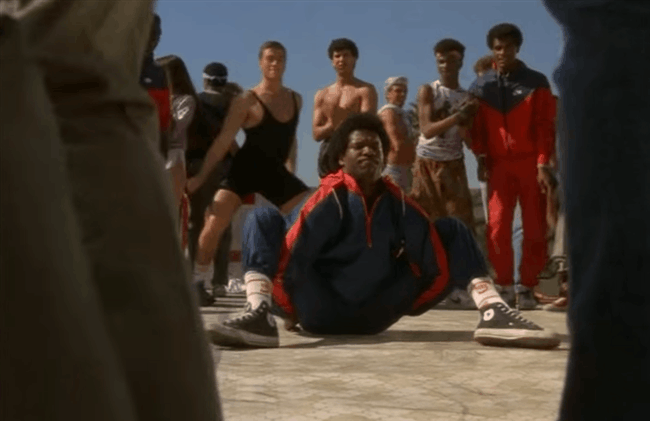 But there's a more obscure action movie appearance that I actually never noticed until this viewing. The character of Vicky – Kelly's old friend who catches up with her at the diner in the opening scene and gives her James' business card – is played by "T.C. Laughlin," a.k.a. Teresa Laughlin or Teresa Kelly. She's the daughter of Tom Laughlin and Delores Taylor, and you may recognize her as Carol, the Freedom School student who tearfully performs folk songs in BILLY JACK. She's in all of the BILLY JACK movies (even the unfinished THE RETURN OF BILLY JACK), but BREAKIN' is her only other acting credit.
FURTHER VIEWING:
The aforementioned documentary BREAKIN' 'N ENTERIN' (released as BREAKDANCE GANG in Germany) doesn't seem to have made it to video, but luckily someone put it on Youtube: