Today I'd like to give a little nod to one of the undervalued sidekicks of cinema, the Steve James of filmatists. Roger Avary shares with Quentin Tarantino the best original screenplay Oscar for PULP FICTION. I always thought he was supposed to have just written the Bruce-Willis-lays-around-in-bed-talking-cute-with-a-French-lady portion, but Wikipedia says the accidental shooting of Marvin (SPOILER) and The Miracle of the Bullets That Totally Miss both came from an earlier screenplay by Avary. The two worked at a video store together (and also as production assistants on Dolph Lundgren's MAXIMUM POTENTIAL workout video) and collaborated alot when they were coming up. For example Avary's script was rewritten by Tarantino into TRUE ROMANCE, then Avary came in later on when Tony Scott was making the movie and wanted rewrites. He also wrote a little bit of NATURAL BORN KILLERS and the shit Steven Wright says on the radio in RESERVOIR DOGS and Tarantino was credited as executive producer on this one.
By the time of JACKIE BROWN Tarantino and Avary didn't really seem to be working together anymore, so to people who haven't paid attention to him since then it would be easy to think he might've just been a lucky buddy of Tarantino's, riding in on the ol' '70s TV show referencing coattails. I think he's since proven himself capable of standing on his own, it's just that all his movies end up being misunderstood or underappreciated: he wrote and directed RULES OF ATTRACTION and wrote SILENT HILL and BEOWULF. All movies I like that a whole lot of people hate.
It's gotta be hard living under the shadow of Tarantino, because #1 nobody can really live up to him and #2 the chin part of the shadow is just gigantic (wocka wocka). But I think Avary's got some talent.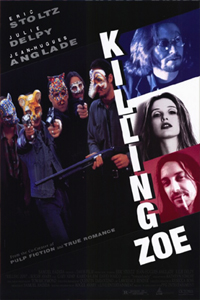 KILLING ZOE is Avary's first movie as a director, and it has some of the early Tarantino elements: long, static shots of plot-free conversation, discussions of TV shows, needles, cool criminals who hang out, vintage movie posters, tip etiquette, joke telling, a character named Zed. No suits with ties, surprisingly.
Like TRUE ROMANCE for Tarantino, KILLING ZOE seems to be Avary's fantasy about what he would be like if he was a gun-toting criminal and fell in love with a prostitute. The "production notes" on the DVD confirm that he chose Eric Stoltz to star because they looked and dressed similar. It definitely comes out of the mind of a dude in his early 20s, just imagining his life with some added gun deaths to make it cinematic. I'd guess he was into the same shit as QT but was the shy one (Stoltz doesn't talk much in the movie) and was the friend who wanted to travel to Europe all the time (it takes place in Paris, although it was shot in L.A.). His fantasy prostitute girlfriend Zoe is more highbrow and cultural than Tarantino's Alabama. Both are pretty new to being hoes, but Tarantino's is an air-headed but sweet southerner who enjoys the films of Burt Reynolds, Avary's seems smarter, is putting herself through college and does sculptures. But probly doesn't taste like a peach.
The feel is very different from Tarantino's movies. Dryer, less bluster, less macho, with an electronical score by "tomandandy" instead of digging out the dusty old soul and rock and roll 45s. The criminals here think they're tough, but if they tried to work for Joe from RESERVOIR DOGS they'd run home in tears before he was done talking to them. They're not pros – this might even be their first time, because they all live in an apartment together like college dudes. Or maybe they've done it before and blew all their loot on drugs, French Brian DePalma posters and monkey food (one of them has a pet monkey that pees on another guy's Billie Holiday records).
Stoltz plays Zed, an American in Paris to meet up with his childhood friend Eric (Jean-Hugues Anglade). They're planning on robbing a bank on Bastille Day, which is tomorrow. Before they meet up Zed has a long cab ride and a night with Julie Delpy as Zoe, the prostitute (although she's offended when he calls her that). I don't know why Avary is so into an American man and French woman talking in a hotel, but that's his thing I guess.
After he meets up with Eric the next section of the movie is an overly long drug binge: dudes driving fast, snorting coke, talking about The Prisoner. They go to a dixie jazz themed club, the camera lens is distorted, things are confusing.
Then the third chunk takes place in the bank where they take everybody hostage, including Zoe, who's there wearing a nice dress and sweater like a non-prostitute. Turns out Zed is the safecracker – he has a whole case of equipment and starts setting up to blow the vault. He doesn't do it with the speed and intensity of a pro, though. I think he's a hobbyist, a science nerd who enjoys puzzles like this more than a guy who wants to steal a bunch of money.
He takes his time trying to get in this thing. Meanwhile upstairs are all the armed robbery risks: security guards that might try to do something, silent alarm that might've been tripped, gunmen liable to do something stupid, hostages liable to do something stupid that makes the gunmen do something stupid. But Zed doesn't even know this is going on, because he's downstairs and nobody tells him. Probly for the best, though. You don't need that kind of pressure.
I'm not really sure why it's KILLING ZOE or even why she should be the focus of the title. Of course there's a love story there, and the ending where you can't think about it too hard because not only will you wonder why the fuck the police didn't bother to question them, but you'll suspect that two people who fell in love because one paid the other for sex and then they survived a bloodbath at a bank the next day will not necessarily turn into the greatest relationship. But the main conflict of the movie is between calm, reasonable Zed and death wishing Eric, who doesn't care if he dies and therefore lives life to the fullest in drugs, transportation, crime and pet ownership. He just doesn't give a fuck. So it's kind of like a LETHAL WEAPON mismatched buddy movie, the suicidal nut and the uptight family man.
On those production notes you learn that Avary had some pretty pretentious subtext in mind for the movie. I noticed a vintage movie poster from some viking movie in their apartment, and also there's a conversation where somebody asks him "You like viking movies?" I thought that was funny because who the hell is really into viking movies, specifically? I'm sure there are a couple good ones I'm not thinking of, but it's not like it's a thriving genre full of beloved classics. Anyway it turns out Avary likened these characters to vikings, a bunch of brutes that just rape and pillage and wear funny helmets (in this case masks) and don't worry about tomorrow. It's all about getting maximum pleasure right now and not giving a shit about if they hurt anybody else or if it has consequences. Apparently Avary made the cast read Beowulf to get them in the right mindset. I doubt it did much for them. But it's cool to know he was obsessed with Beowulf years before he made the movie of it.
I'm not sure we know enough about Zed. If he's so grounded why is he working and hanging out with these assholes? And why'd he get into safecracking in the first place? I can't really picture how this guy would fall into that racket. Not that every character needs an origin story, but he's not cool enough for us to enjoy the mystery. It seems more like a character that's not completely thought through than like an enigma. We only root for him because the camera's on him and because the other guy is such a douche. He does Mr. Blond shit without the menace or charisma.
These are kind of nitpicks, they're not huge problems, but maybe they're part of why the movie falls a little flat. I don't think this is that great of a movie, but it's a passable bank robbery thriller that gets a bit of a bump from being such a time capsule into that moment in pop culture when independent film was exciting, it hadn't turned into a meaningless term, and we hadn't even been inundated with Tarantino wannabes yet because PULP FICTION hadn't quite come out. It has some good thrills in it (like when Eric goes nuts and throws a bomb into the vault with an innocent security guard) but honestly my favorite scene is the very first one, just a long take of Eric Stoltz in the back of a cab being kind of a dick to the cab driver that's trying to make small talk with him.