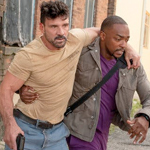 POINT BLANK (2019) is a recent Netflix release directed by Joe Lynch (WRONG TURN 2, EVERLY). It's not a remake of the classic Lee Marvin POINT BLANK from 1967, or the non-classic Mickey Rourke/Danny Trejo POINT BLANK from 1998, or even the Brazilian police corruption documentary POINT BLANK from 2015, but in fact the French one from 2010 that was recommended to me many times but that I haven't seen yet. Of the three of those I've seen, this one's in second place!
It's got a great, "oh shit, we're already doing this" opening. There's an exterior shot of a mansion at night, but before the camera can move inside we hear gunshots and see flashes inside, and then a guy comes flying through one of the windows and makes a run for it. He's Abe (Frank Grillo, MY SOUL TO TAKE) and he's frantically trying to get ahold of his getaway driver brother Mateo (Christian Cooke) in between ducking gunshots and receiving threatening texts from some guy named Big D.
And then… I'll just say he ends up an unconscious John Doe at a hospital, which is where he intersects with our protagonist, Paul (Anthony Mackie, ABRAHAM LINCOLN: VAMPIRE HUNTER), a nurse doing extra shifts because his wife Taryn (Teyonah Parris, CHI-RAQ, IF BEALE STREET COULD TALK) is about to give birth to their first child. And the next thing you know Mateo has taken Taryn hostage to force Paul to sneak Abe out of the hospital. (read the rest of this shit…)
VERN has a new action-horror novel out called WORM ON A HOOK! He has been reviewing movies since 1999 and is the author of the film criticism books Seagalogy: A Study of the Ass-Kicking Films of Steven Seagal and Yippee Ki-Yay Moviegoer!: Writings on Bruce Willis, Badass Cinema and Other Important Topics as well as the crime novel Niketown.