POINT BLANK is a movie not starring Lee Marvin, not based on the novel 'The Hunter' by Richard Stark, and not a must-see classic of badass cinema. At least this POINT BLANK isn't. This one is from 1998 and there was really no way they could've known there was already a movie called POINT BLANK, so let's not start pointing fingers. Anyway it's basically a low budget CON AIR in a mall. A bunch of lifers mount an escape from their prison bus, take over a Fort Worth shopping mall as it's closing up and try to hold the people inside hostage for ransom, etc.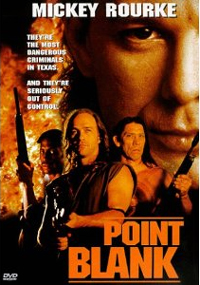 The leader of the cons is Joe Ray, played by Kevin Gage. I bet you didn't know there was a title character in David DeFalco's CHAOS, but there was, and Gage played him, and he was pretty good actually. Here he's got a different, more weasely look with long stringy hair. It just so happens that his estranged brother Rudy Ray (not Dolemite) is in town, helping dad dig holes on the farm. Also Rudy is a world class mercenary who has spent many years doing all kinds of badass special ops shit (yes, there is a "Just How Badass Is He?" speech listing which wars and conflicts he was involved in). And he blames himself for his brother's crimes because he wasn't there for him. And he's played by Mickey Rourke.
The beginning of the movie actually had me thinking it might be good. There is one really good thing about the movie, and it's Mickey Rourke. I'm sure this was shot quickly and around his schedule but it also seems like he puts way more of himself into the movie than anybody would expect an actor to do in something like this. He's a walking badass juxtaposition because he's got the giant THE WRESTLER muscles but he oozes sensitivity. In his first scene he's shoveling dirt and then he puts his hand on his dad's shoulder to comfort him. He does alot of sitting silently with his thoughts, which most musclemen actors would have trouble with, but not him. Although he's on the side of the law he sneaks into the besieged mall not to stop his brother or kill him, but to try to get him out of there alive. He thinks he owes it to him for not stopping him from becoming a criminal.
One non-Mickey Rourke touch that also had me optimistic: right before the gunmen take over the mall there's a scene where a department store employee is complaining that they have to go to Dallas to see the Alanis Morissette concert because nothing ever happens in Fort Worth. That was kind of funny.
Unfortunately, the movie quickly dumps itself into the type of gloomy, repetitive rut that many DTV/no budget action movies do, where it just kind of chugs along and doesn't feel like much is happening in the middle section. Way too much of the movie is just the gunmen standing around pointing guns at the hostages and arguing with each other while Mickey sneaks around in the shadows getting ready to do something.
Don't get me wrong, he looks cool sneaking around. I like that he'll stand out of eyesight but not crouching or hiding, just knowing he's in the right spot not to be seen. Even in the sneaking around he seems to throw himself completely into the job. And occasionally he gets to head scissor a guy or do some kind of dim mak death touch move he learned while he was in the shit.
One major sin is the waste of a cool location. I'm sure they were limited in what they could do inside this mall where they were shooting, but that doesn't mean it's not gonna be disappointing. If the story takes place inside a mall you want to see people going through taking advantage of or fucking around with the different items inside the stores, like in DAWN OF THE DEAD. But there's almost none of that. They almost exclusively stay in one dark area in the courtyard and barely go into the stores at all. (One character steals some new clothes, but you don't even get to see him do it.)
Danny Trejo plays the part of the psychotic gunman who molests one hostage and unnecessarily shoots another one, the Mr. Blonde type who scares all the other guys and could ruin everything. In fact he sort of becomes the main bad guy and by far the best part of the movie is the long knock down drag out fight between Rourke and Trejo. They have a huge shootout in a construction area, shooting through buckets of paint that cover Trejo completely. Then he gets shot in the nose. At one point Mickey('s stunt double) is doing a bunch of handsprings to dodge bullets. They break through walls, get crushed under falling shelves, strangle each other with metal hose, wrestle, do karate on each other, I mean pretty much everything. Good shit. The only drawback is that for some reason the scene is set to a blues-rock guitar song that makes it seem like it's supposed to be sad instead of cool.
One of the other cons is played by Michael Wright, who played the high school supervillain Victor Duncan in THE PRINCIPAL, the arms dealer Aaron in MONEY TALKS and I guess was on the TV show OZ. They try to give his character a sad backstory, lots of monologues talking about how he hard a hard life and what not. I didn't really dig that but  at least respect the Seagal-esque attempt to be humanistic in a shitty action movie. Also there's alot of bonding and embracing while dying. You know, one of those "As long as I'm laying here dying of gun wounds why don't we make up and have an ironic laugh together (cough cough) I love you man" type deals.
I don't really know how the title POINT BLANK fits this story any more than a thousand other action movies that might've used it but then thought hey, why not instead of that we could choose a title that wasn't already used for a classic movie that everybody already loves. I mean I understand that CHOPPING MALL was already taken too, but I'm sure you could come up with a more fitting name that hasn't been claimed. I suggest FORT WORTHLESS.
Right after this I watched THE ROOKIE, and I noticed a credit for second unit director Matt Earl Beasley, and wondered where I recognized the name. Of course it was because he directed this POINT BLANK. It was his only movie as the main director, but he's done a ton of TV shows since then.
Oh well, he tried. This is not a successful action movie at all, but at least Mickey gives it some unique touches. This is a good place to see that vulnerable soul that was fighting to get out before he got the proper vehicle for it a decade later.
…
Thanks (?) to Chris Crespo for telling me about this movie