I never reviewed IRON MAN, because I just didn't feel like I had anything new to say about it. I enjoyed it just like everybody else did, for the same reasons, and every websight I read had examined the shit out of it, so I just let it go.
Now part 2 is out and I almost did the same thing (tradition is very important to me) but as I was thinking about writing up an explanation of why I wasn't writing up the movie I realized I did have a couple things to say, so what the hell. Review time.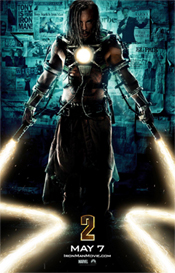 I enjoyed IRON MAN 2, but not as much as IRON MAN.
the end
thanks everybody
p.s.
IRON MAN 2 is all the same sort of fun as the first one, and there's nothing real embarrassing in it. Its only weakness is that it's kind of formless, going around trying to do so many things. It picks up with Tony Stark now openly living an Iron Man lifestyle, and deals with the consequences of that: the government not wanting him to use it, private contractors and other countries wanting to copy it. So they gotta have these Senate hearings but also he's holding his own personal World's Fair and also he visits a car race in Monaco. And they have to introduce new villains that are after him and continue his relationship with Pepper Potts and have him solve his health problem again and also he's depressed so he's starting to hit the bottle too much and he learns some things about his dead father. And Samuel L. Jackson is back (before the credits this time) as the famous David Hasselhoff TV character Nick Fury, delving more into that, plus Scarlett Johansson (who has got to be at peak hotness by now, jesus. Sorry, but it must be said: hubba hubba) and those two are wearing Blade and GI Joe costumes respectively. That I enjoy but I gotta admit they're too cartoony to fit into the sort of realistic world established in part 1.
So there's alot to deal with there and the plot feels a little aimless. Like the first one it does culminate in a bunch of Iron Man flying and punching and shooting, and like the first one it was a bad idea to set it all at night and also it's a little less exciting than the rest of the movie because you really feel that these human characters we've been enjoying have just been replaced by animation. I mean there's some pretty cool stuff with him fighting a bunch of robots, but none of it works as well as that desert stuff from the first one, which I guess was good partly because it was shot in daylight and partly because alot of it was really him in a suit and not just computers taking over.
To me the most exciting scene wasn't him in the suit, it was his people trying to get the suit to him. He's been attacked in his race car and his bodyguard (director Jon Favreau, pulling a Spike Lee) drives his car onto the track to deliver him a suitcase that transforms into the Iron Man suit. It's totally ludicrous but it's a good combo of suspense, teamwork and loyalty.
But I guess my favorite action in this one is actually Favreau and Scarlett Johansson as The Baroness breaking into some laboratory so that they can use a computer to regain control of the Iron Man suit that Don Cheadle is wearing but not the rest of them (?). Scarlett and her stunt doubles acquit themselves well beating up security guards in a hallway in a loving tribute to the scene from BLADE TRINITY. She's not always that good at sounding like she knows what the stuff she's saying means, but at least they make it look like she knows how to scissor a guy's head. So I forgive her for THE SPIRIT.
By the way, this is off-topic, but do these stupid shortened nicknames for female actresses bother anybody else? Like I keep seeing articles that call her "Scar-Jo" or the gal from TWILIGHT and PANIC ROOM is "K-Stew" and I believe there's "H-Mirr" and "J-Dench." And I can understand if you're a gossip columnist or a British tabloid headline writer, because obviously you made a choice to part with dignity when you took that job. But otherwise I don't think adult, literate humans should be writing that bullshit. Is it supposed to be funny? Is it supposed to be cute? Is it supposed to save time, because for me personally it takes alot longer because I have to check my decoder ring to figure out who the fuck you're talking about.
WIth J-Lo I guess it's fine because she chose to have that nickname herself, and it was given to her by a rapper, and rappers have names like that because it makes it easier to rhyme. And with Flo Jo it was okay, because she was in the Olympics. But anyway, stop doing that. I will punch you.
The weirdest scene and maybe a controversial one I guess is when Stark is depressed on his birthday so he drunkenly DJs a party for a bunch of rich girls while wearing the Iron Man suit. Then he has them throw his vases in the air and shoots them with his laser hands. It's real awkward and maybe too Spiderman-3-dance-sequence-esque for some people, I don't know. The crowd I saw it with was laughing like it was a comedy scene, but I thought it was real disturbing and sad. And definitely unlike anything I ever saw in one of these movies before, so points for that.
But then Don Cheadle as Roadie goes and puts on one of the other Iron Man suits to have an intervention, and they get into a super-powered buddy-fight. This was a problem for me because I was still getting used to Don Cheadle playing the character that Terence Howard played in the first one. I know this Marvel company pays minimum wage and Terence Howard wanted an extra 15 minute smoke break so they thought he was uppity and implied that everybody thought he was a pain in the ass anyway and didn't want to work with him again. I don't know, maybe there was no way to keep him in the movie. But whatever happened it takes away the emotion that would've been in this scene if it was Howard. There was no way for me to mentally transfer that relationship to a different body, so this face-off didn't have the punch it should've. Too bad.
I'm not sure the development of his relationship with Pepper works all that great either. I loved the flirtatious-but-they-know-it-could-never-work approach in the first one. This one I'm not sure they earn the places they bring it to. The entire movie has Pepper angry because Tony's being a dick, then at the end she's absolutely at the end of her rope but he interrupts her so suddenly they're in (SPOILER) love. I don't know, man. Could've been done better.
I think one of the main things that made IRON MAN stand out from other super hero pictures is the approach to acting. Robert Downey Jr. had obviously been allowed to improvise constantly, making the whole thing very funny and loose. No other super hero I can think of has had that type of feel. I don't think Christian Bale gets a couple extra takes to make up different lines, except when he's doing those off-the-cuff riffs on lighting and professionalism.
Luckily in IRON MAN 2 they turn Mickey Rourke loose the same way they did with Downey. They hired him to play this Russian super villain but they let him be the Mickey Rourke version of a Russian super villain. Covered in Russian prison tattoos, gold caps on his teeth, blue streaks in his hair and (most importantly) they let him add his cockatoo into the plot. (He did the same thing with his late chihuaha in ONCE UPON A TIME IN MEXICO.) Also he's introduced standing with his face in the corner wearing a hoodie and holding a bottle of water. I'm not sure what that was about. So even though he's building evil robots he never feels like a super villain from any other movie I ever saw. Well, except maybe in that opening scene when he lets out a devastated roar over his father's death.
Anyway, he never makes any speeches or anything. He explains his beef with Tony Stark a couple times, but he keeps it pretty brief, and the rest of the time he pretty much keeps to himself, barely even talking to the guy funding his evil robots (Sam Rockwell).
Like anybody I always like Rockwell, and he did better with this smarmy character than most people would've. But he already played the villain in CHARLIE'S ANGELS, he's had his chance for a big movie like this before. So let's continue appreciating Mickey Rourke. I'm glad his great performance in THE WRESTLER gave him this opportunity. I love actors who have a raw talent but also have no shame about being total weirdos. That way they can channel their eccentricities into greatness and sometimes when they suck it's still entertaining. I think Rourke can do this, Nic Cage can do this, Marlon Brando could do this. Rourke is a great actor, a lovable weirdo, a total badass, an Oscar nominee and played Stavros in DOUBLE TEAM. That in my opinion is a life to be proud of. With another actor this would be a pretty lame and under-written villain, but his out-there-without-being-over-the-top approach makes it one of the better ones.
And of course Downey gets to fuck around and do whatever he wants too. At first I thought that might be causing a problem. His humor and cocky charm keep it fun but the plot's swerving all over the place and some of it's a little choppy, like one of those lesser Apatow productions where they had to cobble 72 hours of riffing into a coherent plot.
But then I figured out what it is. The first one had all the same qualities, but they were grounded by a real solid story backbone. They got to introduce asshole Tony Stark and put him through the mythic events that inspire him to rise to the occasion, find a purpose in life, build an awesome robot suit. And then he fights Jeff Bridges, but that's just kind of the ending and not the best part. Part 2 doesn't have as much of a structure to it.
I think some of the SPIDERMAN and XMAN pictures are kind of like that too. Maybe not as extreme, but they're pretty overstuffed with updates on all the old characters and introductions of new ones and some new problem the hero has that ties into some old problem and at the end he has a realization but then he has to break up with his girlfriend or something. Comic book nerds like to say that super heros are the Greek gods of modern non-Greece, but really maybe they're just soap operas with electric beams that shoot out of people. And I'm not knocking that. I like watching them too.
Here's the thing. I bet with reading the comic strip books there are sometimes the real classic, timeless stories you'll go back to again and again, like THE WATCHMEN or the one where Ziggy gets a DUI. But most of the time there's just the ones that come out every month and sometimes they're pretty good and you enjoy them but then you just shrink wrap them and lock them in your refrigeration chamber and probly don't think about them too often. That's the same way with these super hero sequels, I would say that DARK KNIGHT and BLADE 2 are the real classic ones that tell solid stories and deliver on everything you love about the first one but also elevate it to a whole new level and make you want to immediately see the next one except also you fear that there's no way they could do another that good again. And then there's ones like this that come out during the summer and you're happy to see those characters again and you enjoy watching it once, and that's about it.
So, you know, I would've preferred better, but I enjoyed it well enough for what it was.
.
.
.
TOP SECRET SPOILER ABOUT THE PART AFTER THE CREDITS. I wasn't really sure what was going on but fortunately some guy wanted to make sure everybody knew that he read about it on the internet so he yelled out "THOR!" before it even showed the metal box or whatever it was. So I know it has something to do with Thor.
However, I would like to propose the obviously way better Marvel Comics ending that would've made everybody's pants explode, clean up the oil spill and invent a new multi-layered Middle East so that Israel and Palestine could both have equal portions of land. See, it's exactly the same with the SHIELD agent saying "We found it," while surveying a powerful object in the middle of a crater in New Mexico. Except he'd say, "We found them. The Daywalker's sunglasses." And that could be that or for extra awesomeness he would throw them in the air and Wesley Snipes would catch them and then fly at the camera with his sword and slice the screen in half while being drowned out by the same sort of nerd yelps and moans of ecstasy as the Thor ending except in my opinion it would be real and not faking it.
This entry was posted on Saturday, May 8th, 2010 at 8:03 pm and is filed under
Comic strips/Super heroes
,
Reviews
. You can follow any responses to this entry through the
RSS 2.0
feed. You can skip to the end and leave a response. Pinging is currently not allowed.