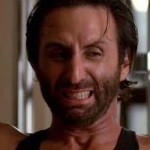 This is a suspense thriller from Kathryn Bigelow, the director of POINT BREAK and NEAR DARK, and one of the few women directors to get much of a chance in these types of movies. This one stars Jamie Lee Curtis as a just-graduated cop who, on her first ever patrol, has to shoot a guy holding up a grocery store.
Now first of all I gotta ask – why are there so many grocery store robberies in these movies? A reader named Jared pointed it out too because I recently reviewed STONE COLD and COBRA, both of which open with the hero going in to foil a grocery store robbery/shootout. Now this one too (and the last book I read, SIDESWIPE by Charles Willeford, also revolves around a grocery store robbery/shootout, although it's at the end instead of the beginning, because it's literature). The result here is the exact opposite of those other movies though: instead of a rebel cop who plays by his own rules she's a straightlaced rookie who tries to do it by the book. Instead of having no consequences the incident could end her career. Talk about a double standard.
Anyway, I don't remember a wave of grocery store shootouts in the '80s or early '90s, but apparently that fear was in the air.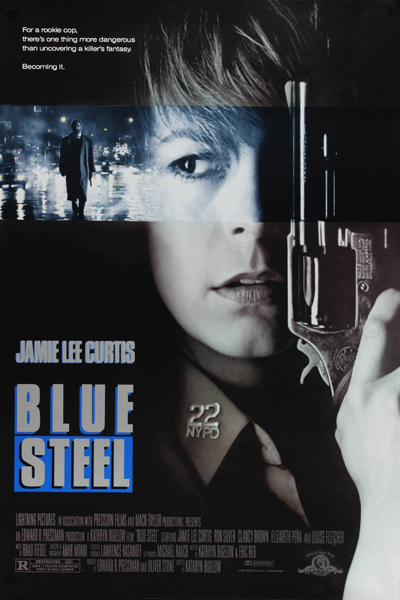 I also gotta point out that when you got Tom Sizemore and Ron Silver both in the same grocery store at the same time, you KNOW you got a fuckin problem. You can't trust either one of these assholes separately, but together? Jesus Jamie Lee, better get your blue steel ready.
The story unfolds brilliantly because it takes its time telling you what's going on. (I'm gonna give some of it away though, they never foresaw that would happen, suckers). Jamie has to shoot Sizemore. Silver is one of the witnesses, cowering on the ground. Sizemore's gun lands next to him and he stares at it, and eventually takes it when nobody's looking.
So now Jamie's in deep shit because there's no gun and people think she fucked up by unloading her blue steel into the motherfucker. Silver goes home with the gun and turns out to be exactly who you would expect him to be, some rich asshole Wall Street trader Ron Silver type in a suit. So you're wondering what is the deal? He's in on it with Sizemore and covering up for him, or what?
But it turns out he's not in on it with the dead Sizemore, he's just a weirdo who wanted to keep the gun from a crime scene. He carves something into his bullets and then starts carrying the gun around and eventually goes Son of Sam on a random stranger on the street.
Then there's a storm and he and Jamie happen to end up sharing a cab, they get caught in traffic and he convinces her to go to dinner with him and they're falling for each other and you're thinking, well, this is a pretty far-fetched coincidence.
But then you realize it's not a coincidence when the police show Jamie what they found at the murder scene: a bullet casing with her name carved into it.
So homicide detective Clancy Brown (with some fancy curly hair) promotes her to detective-in-name-only and becomes her partner so he can use her as bait to catch whoever is stalking her. But we know it's fuckin Ron Silver. So the movie is about how she has to figure out her new boyfriend is Ron Silver and introduce him to the magic of blue steel.
Bigelow does a great job building tension starting with the cool opening credits sequence which takes place inside Jamie's 38 Special. You see a bullet inserted in the gun from the point of view of the barrel! The score is by Brad Fiedel (guy who did TERMINATOR and TERMINATOR 2) and it's perfect, starting mostly just as simple, dread-inducing tones and by the end credits building into some kind of creepy avant garde guitar jam.
The best thing about the movie though is the villain, because you REALLY gotta hate this asshole. Ron Silver is of course a great method actor, in recent years he came out as a strong anti-anti-war voice on TV as a way of more fully inhabiting his typical roles as horrible, unlikable pricks in suits and ties. Here he is like the o.g. American Psycho, a yuppie who can seem charming to a naive rookie female cop but also hears voices and ends up naked in her apartment growling and trying to bite her. To prepare for the role I assume but cannot prove that he really stripped naked in the middle of Central Park and grunted animalistically as he rubbed the blood of a dead hooker all over his chest, a ritual later recreated in the movie. This is the type of shit that really goes on on Wall Street, in my opinion.
One criticism. Although Jamie Lee Curtis does a great job as a vulnerable, troubled woman who comes through in the end, it's kind of too bad this rare strong woman director has to put such an emphasis on the vulnerable side of her heroine. First she falls for this chump (I mean for God's sake, Jamie, it's Ron Silver! Are you blind? You don't date Ron Silver!) and then within a couple days she's already falling for Clancy Brown. And right after her best friend has been murdered she's fucking ol' Clancy. And she hasn't even noticed that Ron Silver is in the apartment. You gotta check for these things.
In fact, they treat the idea of a woman being a cop as kind of a weird thing, she constantly has to explain herself, and what ends up happening to her almost makes it seem like she's wrong, that she shouldn't be a a cop. In most cop movies the leads are men, and at no point does it occur to anybody that they have to explain why they are a cop, unless they throw in some line about their dad was a cop or their uncle was killed in a liquor store robbery. BLUE STEEL gets more into the background of the character, so we see that her dad is abusive to her mom and she has trouble dating because people are afraid of cops, and that sort of thing. So I guess you could say it makes her less of an action hero, but it also makes her more of a character, so it work. It's a pretty good thriller.
note: I checked up on Kathryn Bigelow's current whereabouts. Apparently this is a link to a commercial/short she did with Uma Thurman in '07, but I can't vouch for it because the damn thing doesn't work on my computer.