I can dig a good western, and alot of critics have been saying that JONAH HEX is even better than TRUE GRIT, so I thought I should check it out.
Okay, that's not entirely true. Also it's not at all true. Armond White doesn't count as somebody seriously for real liking JONAH HEX. But I'm a positive individual so I was trying to put a good spin on it. Believe it or not though I don't have to delve into too much negativity for this review. JONAH HEX is not as bad as I was expecting, or as people have said. It definitely doesn't work, but I don't consider it a total abomination. It is beautiful in God's eyes, it's only on this earthly plane that it gets bullied because of its deformed face.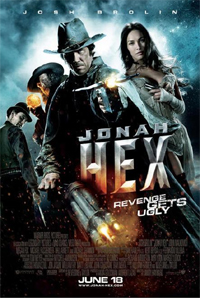 Josh Brolin plays Jonah Hex, a bounty hunter who was a soldier in the Confederate army. I'm not sure how they handled it in the original DC comics book it was based on, but here they have an African-American blacksmith who vouches for him, pointing out that Hex never believed in slavery. In fact he decided what he was fighting for was wrong and conscientiously objected to a direct order to burn down a hospital full of yankees. We learn the details of the backstory over the course of the movie, but the important thing to know is that Hex had to kill his buddy Jeb Turnbull (apparently Jeffrey Dean Morgan from WATCHMEN, although I didn't realize it) so it was a double betrayal of his crazy commanding officer Quentin Turnbull (John Malkovich). Turnbull took it so personally he tracked down Hex, tied him to a cross, made him watch his family burn to death and then branded his face. Hex later burned the brand into unrecognizability (laser surgery was not yet available) and now he rides around with half his face deformed.
Years later the government finds out that Turnbull and some of his confederate soldiers have stolen a super weapon and plan to attack crowds during the Centennial celebration. They think only Hex has the skills and personal vendetta to take out Turnbull, so they hire him to save the country.
It sounds kinda stupid 'cause it is kinda stupid, but I feel like I get what they're going for and I don't think they entirely fail. It's a western, but it's a comic book western, so everything is amped up. Yeah, he's a guy riding a horse, but he has a monster face and two giant gatling guns under his saddle bags. When he rides out of town the entire thing goes up into a fireball. Same thing with trains, they get robbed by bandits like in a regular western, but then they blow up like it's a Schwarzenegger movie. Instead of a human prostitute girlfriend, Hex has Megan Fox, looking good except for the creepy alien waist her corset gives her, like a comic drawn with unrealistic proportions. When Hex tracks down a confederate colonel (Luke Duke himself, Tom Wopat) at a gladiatorial combat joint one of the fighters in the pit is a fuckin Snake Man. And at one point Hex rides across the plains with a giant swarm of crows following him. Not like they're gonna help him or anything, they must just like hanging out with him, or think he's onto something, or just want to help him look cool. You can't do that in TRUE GRIT, but you can in JONAH HEX, so you might as well.
To really say "this is not your father's western, or a movie your father would watch, even on cable" they got some band called Mammoth Mastodon to do the score along with Marco Beltrami. The rockin guitars and drums sometimes make it play as yet another shitty modern action movie that doesn't know what the fuck it's doing, and sometimes gives it a unique feel. I like that they even did a guitar version of the WB logo music at the beginning.
The script is credited to Nevildine/Taylor of CRANK and GAMER infamy, but luckily they left before filming. Instead it's directed by some dude named Jimmy Hayward who formerly only worked on computer animated family films. He was probly in over his head and couldn't control the thing, but doesn't seem entirely inept (except, surprisingly, in the shitty animated prologue). It's not too spastic with the style and is generally well shot.
Where it goes wrong is mainly with the general plot of what the bad guys are trying to do and how the good guy stops it. It doesn't really stick to what works in a straight western because it spends too much of its less-than-80-minutes on a slim post-Civil War version of a DIE HARD plot. Turnbull is your typical Malkovich weirdo character (he barely attempts an accent) and his big plan is just to shoot cannonballs into towns followed by little crystal ball things that cause big explosions. (It's a weapon called "The Nation Killer" that was developed in a secret government program run by Eli Whitney.) But all Hex can really do is chase after him, punch some guys, chop some guys, shoot some guys, and all of this in the dark because the celebration is at night time. Not a very exciting climax.
But I have to admit I kind of like Brolin as this character of Jonah Hex. He gets to mutter and mumble and not worry about ever charming anybody. Every enemy he comes across has to make some comment about his face, and he has a whole catalog of snappy comebacks, but eventually gets tired of it and announces that he's run out.
Hex never smiles (I'm not sure he physically can) so when he says funny shit it seems like he doesn't know he's funny, and that makes it better. After gunning down a corrupt sheriff and his entire posse he looks around at the witnesses and decides to pin the sheriff's star on a DELIVERANCE-looking fat guy. He pats him and says "Congratulations." I hope things turned out okay in that town. That could've been a spinoff.
Remember when I reviewed THE PHANTOM a while back I enjoyed how for some reason The Phantom has a horse and wolf that follow him around and know how to rescue him and shit? Jonah Hex could have a setup like that if he wanted to, because he frees a dog from a dogfight and the thing shows up at his side later, and in an entirely different part of the country if I'm not mistaken. (That could be another spinoff, the adventures of the dog walking many miles to find Jonah Hex.) You think the dog's gonna help him somehow but instead Hex just looks at him and mutters, "You. Yeah… I don't know what to say to you."
The other thing I like about Jonah Hex is his inability to completely despise his old war buddies, even though they're terrorists now. He knows they're on the wrong side and has no problem killing them, but afterwards likes to pay his respects by saying things like "Thanks men" or "Sorry Jim." I mean, who is he to judge, he was fighting for the South at one point too. He knows he's as dumb as they are. I guess the awareness makes him smarter. But I like that he's forgiving, even of these pricks.
One thing I haven't mentioned: Hex has magic powers. He's a corpse whisperer. Because of his past brush with death he has this weird thing where if he touches a dead body it comes back to life. He can't resurrect the dead, because they'll turn into ashes after a minute, but he can use it to get information. Lucky thing the Geneva conventions didn't exist yet because I don't think you could justify his post-death enhanced interrogation of a prisoner that already got interrogated to death.
I guess the supernatural element wasn't in the comic strip books and it isn't really needed in a western, but it's okay because it leads to the one genuinely great scene in the movie. Hex realizes that to get the information he needs he has to dig up the grave of the best friend/villain's son who he killed in the war and question the guy. I seriously liked this scene because not only was it a weird way to explain some of the backstory and the idea that Hex and Turnbull have both been turned into vengeful monsters by the same incident, but Brolin and Morgan turn it into a great character moment. They're two friends who are pissed at each other but can't hide the remains of their friendship. They talk it out and then sort of enjoy their short time together before the dead guy says, "Ah, hell. I'm startin to burn. I best be getting back underground."
That scene alone puts JONAH HEX above some of the other universally panned movies it's been lumped in with. It doesn't have that total-mess feel of expensive, befuddling ideas loudly banging against each other, like WILD WILD WEST or LEAGUE OF EXTRAORDINARY GENTLEMEN. To me it feels a little closer to a SOLOMON KANE "I want to like this, some of it's cool, but it's not quite setting my world on fire for some reason" type feel.
I suspect some of the problem is that it was designed as a small movie, but I guess they moved it from August to June and did some reshoots to try to make it seem more like a big summer movie. I'm not sure which parts that would be but the movie would definitely benefit from a smaller, more personal scope. Not every hero has to be saving the whole country or world every time out. Ask The Punisher.
Whether it was the postproduction shenanigans or a screwup from the beginning, there's definitely some narrative sloppiness that's hard to get past. The opening origin story seems fine at first but gets more convoluted when it turns into barely moving drawings. Why do we have to be told that Turnbull is dead in one scene only to find out he's not dead in the next scene? And there's an early flash forward to a scene in the middle that turns out to be a showdown between Hex and Turnbull that only takes place in Hex's mind as he's dying and then is intercut later as a flashback when they actually do have a showdown. It becomes needlessly confusing and I suspect it was the original August ending that they didn't want to waste so they incorporated it into the reshot June ending.
Also in the cast are Michael Fassbender (good as a bowler-hat wearing henchman character), Academy Award nominee Michael Shannon, Aidan Quinn as Ulysses S. Grant, and Wes Bentley in a role that I bet was supposed to be bigger at some point. Also the usually comedic actor Will Arnett plays a completely straight underling role, which is kind of distracting, like when Chris Elliot was in MANHUNTER.
In defense of my good name (just Vern, no last name) I want to reiterate that I am not saying JONAH HEX is a good movie. I just don't think it deserves to be shit on as much as it was. With low expectations I was at least able to get some good moments out of it. Is that so wrong?
This entry was posted on Monday, March 14th, 2011 at 12:40 pm and is filed under
Comic strips/Super heroes
,
Reviews
,
Western
. You can follow any responses to this entry through the
RSS 2.0
feed. You can skip to the end and leave a response. Pinging is currently not allowed.