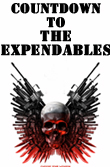 Although welcomed into THE EXPENDABLES with open arms by action fans, Terry Crews is one of the cast members with the least experience in straight up action movies. He was brought in late in the game to replace 50 Cent shortly after 50 Cent was brought in late in the game to replace Forest Whitaker. (Or at least that's how it was reported, but I thought Whitaker was supposed to be playing CIA agent Will Sands, and Crews ended up playing Expendables team member and excellent-name-haver Hale Caesar.)
I guess Crews was an assassin in Schwarzenegger's THE SIXTH DAY, but I already saw that so I couldn't review it. I'd seen TERMINATOR SALVATION but that's okay, because he just played a dead body in that one. He's a big scary looking dude and former NFL player, but he's mostly known for comedies: he played President Camacho in IDIOCRACY, he replaced Tiny Lister as a Deebo-like character in the third FRIDAY movie, he plays the dad on Chris Rock's semiautobiographical show EVERYBODY HATES CHRIS. He's the more huggable Tiny Lister.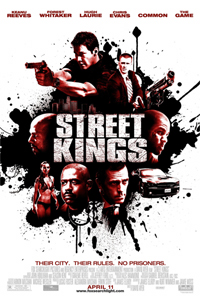 I wanted to review something close to an action movie, so my best guess was the Los Angeles cop movie STREET KINGS. I knew it wasn't gonna exactly be ACTION JACKSON, and had no idea if Crews was even gonna be in it much. It turns out Crews plays Washington, the former partner of Tom Ludlow (Keanu Reeves from THE MATRIX). He's got it out for Ludlow and he's blowing the whistle on his corruption. He's a very important character. The whole movie centers around him.
Well, around his murder, at least. He gets killed about 23 minutes in. He really is expendable. Spoiler.
Reeves plays sort of a bad lieutenant type. You know he's supposed to be messed up because he has a hard time waking up in the morning, then he loads his gun, then he pukes. He goes to sell machine guns to a Korean gang and spits out an extensive list of old timey racial slurs to prove that he (or the screenwriter) is gritty. At the liquor store he buys three airplane bottles of vodka, a move I questioned until he demonstrated their portability during a gunfight. So I had to concede that he knew what he was doing with his alcoholism there. Hats off, brother.
Almost-Expendable Forest Whitaker is real good as Ludlow's boss Captain Wander. Instead of the usual macho cop bluster he plays him a little more timid and soft-spoken, and not hiding his fatherly love for Ludlow. Even in a big confrontation late in the movie he has every chance to yell "I treated you like a son and this is what you do to me? You turn around and fuck me in the ass!?" but instead he yells "You're special!" He makes a pretty standard character type seem weird and interesting.
While celebrating a big bust (Ludlow finds and kills some sicko bastards who have little girls locked up in a cage – then gets accused of excessive force) Wander and his clique (including Jay Mohr with a mustache) tell Ludlow that Washington is narcing him out for some old shit he did when they were partners. Ludlow gets so pissed he stalks Washington and comes after him at a convenience store with a belt wrapped around his fist ready to beat the shit out of him.
(Yes, Keanu Reeves plans to beat the shit out of Terry Crews. Because of that Yuen Woo Ping training he had, I guess.)
But just when he's about to do it he sees some thugs in ski masks coming in and tries to pull a "I was about to punch you but now we're on the same side we're in this together my old friend" type move with Washington, but it's too hard to explain and before he can do anything Washington gets shot to death.
Of course this looks bad for Ludlow. "I was just gonna break his jaw!" he explains. But Wander and his buddies cover up for him and give him the security video. So everything's okay! The end.
.
Oh wait. Not the end. Actually, he knows something stinks about this – either Washington was part of some big heroin deal gone bad, or he was being assassinated for his whistleblowing, or possibly something about aliens and black oil or who knows. So Ludlow starts investigating on his own. He's not even a street cop anymore, he's being punished by being transferred to the complaints office where his new boss tells him, "The temptation is to be a good brother cop. Don't be. None of this shit is going anywhere." Then there's a montage of citizens complaining about police brutality, and it's edited with lots of jumpcuts and his bored reaction shots like you're supposed to laugh about it. Ha ha. Funny old black man doesn't like cops hitting him.
Chris Evans plays Detective Diskant, the young not-corrupt cop actually assigned to the case. With disgust Diskant intends to cover up Ludlow's involvement, but Ludlow convinces him that's not what he wants and the two end up following leads together, gaining each other's respect and admiration, etc. Turns out Ludlow really has a good cop deep down inside who wants to do the right thing or whatever.
Some of the underworld types they come across are played by rapper The Game, rapper/hat collector Common and entertainer Cedric T. Entertainer. I particularly like the scene where Ludlow interrogates The Game, because he 1. hits him in the head with a phone book, which is mean and 2. takes a beverage out of his fridge without even asking, which is rude. Not that asking would be that much better, because when a cop barges into your house and asks for a beverage or snack it carries with it more pressure than when it's just one of your buddies, and it's not really a fair question, in my opinion. So it is rude for cops or soldiers to do that, and they should know better, and if they don't they're an asshole. Just my two cents.
Anyway, you know the drill: unfolding conspiracy, trail of clues, scary gangsters, dark betrayals, a very very small possibility that perhaps some sort of police corruption may or may not be involved in this storyline but I mean who knows, probly not, I don't know why I even brought it up because it's so outlandish, there really is almost no chance at all that that could be what this story about the LAPD ends up being about, but I mean I only bring it up as a way of saying that absolutely ANYTHING could happen in this story, who knows? Nobody.
The original script was by the crime novelist James Ellroy, was called THE NIGHT WATCHMAN, and it took place in 1995 right after the O.J. Simpson trial. At various times David Fincher and Spike Lee were looking at directing it before it went to David Ayer, the guy who had written the acclaimed police drama TRAINING DAY. And, the, uh, FAST AND THE FURIOUS.
I figure Ellroy was probly pretty high-minded about what he was trying to do here, but then again I found a couple interviews where he said he basically just writes scripts for the money because he knows there's almost no possibility of them ever getting made. Anyway when they decided to ditch the mid-'90s period they brought in Kurt Wimmer of ONE TOUGH BASTARD, EQUILIBRIUM and SALT fame to rewrite it, and some other guy when Keanu came on to star. The final product definitely feels like a Wimmer: kind of terrible, kind of interesting, a little bit pretentious, but also with some enjoyable ridiculousness like maybe he knows what he's doing, but probly not. That's why I like him.
Ayer definitely thinks he's doing God's work though, judging from this quote on one of the DVD featurettes: "We're society's storytellers. Our communal campfire is the film screen, and as a storyteller I owe it to myself to seek out the best stories and show us new maps of the human soul."
How is it that so many writers use that fucking bullshit campfire storyteller cliche with a straight face? I mean come on, dude. When you're typing up your screenplay do you seriously look out the window into the horizon, take a deep breath and think back to your ancestors and their cave drawings about the success of their buffalo hunt? Fuck no you don't, that's just some nonsense you heard one to a thousand times that puffs up your chest when you're doing an interview. There is no truth to that horse shit, it's just something that hotshots like to say to try to justify their existence to themselves. Do I deserve to own this mansion in the hills, even though I don't have to work for a living? Yes I do, because I follow ancient traditions.
Come on, pal. You writing S.W.A.T. did not reach deep into the collective unconscious and force mankind to face the fears of his inner lizard brain and sap the power of the primal Freddy spirit of WES CRAVEN'S NEW NIGHTMARE. There is really no similarity between you and the ancient storyteller. That motherfucker stood at a campfire and told his tribe some simple tale that hopefully some of them would pass on to their children some day. You have millions of dollars, an army of collaborators and the technology to tell the whole world your story about the time when Ethan Hawke went into the barrio and a guy asked him "you ever have your shit packed?" It's not the same thing.
THE FAST AND THE FURIOUS does not draw upon the archetypes of ancient myth. It just draws on the entire plot of POINT BREAK.
By the way, good for you getting to have the real Johnny Utah in your movie. But we can't avoid this issue any longer, we gotta discuss it. I'm not entirely sure how I feel about this movie as a whole. But one thing's for sure: it is very fucking hard to accept Keanu Reeves as a burnt out alcoholic dirty cop.
I mean I like the guy, I think people are generally too hard on him, and I like alot of his movies. But he's a teen idol for whom the passage of time has never been cruel. He's never let himself go. He looks pretty and soft. Having a little scraggle on his face cannot substitute for what years of vodka do to the human body. And he's the little buddha, he resonates warmth and kindness and shit. When he's yelling at somebody I just don't believe him. He doesn't seem like a mean guy.
So it's funny to see him do some of this shit, like when he's chasing a guy that runs across a roof, he picks up a piece of wood and throws it, hits the guy causing him to fall and roll into a bunch of barb wire. So harsh, so un-Keanu! He interrogates the guy, who says his name is Quicks, and of course Ludlow says, "Quicks? Not quick enough."
It's so adorable.
Of Chris Evans as Diskant Keanu gets to say, "I should've gone alone. I brought a boy to a gunfight." And okay, Keanu is chronologically older than Evans, but I'm not buying the idea that Evans is more boyish.
For his part, by the way, Evans is good and very charismatic, definitely lifting the movie a little. I'm not sure he could've pulled off the bad lieutenant thing either, but he's not supposed to.
Our Expendable here Crews is good too, but doesn't get much time to work. He has to come across as a threat but leave a little hint that he's actually trying to do the right thing, but then he disappears before he can go any further than that. I guess it makes you want to see him do well in something like THE EXPENDABLES where hopefully he gets more opportunities to shine.
I don't think STREET KINGS tells us anything we didn't know about police corruption or Los Angeles, or does much of anything new with the police procedural or the conspiracy thriller or what have you, and it's not a hugely satisfying mystery. But admittedly the filmatism is pretty solid, most of the acting is good and the story kept me interested even at its sillier moments. As far as new maps of the human soul go it's passable I guess. I don't know that much about geography though.