THE ROAD is a good movie, better book. If you're thinking about reading it but haven't got to it yet I'd say read it, then see the movie. The movie (directed by John Hillcoat, who did THE PROPOSITION) is very faithful to the book (by Cormac McCarthy, who did No Country For Old Men) and illustrates it well, but it can't really do the same thing.
In case you don't watch Oprah, the story is about a man and his son after civilization has been destroyed by some unnamed disaster. They're cold, hungry and worn out and trying to push their little cart of belongings across the United States to the coast. They don't even really know what they expect when they get there, they just don't know what else to do.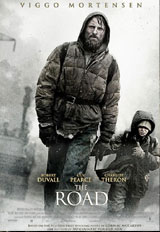 This is not a fun or cool looking post-apocalyptic world – wait for Denzel doing kung fu in BOOK OF ELI if that's what you're looking for. This is a long, cold walk through the rain. They have a few run-ins with thieves and cannibals, but it's not an action movie.
To nobody's surprise Viggo Mortensen gives an outstanding performance as the father, showing his love for the kid and constant fear of attackers. He's capable with his pistol but never seems like a warrior or a badass. He's just a regular guy with a realistic view of what it takes to survive. He's a man of few words (and less than in the book, I think) but manages to say a few simple things that inspire the kid and keep him going.
The kid playing the kid is named Kodi Smit-McPhee, and he's real good too. They have a good chemistry, they seem like a real father and son. The two of them are in the whole movie, but the other actors who pop up for short periods of time are all good too. I'd especially single out Garret Dillahunt in a memorable tiny role as a scary redneck. (Hey, he was in NO COUNTRY FOR OLD MEN too. He knows his McCarthy.)
Nothing in the movie looks stylized. There's devastated scenery, but nothing show-offy. Alot of it is found locations in places where famous disasters happened, like New Orleans or Mt. St. Helens, or just places CGI'd to look more grey and bleak and dead. Nobody wears hockey masks or shoulder pads – these survivors wear heavy winter coats. Viggo has a long, filthy beard. Everybody's shoes are all worn through and haphazardly repaired – they seem to be one of the most important possessions for a survivor in this world. If anybody found a Niketown or an Adidas Store they probly made out well.
Another thing that would be useful would be a Segway. I wish these two found a couple Segways, that would really help them out. But they're not that lucky.
Anyway as I was saying these aren't road warriors, they're homeless people scavenging for leftover cans of food, and trying to avoid other people, because no one can be trusted. Nobody wears leather jackets. They don't look cool, they look filthy. It's a very realistic look. To be honest alot of the young guys in bands now try to look like this, they got this whole fucking scraggly flea-ridden beard look going on now, or "fauxbo" I've heard it's called. But other than to rocknrollers this is not a desirable look, it's a miserable refugee look.
I only noticed a few things left out from the book, like the boy getting really sick and the infamous baby-on-a-spit. Mostly it's pretty much the same. The most noticeable addition is some short flashbacks with Charlize Theron as the mother. She's mentioned in the book when he dreams about her, but this gives a few more specifics of when she had the kid and what happened to her. I really like that the book doesn't explain those things, but the way they do it in the movie works. It really emphasizes the difference between their attitudes. The mother thinks everything is so bleak that she doesn't want to face it, but the father thinks no matter how bad things get you should try to survive.
But, I mean, things are so bad that it's an everyday concern to save enough bullets to kill yourself if you get cornered. And the father teaches the son where to aim when putting a gun in his own mouth. He comes close to killing his own kid more than once. You think things are bad because your car got stolen, right? How's about living in a world where most people you run into want to rape and eat you?
(I'm against it. Let's not let things get that way, I'm thinking.)
As filthy and joyless as this world is, I think the story is ultimately optimistic, and that's what I like best about it. In the book I found it profoundly moving, in the movie maybe not as much but it had echoes of my original feelings. In a world where finding a can of Coke is like getting a Golden Ticket, and where ordinary people try to kill each other because each thinks the other is following them, this father still thinks life is worth living just to be with his son. And even a kid who grew up in that world – never seen a sunny day, an ocean, a bird – wants to go against what his father teaches him and give some of his food to starving strangers, even one who robbed them. That means that helping people is human nature too – not just trying to survive. Otherwise why'd this kid know to do it? There is hope.
And I noticed the kid is wearing his mother's hat, and a women's sweater that might've been hers too. This reminds you that he's all the father has left of his wife, but also that he has the potential to be like his mother and not want to survive anymore. That doesn't happen, though. He wants to survive, he wants to carry the fire.
This didn't really need to be a movie, but seeing it visualized like this actually made that part of the message hit closer to home. Seeing these people with their worn down faces, rotted teeth, callused hands and filthy clothes it's impossible not to think of pre-apocalyptic homeless people we see every day. It made me think of a man just the night before who shook my hand and told me he was missing an eye and a leg and he had no food and I was a good man so could I give him 50 cents. I didn't have any change, and I didn't give him anything. The truth is I don't have much money, but I live a simple life. I could've gave him a dollar, five dollars, and still get by. I've given people more than that before, wanting to believe their stories, knowing I really can't, sometimes feeling burnt.
It just seems so hopeless. You want to help people out, you don't want to see them suffer. If you're a Christian, or if you hate Christians and just want to show up the phony ones, you want to help the poor like Jesus said. But you're not stupid, you know most of these guys are alcoholics or drug addicts, or even if they're not they're mentally ill, and even if they spend it on food it's not gonna solve their problems, they're still gonna be out there begging every day, they're not closer to getting back on their feet just because you gave them something to spend at Jack in the Box. And even if it did help, if you live in a city like I do, especially times like these, you run into a bunch of people asking for money every day, or see them sleeping on the street. You can't help every one of them.
And anyway what happens if I lose my job, or have some health problem my limited health insurance can't help me with? I don't have a whole lot to fall back on. I need to look out for myself. That's what the father is saying. But the kid is saying I know that, but I have to do something anyway, I'm one of the good guys. It made me wish I did give that guy some money.
But then on the way out of the theater somebody else asked me for money, and I felt guilty but I just looked him in the eye, said "Sorry" and kept walking. So the book is better.