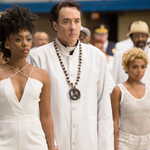 CHI-RAQ (Chicago + Iraq, pronounced shy-rack) is the Spikiest Spike Lee Joint achieved so far. It seems like whatever itch Lee was trying to scratch with those musical numbers in SCHOOL DAZE has been building up for all these years until it exploded onto the screen like that inflating dude in BIG TROUBLE IN LITTLE CHINA. Lee must've woke up one morning and said fuck it, I'm gonna make a movie that's so Spike Lee it turns into Baz Luhrmann.
Let me tell you a few things about how heightened and crazy this is. It has musical numbers. It has dance numbers. It has a rap number that breaks into a gun fight precipitated by an argument depicted in onscreen text messages. It has an army of women in chastity belts performing a sexy choreographed group lip-synch to "Oh Girl" by the Chi-Lites (maybe my favorite scene). The two rival gangs wear purple and orange, and are called the Trojans and the Cyclops Spartans, whose leader is Cyclops (Wesley Snipes wearing a red-sequined eyepatch). There's an explicit reference to THE WARRIORS so you know Spike knows what this reminds us of. (Also Luther himself, David Patrick Kelly, is in it.) All of this is presided over by a fourth-wall-breaking narrator played by Samuel L. Jackson wearing fly suits, spinning a cane and reciting toasts and dirty jokes like Dolemite. That's not just me reading into it, because he's called Dolmedes and he references Shine and the Signifying Monkey.
Oh, by the way: all of the other characters speak in rhyme also. So that's pretty different from most movies.
Maybe that's still not overblown enough you. Well, can I interest you in an overture? The entire impassioned theme song, "Pray 4 My City," plays with the lyrics appearing a phrase at a time over black screen. The song bites Kanye's style so hard I mistook it for him, but it's actually Nick Cannon in character as rising Chicago rapper and gun battler Chi-Raq. (Apparently Kanye almost played the role, I wonder if he wrote the song – can't find credits for it anywhere.)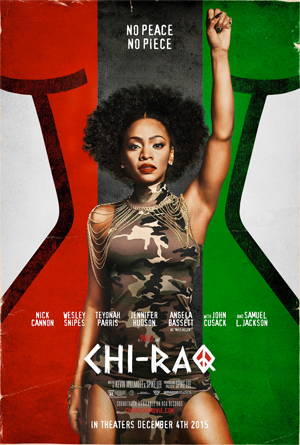 Despite this playful, cartoonish stylization, it's also as angry and as preachy as Lee has ever been. Focusing primarily on the plague of black-on-black violence in Chicago, it's a movie filled with onscreen statistics, rawly emotional funeral orations, marches with real mothers holding pictures of their deceased children, Jennifer Hudson playing a role made up entirely of grieving scenes. It has about the maximum number of topical references possible in a movie, including name checks of every high profile police shooting victim of recent years except I think maybe not the one recently covered up in Chicago. They also mention Trayvon Martin, George Zimmerman, Darren Wilson and Dr. Ben Carson. It has discussions of gun law loopholes, systemically entrenched poverty, the legacy of racism in the south. It has a silly scene about the sexual fantasies of a white supremacist army officer that culminates in a gorgeous, cathartic shot of our heroine tearing the Confederate battle flag off of his wall.
In the Spike Lee tradition it's also peppered with insert shots of murals and statues paying tribute to important African-American figures. One mural of Chicago natives includes Bernie Mac and Robin Harris, both gone-too-soon comedians that Lee had worked with. And you have your various returning Spike Lee cast members. Aside from Jackson, Snipes and Kelly you also have Angela Bassett (in the Mother Sister role) and of course Roger Guenveur Smith, playing two roles I believe (one of them on signs in the background). References to other Spike Lee works including ads for "The Bomb" malt liquor (see also BAMBOOZLED and SUCKER FREE CITY) and people (including Jackson) yelling "WAKE UP!" (including at the very end, like in SCHOOL DAZE).
All this makes for a fever dream portrait of a great city gone to shit in a proud country gone mad. The people of Chicago find themselves trapped between police they don't trust and gangsters liable to send stray bullets into their living rooms. In one visceral scene a cop and a gangster stand side by side firing into the camera, like a one-upping of the opening credits of MAGNUM FORCE.
All that and there's a plot too. It comes from Lysistrata, a Greek play written by "the Father of Comedy" Aristophanes, first performed in 411 BCE. This version is about what happens when Chi-raq's legendarily hot girlfriend Lysistrata (Teyonah Parris, Mad Men, DEAR WHITE PEOPLE) convinces all the women to take a vow not to have sex with men until the gang war ends. It starts with the girlfriends of the gangs and spreads into a world wide "no peace, no pussy" protest, before culminating in a climactic, uh… climax battle. So all those other concerns are strung onto humor straight out of a goofy early '70s sex farce. That sounds like a weird thing to mix with an angry plea to stop the violence, and it is, but I like weird. I reject the popular notion that unusual and audacious = automatically bad. I think the overall exaggerated and silly tone helps the medicine go down. Some of Lee's movies (BAMBOOZLED in particular) have satirical premises but don't go for laughs. This one does, and manages to be both heart-wrenching and fun to watch.
I've read several furiously negative reviews of the movie, some of them from Chicago natives. They say that Lee doesn't understand Chicago and that he's making light of real life violence. I'm not qualified to debate those points, but it does seem to me that they're mostly just mad he got too artsy fartsy with it. Some people seem to be looking at an intentionally oblique, idiosyncratic artistic vision and demanding a normal, easily digestible movie that very seriously addresses every specific thing that is important to them in their personal experience and says things they agree with about it. If you think his way of getting the message across is tacky that's understandable, but I don't understand how they can honestly believe he's trying to exploit the violence there and not preach against it. It means that they were so put off by the wackiness that they forgot the undeniably heavy-handed messaging that makes up so much of the running time.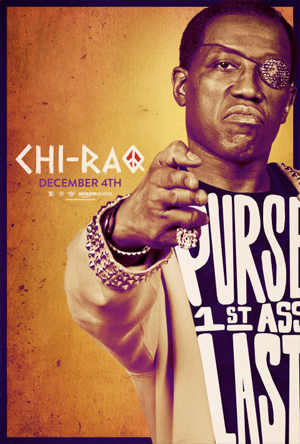 And I also gotta feel like some people are taking the movie more literally than it's intended. They might as well attack WEST SIDE STORY or ROMEO + JULIET's accuracy in depicting gang culture. Come on, man, real gangsters don't wear Hawaiian shirts. To suggest that this is Lee's attempt to document authentic Chicago gang life is a hugely condescending way to smear one of our great filmmakers. Jesus christ. He's kinda crazy sometimes but he's not an idiot, he knew what he was doing there. Show some respect.
A more common complaint is that withholding sex to stop war would never work. Ya think? Again this seems beside the point. Of course Lee is not trying to lay out his plan for world peace, he's just moving a very old story to a modern context to say something about our world. Shakespeare and Jane Austen stories don't necessarily all translate to today either, but they can still have relevance between the cracks. No, if you don't want to see a retelling of Lysistrata, then you won't enjoy this retelling of Lysistrata. But maybe you should've thought of that when you went to a retelling of Lysistrata.
By the way, a comical sex strike didn't stop the Peloponnesian War either. I think we can safely assume that Aristophanes was not trying to present a legitimate solution to the problem of violence back in the day and that Spike isn't either. Give them that much credit.
The most damning sounding complaint I've seen is that it's simplistic. Here is a passionate and personal review from a writer whose life has been touched by the violence in Chicago, and I respect her response to the movie and its basis in life experience. But at the end she theorizes why white people like me like CHI-RAQ:
"It absolves them of responsibility, placing the bulk of the blame squarely on the shoulders of those suffering the most. They don't have to examine their complicity in a system designed to destroy black and brown people. With this film, Lee has given them permission to let themselves off the hook while wagging their fingers at our dysfunction."
And I don't think that's fair to the movie. Yes, the character of Chi-raq ultimately takes personal responsibility for what he's done. But while virtually every gang movie treats it as a matter of both sides putting the guns down and calling a truce (stop the violence, increase the peace), Lee is unwilling to leave it at that. The pie in the sky solution achieved by the sex strike involves the power structure coming together to make systemic changes, bringing jobs, economic stability and infrastructure to the neighborhood. Other related issues are discussed at length in sermons and conversations by Father Mike Corridan (who yes, is white [John Cusack], because Lee based him on a real Chicago preacher-activist who happened to be white). I really think the hypothetical white person in the above paragraph is getting something to think about here. Now he knows there's more for us to do after Nick and Wesley agree to shake hands.
Lee has ended up pleasing a few crowds in his career, but he's never hidden his arty side. His first movie was a sex comedy, but it was in black and white, had a jazz soundtrack, opened with a photo montage and featured a show-stopping modern dance sequence. CHI-RAQ is the end result of that guy refusing to compromise his style for nearly 30 years. I don't think most people would like it, and that's fair. Politically it's provocative, and some people won't agree with what it has to say. And it's very stylized, so alot more people won't agree with how it says it. Your average person, even your average Spike Lee fan, is not necessarily in the market for a rhyming message movie sex comedy musical with kind of a Julie Taymor meets PUTNEY SWOPE vibe. But if you're like me – you like your freak flags flying double-high and want to see Lee's voice and style cranked up louder than Radio Raheem's boombox – you just might love it.
This entry was posted on Wednesday, December 9th, 2015 at 10:23 am and is filed under
Comedy/Laffs
,
Musical
,
Reviews
. You can follow any responses to this entry through the
RSS 2.0
feed. You can skip to the end and leave a response. Pinging is currently not allowed.