From the time I heard about the book Abraham Lincoln: Vampire Hunter until the second before I saw the trailer for the movie version, I had no interest in the concept. Yeah, I get it – history and horror cliches moosh-up. Wocka wocka wocka. But one second later I saw that trailer and I realized that I hadn't gotten it at all. As far as you could tell from the trailer, this movie was gonna be treated dead serious. A historical drama that for some reason is also a horror action movie. It looked amazing.

That really is how they did the movie. There are no jokes in it, other than its very concept. And since it's from Timur Bekmambatov, the crazy Russian director of WANTED, you can't even guarantee that it's not meant to be serious (although producer Tim Burton is a good hint in the other direction). Either way I love the sheer audacity of it, the "I can't believe they went through with this and nobody stopped them" feeling, sort of like Ang Lee's weirdo relationship drama version of HULK.
So I should realize that people being confused by it is a natural byproduct of what I love about it. And yet it still kinda pisses me off to see people completely miss the point. For example, dig this from the Rotten Tomatoes consensus:
"Abraham Lincoln: Vampire Hunter has visual style to spare, but its overly serious tone doesn't jibe with its decidedly silly central premise, leaving filmgoers with an unfulfilling blend of clashing ingredients."
Which begs the question: what dumb motherfucker would prefer the jokey version of this? What are you thinking, the Barry Sonnenfeld comedy version? The LEAGUE OF EXTRAORDINARY GENTLEMEN quippy version? I challenge the conventional wisdom to tell me with a straight face that it really would go see and enjoy the less serious version that it's asking for by calling this "overly serious." You really think that version would be funnier than this one? You gotta have Will Smith in it to point out which parts are ridiculous?
I am betting you that nobody would see that movie and nobody would like it and not even you motherfuckers. So don't ask for it. Just back away and let me appreciate this one. This is no business of yours, Rotten Tomatoes consensus. Leave it be.
(but here you go you knuckleheads, you get your wish)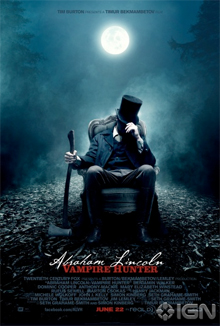 Okay, AL:VH is no BLADE (and incidentally I don't think it would exist if BLADE didn't). But I think it's a better than average version of the "guy learns about the existence of vampires and trains to wage battle with them" story, and there's magic in seeing how that stuff overlaps with the historical biography of Lincoln: his time as a small town shopkeeper studying law, courting Mary Todd (Lucy McClane), getting involved in local politics, debating Stephen Douglas (Alan Tudyk, uncredited for some reason), eventually the presidency, the death of his son, etc.
All that stuff is done as good or better than a TV movie like THE DAY LINCOLN WAS SHOT, and just as serious, so then it's a beautiful thing when it slides into crass Roland Emmerich type cartoony CGI shots of civil war battles. Or when Honest Abe runs up a wall, pushes off and does a 360 spin before axing a guy. Or when there's a matte painting shot of the White House and it kinda looks like the House of Usher or a spooky haunted mansion in a Hammer movie.
Lincoln's first-person narration at the beginning and end talks about how people prefer legend to truth, and that has a double or triple (or maybe even quadruple?) meaning when applied to this story. To the character it means that the people don't need to know that he was secretly fighting vampires, to the audience it works on the self-referential level that somebody might prefer a ridiculous action-horror movie "legend" to a dry history book, but also it means we like to think of the heroic story of The Great Emancipator instead of digging into the more complex and nuanced historical truth of everything that went on.
The movie participates in some of that last one. This Lincoln grew up with a black best friend (Anthony Mackie) who even accompanied him in the White House and was the only one there when he signed the Emancipation Proclamation. This Abe had a visceral hatred of slavery his whole life, and was even criticized by his vampire-slaying mentor (Dominic Cooper) for being distracted by it. From what I've read, it is true that he grew up in an anti-slavery family (he went to a Baptist church that was against slavery and the family purposely moved to free territory), but his (ultimately successful) strategy was mostly a moderate one that involved opposing the expansion of slavery and trying to appease slave owners with payments rather than flat out abolition. He even tried to avoid secession by supporting a constitutional amendment that would've protected slavery in the states where it was already allowed. During the war he tried to be bi-partisan, so he was criticized by some for ending slavery too slowly and by others for not compromising and letting it go.
He was on the right side for sure but he didn't have John Brown's zealous anti-slavery righteousness like he does in the movie. In the movie Stephen Douglas (who he stole Mary Todd from!) says "slavery is a very complicated issue" and Lincoln says, "No, it's not." Which is what we wish he would've said, but he probly wouldn't have.
I'm just saying that (like any movie biography, let alone vampire movie) it simplifies some important historical parts of the story. But I'm very glad that it doesn't take away credit by explaining his opposition to slavery as a vampire hunting technique. I'm reading about the book now and apparently in that he's convinced to abolish slavery to rob vampires of their food source. I don't like that. That's kinda like how in NATIONAL TREASURE our country was not founded on ideals but to hide treasure.
I was also relieved that the movie didn't absolve humanity by blaming slavery on vampires. I wouldn't be down with pinning our worst crimes on supernatural monsters. It would be like a movie where the Nazis were really aliens. That might be the book's implication, but the movie makes it clear that the Europeans arrived with slaves, and the vampires only colluded with them. So there are still racist assholes on the battlefields, but also monsters with gaping digital maws. (Harriet Tubman helps with the plan to defeat them.)
Top hat's off (get it, that's a joke, I don't want an overly serious tone to this review that would leave readers unfulfilled) to the casting of this guy Benjamin Walker as Lincoln. I guess he's primarily a stage actor, and he treats it like it's any other historical epic. I'd be more impressed if he did a Kentucky accent, but no accent is better than a bad one. He's real lanky like Lincoln was and weirdly he looks alot like Liam Neeson, who for years was supposed to play Lincoln for Spielberg. And like Neeson this guy is game for both emoting and fighting. I love that he had to train to spin an axe around but also had to figure out how best to deliver the most famous speech in American history. That's a challenging role there.
And yes, every time he spun that ax around I was happy. That's a good move there. Glad they re-used it alot.
Despite the dry historical tone being the key to the movie's success, the highlights are all the absurd action parts. I think my favorite would have to be the chase and fight that takes place on top of a CGI horse stampede. They're crazy looking digital horses and Abe and his vampire opponent are Tony Jaaing around on top of them, doing flips and shit. The vampire grabs a horse by one foot and throws it at Abe. It's amazing.
A comparatively subtle horse-related stunt is the "catch you fuckers at a bad time?" moment when Abe is about to lose an acrobatic kung fu brawl with some vamps indoors and suddenly his partner bursts through the wall driving a carriage. I wonder how those horses felt about crashing head first into a building? I bet it hurt.
And of course the Abraham Lincoln action epic would have to end in a high-speed, destruction-filled, CGI'd-to-death chase/fight. It's on top of a speeding train on top of a burning bridge on top of an abyss. There's flames and sparks and crumbling structures and plummeting trains and fiery explosions. It only took us 17 years to get from the climax of UNDER SIEGE 2: DARK TERRITORY to this.
I watched this in the 2D version. I was disappointed to learn it was fake 3D, because based on WANTED I thought this guy's visual style would be good for 3D. Maybe it's for the best, since the editing is chaotic and disorienting at times. But still being hung up on the Matrixy shit he gets in some nice little visual touches – Mackie's feet almost but not quite sliding off the edge of the train, a knife flipping through the air and slicing through a burning ember, splinters exploding out of a tree as rail-splitter Lincoln super-chops it with his ax, a ridiculous number of gimmicky transitions such as a map morphing into the actual landscape it represents. And like in the trailer I got a big might-as-well-be-stoned grin on my face every time he was shot in silhouette in some macho pose or slow-motion strut but with his iconic top hat.
What is this? I don't think it's meta, I don't think it's mega, but it's something. The feeling is something like man, you just know this is the movie somebody would make about Lincoln. Wait a minute, this is the movie somebody made about Lincoln.
For some people it might make a better trailer than movie, but I really enjoyed watching the whole thing. It is altogether fitting and proper that I do this. I highly resolve that impossible movies like this shall not perish from the earth.
nitpicks: should've worked Lincoln's wrestling skills into it
should've put together a team of rivals for vampire hunting
should've had a "inspired by true events" tag at the beginning