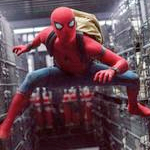 I liked the Sam Raimi SPIDER-MAN movies (1, 3) and I liked the chemistry between Andrew Garfield and Emma Stone in the AMAZING SPIDER-MAN that I saw, but this new SPIDER-MAN: HOMECOMING is the first one to convince me that hey, I like Spider-Man. This is easily my favorite version.
Continuing the story of Peter Parker (Tom Holland, phone voice of Tom Hardy's son in LOCKE) shortly after he got to fight with the Avengers in CAPTAIN AMERICA V. THE CIVIL WAR, this is an upbeat, funny slice of life in a previously unseen part of the Marvel Universe: the high schools.
Thanks to being discovered by Tony Stark (Saturday Night Live Season 11 cast member Robert Downey Jr.), Peter is now armed with a high tech costume and the prestige of being able to talk about "the Stark Internship," but he's still a dork. He gets made fun of even within his Academic Decathlon team (thanks alot Flash Thompson [Tony Revolori, THE GRAND BUDAPEST HOTEL]), his best friend Ned (Jacob Batalon) talks to him about Legos in front of cheerleaders, and he annoys the shit out of his Avengers pointman Happy (Jon Favreau, THE WOLF OF WALL STREET), who doesn't return his way-too-many calls and texts about wanting a new mission.
So the best thing he has going is his independent crimefighting career. That's when he soars – yes, literally, but you know I mostly mean figuratively, wiseguy. Just like a kid might stare at the clock all day waiting for the bell to ring so he can go ride his skateboard or step up 2 the streets or do parkour or whatever, he gets through his school day and then he's elated to climb up buildings and jump across– well, he kinds does parkour, but with webshooters and the ulterior motive of stopping crimes.
He's not slick, but he's joyful. He's still awkward about getting the costume on and hiding his clothes behind some garbage cans in an alley. (You can't tell, but he wears boxers under that thing.) But then he swings around and he's a smart ass as he snatches purse snatchers, and people know him from Youtube and they're excited to see him and he's totally game if they ask him to do a flip.
I believe that part because one time I saw Seattle's super hero Phoenix Jones and I too was excited, though I didn't think to ask him to do a flip.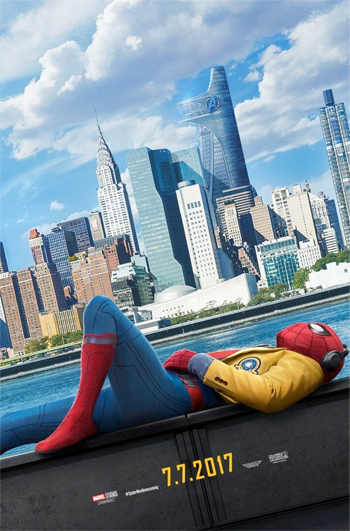 He's just a great character – he's funny, and sometimes you're laughing with him, sometimes at him. He's amazing (as well as astonishing, spectacular, superior, avenging and ultimate), but very fallible. He can do something incredible and then fall on his ass. He literally yells "Ow, my butt!" during one of the action scenes. As his tasks get larger he has to work harder and harder to keep things together. And things get tough, and he gets emotional, but then he gets through it. It's not brooding super hero shit. It's just growing up.
Yes, he ends up fighting a super villain, but this is probly the most down-to-earth super villain of the Marvel movies. Adrian Toomes (Michael Keaton, JACKIE BROWN) is kind of a hothead and not very moral, but he's not trying to conquer the world or anything, he just wants money to provide luxury for his family. In a flashback his salvaging crew loses their contract to clean up the wreckage from the alien invasion in THE AVENGERS, thanks to a new Stark company called Damage Control (led by Tyne Daly [THE ENFORCER]!). Out all the money he put up to start the job, he decides to get into a new racket selling powerful weapons built from the Chitauri scraps. And somewhere along the way he uses the tech to build himself a winged flying suit to use in robberies of more weapons.
I don't think they ever call him The Vulture, but I knew that was the villain he's based on. It didn't occur to me until later that it's not just the wings that make him a vulture, it's that he's a scavenger. Duh.
And I thought it was cool that he had Bokeem Woodbine (PANTHER, RIDDICK) working for him. Also Logan Marshall-Greene (PROMETHEUS, THE INVITATION). Alot of good actors pop up in this one. Remember when it seemed like Keaton hadn't been in a movie forever? He's definitely back, but I'm sure not sick of him. This is a good character for him because it has his rage and his quiet intelligence but also his sold-guy-ness. It's not entirely different from his Bruce Wayne, even though he's a bad guy, and he had to work for his money. There's a little bit of honor to Toomes. He's not a good person, but you can see how the guys who work with him would think of him as a stand up guy.
There's a pretty unique dynamic between Spider-man and The Vulture because really this is just a guy with a salvaged flying machine and Peter actually has a more advanced suit plus actual super strength and climbing abilities and what not. He really has this guy outclassed. Traditionally this would not be a scary opponent, but Spider-man is just a school kid, and he has to face a guy who built a criminal empire from the ground up and talks about having to protect his family and stuff. He's an adult! That's what makes him intimidating.
And therefore it doesn't feel like the formulaic build to the inevitable super hero battle, like the story of the Lizard in AMAZING SPIDER-MAN did. Instead it feels like this kid's little case snowballing out of his control, forcing him to step into this larger world for the first time.
Other notable things about him being a kid: until now, he has only driven cars in parking lots. And when he finds out about a robbery taking place out of state he can't just up and go there – he has to piggyback on a school trip to Washington DC.
I noticed alot of filming locations that weren't New York on the credits, but they seem dedicated to capturing the spirit of the place. The famous tagline "your friendly neighborhood Spider-Man" is a serious theme throughout the movie, and Peter is friends with neighbors and bodega owners. And notably he goes to a school that's not just white people. This has got to be the most diverse cast of any super hero movie unless you count the FAST AND THE FURIOUS movies.
But also it avoids the movie cliche of depicting New York City as a crime-ridden hellhole. The stuff he stops is mostly petty. And there's a funny joke about him trying to swing into action in the suburbs. He slings his web but there are no skyscrapers to attach to, so it just shoots out into nowhere.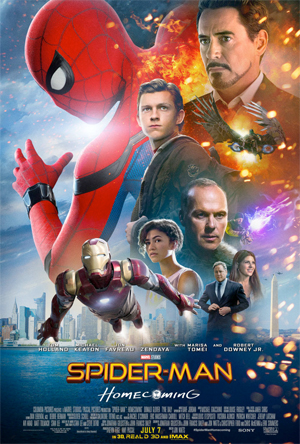 He's out there because he goes to a party, and he faces that age old dilemma: should I sneak off and come back as Spider-man because I feel awkward at parties? He has a crush on the girl throwing the party, Liz. I knew there was a Disney Channel star called Zendaya in the movie, so I assumed that was her, but the actress who plays Liz is Laura Harrier from One Life to Live. Zendaya plays Michelle, who is a funny comic relief character, but they put her on the controversial "collage" poster (left) looking all love-interesty!
Anyway, Peter has the problem of getting a hot girl to like him but then blowing it by constantly having to ditch her to go do Spider-activities without being able to explain to her what happened. If this feels weird in the Marvel Cinematic Universe it's because he's the only one with a secret identity. Remember, Tony Stark revealed himself at the end of the very first Marvel Universe movie.
I have to say – I saw fans dreaming for years about the Spider-Man movies going back to Marvel, and then they got their wish, and they celebrated… and then some of them got mad because because they thought there was too much Iron Man in the trailer. Is the porridge too hot, or is it too cold?
But I think most of them probly agree with me that making Tony Stark sort of a mentor to Peter is a great idea. It positions Peter as a kid, a beginner, in this ALMOST FAMOUS situation of getting to live out his dreams, meet his idols, try to prove that he belongs there. And he deserves the shot because of his talents (and powers) but it's not gonna be easy for him to hang. And from Tony's side, it gives him a chance to bond with sort of his opposite, a kid who grew up without alot of money, but with plenty of morals. He can share his vast resources with Peter, but spiritually he's gonna be the one getting the most out of this relationship, I think.
And while Peter is still some kind of science genius (but not photographer?) it makes so much more sense that his suit is created by Stark, and that's why it can shrink to his exact body shape and contain web wings and even a parachute (definitely a good safety feature to have). We've always had to accept that he somehow made that thing. This makes so much more sense. And with great costumes comes great responsibility.
Through all this he does learn a lesson, and it's not even one Stark is trying to teach him. He really comes to it on his own. He grows.
But hopefully not too much, because I like him being in high school.
Congratulations to director Jon Watts (COP CAR) and his screenwriters. He's credited along with his writing partner Christopher Ford, but also the writing teams of Jonathan Goldstein & John Francis Daley (HORRIBLE BOSSES, VACATION) and Chris McKenna & Erik Sommers (THE LEGO BATMAN MOVIE). That's alot of cooks (or joke writers) but they got the flavor just right.
Don't get me wrong, I don't think they could've gotten to this movie without Raimi doing his first. He really took the comic book movie to new places, and it has since evolved from there. But you see this and you don't think "ah, this shit again?" You think "Oh yeah, of course that's how you do a Spider-man movie!" I loved it.
P.S.
SPOILERY MARVEL UNIVERSE STUFF
There's a mention of "the prototype for Cap's new shield." This raises eyebrows because as of the last CAPTAIN AMERICA, Steve Rogers was a fugitive allegedly in opposition to the Avengers (though he sent Tony a nice note). I did a search on this and found speculation that this means they've made up in between movies. I don't know about that. I wonder if it will turn out to mean that somebody else, like Falcon, has taken on the Captain America name and costume.
I noticed that the principal (Kenneth Choi, WAR, STREET KINGS, The People vs. O.J. Simpson) had a photo in his office of his grandfather in uniform. I thought that was an interesting character detail, but then I read it's an Easter egg: his grandpa is Howling Commandos member Jim Morita, played by the same actor.
By the way, I liked the idea of the school still having to watch corny Captain America P.S.A.s after all the shit that went down in CIVIL WAR. And maybe Principal Morita's family connection to Captain America explains why. Not that out-datedness needs an explanation. It reminds me of when I had jury duty and they made us watch a video of Raymond Burr, who had died pretty recently, telling us how important jury duty was and making gratuitous references to Washington state locations. I remember looking around at the other potential jurors like "Can you believe we're watching this?," but nobody gave a shit.
At the end, when Stark offers Spider-man a shiny new suit, I was actually worried. Don't make him wear that thing in the sequel, he looks perfect now! So classic and elegant, with unobtrusive details that hint at function. We don't need different colors and shiny metallic parts and shit. So it's a relief when he not only turns down Stark's offer, but is confirmed to get the other suit back. Phew.
This entry was posted on Tuesday, July 11th, 2017 at 11:04 am and is filed under
Comic strips/Super heroes
,
Reviews
. You can follow any responses to this entry through the
RSS 2.0
feed. You can skip to the end and leave a response. Pinging is currently not allowed.