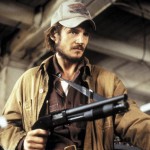 TAKEN has finally hit American shores many months after everybody else in the world already saw it and emailed me about it. As reported, it is a Luc Besson-produced version of a Seagal-type scenario: ex–CIA badass's daughter gets kidnapped in Paris, he goes and gets her back. An old favorite. The hook is that this badass is not played by a Seagal, or even a Statham. It's Liam Neeson (SCHINDLER'S LIST).
Okay, so admittedly action is not completely new for Neeson. He was a swordsman in both BATMAN BEGINS and PHANTOM MENACE. A long time ago he was Darkman. He even co-starred in a (not very good) Patrick Swayze action picture called NEXT OF KIN. (The one where not-famous-yet Ben Stiller plays a mobster's douchebag son.) But mostly he's moved beyond that, and I think most people consider him a Serious Actor. You know – MICHAEL COLLINS, KINSEY, GANGS OF NEW YORK, Spielberg's choice to play Lincoln. And here he is playing a role that the first Ain't It Cool review complained could've been played by Jean-Claude Van Damme. But of course you and I agree that's why it's so cool. We want to see a Van Damme movie but with Liam Neeson. Or how about a Michael Dudikoff with Frank Langella? Or a Bolo Yeung with Daniel Day Lewis? A Cynthia Rothrock with Susan Sarandon?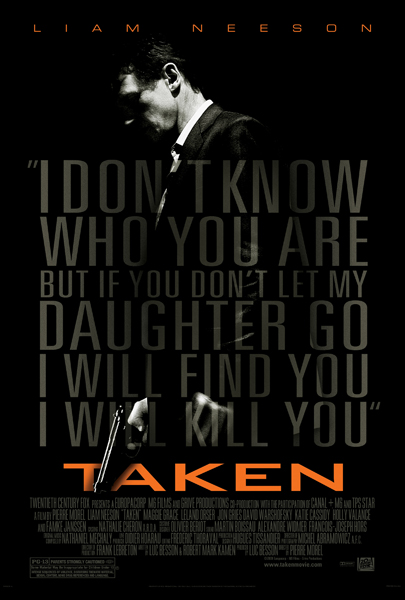 In TAKEN Liam Neeson gets to do all the badass ex-CIA shit that was so sorely lacking in ETHAN FROME and LES MISERABLES. Lots of quick, blunt chops to dispatch foes, appearing out of nowhere to beat people up, outsmarting and outfighting police and organized crime to find out things he's not supposed to know and get into places he's not supposed to be, working his way through the chain to find his daughter. As a bonus he thwarts a knife attack on a pop star.
But let's be honest, this character Bryan Mills is a bad motherfucker in need of a better movie. For starters, the story takes unnecessarily long to get going. It's not a dealbreaker but it's kind of weird for a lean 93 minute movie to start out so leisurely. It's possible that writers Besson and Robert Mark Kamen think they're doing something more than a kidnapped daughter movie and are trying to go a little deeper into the characters than you expect, but if so they blew it. I like the whole idea of Bryan trying to reconnect with his estranged daughter on her birthday and being upstaged by her rich stepdad (who buys her a horse). But alot of time is spent on setting up the daughter while still making her seem like an annoying brat. She loves crappy pop music, wears an ugly sequined jacket and spends most of her screen time hopping up and down and squealing in excitement over various expensive gifts. And she seems completely unaware of her status as the priveleged stepdaughter of the super-rich. She hugs her two fathers and tells them she loves them a few times throughout the movie, always because they bought her a gift or gave her permission to do something. At the end of course Bryan gets a hug for singlehandedly rescuing her from a syndicate of Albanian kidnappers who drugged her and sold her into sex slavery, but even then he has to introduce her to a celebrity to feel like he won her over. She learns nothing. If that's the best you can do with her personality that's fine, just make the setup short and sweet and assume we understand that the dude loves her because she's his daughter. Sometimes simple is better.
Also, I don't mind this that much, but I should mention it has some of the typical goofball Luc Besson shit. For example the movie opens with him going into a Radio Shack and talking to the manager who knows him because he has come in and looked at the karaoke machine so many times. I was convinced the only reason to include this was if this guy was gonna turn into his Q, providing the latest in Radio Shack brand surveillance technology, but of course nothing becomes of it. There really is no reason to include this, it's just how Luc Besson rolls.
Maybe the funniest thing in the movie is that Bryan is seemingly a paranoid, overprotective father, he knows about all the horrible things that happen in this world so he can't stand to let his daughter be out there on her own, and only under duress does he give her permission to go to Europe. And then sure enough, two minutes after she arrives at the house where she's staying a group of kidnappers bust down the door and grab her and her friend to drug and sell into sex slavery. You see that, Famke Jansen? You should listen to your ex-husband. He knows what he's talking about.
I do have a problem with all the action being shot Bourne style. It's cool to see Neeson kicking ass, but you really don't see most of it because the camera is shaking around so much. You gotta assume this is partly to cover up that Liam Neeson is not Bruce Lee, but then they do the same thing in the car chase, so maybe not. Like the Bourne movies you can understand some of what's going on and they are still pretty cool scenes, but not exactly classics. (and not as good as the best Bourne scenes.) Director Pierre Morel previously did BANLIEU 13/DISTRICT B13 and it's not like I expect Neeson to jump through windows and run up walls, but that movie showed that Morell could craft amazing action scenes. Ironically, shaking the camera around so you can't see anything is supposed to make it seem more real, but check out this incredible 3 minute chase scene where the camera doesn't shake around because the stunts are real.
I don't know man, I know I sound like a broken record here but this was only a couple years ago and he was allowed to shoot an action scene as if he had intentionally planned it out and wanted to get the best angles to tell the story. It's no longer in style to show effort or planning I guess, you gotta pretend you just got out of bed, you're still in your bathrobe and are too groggy to hold the camera steady and that's why the audience will not quite see the badass shit that is probaly going on nearby.
Is this the end of an era? Besson productions were never completely trustworthy, but they were at least known for good action scenes. The TAXI series (not the Jimmy Fallon one), the TRANSPORTER series, and of course it was YAMIKASI and DISTRICT B13 that introduced the world to the French art of parkour, later borrowed for CASINO ROYALE. I hope this is a fluke and not a sign that even Besson is throwing in the towel and adopting the Bourne style. This is certainly not the worst example but for fuck's sake, let's give this style a rest! It's over. QUANTUM OF SOLACE broke the dam, it's not just me complaining about this shit anymore, it's just about everybody. And even if some people like that, I bet you five bucks they won't complain if you start making carefully planned action sequences again. Even the stupidest text messaging little fucker you ever saw will not complain that the shots are too well framed and that he is too aware of what is going on in the scene. Follow my plan and nobody loses.
For those reasons TAKEN is not as good as it ought to be, but I do think it's worth watching and I hope they make a series of these, like THE TRANSPORTER. I guess they should've called it THE PREVENTER though, because if it's TAKEN 2 somebody's gonna have to get kidnapped again. My guess: the daughter becomes a famous singer and gets kidnapped for ransom. Or maybe the ex-wife gets it this time. Whatever would happen I hope Bryan would call on his security buddies who come over to barbecue with him. That seemed like classic action movie setup, showing us the elite team he will have help him at the end, but then they never do. You feel bad for them.
Now let's have one starring Ralph Fiennes as an ex-Navy SEAL who goes to Afghanistan to hunt down drug traffickers after his niece ODs on heroin.