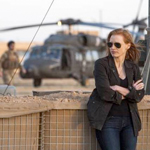 Okay, we were all horses pulling the Kathryn Bigelow bandwagon, right? We loved her for POINT BREAK and NEAR DARK, mostly. Also BLUE STEEL and STRANGE DAYS and all that. But did any of us ever predict Respectable Kathryn Bigelow would come about, and if so, did we guess how fuckin good that Bigelow would turn out to be? I sure didn't.
The respect came for THE HURT LOCKER in 2008. It got the Oscar for best picture and she got best director, the only woman to receive that honor so far. It also had one of those career-exploding performances, the one that launched Jeremy Renner, at the time known mainly for playing Jeffrey Dahmer, into the guy who has two Oscar nominations and co-starred in big ass movies like THE AVENGERS and GHOST PROTOCOL and starred in THE BOURNE LEGACY and hosted Saturday Night Live and all this. I loved THE HURT LOCKER, which I saw as an ingeniously structured suspense thriller and character drama for its time that also worked as a deconstruction of many of our favorite action movie tropes. So I had high expectations for ZERO DARK THIRTY, and somehow it exceeded them.

It's basically an epic intelligence procedural, the clearly-heavily-researched story of the hunt for Osama bin Laden after 9-11. It focuses on "Maya" (Jessica Chastain), a young CIA agent whose obsessive exploration of a particular lead supposedly brought the helicopters to that compound in Abbottobad, Pakistan a couple years ago.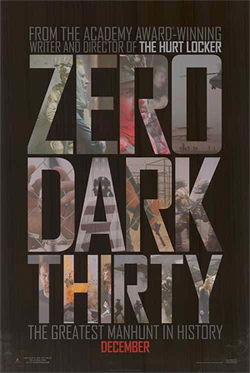 There's all kinds of intelligence gathering and maneuvering, alot of it very unpleasant. There's plenty of "enhanced interrogation" of chained up guys in filthy little shacks (though little or no mention of where these guys came from). There are meetings, bribes, betrayals, favors, hunches, photos pinned up on boards, disagreements, guys in suits who have to be convinced. They move between dusty little offices, CIA black sites, military bases and hotels. Every time a date comes on screen you think "oh shit" and try to remember which terrorist incident happened on that day. For us, when those things happen, there is sorrow for the victims and fear for what could happen to our loved ones or ourselves. For these people it's a loss, a failure, something to feel guilty about, something to avenge. There's always a sense of dread and impending doom even though we know the ultimate resolution of the mystery.
And it makes even the more grounded thrillers like, say, the BOURNE movies, seem more like Hollywood bullshit than ever. Because none of these people are portrayed as the standard blowhards and alphas barking out commands and making speeches, and it just feels right that way. They're portrayed as people. Extraordinary people, obviously, but relatable.
One thing I love is the way they get excited. Maya lights up and says "Thank you!" whenever someone brings her some piece of information she'd been scouring for. When her colleague (and maybe only friend) Jessica (Jennifer Ehle) has set up a meeting with an elusive figure she goes through the agenda as if planning a party. She even makes this guy a birthday cake and laughs at herself for doing it. The two of them text back and forth in all lower case, using words like "wassup."
It's probly a personal film for Bigelow, being a successful woman in a male-dominated field, and it's definitely the most interesting and complex heroine I've seen in a movie in a long time. We know almost nothing about her background other than a mysterious reference to being recruited straight out of high school for some specific but unstated reason. And what we know about her life outside of the hunt for bin Laden is that she has none. The most human moments she allows herself are snacks: coming back to where she's staying, taking off her burqa, eating a Twizzler, drinking a Diet Coke. Still an American.
And yet she's not any of the standard Strong Woman types. She doesn't seem like a woman acting like a man, or a model with a gun. Maybe the best example of her strength is how she deals with sitting in on interrogations. The first time the interrogator, Dan (Jason Clarke), thinks she should wear a ski mask like the other guys, but she chooses not to. When she goes inside and sees the place and what's going on she looks very uncomfortable, but she stays.
There are some standard movie ways this could play out:
1. Her discomfort is to show that she disagrees with this torture, so that we have a protagonist who's morally above what's going on in the movie and we can feel good about siding with her
2a. Over the course of the movie she grows more comfortable with the torture to show her becoming more of a hard-assed professional
2b. or to show the desensitizing/dehumanizing effects of the conflict they're involved in
But it doesn't go any of these directions. She never seems comfortable in those rooms, and at one point seems to be taking deep breaths to avoid throwing up, but she doesn't raise an objection or get away from it. She sticks around, because she thinks it's what she needs to do to achieve her goal. When a detainee begs her for help she just tells him to be truthful. I don't think this means she doesn't have any sympathy for him, it just means she knows that's what she has to say.
She looks pretty cool in sunglasses in some of those stills, but she's not Sarah Connor. She's small, she's young, she screams when shot at. But she's very determined, and very smart, and will not give up. And she's not the only brilliant woman like this on the team. It's interesting, though never pointed out, that they're going up against a guy who does not in my opinion believe in gender equality. Maybe he should've had some Mayas on his team, he would've lasted longer.
Just a little aside here, but do you guys think ZERO DUCK THIRTY could be pretty funny? Like a Daffy Duck parody type of thing? Just an idea. Sorry.
Before the movie was shown to anybody there were Republicans trying to make it into a scandal, supposedly the Obama administration was helping Hollywood to make a movie about this so that he would look good 'cause of he thinks he killed bin Laden with his bare hands or whatever. Of course, that's not even remotely close to what this movie is, the dumbfucks, so the grownups closed the door while they were still crying about it and we don't listen to that anymore. Now the criticism is coming more from the left.
The debate's about whether or how much the movie condones torture. Bigelow and screenwriter Mark Boal say none, but that doesn't mean you can't read it that way. On one hand we watch as Dan gets crueller and sicker and still fails to get any information to stop several deadly attacks. On the other hand we hear a few complaints about not being able to use torture after the politics change (as if the agents believe it's helpful), and the emphasis on these interrogations could leave the impression in some people that it was necessary in order to get to the identity of bin Laden's courier, although I think it really attributes that to a smart young woman going through old files and figuring out something that everybody else missed.
At first I thought I understood, but disagreed with, the people saying the movie endorses torture. But after reading one too many dumb hit pieces like this one on Buzzfeed it's starting to piss me off. The thing is, this is not the type of movie where they're gonna have a character come out and make an anti-torture statement so we know what the filmatists think about it and feel nice and comfortable. They tried to stick to what they knew happened, and unfortunately "enhanced interrogation" happened.
The Buzzfeed guy (who doesn't sound like he's seen the movie) criticizes Boal and Bigelow for talking to people in the CIA. In other words, for doing research! They're doing a true story about the CIA, you want them to just lift quotes from existing sources, like you did for your editorial? Of course we can't believe everything the CIA tells us, and it's insulting to assume that Boal, a journalist both embedded and otherwise before he was a screenwriter, didn't try to sort through his various sources to try to represent something he thought was close to the truth.
Boal and Bigelow originally scripted a movie about the Battle of Tora Bora, infamous as "the time we let bin Laden get away." I'd like to see that movie too, actually. But after the death of bin Laden they scrapped that idea because they thought this one was now more interesting and relevant. Or, I guess according to Buzzfeed, because they decided to do a complete 180 and become a mouthpiece for CIA propaganda.
If propaganda was what they were going for they did a terrible fucking job, accidentally making a warts-and-all portrait that raises difficult questions about our government's actions. Comparing ZERO DARK THIRTY to TRIUMPH OF THE WILL (as several Buzzfeed commenters did) or even TOP GUN (as the article did) is being a fucking asshole. TOP GUN has rock songs and is about "the need for speed" and shirtless volleyball. ZERO DARK THIRTY lingers in a dank shack where a prisoner has shit in his pants and isn't allowed to eat or sit down. When TOP GUN was out, supposedly Navy recruiting went way up, they even started setting up tables in theater lobbies. When I saw ZERO DARK THIRTY I saw a guy so upset by its contents he suddenly leapt up and ran out of the theater, stepping on people's feet because the whole row was full. (He definitely wasn't going to take a shit, 'cause he only came back to get a bag he forgot.) If Michael Hastings has really seen the movie he sure has a funny idea of what is appealing and cool to Americans. He really thinks this is supposed to make people comfortable with our foreign policy? What kind of people does he hang out with?
I think the problem many of these editorialists have with the movie is actually that it's not propaganda. They want to be spoonfed what they're supposed to think about what they're seeing, so they can agree or disagree. To process it themselves would not fit into their yay or nay editorial world. They're looking at a complex piece of art and trying to treat it as a web poll.
I hate war and torture too but I don't read this as propaganda at all. The part that hit me in the balls was the first cut, from a black screen and a few minutes of September 11, 2001 emergency calls, to 2 years later and American operatives in ski masks stringing up a prisoner in a filthy shack. I guess some people might read this cut as "Those fuckers did that to us, and this is how we're gonna get them back!" or I guess "It's not our fault! We had to do this, because of what they did!" But to me it plays more like a lament for the ugly fuckin place we found ourselves, no matter what it was that led us there. I mean, we spend a depressing amount of time in these disgusting places. They make the protagonists seem more like kidnappers than civil servants. These scenes are not over with quickly, and they're not trying to be tasteful. We mostly see our side tormenting a financier, not even a high level evil bastard, and we see this guy physically, psychologically and sexually degraded.
The main interrogator we see is Dan, a thoughtful PHD who for some reason does this job, and remains sympathetic despite his habit of disingenuously calling his prisoners "bro." His mind can't take it, though. He doesn't voice any regrets about what he's done, but he has to switch to a desk job. This is not good for anyone.
Chastain and Clarke are the leads and are both superb in the movie. I didn't even recognize Dan as the quiet thug I just saw in LAWLESS. It's a huge cast, of course, and I like how you'll see one agent have a small part in some meeting or interrogation and then you'll see them at an important event much further down the line and know they've been all over the place off screen, chasing leads just like Maya has. Every once in a while a familiar actor will pop up, too: THE MATRIX's Harold Perrineau, Edgar Ramirez, Mark Strong, James Gandolfini, Mark Duplass, Frank Grillo, Scott Adkins even shows up for a little bit. He doesn't kick anybody, but I bet he will if there's a DTV spin-off.
As you might guess, this is all leading up to the raid on bin Laden's compound, reportedly done by the Navy's SEAL Team 6, although I didn't notice them specifically named in the movie. The entire operation is tensely re-created, and it's one of those even-though-I-know-what-happens-I'm-nervous type of nailbiters. It's also as unflinching as the torture. There's no pretense that they're there to do anything but kill him. We see the expertise and the bravery, we also see an unarmed woman get shot in the back. When they hit their "possible jackpot" there is no catharsis, just disbelief and crying children. The shooter walks away in a daze. I think he's realizing what he did, but afraid to say it out loud. "I shot the third floor guy" is all he allows himself.
The sequence has no music I think, until the ominous theme that comes on as they quietly fly off into the night, packed in with the body bag, contemplating the enormity of the event.
I thought Joel Edgerton got third billing (now I'm thinking maybe I imagined that) for offering his tough, mostly silent presence to this section. The real star of this part is Chris Pratt, who at first seems like a goofball like his character on Parks and Recreation, but we find out he's one of the brains here – he oversees the rushed gathering of hard drives and files for intelligence purposes. As they flee there's a shot of the room and all the stuff they had to leave behind, and after everything we've seen in this movie it's a tragedy. Thousands of potentially life-saving leads left strewn across the floor because the Pakistani military is on the way.
It's an odd structure, going away from Maya to follow these characters we've just met, but it completely works. It made me think of how much I like the episodic structure of Kubrick or Tarantino movies, where you'll suddenly end up somewhere else with a new group of characters and it feels entirely natural. But really it's more like LINCOLN, where history required that the climax happen in one place while the hero waits elsewhere for the results.
And where does it leave Maya after all this? Where does she go? We don't know. She has no home. She has no life and now no mission. I remember when I first finished Seagalogy after 5 years of work. I was so happy, so proud. The next day I was horribly depressed, because I didn't know what to do next. That was a book about action movies – this lady spent 12 years, her entire adult life so far, tracking one of the greatest villains in American history. Pretty hard to plan a follow-up to that one.
I wonder if Bigelow feels similar? This is a 157 minute thriller that's captivating from beginning to end, a masterpiece of its type. I don't know how you go back to POINT BREAK after this one. Or maybe you have to? Either way, great job Respectable Kathryn Bigelow. Great fuckin movie.