THE HURT LOCKER is the best movie of 2009 so far excluding all movies about old men who fly around using balloons. It's a tightly constructed action-suspense movie, but also a character piece and an acting showcase. It takes place in Iraq 2004 and it says something about war, but it's not especially political. It's more about a place and a time and a mindset. Nobody in the movie talks about why the Americans are in Iraq or whether they should be. They're just there. It's their job, they gotta survive until the end of their rotation (the days are counted down onscreen).
This is the story of a 3-man bomb disposal unit. They get a new team leader at the beginning, and he's played by Jeremy Renner. I don't know if his team recognizes him from DAHMER like I did, but shit man, look out. From the beginning he seems a little unstable and alot reckless, and they gotta worry if this will prevent them from getting safely to the end of that countdown.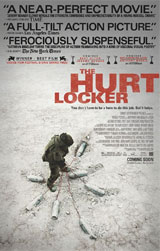 But a plot description like that doesn't do justice to this character at all. He's not a psycho. He's not gonna snap like Colonel Kurtz or start talking to fake looking severed heads like Bokeem Woodbine in DEAD PRESIDENTS. He's addicted to risk and has some kind of a non-vigilante death wish, but he's human, he's 3-dimensional, he's a good guy. The worst things he does are kind of the most sane, the ones he does out of an anger and hurt about what somebody did to somebody he cared about. And this guy is charismatic too. Not like Jim Jones charismatic, more like Martin Riggs. He's funny, he's cool, he makes you feel better when he calls you "buddy."
And I mention Riggs on purpose because I also saw this as a little bit of a deconstruction of the crazy over the edge heroes of action movies. In movies like LETHAL WEAPON he does something insane and suicidal, and you laugh at the other characters getting freaked out by it. In this movie you agree with those other people. This guy is gonna get them all killed.
Renner is perfect in the role, spectacular without being showy. I think he'll get an Oscar nomination and a bunch of big roles that hopefully don't waste his talent too much. In fact I'm gonna go ahead and predict that they'll give him one of the big comic book roles. We can have Chopper as Hulk, Patrick Bateman as Batman and Jeffrey Dahmer as Captain America.
The rest of the cast (including that guy who played Tupac in NOTORIOUS) are also perfect, but the biggest star besides Renner is director Kathryn Bigelow. You know and love her as the director of NEAR DARK, BLUE STEEL and POINT BREAK. She never was hugely prolific and had been MIA from the big screen since '02, but now all the sudden she's back and showing today's male action directors for the little girls they are. She takes that stupid modern shakycam style and applies it with discipline. Admittedly I got a little woozy here and there from unsteady cameras, but I always knew exactly what I needed to know. Any chaos is deliberate, otherwise you know the geography, the stakes, the goal.
An example of how masterfully this thing is put together is the opening bomb disposal sequence. On the surface it's a terrific suspense sequence and a great guest appearance for Guy Pearce. But also it sets up the whole movie. It establishes the correct procedure for the bomb disposal (so we can compare to later when it's done incorrectly). It establishes what can go wrong even under the most careful circumstances (so we know what to fear). It also sets up the realistic style of the movie, the casual professionalism of the characters and their sense of gallows humor. That's another thing Bigelow shows the fellas up for – she keeps a consistent grim tone and still comes up with more laughs than directors who shall remain nameless who can't stop themselves from interrupting every supposedly tense scene with twenty five lame improvised quips and sight gags.
I don't consider this a pro or anti war movie, but some people might read it different ways because you can bring your own ideas to it. In the book Jarhead Anthony Swofford wrote that there's no such thing as an anti-war movie because the soldiers will whoop and holler even if it's CASUALTIES OF WAR or something. Early on I think THE HURT LOCKER could make war seem glamorous to some people. Their job isn't about shooting people, it's about saving lives and limbs by dismantling these roadside bombs. And they have a sort of arrogant pose in the face of death because they're so good at what they do. They're cool. But it would be hard to watch it without seeing the conflict they're stuck in as senseless and fruitless. It's like they're stuck in purgatory. They're there because people are making bombs and people are making bombs because they're there and all they can do is wait for their time to leave and then somebody else will do it and nothing will change. In their line of work there's not progress, there's not a goal to work toward. Just keep dismantling bombs until you blow up or go home. It's like some '80s arcade game.
So it carves this precise picture of a surreal zone of hopelessness where these poor bastards are stuck facing these intense situations every day. The movie makes it easy to see through their eyes, seeing that everyone watches them and everyone is a potential threat. They're trying to take apart these explosives while heads poke out of windows and towers all around and any one of them could have a cell phone that could detonate the bomb. And it's hard for them to communicate with these people, and the movie usually leaves us with the soldiers, having our suspicions about who's out to get them but not really knowing for sure. These characters aren't real abusive towards civilians or anything but they treat them coldly in ways that I obviously don't agree with, but I can see why they do it. They don't want to blow up.
The screenplay is by Mark Boal, who knows his shit because he was embedded with a bomb squad. He might've also been embedded with a screenwriting class because he knows how to write a hell of a movie. He avoids the standard war movie formulas in favor of an episodic survival kind of structure. Almost all of the war movie cliches are avoided. He might've started some new ones though, because the detailed looks at bomb disposing robots and protective suits are interesting material that other directors will want to start including in their movies.
I always liked Kathryn Bigelow, but in many ways this is better than anything she's done before. It's great to see someone you were ready to give up on suddenly come back harder than ever.