spoilerish
As much as I enjoyed Uma Thurman and the teddy bear costumes in the original AVENGERS, this one is an improvement. It's a fun super hero movie with lots of colorful super-characters like in the X-MEN pictures, but with more of a disaster-movie-level of spectacle. Instead of just fighting 1-3 supervillains they're fighting an alien invasion. As you know this teams up characters from IRON MAN 1-2, THE INCREDIBLE HULK (2008) (arguably), CAPTAIN AMERICA and THOR under the direction and writing of Joss Whedon (SERENITY, Buffy the Vampire, all that). If they had had some guy from Doctor Who in there and based it on a video game or anime it would've had the monopoly on all of the existing nerd audiences. But also it's fun for all of us.

Okay, I know everybody's already made that joke about the Sean Connery AVENGERS, so sorry about that. But I haven't seen anybody point out the important element present in both movies: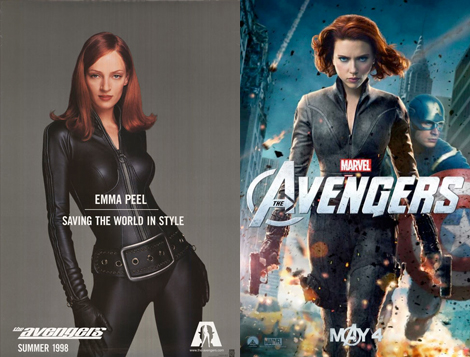 Am I right, fellas? Coincidence or not, I appreciate that AVENGERSes traditionally have a good lookin fake red head kickin ass in a black leather catsuit.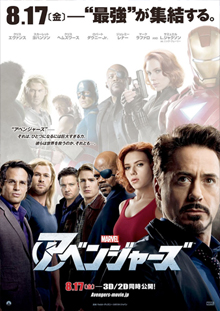 Anyway. Loki (Tom Hiddleston), the fantasy asshole brother from THOR, has teamed up with some ugly alien dudes to fly through a magic portal on Green Goblin sky skis and a herd of giant flying robotic worms in an attempt to conquer the puny humans. I guess Asgardians are naive and don't know you can control the world with a corporation. Or maybe they do know that but they just love the giant flying robotic worms. That would be a legitimate stance in my opinion.
Whedon and Marvel Comics/Movies do exactly as promised, they combine the elements of each of the previous movies in the series: Iron Man gets to do his quipping and hot-rodding (with a whole bevy of weirdos to make up insulting nicknames for), Thor brings his fantasy world and old timey speechifying, Captain America brings his soldier's sense of duty, inspiration and boy scout etiquette (best line: "There's only one God, ma'am, and I'm pretty sure he doesn't dress like that"), The Incredible Bruce Banner brings his dread of the monster inside but finally comes to terms with turning green and smashing shit on purpose.
And they all team up for a big battle but I like the way the movie (which is about 2 1/2 hours long, a good length for the subject) takes its time putting them together. It kind of reminds me of UNCOMMON VALOUR when they have to go around and recruit each of the team members. The other movies got the origin stories out of the way but this gets to re-introduce them, so we see what they're up to now and how they're convinced to come in.
Whedon's quippy dialogue gets alot of praise ('cause alot of it's funny) and criticism ('cause it seems formulaic at times), and his fans love his characters and his troupe of actors and everything. But he probly doesn't get enough credit for his construction. I like the way these scenes flow into each other, the end of each pushing into what needs to happen next. In the same vein, it has one of those perfect title sequences. What are we gonna do? Nick Fury turns, very serious. THE AVENGERS.
Whedon's also a good juggler. Probly literally, but also figuratively. All of the characters get to have their moments and their little storylines. Even that S.H.I.E.L.D. guy Agent Coulson and one of my favorite CAPTAIN AMERICA characters, Captain America's Shield. Various combinations of the super heroes get to fight each other (Thor vs. Hulk, Iron Man vs. Thor, Thor's Hammer vs. Captain America's Shield) and become friends with each other. Tony Stark and Bruce Banner nerd out over science shit. Recently-unfrozen-from-WWII Captain America is excited when visiting-from-another-plane Thor is more out of touch than he is. Black Widow earns Captain America's respect enough that he's willing to take a former brainwashed traitor back into the fold based only on her nod of approval.
It is cool to see all these big characters together, but ironically I was most excited about the only one that didn't carry over from the previous movie. I fuckin knew Edward Norton would never stick around for AVENGERS, and that seemed like they blew it. But it was great to see the character  now played by Mark Ruffalo and with a different Hulk look. He has chest hair. Hulk gets a couple of the best moments in the movie, and it's always a thrill when he shows up because he adds some good chaos. I don't know man, I just like seeing a big growling monster run through an office, makin everybody shit their pants. It's satisfying.
In THE INCREDIBLE HULK the audience's needs were opposite of the hero's, because it was in his best interest not to turn into the monster that we needed him to turn into in order to be entertained. Here it's okay to root for him to turn into the monster because hey, Tony Stark's doin it, and also he gets to do it on purpose to help save the day.
I was also into the secondary characters that we get to see more than in the previous movies. Heading the organization is Nick Fury, previously seen in after-credits scenes and distracting from the plot in IRON MAN 2. I don't think Samuel L. Jackson can say the Whedon dialogue as well as he can Tarantino's, but this is made up for by the fact that he's wearing an eyepatch and a Blade coat and shot from many heroic angles. He's an interesting leader because he's Machiavellian enough to exaggerate a story to manipulate the Avengers, but conscientious enough to flat refuse an order to RETURN OF THE LIVING DEAD Manhattan. We respect him because when a jet tries to take off to drop the bomb he personally chases after it and fires a rocket at it. But his superiors knew him well enough to have sent a decoy. Then he pulls out his handgun, like that's gonna do something. Kind of like when Don Frye pulled a sword on Godzilla. Nick Fury is the Don Frye of The Avengers.
Then there's Academy Award nominee Jeremy Renner as Hawkeye. He's just a guy that's real good with arrows. He has exploding ones and grappling ones and all types of shit. He's ballsy enough to jump off buildings. I think some people are racist against the non-super-super heroes and don't think they should be in here because they're not magic and can't afford a billion dollar flying suit. But personally I like that there are a couple of Avengers that are just highly trained assassins, like Hawkeye and Black Widow (Scarlett Johannsen). They prove their worth.
This Whedon is known for his strong woman characters, so I wasn't surprised that Black Widow is a stand-out in this movie. I mean, I liked her in IRON MAN 2 actually, because 1. hubba, 2. the fight in the hallway, and 3. hubba. But here she gives a better acting performance and has more to do, including a great introduction where she gets to outsmart people, kick ass, be funny and demonstrate what the greatest Marvel Comics movie character of all time, Blade, should've done when the cops had him shackled in part 3: do a backflip and smash the chair on the ground.
Harry Dean Stanton is in one part as a security guard. I hope he gets a spin-off.
I think this is well done special-effects action. It's not the same rush you get from THE RAID or HAYWIRE or something; it's massive digital destruction, actors green screened or animated flying around crashing into shit, punching aliens, shooting beams, the camera flying around as if on a jetpack to capture all the mayhem. It's hectic because so much is going on, but it reads well. There are well done super-strength fights and some (artificial) long takes. I like the one of Captain America doing his patriot parkour over a bunch of cars, but the stand-out is clearly the long continuous shot that zips around showing each of the heroes fighting and how they intersect with each other or help each other out.
(I should note that I didn't have faith in the fake 3D so I found a place that had it in regular-D. It also happened to be 35mm, which I thought looked good even though it was shot digital. There's some pretty dark scenes in it that I imagine could not have played well in fake 3D, but let me know if I'm wrong.)
Whedon pulls his favorite trick for establishing that stakes is high (hint: the opposite of bringing Ripley back to life in ALIEN RESURRECTION), but mostly the tone is upbeat. Super people do super stuff, they learn to get along, they are inspired, they inspire others, they kinda have fun doing it. I'm not gonna go along with the idea that Mr. Nolan's Batmans are now wrong for being more broody and reality-esque, but this is another great way to approach a comic book movie that hasn't always been done this well. It's "comic booky" without being campy, a good balance for pleasing both the hardcores and the everybody elses, like J.J. Abrams did with STAR TREK (but overall more impressive I think).
My buddy Harry says he wants a new AVENGERS every 2 years and he wants them to go into space now and he wants so-and-so and the such-and-suches introduced. Good to see him excited, but let's not fly too close to the sun on wax wings. This is a topnotch comics supergroup of an event movie. Let's do regular movies still. Trying to top this over and over would probly not work. Personally I don't like to see the world and the universe in danger over and over again. I'm more moved by the personal travails of Blade, Batman and Frank Punisher. But will some people not want to watch IRON MAN 3 anymore because it's gonna seem smaller than this? Also, how will this movie play with some distance, or without knowing the supplementary movies? I don't know. Doesn't matter right now. This is good summer entertainment, satisfying the big and loud and fun that some people want without the dumb or cynical some of us don't want.
Now, I mean this sincerely, I want to congratulate the Harrys of the world on the existence of this movie. They've dreamed about this "a bunch of set-up movies leading to a team-up movie" concept for years now, and I have to admit that I didn't believe it would work. There was a time when it was supposed to be a given that THE AVENGERS would be amazing, even though INCREDIBLE HULK wasn't that popular and nobody knew if the riskier CAPTAIN AMERICA and THOR would be either, or if any of the actors would have chemistry together, or if they could come up with a good way to get them all together in the same movie. And there was the Edward Norton thing to deal with.
But fuck it, they pulled it off, and that's awesome. I'm not just happy because I liked it, but because most of the people who were excited for it seem to love it. Give it enough time I'm sure 1/4 to 1/2 of them will turn around, pull down their pants and take a giant dump on it like they do everything else, but for now it seems to be uniting all of the nerd kingdom and sympathetic parties in joy. I'm for it.
This entry was posted on Saturday, May 5th, 2012 at 11:21 pm and is filed under
Comic strips/Super heroes
,
Reviews
. You can follow any responses to this entry through the
RSS 2.0
feed. You can skip to the end and leave a response. Pinging is currently not allowed.