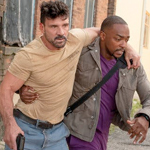 POINT BLANK (2019) is a recent Netflix release directed by Joe Lynch (WRONG TURN 2, EVERLY). It's not a remake of the classic Lee Marvin POINT BLANK from 1967, or the non-classic Mickey Rourke/Danny Trejo POINT BLANK from 1998, or even the Brazilian police corruption documentary POINT BLANK from 2015, but in fact the French one from 2010 that was recommended to me many times but that I haven't seen yet. Of the three of those I've seen, this one's in second place!
It's got a great, "oh shit, we're already doing this" opening. There's an exterior shot of a mansion at night, but before the camera can move inside we hear gunshots and see flashes inside, and then a guy comes flying through one of the windows and makes a run for it. He's Abe (Frank Grillo, MY SOUL TO TAKE) and he's frantically trying to get ahold of his getaway driver brother Mateo (Christian Cooke) in between ducking gunshots and receiving threatening texts from some guy named Big D.
And then… I'll just say he ends up an unconscious John Doe at a hospital, which is where he intersects with our protagonist, Paul (Anthony Mackie, ABRAHAM LINCOLN: VAMPIRE HUNTER), a nurse doing extra shifts because his wife Taryn (Teyonah Parris, CHI-RAQ, IF BEALE STREET COULD TALK) is about to give birth to their first child. And the next thing you know Mateo has taken Taryn hostage to force Paul to sneak Abe out of the hospital.
Paul's fear seems authentic. The idea of them hurting his wife terrifies him. He has no choice but to do what they say. But he's so nervous he goes into a bathroom and pukes. Then he looks in the mirror, takes a deep breath, and steels himself to be an action hero.
He gets the equipment he needs, has to make up a story to move the patient, has to subdue the cop (screenwriter Adam G. Simon, I think?) assigned to guard him. Then he has to inject him with drugs to wake him up and explain what's going on. He gets him out, but through a combination of threats to his wife and Abe's need for a nurse to give him his shots, ends up mixed up in a mess that involves the murder of a district attorney, money owed to a gang and a flash drive proving a police conspiracy.
Pursuing them are two veteran cops, Lewis (Marcia Gay Harden, SPY HARD, FLUBBER) and Masterson (Boris McGiver, JESUS' SON). It's pretty great casting, because neither looks like an action star, but both look pretty authentic as cops, and it's cool to see an actress of Harden's stature seeming so natural grimacing in a pantsuit, blasting away with a shotgun. Though I sorta suspected what direction her character was headed she's much more interesting and layered than you might initially assume.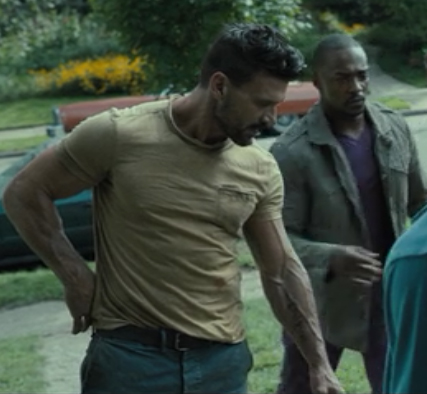 Cooke is very good as Mateo, willing to do anything to save his brother, but also clearly feeling sympathy for this pregnant woman he's endangering. And she senses that, but will do anything to save her baby, and keeps trying to escape. Mackie gives one of his better straight faced performances, talking in that low Wesley Snipes voice. But the standout is definitely Grillo, his face a little scraped up and gnarled, his arms popping giant tree-branch veins like a roided out anime character. (I think Paul has a pretty easy time administering those morphine shots.)
Even more than ever he's the human embodiment of the o.g. tough guy vibe Lynch and his crew (many of them regular collaborators of producer Joe Carnahan) are clearly going for here. The movie is fast and violent and mostly shot on location in the daylight. Lots of car chases and headshots, a good fight inside a car wash, almost all of it seemingly of an analog nature. My favorite bit of stuntwork is when the gang works together to roll and steer a car in neutral down a hill, light it on fire and crash it into a cop car. It looks like they really did that shit!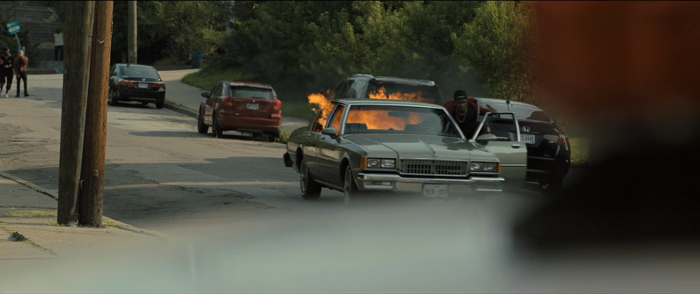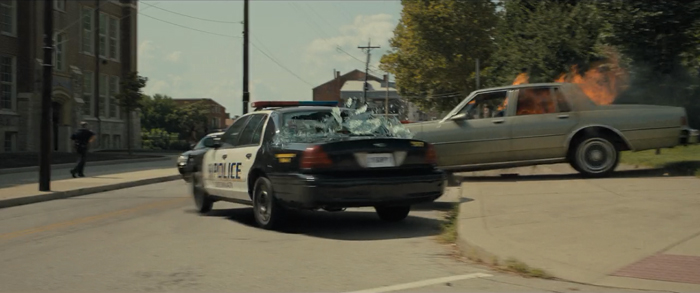 (Stunt coordinator: Frank Torres, THE A-TEAM, AMERICAN HUSTLE, ACCIDENTAL LOVE, A STAR IS BORN. Fight coordinator: Buster Reeves, Tom Hardy's stunt double in THE DARK KNIGHT RISES.)
It also gets mileage from its not-overly-familiar locations. I figured out it was Cincinnati because where else would you see a mural of Bootsy?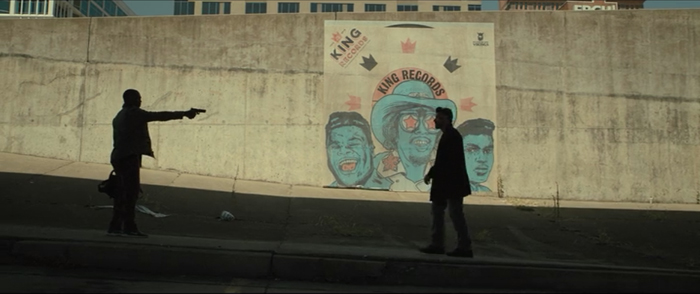 It's always kinda nice to see an urban setting that's not L.A. or NYC (or Vancouver). You gotta mix it up sometimes. This city has its own personality. Like Seattle it's fairly nice looking, yet you see many people living in tents. There's a scene at a tent city and one involving a line for a soup kitchen, so hard times are an intentional part of the setting, but other times it seems like that could just be the reality of the location. Lynch's use of background voices and sounds coming from all directions reminded me of Andrew Davis's immersive depiction of Chicago in ABOVE THE LAW.
But there are two comical bits that, for me, break that old school mood a little. One is the wacky old lady listening to Oran "Juice" Jones in her PT Cruiser during the car wash fight. A little too broad for me. The other is gang leader Big D (Markice Moore, ATL)'s sermonizing about William Friedkin. I can't get too mad, because he's right, and of course I agree with him making his friends watch TO LIVE AND DIE IN L.A. and SORCERER, but that kind of transparent "I'm going to cram my favorite pop culture in here whether it makes sense or not" type of reference is too distractingly self conscious for my tastes.
I'm more forgiving of the show-offy eclecticism of the needle drops. I never felt quite sure why any of these songs (ranging from "The Message" to "Holiday in Cambodia," with lots of early '80s synth and slap bass in between) made sense for their scenes, but at least they're original choices. I liked 'em.
There's a minor thematic thing I resent a little bit. Early on, when Paul mentions his wife's pregnancy to Lt. Lewis and then asks if she has any advice, she explains in good humor that she's not the best person to ask because she chose not to have children. I took it as a refreshing acknowledgment of the legitimacy of different lifestyles, perhaps even a light jab at the movie cliche that becoming a parent is the only really important thing anybody could do with their life. Nope. When (SPOILER) we find out what a corrupt asshole Lewis is we realize in retrospect that the only reason to mention her lack of children is to show she's the polar opposite of the hero. Like, of course she's a bad apple, she didn't want to have kids!
I don't know if that comes from the original, or if it's an invention of screenwriter Simon (Dito Montiel's MAN DOWN, and possible American remake of THE RAID). I do know from podcasts and what not that Lynch is a proud and loving father, and of course he should put that passion into his movies. I just don't like what that character detail seems to be unconsciously saying about those who choose other paths.
Speaking of the movie putting parenthood on a pedestal, I appreciate the almost Verhoevien touch of regular, non-corrupt police showing up to save the day and threatening to shoot Paul when he can't turn around because he's in the middle of delivering his god damn baby. Unfortunately, shit is so bad right now that it doesn't play like satirical exaggeration – in fact, quite the opposite. I definitely didn't want the movie to end with him forced to turn around and put his hands up and then still get shot to death, but I can't imagine that not being what would really happen in that situation. Being able to forcefully tell them why he can't turn around feels phony, like in STRANGE DAYS when they just give the evidence to the nice commissioner and everything is fine.
But none of these complaints can overshadow that it's an entertaining day-from-Hell action thriller with a good energy and vibe to it. I feel I was way too hard on Lynch when I reviewed his debut WRONG TURN 2 back in 2008, and I definitely think he's gotten better over the years. Despite whatever misgivings I have about their spots of self-consciousness, both this and EVERLY give good opportunities for cool actors to sink their teeth into strong characters taking part in hard hitting action with some quirkiness and humor that, if nothing else, stands out from what other directors are doing in the genre. I respect that.