CAPTAIN AMERICA: THE FIRST AVENGER is the last of the Marvel Comics soda can labels before next year when all the separate labels will be united into one all-star label called THE AVENGERS (the comics one, not the one with Sean Connery in the teddy bear costume). The IRON MANs, THOR and INCREDIBLE HULK were all on Dr. Pepper I believe, though, and this one's on 7-UP. So it's a whole new ball game. I think it dips a bit into the cheesy side visually and filmatism-wise, but it's an enjoyable story that's a little different from the other super hero guys and stands on its own better than THOR. In fact the way it leads up to this AVENGERS movie allows it to end on an odd emotional note that it wouldn't have otherwise.

This one takes place in WWII, before the invention of The Hulk or Iron Man. Chris Evans (the sexually harassing Fire-Man from those shitty FANTASTIC FOUR movies, also in SUNSHINE) plays Steve Rogers, the 62 pound weakling from Brooklyn who wants real bad to be in the army and then gets scientifically transformed into a handsome muscleman so he can do USO tours singing a silly song and lifting a motorcycle with girls on top of it, then he sneaks off to rescue a bunch of P.O.W.s and becomes a super-powered war hero who has to fight against Hydra, the Nazis who were such assholes that the Nazis weren't even evil enough for them so they had to defect and have some kind of plan to destroy the world or whatever and something involving a magic glowing cube.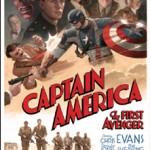 This movie is designed as the ultimate nerd fantasy, like one of those Charles Atlas guy-kicking-sand-in-your-face ads adapted into a movie. In the first chunk, state of the art special effects are used to turn musclebound actor Chris Evans into a skeletal, 5-foot tall weenie. He also has asthma and other ailments glimpsed listed on a form, I didn't catch if he was allergic to peanuts or not. He doesn't know how to talk to girls or dance. But he fuckin believes, man. And he wants to join the military not to kill Nazis but because "I hate bullies." Every time he tries to sign up they reject him on the grounds that it would be wiser to mail a bunch of potato chips in an envelope than to send this fragile little snowflake of a man into a war zone. So he keeps going back and re-applying under fake names. Fortunately Stanley Tucci as a scientist (and therefore a member or affiliate of the nerd community) sees what a good person he is and chooses him for a secret government program where they inject him with comic book shit that turns him into non-digitally-altered, musclebound Chris Evans, super soldier. Also he can jump high.
Because of his new body he's able to talk to and get it on with a super hot and cool human female (Hayley Atwell). But don't worry, Steve Rogers deserves some credit here, we can't give it all to performance enhancing science. You gotta be a good person for this super soldier treatment to make you Captain America. This guy Red Skull (Hugo Weaving) is the leader of Hydra, he had an early version of the treatment but he was just such a dick that it made him into a monster instead of a super hero. I'm not sure what he's supposed to be exactly, he's not a skull. He has no nose but he has ears, and when they show him in extreme closeup you can see the black painted on cheekbones like Halloween makeup.
Fortunately the fantasy goes beyond the nerd wish fulfillment, so it ends up feeling pretty universal in its appeal. It's also an idealized version of war heroism, where he gets to go prove himself fighting against guys who are even worse than Nazis. He gets to rescue his best friend, work with his girlfriend, not only does he win over the hard-bitten colonel (Tommy Lee Jones, a nice addition to the movie), but inspires him to come into battle himself and personally rescue the Captain while driving an awesome car. While Captain America is wearing his American pride on his sleeve (not to mention his pants, his chest, his head and his shield) he also represents diversity and world unity by putting together and leading an elite platoon that includes a Japanese-American, an African-American, a British guy, a French guy, and Neal McDonough.
Captain America's powers work good for an action movie. No flying, morphing or shooting magic beams, just exaggerated strength, which most guys have in action movies anyway. That combined with Mr. Rogers's never-give-up, can-do attitude means lots of punching, motorcycle jumping, jet plane commandeering, even a barefoot foot chase through New York City.
I was impressed by the wide variety of forms of transportation that the Captain ejects Hydra soldiers from. Off the top of my head I remember a truck, some motorcycles, a car I think, a train, two different types of aircraft and even a submarine (my favorite). That's a good way to keep the action interesting when you got land, sea and air. Hopefully THE AVENGERS will allow him to throw people off a subway, a Segway, maybe a space ship.
There's alot of fun action with Captain America and his team, the Captain Americans. Some of it is kind of rushed through in montages to show that time is passing. I wish they took the care to have a more elaborate sort of WHERE EAGLES DARE type of attack on a Nazi compound or something, but oh well. It's pretty good stuff, and there's one thing that's unique about how he fights.
Because America at its best likes to think of itself as a defender and not an imperialist, Captain America's primary weapon isn't a gun, it's a shield. It's a really good one made out of "the rarest metal on Earth." He uses it to deflect but also to bash things open. He throws it like a boomerang or a Frisbee. I'm sure it would work well as a sled, an umbrella, a water bowl for bald eagles to drink out of. In one great moment he tosses it down a hallway to jam some closing metal doors open, but immediately wishes he had it because a motherfucker comes after him with a blowtorch. I got kinda nervous actually when he had to leave his shield behind during one fight. I didn't want him to lose that thing.
What is it about these Old Timey Throwback Adventure Movies, like this and THE PHANTOM? I guess if they were coming out a couple a year we'd hate them but they're infrequent enough that they always seem refreshing. Do you remember the old pulp magazines and radio plays? No, we remember people remembering them. Instead of nostalgia for the actual time period we have nostalgia for the nostalgia of the time period. It's made to remind us of the movies and things we've seen before about that time. This one is a little different because on the surface it pretends to be about war and patriotism. But it's not so much filling an American's heart with pride about what it means to be an American as reminding us of the kitschy fun of the progaganda they used to have, remember how we read that they used to have that? What a fun time! USA! USA!
Luckily you can get away with that because Nazis are the ultimate bad guys. I mean, who doesn't hate Nazis? Only Nazis don't, and fuck those guys. So you can watch a fun WWII movie and not have to feel bad about the bad guy soldiers getting shot or tossed off planes or whatever. It worked for RAIDERS OF THE LOST ARK, obviously, but after SCHINDLER'S LIST Spielberg allegedly decided he wouldn't do Nazis in a "fun" movie anymore because it's too serious of a subject. Tarantino and Verhoeven have since made fun WWII movies, but not light like this. Those were hard-R movies that dealt specifically with the horrors of the war. Obviously neither Captain America or director Joe Johnston are ever gonna go that route, so they kind of go in between – it's still WWII, it's still Hitler, but swastikas are replaced by this Hydra symbol, and the bad guys actually separate from Hitler. So you can be content that the Red Skull is a fun bad guy that we gotta stop from ruling the world and hopefully not think too much about genocide or concentration camps. (Not that either of those things ever came up in an Indiana Jones movie. Or should've.)
In fact, Johnston shows us specifically where to locate Captain America on the Indiana Jones map. There's a line about Hitler's people being out in the desert looking for artifacts – but while those chumps are out digging up arks and getting their faces melted Hydra are the guys who have actually had success acquiring occult mcmuffins like The Glowing Cube of Whatever It Does. Johnston was the art director for RAIDERS OF THE LOST ARK as well as the second and third STAR WARSes, and he's definitely going for some of that "Remember Good Old Fashioned Fun?" type nostalgia, with some success. There's a motorcycle chase reminiscent of the speedy bike chase, there's a mid-air battle that reminds me of tie fighters, the Hydra soldiers even wear masks kinda like the tie fighter pilots. (Yeah, I know about Star Wars stuff. I'm an American.)
I think they do fine skirting any potential WWII tackiness issues, but I'm a little iffy on the (ENDING SPOILER) climactic scene where Captain America chooses to sacrifice himself by forcing down a jet that's headed to New York City on a kamikaze mission. Maybe nobody else was thinking United 93, but I was, and that took me out of it. But I can see how you could defend that. It's sampling heroism instead of just tragedy, like TRANSFORMERS 3 did with its visual allusions to the Challenger explosion and people jumping out of the WTC towers.
Despite that somewhat ballsy move I think Johnston is about as bland of a director as has ever been created. He's made few terrible movies and no great ones. People always like to dig out THE ROCKETEER – yeah, I remember that being pretty good too. But it was twenty years ago and it wasn't exactly MAD MAX. Other than that his best movie is, what, HONEY I SHRUNK THE KIDS? I'd probly guess HIDALGO was pretty good, except I can't because I saw it. He had old west Viggo Mortensen in a cross country horse race to unite the countries in the middle east, how the fuck did he make such a snoozer of a movie out of that? Nothing about it is real bad, but nothing about it is real good either. It has everything and nothing that a great movie needs. That's also how we got JURASSIC PARK III and THE WOLFMAN. It's the Joe Johnston touch.
He was a good art director, but the ones he actually directs don't tend to look so hot. I guess WOLFMAN had some nice shots. This one is gloomy and colorless, with settings surprisingly similar to those of the widely hated low budget CAPTAIN AMERICA made by Friend of Outlawvern.com Albert Pyun. For the thumbnail at the top of the review I really tried but couldn't find a still that I thought made Captain America look cool. It's a director with an art background adapting drawings into a movie and somehow it's not all that visual.
And there are little beats that aren't quite there. Like there's a funny part where Captain America is chasing a Nazi through New York and the guy throws a kid in the water. The Captain looks over the edge and the kid says "Go get him! I can swim!" Great joke, good timing and everything but why doesn't the Captain look like he's about to dive in to save him, don't you need that to set up the joke? Johnston's got the words but doesn't know how to deliver it quite right.
Oh well. It works. It's not as beautifully directed as BLADE or IRON MAN. It doesn't look as stylish, it doesn't feel as new. But it does follow the Marvel pattern of having a strong cast centered around a charismatic lead. Maybe not quite on the level of Thor, but I thought the story and action were better. There are lots of two-dimensional but fun characters, some funny lines and moments, a good pace. Red Skull is only an okay villain, but at least Weaving uses an accent partially based on Werner Herzog's (that's what it sounded like to me and then I read that really was his intent).
There are the really visionary, interesting comic book movies like BLADE 1-2, the Nolan BATMANs and HULK, and there are the also rans. This is for sure in the lower category, but as far as those go it's one of the more entertaining ones. Like a pretty solid western as opposed to a great one.
It's a nice fairy tale of a naive human stickbug who, through will power, science and jumping, saves lives and inspires his entire country. Like most super heroes you get a scene of kids running around dressed as him, to show that he has inspired them. It's nice to see the kids of all races playing together like Captain America and his team. Although it sucks that the white kid has to be in front carrying the garbage can lid.
EVEN MORE ALL-AMERICAN END SPOILERS FROM HERE ON OUT
If it wasn't a setup for THE AVENGERS I'm sure it would've ended on that sweet but obvious note. It would've stayed in WWII which would be nice because I'd like to see those characters like Peggy, the Colonel and Neal McDonough again. But they wanted to get him to 2012 in his own movie so it wouldn't seem silly when they do it in THE AVENGERS. So they worked it into the structure, a wraparound story about him becoming The First Avenger.
I like that they don't overexplain it. We learned earlierr that his metabolism works so fast it's impossible for him to get drunk. We can assume this is why he crashed in Antarctica and woke up 70 years later, no need for Nick Fury or somebody to give him a speech about it.
The reason the wraparound works for me is it turns Captain Nerd's Greatest Fantasy into a uniquely tragic figure. Not even like Batman, because there's nothing to avenge. The movie ends with this poor bastard realizing that in the blink of an eye he skipped 70 years, so he lost the girl he (in his mind) just fell in love with. In fact everybody he knows has disappeared. We never heard about a family, but we saw all the friends and allies he made, all gone. Now some guy in an eyepatch is yelling at him and he's gonna have to work with the smartass son of the guy who used to build his weapons. Music has gotten terrible, he missed the V-Day celebration, and also free love and all that shit. And the Rambo and Rocky movies. He was just in WW2, now they'll probly ship him off to Afghanistan with no peace time in between. Damn, he's probly still getting used to his new body, now this shit. He's Ripped Van Winkle.
And the weirdest part – maybe the ingenious part – is that he responds with one line that plays like a cute little joke, and then it slams into the credits. It pretends it's saying "HOORAY!" but really it's horribly sad. I say maybe it's ingenious because I love the weird contradictory feeling it gives me, but I suspect that wasn't what Johnston was going for. I'm not really sure. And it doesn't really matter.
This entry was posted on Tuesday, July 26th, 2011 at 2:38 pm and is filed under
Comic strips/Super heroes
,
Reviews
. You can follow any responses to this entry through the
RSS 2.0
feed. You can skip to the end and leave a response. Pinging is currently not allowed.