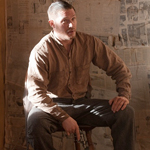 Remember after THE ROAD director John Hillcoat had this movie called THE WETTEST COUNTY IN THE WORLD that was written by his THE PROPOSITION writer (and famed singer) Nick Cave, he had at-that-time-hot-stuff Shia LaBeouf signed on and everything but nobody would fund the fuckin thing. Then suddenly a mysterious benefactor named Megan Ellison comes into Hollywood and gives him money and gives P.T. Anderson money to make THE MASTER and Andrew Dominik to do KILLING THEM SOFTLY and a bunch of other guys like this. So the legends were true, there are some good rich people out there.

Anyway THE WETTEST COUNTY IN THE WORLD is the name of the book it was based on, because it's about the Prohibition era and refers to Franklin County, Virginia and its prolific moonshiners. The book is by Matt Bondurant and is historical fiction based on the true story of his grandfather Jack Bondurant and his two brothers, who were at the center of "the Great Franklin County Moonshine Conspiracy." For the movie they ended up changing it to the generic, not-very-descriptive LAWLESS, maybe to fuck with the Weinsteins because they probly would've liked to rename some Asian movie with that. And this is weird but I think I read that Lucy Lawless gets a nickel for every DVD sold, just like Marvel Comics owns the name Hulk Hogan and Lucasfilm owns the Droid phone.
This is one of those movies that seems like it has everybody that's in all the movies in it. So it's Hardy, it's Pearce, obviously Jessica Chastain is gonna be in there, plus Mia Wasikowska, Oldman, Noah Taylor, and the kid from CHRONICLE that was also in the beginning of LINCOLN, he's probly gonna start being in everything for a while. I'm not sure where Michael Fassbender was while they were filming, seems kinda conspicuous that he missed one. But Shia LaBeouf – best known as the visionary creator of the comic book Cyclical, but also an actor –  is sort of the lead. And unfortunately it's not the likable, self-deprecating LaBeouf of yesteryear, it's the blowhard version he became after meeting Michael Bay and finding out that you can do that.
Pearce, Wasikowska, Taylor… alot of Australians in this one, and Hillcoat and Cave are Australian too. Even Tom Hardy is Australian in my opinion because he's so Method I'm sure he transformed himself into one while filming FURY ROAD. But Lucy Lawless is from New Zealand, not Australia, so I don't know what they were going for there, it doesn't really fit.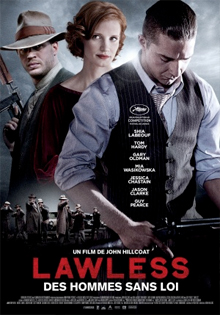 You could compare LAWLESS to other old timey gangster movies like BONNIE AND CLYDE or PUBLIC ENEMIES or whatever. It's got the old cars and hats and a drive by tommy gunning or two, and flashy feds with slicked back hair and all this. But the angle on the movie that's pretty unique is that it sets the hillbillies, "some hard crackers" who are legendary for their lack of dying, as the underdog heroes. Not just side characters.
I guess in a Prohibition era movie the heroes would usually either be the G-Men or the charismatic gangsters who beat the system, flaunt their success and go out with a bang. Here you have some of those types (Oldman appears a few times as Chicago gangster Floyd Banner) and you have an ATU agent named Charlie Rakes (Pearce) as the main villain and you have a corrupt and ineffective local police force, but the heroes are basically small business men. They're the one family of moonshiners in the county who refuse to sell out to the corrupt district attorney. Everybody else is willing to give in to the new world order where the authorities accept protection money and set the prices. Forrest Bondurant (Hardy) is too stubborn to turn his place into a Starbucks, so he respectfully puts his foot down. The other bootleggers tell him he's crazy, there's no way he can refuse, he's gonna get killed. "We'll see what happens, then," he mumbles.
And Forrest probly could handle this, but he's got his snot-nosed brother Jack in the mix trying to make a name for himself. He's not tough like his brothers, but not smart either, yet more ambitious. And wants to impress a girl. Not a good combination.
Usually in a movie the young upstart would be the one that's right. Everybody else is too short-sighted to understand his brilliant vision for the future. But he does it anyway, proves he was right, and everybody has to fall in line, scramble to keep up, or be left in the dust as he becomes Scarface or American Gangster or The Social Network through his cunning and hard work. In this one the kid goes behind Forrest's back, makes them some money for a little bit, then fucks it all up. Dumb kid. Listen to your brother.
That the dumb asshole is the protagonist is a narritivical weakness, but giving Hardy a little distance probly makes his character even cooler. He's obviously enjoying the accent and the mumbling, but he gets to stay quiet alot, keep his thoughts to himself until it's time to get in somebody's face or punch their throat with brass knuckles. (There are some pretty brutal scuffles.)
Their other brother Howard (Jason Clarke) is even more distant. Off duty he's a jolly drunk, laughing and fooling around at campfires. During business hours he's the muscle. In his best scene he can be heard off screen stomping through the house, the sounds of his steps approaching like a dinosaur, before tearing out the front door and beating the hell out of the sheriff for trying to squeeze their business. Forrest just stands there calmly watching.
2011-2012 MVP Jessica Chastain plays a city gal who comes to work for them, seems somewhat mysterious, and has a hard time making moves on Forrest, who shows modesty in his complete failure to pick up her signals. Scarlett Johansen and Amy Adams were previously set for this role, but don't worry guys, I doubt they would've done the topless part. Chastain does alot with a pretty simple character, but they probly should've given her a little more to do. I guess you can't expect some good ol' boys to understand that.
Pearce is slimy and pretty funny as the detestable villain. He obviously puts alot of work into his hair and suits (like Jack, come to think of it). He thinks it makes him awesome, like a gangster, so he's completely thrown off when these hicks interpret his city big shot fashion (and use of cologne) as being "dandy."
Some day there might be a truly great bootlegging epic, and this is not it. But it's a fun movie with some personality to it and it's worth watching just for Hardy's stubborn, inarticulate badass.