June 26, 1998
OUT OF SIGHT pretty much struts onto the screen, David Holmes' funky organ already jamming on "It's Your Thing" as the Universal logo spins, George Clooney as Jack Foley storming out of a situation that we'll only understand later, his frustrations underlined by freeze frames, when he spots a bank across the street. And he goes over unarmed, alone, winging it, and robs the place.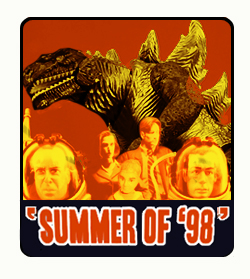 Clooney had already become a superstar on ER and proven himself big-screen-worthy in FROM DUSK TILL DAWN, but it was Steven Soderbergh who taught him to cut down on his trademark head-bobbing and become a real movie star. Wearing a suit I thought I heard somewhere was inspired by Cary Grant's from NORTH BY NORTHWEST, he manages to charm his poor bank teller victim enough that when he tells her to have a nice day as he's leaving with the money she reflexively says "You too."
It's a small, funny moment, but it's also important. We have to believe this guy is so damn charismatic that the federal marshal who witnesses him digging out of Lompoc and gets thrown in the trunk of a car with him will fall for him. And Clooney pulls it off. (read the rest of this shit…)
VERN has a new action-horror novel out called WORM ON A HOOK! He has been reviewing movies since 1999 and is the author of the film criticism books Seagalogy: A Study of the Ass-Kicking Films of Steven Seagal and Yippee Ki-Yay Moviegoer!: Writings on Bruce Willis, Badass Cinema and Other Important Topics as well as the crime novel Niketown.