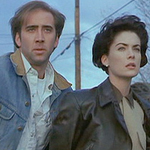 RED ROCK WEST is one of my favorite neo-noirs, an ingeniously concocted tale with a simple, appealing hero who makes one wrong choice that snags him and he has to spend the rest of the movie trying to crawl his way out of an ever-tightening trap. He's driving through the town of Red Rock, Wyoming when it goes down, so every time he gets out and then something else goes wrong we share his dismay at passing that god damn "Welcome to Red Rock" sign once more.
Well before all the thrilling twists and tense (but down to earth) set pieces, director John Dahl (THE LAST SEDUCTION, ROUNDERS, JOY RIDE) wins me over with an A+ overture of visual storytelling that establishes Michael (Nic Cage)'s hard times and integrity. We meet him waking up in his car on the side of a farm road, shaving, smelling the shirt he takes out of the trunk to make sure it's not too bad, looking in the window reflection as he tucks it in, preparing to try to make a good impression. We also see his USMC tattoo, even before he starts doing shirtless one-arm push-ups. This will be relevant.
He's broke and having trouble finding a job and has a bum knee brought back as a souvenir from Lebanon but he's an honest man, not looking for any shortcuts. Not until he stops at a bar and his timing and Texas plates cause the owner, Wayne (the great J.T. Walsh, BREAKDOWN, EXECUTIVE DECISION) to mistake him for "Lyle from Dallas" who was supposed to be here last week for a job. Michael plays along, which seems like a promising trick for the few minutes before he realizes the job is to murder Wayne's wife Suzanne (Lara Flynn Boyle, POLTERGEIST III). So it's neither a line of work he's interested in or the type where you can just put in your two weeks notice and be on your way.
Shit man, I still miss J.T. Walsh. That was a reliable bad guy actor right there. Look at these cold eyes: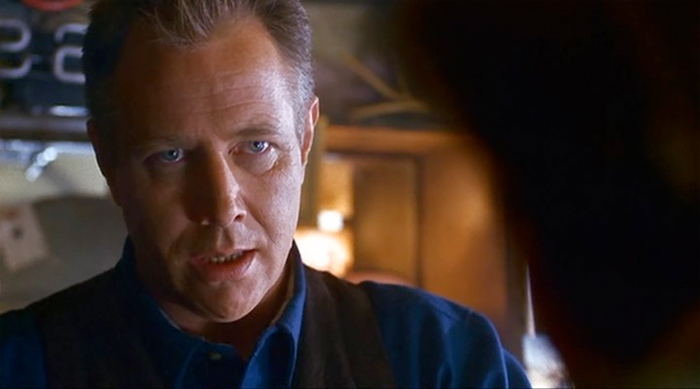 And that's when he thinks Michael is on his team. He had that rare quality of a guy who's not necessarily a physical threat but who's soaked through with such convincing malevolence that your heart would jump if he looked at you. Philip Seymour Hoffman could do that too. I don't remember ever seeing Walsh play a normal, nice person. I bet he did that well too, but it's hard for me to picture it.
Michael knows he stepped his cowboy boots into some shit here, but he attempts to execute the best plan he can come up with on the spot: warn the wife, write a letter to the sheriff, leave town with the money. But he's thrown many curveballs and complications, including (but not limited to) (spoilers here) Suzanne trying to pay him double to kill Wayne, Wayne turning out to be the sheriff, and the guy he was pretending to be showing up late. And played by Dennis Hopper.
There was a time when Hopper seemed like an artifact from the post hippie era, as the director of EASY RIDER and the spaciest character in APOCALYPSE NOW. In 1990 he even played off that in the comedy FLASHBACK. I guess he sort of turned that image on its head with his nightmarish turn in BLUE VELVET, and man did that lead into a hell of a career resurgence in the '90s, mainly playing villains. In the first half of the decade alone we'd see him in big budget movies SUPER MARIO BROS., SPEED and WATERWORLD, but also in THE INDIAN RUNNER, NAILS, BOILING POINT and TRUE ROMANCE.
Lyle from Dallas is another great Hopper character because he's a genuine bastard who manages to be kinda lovable. There's a point where he doesn't know who Michael is and ends up giving him a ride, and taking him for a drink, and Michael keeps failing to come up with a convincing excuse to get away from him. Despite the great tension I also found myself thinking "I like this guy" and wishing they really could be buddies. Lyle instantly likes Michael when he finds out they're both Marines, and he shows genuine sympathy when he realizes Michael was there when the barracks were truck bombed in Beirut. So that military tattoo has another purpose besides the noble old fashioned tradition of establishing why this guy is good with guns and fists and riding on top of moving vehicles.
For Cage, the tentpole type roles wouldn't come until a little later in the decade. At this point he was well established as a weirdo character actor in PEGGY SUE GOT MARRIED, RAISING ARIZONA, VAMPIRE'S KISS and WILD AT HEART, among others. This one is more of a straight leading man role – he must've channeled all of that year's mega-energy into DEADFALL, possibly his most joyously over-the-top performance to date. But RED ROCK WEST establishes a skill set for playing stalwart good guys that would be of more use to Cage after his 1995 Oscar for LEAVING LAS VEGAS catapulted him into studio action movies.
Dwight Yoakam makes his movie debut as "Truck Driver," which sounds like a nothing cameo for a famous country singer, but it's actually a pretty impressive guest appearance with his cutting attitude toward this dude he finds on top of his truck trying to claim he's not up to something. Yoakam would turn into a really good character actor in SLING BLADE, THE NEWTON BOYS, PANIC ROOM, THE THREE BURIALS OF MELQUIADES ESTRADA, etc.
I also want to mention the two deputies (Timothy Carhart and Dan Shor) who I first assumed were lackeys for Wayne, but it turns out they're stand up guys. They're these supporting characters who don't seem very important but they're actually putting the puzzle together in the background and trying to figure out what to do.
I'd been meaning to rewatch this one for years. I think this might've been my first time since the '90s, and it absolutely lives up to my memories of it. I had forgotten many of the turns of events, and there was a point when I was listing to myself all the reasons why it's even more similar to BLOOD SIMPLE thank I remembered: scary small town bar owner played by great, mean character actor hires somebody to kill his cheating wife, male protagonist in relationship with the wife, trying to steal money from the safe in his office, etc. Hell, Dahl even wrote it with his brother. And exactly as I was thinking this is when the story spins much further off the tracks and keeps things fresh.
To me the key to the appeal of this story is that Michael, during understandable desperation, violates his usual code, and that one instance sets off a catastrophic chain reaction. His essence can be summed up by the expression on his face as he eyes the open till in a seemingly abandoned gas station. He's literally down to his last five dollars, he knows he could snatch that cash to get himself a little further down the road, and it clearly tortures him that the option is open to him, because he knows he will not take it.
At the beginning, after Michael has been rejected for the construction job he drove all the way out here for, his friend can't understand why he told the foreman about his knee injury. "He would've found out eventually," Michael says.
"Yeah, but you already would've had the job."
That's just not how Michael operates. But the next time it comes up, when Wayne mistakes him for Lyle, he finally tries out the other way, the easy way, the way that seemingly everybody else does it to get ahead, so why shouldn't he? He's tired of not getting the job, not getting the gas money, not getting shit because he's so stubborn about doing the right thing. So just this one time, he abandons his inherent honesty.
Big mistake.