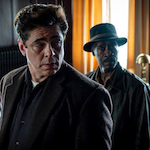 Like many citizens of the world, I love most of Steven Soderbergh's movies. Still, the nature of streaming services and the lack of urgency their releases seem to inspire in my brain have left me behind in his return-from-retirement period. I haven't seen the basketball one, the app one, the laundromat one, surely others.
But my favorite Soderberghs are the crime ones: #1 OUT OF SIGHT, #2 THE LIMEY, #3 the OCEAN'S series. And there was another one about a lady beating people up that I raved about for ten years, but that's on hiatus for a while. These are all very different from each other in most respects other than quality. But his most recent one was released straight to Home Box Office Maximum and although this review is very late I actually managed to watch that one right away. And I loved it.
NO SUDDEN MOVE is another new mode of Soderbergh crime picture. Maybe it's closest to THE LIMEY in tone: serious, with a high level of tension, but plenty of dry, dark, odd humor coming out of the characters and situations. Set in Detroit in 1956, it's the story of small time criminal Curt Goynes (Don Cheadle, THE METEOR MAN), recently out due to overcrowding, still disgraced in the underworld after whatever the fiasco was that got him busted. So it's either real lucky or awfully damn suspicious that someone he doesn't know – white middle man Doug Jones (Brendan Fraser, MONKEYBONE) – is offering him five grand for what's described as "a simple babysitting job" that will take three hours of his time. He doesn't have to know he's in a movie to have a pretty good hunch it'll end up being more complicated than that.
But he accepts the gig, and Jones drives him to pick up the two other guys. None of them know each other. Ronald Russo (Benicio del Toro, LICENCE TO KILL) has a racist tantrum about not sitting in the back with Curt, but the two have one thing in common: wanting to be sure this job is not for Frank, some guy they absolutely will not work for. The third guy, Charley (Kieran Culkin, NOWHERE TO RUN), is confident it isn't for Frank.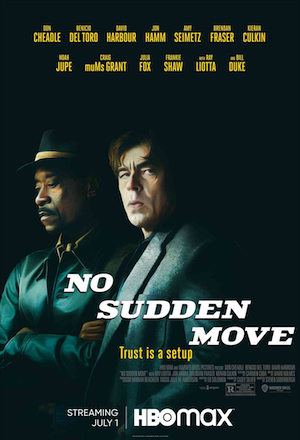 Next we meet the Wertzes – a white middle class suburban family getting ready for their respective days. There is tension in the marriage about fidelity, as indicated by Mary (Amy Seimetz, ALIEN: COVENANT)'s comment about Matt (David Harbour, A WALK AMONG THE TOMBSTONES) wearing cologne again, and his defensive response. She's about to pour a bowl of cereal for teenage son Matthew (Noah Jupe, FORD V FERRARI) when Curt, Ronald and Charley appear in the kitchen wearing old timey bandit masks, holding guns, and telling everybody to just act like it's a normal morning. It's a request the Wertzes all have difficulty fulfilling.
The goal: bring Matt Sr. to the workplace (General Motors) to steal a document out of a safe. If he doesn't get it, they kill his family. But he's got his own shit going on, so when he gets there his secretary (and mistress) Paula (Frankie Shaw, JAY AND SILENT BOB REBOOT) sees his freaked out face and is thrilled because she assumes he finally told his wife he was leaving her. No, sorry, didn't get around to it yet. Some things came up.
You know how these things go. All kinds of shit goes wrong, there are secrets, betrayals and drastic decisions made, people die. Curt and Ronald end up a reluctant team trying to navigate the new terrain, find out how to get these documents for themselves, get money for them, and not get killed. I love how gradually it slides from simple and straight forward to a whole lot to keep track of.
The family is lying to the police about what happened under threat from Ronald. Organized crime investigator Joe Finney (Jon Hamm, SPACE COWBOYS) doesn't buy it and keeps snooping around. Matt Jr. is pissed at his dad and doesn't want to play along. There are two different schemes involving a cheater planning to run out on their spouse after a big score, and two different crime families wanting to settle scores. Oh, did I mention that Curt has a book that could expose Bill Duke's entire gambling empire? Nice to see Duke in scary crime boss mode, wearing sunglasses for the entire movie except one part where he pulls them down. He knows to keep the sword sheathed until he needs it.
Believe it or not SPOILER the whole movie turns out to be about car companies colluding to cover up the amount of pollution they're causing and what they could/should be doing to lessen it. And it works! It's a cool crime movie that lets us have fun in that world, while also illustrating that these bastards are more honorable than the less cinematically interesting companies who run both the gangs and the cops in the name of legal capitalistic enterprise. Note that Duke is more lenient toward his data leaker than General Motors is. And that the big boss (uncredited) refuses to give Finney a cut, as if he believes he's a straight shooter following the rules and ethics guidelines. Hey, we may have doomed the planet, but we did it by the book. We're the good guys.
I get the impression some people were confused by those themes, but I thought they worked perfectly. To me it wasn't like KILLING THEM SOFTLY, which I should revisit some day, but at the time it felt like the political messages were very awkwardly grafted on. And it certainly isn't like some of the genre movies like, say, the new CANDYMAN, where being about a hot button topic is one of the selling points, and is directly explored in the movie in a way that some find didactic. I suppose you could compare it to CHINATOWN – here's this crime story, with a little mystery, and whattaya know, the villains and the motives happen to be relevant to today, because they've always been doing this and they've always gotten away with it. It makes the point well even though we just came here for some entertainment and we got what we came for.
This was one of the big Covid-era productions, with Mr. director-of-CONTAGION being one of the pioneers in figuring out how to do it safely. If not for delays it would've had Sebastian Stan, John Cena and George Clooney in the cast, but I'm not sure in which roles. Seems perfectly cast as it is, though. Cheadle is the stand out, acting older than I've seen him before (except maybe as Miles Davis), and talking, I felt, kind of like Delroy Lindo. Del Toro's performance isn't as much of a stretch from what he usually does but it's a reminder of how great he is – so much of the role could not have possibly been on the page, because it's so physical. I was laughing just from ways he was standing there or looking at people. He's so great.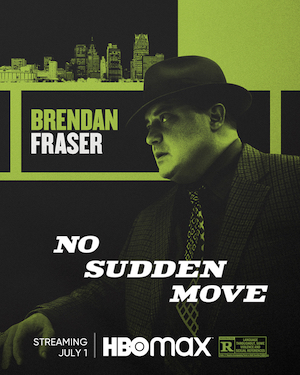 Also since I've been branded a Brendan Fraser skeptic due to my controversial mummy opinions I should note that it was really cool seeing him in this looking drastically different from how I'd ever seen him before, not knowing if that's more for the role or just what he looks like now, and just thinking he fit really well into this sort of casually threatening criminal middleman role.
It's not based on a book but it feels like it could be, which is a compliment. The script is by Ed Solomon, the same one that co-wrote the BILL & TED movies and MEN IN BLACK. He was also a writer on SUPER MARIO BROS. and does the NOW YOU SEE ME movies. I guess this isn't entirely out of the blue, though, because he wrote and directed that movie LEVITY, which was pretty serious, from what I gather. Anyway, he's done good work here, and I wouldn't mind if he and Soderbergh teamed up again.
(update: oh yeah, as Kit reminded me this is their reteaming after MOSAIC)