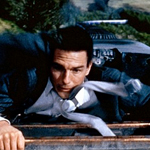 I don't know about you guys, but I have found that it's weird watching Brian DePalma's MISSION: IMPOSSIBLE for the first time since the 1990s. Tom Cruise sure doesn't look 52 now, but he does look a little younger here than he does now. I kinda forgot he used to be like this. More fidgety and cocky, kinda smarmy, playing it really different from in the other movies, because he's newer. His Ethan Hunt is not the leader, he's the apprentice of the original TV series hero Jim Phelps (now played by John Voight), forced to strike out on his own, without his mentor or his team, for the first time. Yeah, he seems much younger.
Holy shit, this movie is 19 years old. That's almost 20 years old. Which is alot of years in my opinion. And alot has changed. I forgot how different this series got over time.
I think MISSION: IMPOSSIBLE is unique among the summer blockbusters. It has a bunch of the usual qualities: it's a big movie star vehicle, based on an existing "property," climaxes in a noisy special effects-laden action spectacle, did end up becoming a franchise that's still going today. At the same time it is a Brian DePalma movie, it doesn't feel like he had to compromise anything. He got to take his style and his interests and experiment with them on a little larger canvas than usual. His gimmicky suspense sequences, twists and tricks are right at home with characters who elaborately deceive for a living. His POV shots put you right into the action when you enter a party as Hunt in disguise, but also they show up in the form of cameras actually worn by the agents to keep tabs on each other and, in one case, to mislead each other.
As in just about any DePalma picture there are several clever, suspenseful setpieces. One involves a great cross-section set so he can show what's going on inside, outside and on top of an elevator in one shot. Also he brings in his love of impalement. One character gets quickly but graphically impaled on top of an elevator at the beginning, and Hunt's neck ends up just barely not impaled on a helicopter turret at the end (much like the sundial scene in RAISING CAIN).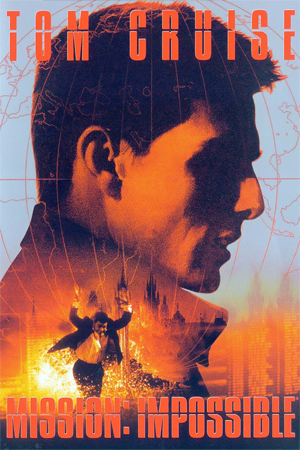 Alot of the greatness of DePalma is in suspense sequences that are almost like musical numbers in that they build to a crescendo and you feel like you oughta applaud when they're over. The obvious standout here is the famous CIA computer break-in scene. I love the way he builds to it, with Hunt telling his team all about how ridiculous this security system is, then cut to them heading to CIA headquarters disguised as firemen to the tune of Lalo Schifrin's great theme song (as covered by Danny Elfman). The plan turns out to involve a fake fire, poisoning, hacking, climbing through a vent, tricking a laser grid with mirrors and suspending from a wire without touching the ground. The room is so sensitive that a drop of sweat from Hunt's forehead almost busts him. And of course it drips onto his glasses and dangles there forever like a half-tipped bucket of pig's blood.
They have to do it in absolute silence, so the soundtrack gets so quiet you feel like you can't breathe or swallow. It's an idea he might've got from Jules Dassin's RIFIFI, but the heist itself is more like Dassin's more comedic one, TOPKAPI.
(Note: I wonder if maybe they shouldn't have a waste bin in the CIA's highest security vault. Seems like they wouldn't want anybody throwing anything out from there. But I'm glad they had it there for that guy to puke in.)
Another big sequence is a battle on top of a high speed train going through the Chunnel. That doesn't hold up as well since it looks very, very green screened (or probly blue screened). But it's still really well done, with Hunt and his prey climbing across the train with magnets while getting blown all over the place.
Even more thrilling in my opinion are the stunts DePalma pulls with cinematic language. The best is the scene where (19 YEAR OLD SPOILER) Hunt discovers that Phelps is still alive and discusses with him what happened when his team got ambushed and killed. Based on what Phelps says, Hunt talks through each step of the attack, saying what he knows is what Phelps wants him to think happened, but meanwhile we see flashbacks of what actually happened – or really what Hunt is determining to have happened, since some of it we see different versions of as he considers the possibilities. Then, when Ethan asks why Phelps' scapegoat Kittridge (the old timey looking Henry Czerny) would do something like that, Phelps offers a motive for him, of course transparently admitting what his own motives are. It's a beautiful triple backflip of a reveal scene.
You know, despite the big helicopter explosion and the cool mask gimmick and everything this is also notable for many quiet and thoughtful moments. I was surprised by the scenes of him alone in the safe house quietly typing into a laptop, doing searches, finding contacts on Usenet! Very dated computer shit, of course, and not very realistic, but honestly not as exaggerated as computer shit in many movies. There's not a bunch of crazy animations, and were there the usual beeping sounds? I don't remember noticing any. And being the early days of internet prominence there's an excuse for more close quarters hacking – stealing a zip disc, jamming the signal on a nearby laptop, stuff like that is pretty cool.
There had already been many '90s movies based on old TV shows: THE ADDAMS FAMILY, THE BEVERLY HILLBILLIES, CAR 54 WHERE ARE YOU?, MAVERICK, THE FLINTSTONES, LASSIE, THE BRADY BUNCH MOVIE, SGT. BILKO, FLIPPER. I guess this was more like THE FUGITIVE, a serious action-adventure type show attempting to be reborn as a modern, kinda respectable studio action movie.
I like that it's not entirely a straight remake of the show, it's also an extension of its concepts. Like, that famous tape that will self destruct, it always said that "the Secretary will disavow any knowledge of your actions" if they're caught or killed. Well, here's what happens when he gets disavowed. And when he needs help to save himself from the agency, what does he do? He goes to a list of the disavowed. People with special skills, but a need for work, and possibly a chip on their shoulder against the agency. But also, possibly, not trustworthy.
Hunt represents a new generation of Impossible Mission Force agents. He often wears black t-shirts and leather jackets while Phelps, Kittridge and the agents trying to catch him wear suits and ties that could pass for the era of the original show. DePalma (with a script credited to David Koepp [I COME IN PEACE], Steven Zaillian [AMERICAN GANGSTER] and Robert Towne [TEQUILA SUNRISE], reportedly based on a draft by Gloria Katz & Willard Huyck [HOWARD THE DUCK]) doesn't look fawningly at the cloak and dagger Cold War fun of the series; he takes the more '90s approach of depicting blowback for their activities. Using the original show's hero as the villain is not only a surprising plot twist, it's a statement. Back then spy shit was fun and glamorous, now we're more aware of the messes it causes, and the consequences of training people with deadly skills and then running out of things for them to do. The guy that was the hero back then is now willing to betray everyone because he's not getting paid enough. Times are tough.
I remember hearing that people who grew up on the show were outraged by that twist, and I read that the cast of the show were pissed about it too. Apparently they tried to get Peter Graves to come back as Phelps, but he refused to do it because of the (what wrestling fans call a) heel turn. Being only slightly familiar with the show I didn't get it back then. Now I can understand now why it would be upsetting, but of course I can also appreciate that DePalma wasn't looking at it from this modern idea of giving the fans what they want and doing a faithful adaptation. He was looking at it as a way to use this story to say something about this world. And also to surprise you by doing the one thing you wouldn't think they'd have the balls to do. In a standalone movie the old mentor would be pretty easy to guess as the mole, but when he's supposed to be the star of the TV show? They'd never do that. Would they?
So that's how it's faithful to the show: in it's willingness to really pull one over on you. You start out feeling like you're watching your classic Mission: Impossible scenario. A team of experts going in in disguise to pull off an elaborate ruse. I particularly like the way one character pretends to be putting on perfume, but really is spraying the back of the mark's head for heat vision so they don't lose him in the crowd. It's all going as expected and then, whoops, almost the entire team gets slaughtered. Now all bets are off.
Here's one 1996 movie that holds up. Real solid entertainment by Palm-Palm, as I believe he prefers to be called, I read that somewhere I'm sure.