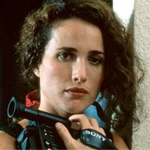 SEX, LIES, AND VIDEOTAPE is a very divisive movie among copy editors who argue bitterly about its use of the Oxford comma in the title. The rest of us agree it's a solid debut for writer-director Steve Soderbergh.
It's a story with basically four characters. We've got Ann (GROUNDHOG DAY's Andie MacDowell), a somewhat troubled stay-at-home wife who opens the movie talking to her therapist (okay, I didn't count him in the four) about her worries, about her husband not touching her, and about her belief that sex is overrated, not that big a deal.
Then we've got her husband John (STEP UP REVOLUTION's Peter Gallagher), a pure '80s character because he's a lawyer who wears suspenders and "just made junior partner" and he's real proud of himself and a total douche.
And we've got Ann's younger sister Cynthia (Laura San Giacomo), who is much wilder than Ann and sort of rebels against her and also is fucking John.
Lastly we have Graham (CRASH's James Spader), an old friend of John's who he hasn't seen in nine years but he's back in town and John is letting him stay at the house briefly while he tries to find an apartment. Graham is the individualistic non-conformist cowboy drifter loner artistic beatnik rebel who sweeps through their square lives and changes everything forever. And he does it merely by being a pervert who can't get a hard-on and owns a Hi-8 camera. (read the rest of this shit…)