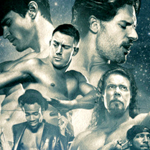 MAGIC MIKE XXL is a movie about a group of musclebound dudes going on a road trip together to enter a big competition. Along the way they pick up girls, get drunk, get high, meet new friends, reunite with old ones, repair old wounds, learn lessons, fall in love, get laid, confess vulnerabilities, get in a wreck, go to a hospital, all the things you would expect. And yet it feels one-of-a-kind in its attitude.
Like the first MAGIC MIKE this stars and was produced by Channing Tatum, inspired by his past as a "male entertainer," or stripper, and written by his friend Reid Carolin. People don't seem to remember this, but Tatum was kind of the co-lead of that first movie, trying to get out of the game while showing the ropes to The Kid (Alex Pettyfur), who ends up becoming a drug addict, turning the fun times into a cautionary bummer. I liked the movie but the sequel is significantly better for ditching The Kid and focusing on Mike taking a vacation from his designer furniture company to get in a food truck with the boys and take One Last Ride to Myrtle Beach.
The team is no longer led by Matthew McConaughey as Dallas. That sounded like a problem when the news first got out, but it's actually an asset. With his character no longer there to absorb all your attention the movie gives way more shine to the other dancers, especially Joe Manganiello (SABOTAGE) as the towering, abrasive but large-hearted doofus Big Dick Richie, and Matt Bomer as the eyebrow plucking pretty boy Ken, who reveals a funny New Agey side. Like all of their eccentricities they tease him about it but also accept it. True friendship.
The wrestler Kevin Nash returns as Tarzan, who still has minimal dialogue but is a funny and lovable presence just standing around looking real earnest about this stripper shit.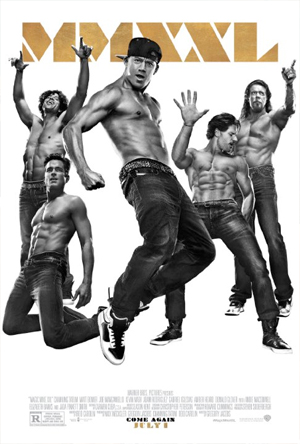 Alot of people deride the idea of "bros" – men with certain stereotypically masculine traits, often including sports fandom, affinity for high fives and casual sexism. These boys fit most of those, but they're enlightened bros. What makes the movie so unique is its effortlessly respectful, even worshipful view of female sexuality. It's all about men taking very seriously their profession of titillating women of all types. There are scenes of dancing for women young and old, small and large, various races, and the women's pleasure is always celebrated, never mocked.
These guys watch other men dance for women with a professional interest, admiring their craft, later discussing it with them, complimenting them, in some cases collaborating with them. It's adorable. (On the other hand there is one big laugh from Dick Richie's look of outrage on behalf of the artform when he peeks through the curtain at a TWILIGHT-themed routine that's going over like gangbusters. I think that's the only time they look down on anybody's stripping.)
There's a scene where they all end up in a living room with a group of older rich women who have been drinking wine all night and feel unappreciated by their husbands. Dick and Ken are off the clock but decide to use their professional skills to make these women feel beautiful and appreciated. Ken even surprises everybody by singing to one of them. Again, it's an amazing scene because movies just don't do this. Normally this scene would be played either as them taking advantage of the uptight old broads by rocking their world, or ha ha these guy's'll fuck anything that moves or something like that. But MAGIC MIKE XXL plays it as them sincerely using their talents to give these women well-earned pleasure and happiness.
When it comes to the dancing there's a sense of joy of movement that brings Tatum back to his STEP UP roots. Of course these dances have more emphasis on six pack abs, dry humping, faces in crotches (and vice versa), and spraying of various liquids and foams to simulate ejaculation than the ones in STEP UP. This is definitely a movie designed to be enjoyed by people who appreciate looking at men, especially muscley shirtless ones, and I have to admit that my instinctive discomfort with that may have contributed to me not getting around to seeing this in a theater. But these guys set a good example by having no qualms about that shit, because they're professionals. They even go to a gay club and spontaneously enter a dance competition just for a fun night, and there's never a wince or a hesitation from any of them, even their non-dancer MC played by Gabriel Iglesias. They know who they are. They don't give a fuck.
Anyway, one great scene has Mike in his workshop making furniture and he finds himself improvising a suggestive dance all over the equipment. He misses it. Once he's back in the fold he encourages the others to put more of themselves into this last routine, so it becomes an act of personal expression with all of them contributing to the show using their individual talents and passions.
This could do for stripping what TOP GUN did for the Navy. I wonder if they had Chippendales recruiting tables in the theater lobbies.
During their journey they run into a couple different actors that I didn't know were gonna be in the movie, so I won't mention them, but it's a good cast giving high level performances. In one scene, at a primarily black club where Mike used to dance as "White Chocolate," a dancer comes out dressed just like him, and dancing just like him. I thought it was leading to Mike being upset that someone was biting his style, but then you see him smiling, and talking to the guy afterwards. I actually started to wonder if I imagined it that that guy was like the black Magic Mike, because nobody comments on it. But then in the finale they dance together, doing a mirror routine. Even better, his doppelganger is played by Stephen "Twitch" Boss, one of the stars of STEP UP 3-5 (the ones that Tatum isn't in).
MAGIC MIKE was directed by Steven Soderbergh, who retired from directing movies shortly before XXL was made, so the job went to Greg Jacobs, Soderbergh's first assistant director on over 20 movies starting with KING OF THE HILL. (Jacobs also directed the NINE QUEENS remake CRIMINAL and a ghost movie with Emily Blunt called WIND CHILL.) But it looks like a Soderbergh movie because guess who was director of photography and editor? Well, Peter Andrews and Mary Ann Bernard respectively, but both of those people are Steven Soderbergh. So here you got this comedy about male strippers and it looks gorgeous. There's a scene that takes place on a beach at night, and Soderbergh shoots Tatum and Amber Heard in the dark with just a line of bonfire light reflecting along the edge of their faces, it's spectacular. It seems like he got excited, he didn't have to direct so he could really concentrate just on how to shoot it.
This is a funny, positive, enjoyable movie. There are no bad guys in it, not even opponents really, in fact I couldn't remember by the end if there was even supposed to be a prize for winning the convention. Instead it's about friendship and self expression and making women happy. I loved it.
This entry was posted on Tuesday, November 3rd, 2015 at 12:29 pm and is filed under
Comedy/Laffs
,
Reviews
. You can follow any responses to this entry through the
RSS 2.0
feed. You can skip to the end and leave a response. Pinging is currently not allowed.