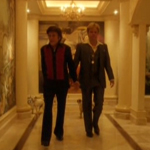 BEHIND THE CANDELABRA is Steve Soderbergh's one last big score before retirement. In some countries it played in theaters, but here in his home country it went straight to cable. Why? The Man obviously didn't get how contemporary this story is even though it takes place in the '70s through early '80s.
It's about this young working class guy, animal trainer, orphan (Matt Damon, THE BOURNE IDENTITY), one day he and his buddy (Scott Bakula, COLOR OF NIGHT) hit Vegas together, turns out his buddy knows this super famous musician guy (Michael Douglas, Streets of San Francisco), they get to hang out backstage, next thing you know he gets a job with the guy, gets to be in the crew, his posse, his entourage, like in the show Entourage (I don't know, I haven't seen it, but I figure I got a good guess what a show called Entourage would be about).
I mean, he's not just some roadie, he's his #1 guy, going on stage with him, basically like his hype man, or like the guy that used to hold the umbrella for Puffy, or the guy that took off James Brown's cape for him. Look at this shit, he drives him out on stage in a jewel-encrusted limo: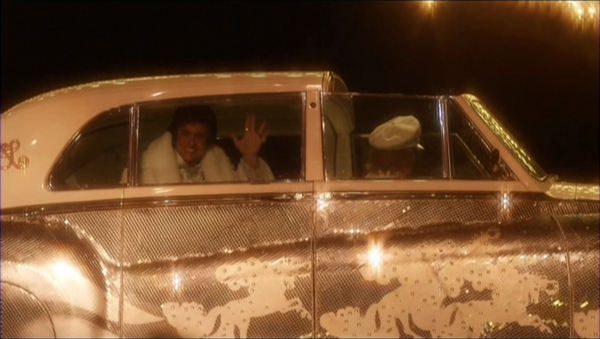 That's how he comes out on stage! He's all about showmanship. His piano is blinged out too. And the titleasticle candelabra is what he has on top of his piano. A fancy set up. And he kinda dresses like Prince, actually: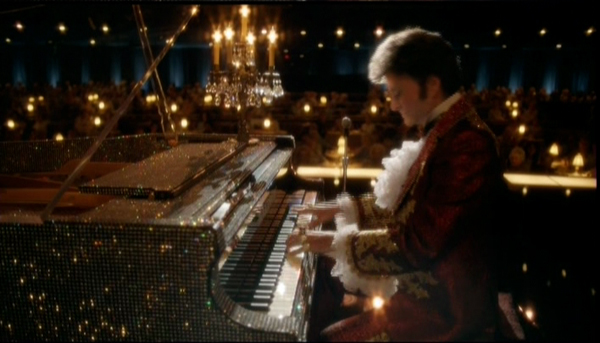 Anyway, Damon's character Scott gets to be a part of show biz, go along for the ride and hang out, just like all these rappers getting their buddies paid, going on tour with them. It's a great opportunity for a young man to have a fun time and live it up.
It's about this world of glamour and materialism, he gets a Camaro and a bunch of fancier cars, his own place with a pool and shit, and drugs.
This piano player guy Lee Liberace, he's practically Scarface, he pulled himself up from the streets, playing saloons, proving himself, building this empire. He's what modern society calls a total pimp. He drives around in these cars, he has his name on everything. Fur coats, diamond watches, all kinds of huge rings, rhinestone capes, sitting around in hot tubs sippin champagne, the total Cribs lifestyle. Or Super Fly. This could be the unofficial part 4. The Rise of White Super Fly. Or SPRING BREAKERS 2. He doesn't have to say "look at my shit." He knows you're gonna fuckin look.
And Soderbergh, as director, cinematographer and editor, showcases the shit out of all of Scott and Liberace's shit. There's the cars: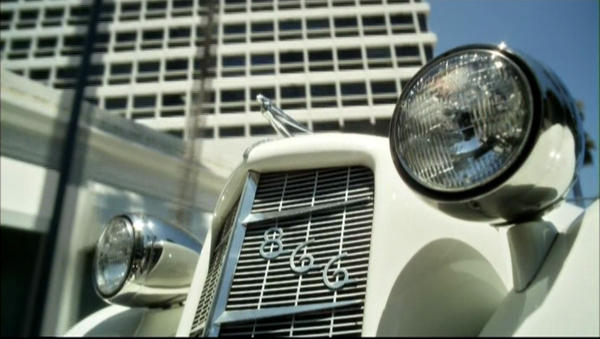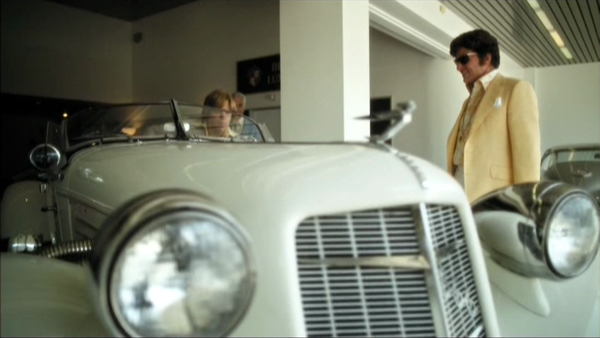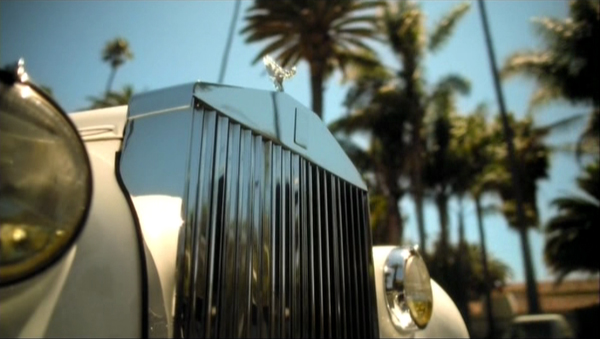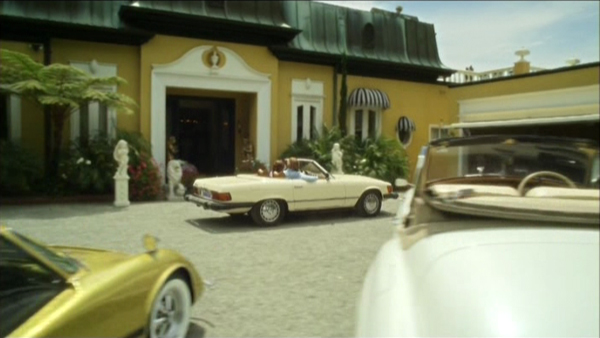 The jewels: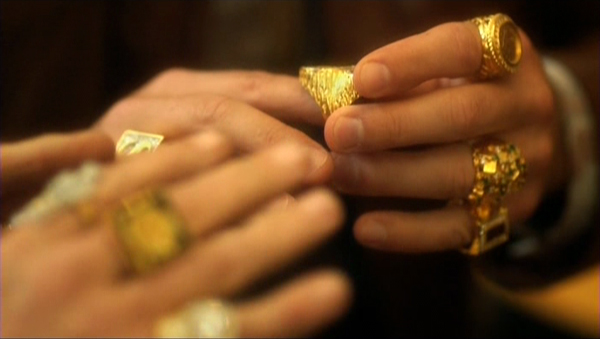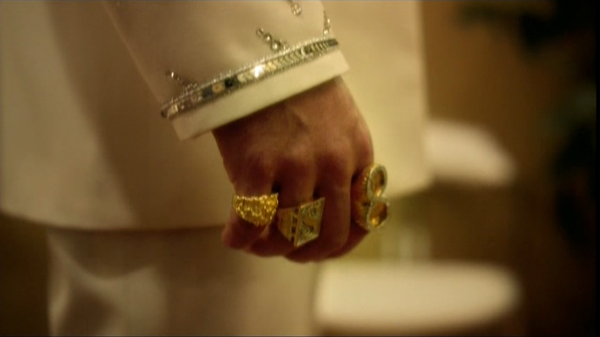 He's got the gate with an "L" on it: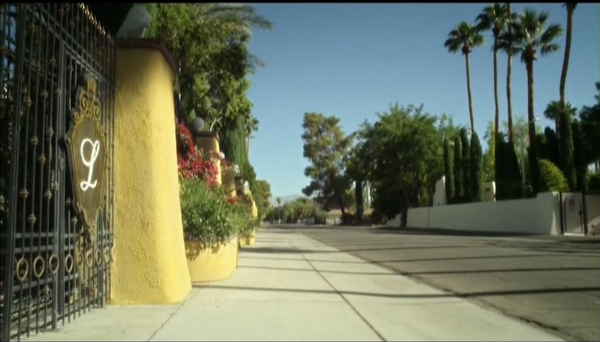 And the pools: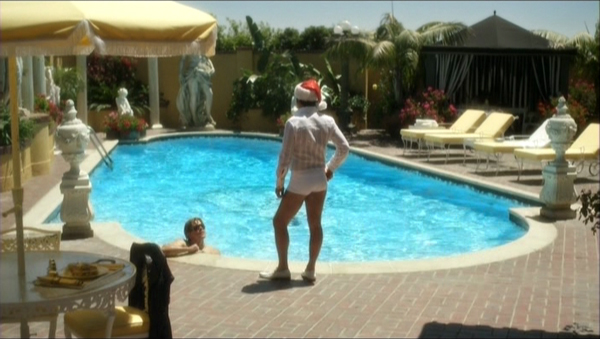 I'm actually not sure how they got all these properties with the over-the-top decorations from that era. Seems almost too expensive to fake. They have long shots going down hallways, these seem to be real places. Liberace's tastes are not subtle. This one seems to have the Sistine Chapel ceiling recreated in it. But with chandeliers hanging in the middle. Sorry Michelangelo, I know you worked hard on that part but we gotta bolt some lights on there.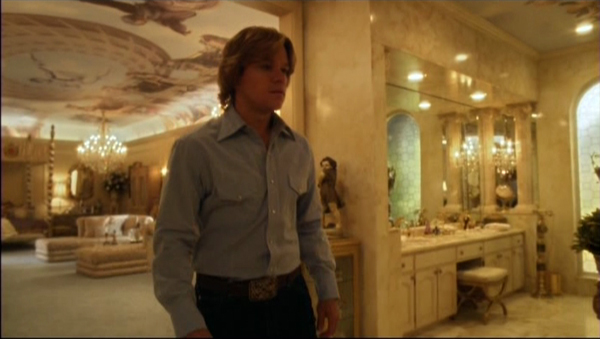 I know he's playing piano, it's a really different style of music, but he is living the exact life glamourized by all these rappers from the '80s until now. Riding around in a limo on the Vegas Strip, having some drinks, some coke, wearing furs: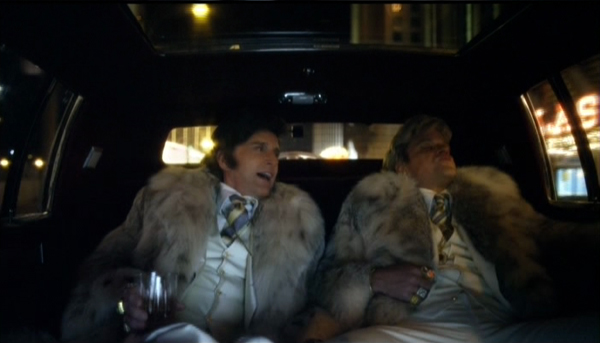 The opulence, the hotel suites, the Lear jets, everything. It's just some dudes hanging out together you know, living like hustlers, kickin it V.I.P. style. I mean, it's weird that there aren't any women around, except sometimes Lee's mother Dora (Debbie Reynolds).
You know what, going back through the movie again in my mind it is possible there were some things going on that maybe I should've been able to put two and two together, maybe I can see why some of the rappers and Scarface worshipers wouldn't be entirely comfortable with some of this. There is alot of buttfucking for example, it is definitely in my opinion about gay men in retrospect and there is some homophobia in that world. But I mean, check out the fur coat.
Written by Richard LaGravenese (THE BRIDGES OF MADISON COUNTY), this is a really entertaining look at a crazy life. It's funny and sad and uncomfortable. Lee is an asshole with a tendency to have a relationship with these young guys and then replace them with a new one after a couple of years. He's kind of a spoiled brat, he's built this success through hard work but now feels it entitles him to treat people poorly when they don't fit exactly into his dream world. But he's still likable, sympathetic and tragic. Not just because he gets sick (SPOILER), but because he's stuck in this weird place where he wants to be his flamboyant crazy self but occasionally runs into the larger world where you have to hide that you're gay.
I mean, he gets away with alot of it though. One of the biggest laughs is Damon first seeing a Liberace show in Vegas and realizing that the straight audience doesn't understand how gay it is. It's a little sadder when you see his memoir, where he talks about his many loves, all women.
And it gets creepy-weird too. He tries to trick Scott into getting plastic surgery to look like him, and also tries to adopt him. Those are two big relationship no-nos in my opinion. Trust me on this, fellas.
Douglas is fantastic in the role, a good imitation and dramatic performance that happens to be an effeminate spin on the usual Douglas good-guy-prick type of character. And, as is often the case, Damon gets even more heavy lifting as the straight man, so to speak. He goes through more of an evolution from everyman to entitled douche, both mentally and physically. He kinda earns what he gets, but it's still sad to see this:
Something tragic about a sweaty man angrily drinking champagne alone in a bubble bath. Ultimately all this luxury doesn't make either of them very happy.
The movie is briefly stolen by Rob Lowe, with hilariously terrifying pinched face, as a plastic surgeon, drug pusher and terrible influence on both of these characters.
You might say this isn't a musical biopic, because it all takes place late in the game, after his success. There are no montages of newspaper headlines and chart positions. No make-or-break meetings with important industry people. Information about Liberace's life and career are worked into the story, but as backstory. Still, it's a very musical movie, with tons of real Liberace pieces worked into the last score by Marvin Hamlisch. Makes it real bouncy and upbeat.
You guys I'm not saying it's as good as SCARFACE or SUPER FLY, but it's better than most.