What was the STEP UP saga missing before? Bikinis. The series began in Baltimore and in part 3 it continued into breakdancing's birthplace, New York. Part 4 here is Assignment Miami Beach. We take up with a new set of characters, a group called The Mob, who stage ridiculous "flash mob" dance numbers as part of a Youtube competition to be the first dance crew to get 10 million hits. But when an out of town developer (Peter Gallagher, CENTER STAGE) plans to demolish their predominantly Latino neighborhood and replace it with a resort, they decide it's "Enough performance art, time for protest art."

Not that their performance art was lacking. Of course you all remember the great opening of STEP UP 2 THE STREETS, where a small group covertly executes a subway dance performance like it's a heist, then flee from the police and are reported on the news like they're terrorists. REVOLUTION takes the same concept but makes the attack epic: they block an entire street and do a huge number with cars bouncing on hydraulics behind or sometimes under them. They have a mobile DJ and a hidden camera and a tattooed street artist who leaves their calling card logo spraypainted onto multiple planes of glass. It's an odd way to paint a tag, but a good way to do it in a 3D movie.
The STEP UP movies are always a celebration of multi-culturalism, but with an over-emphasis on the white characters. At first glance this is no exception, since it seems like the only two white guys in the whole dance crew are also the main characters and founders. Why couldn't one of them be Jason (Stephen "Twitch" Boss), a part 3 Pirate who moved to Miami and joined The Mob? I don't know, but in the movie's defense it turns out that the traditional bland white hunk lead Sean is named Ryan Guzman and is actually half Mexican. (Best friend Eddy is white, but I guess this actor Misha Gabriel was gonna be a backup dancer for Michael Jackson's This Is It shows, so I gotta respect that.)
Sean and Eddy are part of the servant class in a tourist town, waiters who are treated shittily at a resort hotel. They spend most of their non-dancing time at a local bar, where the owner Ricky (Mario Ernesto Sanchez, MIAMI VICE [movie and show]) gives them free drinks and is sort of a father figure. He's been a fixture in the neighborhood for years but he only rents, so he can't stop having his life destroyed by fuckin greedy Peter Gallagher. I bet if they ever made CHEERS: THE MOVIE it would have kinda the same plot. Sam (Bradley Cooper), Norm (Kevin James), Carla (Charlize Theron in makeup) and friends would have to come up with a scheme to save the bar from getting demolished and turned into condos.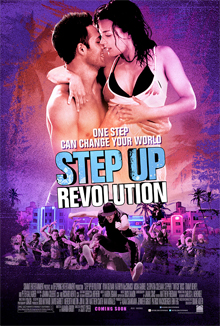 Of course there's always a love story, so he falls for this girl Emily, who turns out to be Gallagher's daughter. (The daughter of the Peter Gallagher character, not of the comedian Gallagher.) Kathryn McCormick apparently was a contestant on the "you think you dance" game show, which explains why she's the first female lead in these things who's not quite passable as an actress. She looks a little like Eliza Dushku and talks like Megan Fox. I have to admit that one of the many aspects of these movies that I enjoy is the purdy ladies, and at first I thought this McCormick was a pale shadow of the lookers in parts 1 and 3 and the cute tomboy girl in part 2. But as soon as she started dancing I got it – her hotness level increased dramatically. Her ballet-derived style has an aggressive emphasis on booty, hip, thigh and crotch, which are all good female areas to be shown in 3D in my opinion. And the guy takes his shirt off enough that I'm sure people who aren't into the ladies will be happy too.
Okay, that last paragraph might've been semi-inappropriate, but I think it's something these movies really show is that dance is sexy. These people all seem alot more attractive after you see them dance.
Alot of the traditional STEP UP themes are here, sometimes with interesting new spins. The love story mirrors part 1, with the boy a trouble-making street dancer and the girl from an uptight rich family whose widowed parent doesn't want her to dance so she must succeed in an elite ballet program in order to become professional right out of school and not have to get a real job. But this time neither tries to influence the other's style. In part 1 his schooling interfered with his friendships, in parts 2 and 3 school interferes with dance battles. This is the first one that doesn't make that an issue. Like in other STEP UPs, everybody has a parent who died or left. Sean even has a niece who doesn't seem to have a dad around. And as always there's an uptight authority figure who is moved by the dancing at the end. And there's a best friend who's weirdly possessive and jealous of the main character for having a girlfriend. That's another nod to part 1.
For the first time since part 1 there is not a rival dance crew. That makes it different but it gets kind of old how every dance scene has to keep cutting to the onlookers standing and watching, looking shocked and outraged, then impressed. You start to miss seeing the other team cross their arms and look mad. But at least it doesn't promote poor sportsmanship like the last two installments.
It has part 3's character-who-is-secretly-related-to-rich-bad-guy-and-that-causes-tensions-later. This time it's not a surprise to the audience or the lead, just to everybody else. That was on the check list I made with some friends of things we were hoping would occur in the movie. Not checked on the list were a character saying "I'm out" before leaving, a line I noticed in all three previous ones. Or "I'm gonna bounce," which I think was in the first two. "Reference to Pirates dance crew" and "return of characters from previous movies" were checked off on our list though. And I should've had "main character demonstrates skills in traditional ethnic dance style" (salsa again).
You know how in corny Hollywood movies, especially romantic comedies, the characters are stupidly dishonest about something just for dramatic purposes, and you wonder why they don't just do the right thing from the beginning? Like, the dude's falling in love with this girl, he better tell her he lied about such-and-such, but instead he waits until the climax so the girl can find out and break it off and he has to chase her to the airport and perform a lip synch or some shit to win her back but he wouldn't have had to lower himself to that if he would've just told her the truth at the beginning like a sane person? Well, STEP UP REVOLUTION cleverly has two different instances where before they do the typical Hollywood thing a character suggests doing the right thing but is shut down. Emily immediately tells Sean that they have to tell the rest of The Mob that she's the daughter of the developer they're trying to fight off, but he talks her out of it. When Eddy finds out the truth, Jason immediately says they should call Sean and ask him about it, but Eddy says "No, I have a better idea." And then goes and does a much worse idea. I thought that was kinda clever.
There hasn't really been a revolution in the series, but there's been a regime change. Jon M. Chu, director of 2 and 3, moved over to the Films Adapted From Toys division to do GI JOE 2, leaving in charge Scott Speer, a guy who did episodes of Chu's LEGION OF EXTRAORDINARY DANCERS web-series. Like the other sequels it's a male director working with a female screenwriter (rookie Amanda Brody), after part 1's female director, male/female screenwriting team dynamic.
But it's different. Speer isn't bad, but he's no Chu. Chu took an endearingly corny dance drama and turned its sequels into something alot more fun: an increasingly absurd, knowingly silly series with appealing leads, great photography and elaborate, cleverly gimmicky dance numbers. Speer seems to be trying to capture elements of all 3 previous installments. This has the "flash mob" obsession of part 2, the absurd elite team of experts of part 3 (The Mob includes a hacker and a parkour unit who "do all our stunts") and, thankfully, the more elaborate dance numbers.
But the main story seems a little serious, like part 1. It feels more like you're laughing at it than with it as they keep talking about dance being their "voice" and a news report says "Every indication is that the video has gone viral" and things like that. I mean, I'll take it, I get a kick out of it, but it's a step down from the last step up. No pun intended. Yes, truth intended.
One major thing missing is the REVENGE OF THE NERDS aspect that Chu introduced by putting together a crew of the school's unpopular misfits in part 2 and then continued in part 3 by turning gawky sidekick Moose (Adam Sevani) into one of the leads. Now it's back to just pretty people, a-movie-about-Miami-Beach-people. Some of the favorite characters from 2 and 3 do return here, but only in cameos, with disappointingly short dance sequences.
But I can't complain too much. This is a movie where dancers disguise themselves as statues in an art museum, dance up and down a wall using bungee cords, scrape metal batons against the pavement to spray showers of sparks, do the robot while impersonating police officers and eating donuts (homage to ROBOCOP?), combine the art of dance with gas bombing rich people at a rooftop party. And even though nobody says "I'm gonna bounce" there is alot of literal bouncing: on the hydraulics, on pogo-stick legs like those guys used in RAGING PHOENIX, on a trampoline. You know, for the big show they gotta call in a couple of their best trampoline punks for extreme trampolining.
As always in these movies the music is terrible, hyperactive megamixes of hip hop the kids probly know (plus one Busta Rhymes song), chopped into bits and drowned in electro blurps and farts to the point of self-parody. But the dance and the costumes and everything are equally tacky and overblown and that's part of why it's great to watch.
Traditionally a STEP UP has a Felicity-style sad-song-by-female-vocalist montage, but this one seemed to have a couple too many. But there's some good chuckles in the melodrama. For me the highlight is the climactic moment when The Mob have successfully infiltrated the ground-breaking ceremony and basically put on a multi-disciplinary performance with a variety of themes, styles and feature performances by out-of-town guests. Then everything gets quiet and Sean convinces Emily to join him on a platform to perform the romantic duet they'd practiced that she'd meant to do for her big final that she'd blown. It's her moment to shine, to share the art that she'd poured herself into, to reunite with the boy she'd broken it off with, to prove to herself that she can still do it, to prove to her father that she should keep dancing. But the dance involves them bumping and touching and sliding and gyrating and dipping and ends with his face between her breasts.
At the end Peter Gallagher is in tears and he might as well say "Son, I want to thank you for dance-fucking my daughter 2 feet in front of me. You've changed my mind about everything." Instead he just says the "changed my mind" part without acknowledging the highly sexual nature of the dance. This is arguably an even more horny dance style than what used to be considered THE FORBIDDEN DANCE, or DIRTY DANCING. Now I guess it's what you do to get the girl's dad on your side. Janet Jackson's boob on the Super Bowl, what have you wrought?
And the main message of the movie is very corny, but also kinda nice. They learn to use their art to express something that's important to them, and through it they teach the developer that a neighborhood is not just land and buildings but a place where people form into a community and a culture. And I guess that's not just a message to the developer but a reminder to themselves of what's important to them and what they're good at. (Mostly bouncing.)
But moments after making this heartfelt plea the movie ends on a laughably sour note by having The Mob sell out to Nike! They've accomplished all of their goals and that should be enough but then they have a character out of the blue offer them a deal to do a commercial for Nike and they don't even hesitate, they act like it's what they've always dreamed of.
Every time I watch STEP UP 3 (which I have to admit is three times already) I regret that I didn't see it in 3D. I heard it was great and I know it had to be because it's full of balloons and bubbles and Slurpee floating on air currents and splashing water and dances in levels moving toward the camera, big emphasis on depth and on outward movement (extending arms, lifting a dude up in a Superman pose, anything that sticks out of the screen). So I knew I couldn't miss this one in 3D.
On a technical level it's good 3D because they use the real cameras, but it doesn't seem as carefully staged for it as part 3, or as eager to take advantage of the medium. There's some sand thrown at the camera in one part. Some chalk blown at it later. I wouldn't list this in my all time best uses of 3D. I liked the butts, though.
It's a weaker entry in the STEP UP saga, but a must-see for all STEP UP see-ers.
POST SCRIPT: ideas for future installments
At the downtown theater they only have three 3D showings of this per day, and there still weren't that many people there when I saw it the day after it opened. So it might be naive to expect a part 5. But fuck it, I'm using the secret. There will definitely be more. They gotta do at least as many installments as SAW to balance the universe, preferably more. Here are some approaches they should consider:
1. FAST FIVE approach. Bring back characters from all previous installments. Getting Channing Tatum to return would be a big coup now. Then they gotta have Moose and the robot guy and the girl from part 2 and maybe the artist and DJ from this one and some others. If they need a The Rock equivalent then how bout somebody who used to breakdance or who appeared as an extra in BREAKIN' but is now famous, such as Vin Diesel or Jean-Claude Van Damme.
2. There's a certain character who cameos in this one just because somebody calls him up and he says "Yeah, what do you have in mind?", shows up, dances a little bit, then talks to the bad guy and tries to charm him into changing his mind. Whether or not this character ever returns as a lead I think he should always be called in at the end to talk to the bad guy.
3. STEP UP APOCALYPSE would obviously be MAD MAX with dance battles. Or, remember before BLADE TRINITY David S. Goyer used to talk about how part 3 would be a post-apocalyptic thing, the vampires had won, and Blade is on his own fighting, trying to survive. But I AM LEGEND was in the works so he thought it might be too similar and did the less good version instead. Well, now I think the time is ripe, just take his plot outline, search and replace "vampire" for "dance" and "Daywalker" for "Moose" and you'll be set. Give Goyer the "story by" credit so you can say "from the writer of THE DARK KNIGHT" on the trailer.
4. There's always that POINT BREAKIN' idea I had.
5. Underwater
6. Revenge movie. Channing Tatum or somebody has to come out of retirement because somebody defeated his foster sister in a battle. He has to enter a high stakes underground dance tournament, the Kumite of dance.
7. STEP UP 5: MISSION BURMA. Ty will have the vandalism charge wiped from his record if he agrees to lead a special ops dance crew into Burma to rescue the hostages. Moose gets to use both his engineering skills and his Michael Jackson moves.
8. If they ever do the "in space" type of sequel they should call it STEP UP: ZERO Gs. And do some actual gravity-free dancing in the vomit comet.