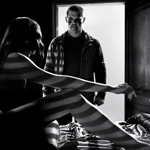 I'm not saying I liked SIN CITY: A DAME TO KILL FOR exactly, but it wasn't as bad as reported. Considering that its two directors' last films were THE SPIRIT and MACHETE KILLS, which I would consider among the worst things I've ever paid to see in theaters, this almost seems like a real movie.
It has all the same problems as the first SIN CITY without the novelty of being a weird new approach to a comic book adaptation, and with very little technological or stylistic advancement considering it was done 9 years later. But I think maybe things bugged me about the first one that people overlooked at the time and now are having a problem with, so they're being harder on it than me. I don't know.
The thing that's original about the SIN CITY movies is also what's hardest to swallow about them: they're sleazy crime stories that take place in a fakey live action cartoon world. Settings are green screened more often than not, often with distracting visual gimmicks (certain things in color while most are in high contrast black and white, objects sometimes painted over solid white to look like drawings), and a couple characters (notably Mickey Rourke's returning palooka Marv) wear goofy looking latex makeup jobs to look like the drawings in the comic book. Rourke finds himself standing sideways in many scenes because the fake nose looks better in profile, more like the drawings and less like an effects team trying to build their own Robert Z'Dar.

There's not as much of that in this one, fortunately, but there's one guy that has a giant round head as big as a medicine ball. And apparently it was Stacy Keach under there. Weird. As if he doesn't have a cartoonish enough head for this world.
In 2005, when part 1 came out, Frank Miller (who wrote and illustrated the comic book, and co-directed both movies with Robert Rodriguez) was a revered figure among comic book people. They were excited about his participation and about the movie's (I think overly) literal adaptation of his work. But then time went on, some of the novelty wore off, not one single person liked his solo directorial work, some of The Nerds may have objected to 300 (also based on his comics) being embraced by their historical enemy The Jocks, Miller made very conservative statements in interviews that made people question whether they'd been misinterpreting his text as subtext, and the so-called "gritty" approach to comic books people associate with him started to fall out of favor.
What I'm saying is part 2 hasn't changed much from the first one, but the world around them has. The viewers and their expectations have changed, so they see a pretty-much-the-same sequel as a huge decline. Which is fair. The march of progress.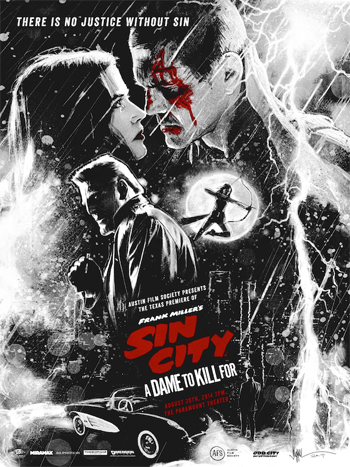 But I kinda liked the first SIN CITY at the time and I think some of what I enjoyed about it can also be enjoyed in this one. For what it's worth it's a singular vision. I got problems with its visual approach, but I appreciate its dedication to its macho world. In (Ba)sin City men are either anti-heroes on a noble mission from the gutter or total pigs abusing everybody else. They are grizzled, scarred and tough as nails or sweaty, corrupt and depraved. They all spend most of their time in the same strip club, either drinking away sorrows in the front while Nancy (Jessica Alba) dances in a cowboy outfit or playing high stakes cards in the back while she watches through a hole in the wall thinking about shooting them.
The women aren't much better. They're strippers, hookers or gold diggers. if they're not a victim or a femme fatale they're an Amazonian dominatrix. The women of Old Town are self-employed prostitute ninjas who guard their neighborhood from the roof tops and alleys with machine guns, arrows and swords. It's a crazy reversal of the old '70s and '80s movie trope where if a woman goes to a certain part of town she'll be immediately set upon by bands of raping punks in denim vests, headbands and spiked bracelets.

There are two pretty protagonists; both must be uglified before they can be heroes. Joseph Gordon-Levitt plays a slick young gambler with a secret vendetta, he receives a busted face and the most thoroughly mangled fingers I've seen in a movie. He has to have a dope-shooting Christopher Lloyd splint them with used popsicle sticks. Nancy, who was also the little girl who Bruce saved from kidnappers in part 1, now plans to avenge his death. But first she knows she has to cut off her hair, carve open her face and stitch it up like a cartoon Frankenstein.
To be frankly honest I like these stories, and I think they fit well together. It's only the style that keeps me from fully digging the movie. I get invested in what's going on and then all the tension is leading up to a silly car chase with video game vehicles spinning around like bumper cars. During a gorey out-of-the-blue ninja assault I kept thinking how much I would love this shit if it was shot like a real movie. Sure, high contract black and white is fine, but some locations, choreography, stunts, actors working together in the same shot. You know, like a movie. Jamie Chung pretending to fly in front of a green screen does not cut it. It's cute, but this should be tough.
But in my opinion there are some stretches where the movie works. One of its best moves is casting Josh Brolin as Dwight. Of the people born in our era who should play noir anti-heroes, he's gotta be near the top of the list, and his head in hi-def is as good an argument as any against putting all that makeup on Rourke. He proves that you can find a guy that looks like he was pulled off the cover of a pulp novel, you don't gotta mold him out of rubber.
Well, I guess later they do mold him out of rubber. He's playing the character who, after plastic surgery, becomes Clive Owen's character in the first one. But Owen must not've been game for a cameo because instead they do a makeup job and wig on Brolin to imitate Owen. It's a weird idea that didn't work for me, I was so confused trying to figure out who that guy was. He kinda looks like a caricature of Aaron Eckhart mixed with Bruce when he's wearing that hilarious wig in the middle of LOOPER. Nice try though I guess.
But mostly he's my man Brolin Thunder (note: I have seen other people using that nickname lately but I would like to state for the record that I coined it years ago and almost made a t-shirt), and in this one he works a sleazy private eye job but has a good heart (while photographing an affair he ends up rescuing the mistress and giving her a ride back to Old Town). And then all the sudden he gets lured in by bad-news ex-girlfriend Ava (Eva Green) who convinces his dick that her rich husband (Marton Csokas) is an abusive psycho and it needs to protect her.
We know, and his brain knows, that he shouldn't even be talking to her, but his dick makes all the decisions and his brain doesn't even have veto power. It's a story told by a human boner that can only thrust in one direction, even if it knows better. Miller's constant first person narration is literally worshipful of Ava's sexuality, repeatedly calling her a goddess, and the camera constantly ogles her carefully digitally shadowed body as she puts it on display in the swimming pool and under see-through nighties. She's a human piece of cheese on a mousetrap. But a piece of cheese never gave you a look like that.
Like Brolin, Green was born to play this type of role. (Literally. She was trained from birth in a femme fatale colony outside of Paris.) There's not an actress who more thoroughly embodies the Scary Hot seductress, the woman who doesn't even have to hide that she's using you because she knows you're gonna come to her anyway. Green recently played a more complex version of this character type in the much better Miller-based sequel 300: RISE OF AN EMPIRE, but it's still fun to see her here. Even if the internet makes it increasingly clear that there are dudes out there who believe this is what most women are like, and is not just a trope from old detective novels.
Having actors who are game and have actual roles really helps Rodriguez out. The thing I hated most about MACHETE KILLS is that it seemed so fucking lazy, like barely even a story, just a series of half-assed cameos to prove how easy it is to make a movie at Robert Rodriguez's house. He clearly spent way more time choosing fonts for the names on the poster than planning anything worthwhile for them to do. A DAME TO KILL FOR, thankfully, feels like an actual planned story with roles for actors to play. Some of them are small parts (Bruce is cool in it but should really be an unbilled cameo) but they are parts, not shoe-horned-in celebrity guests. Ray Liotta is especially good in his one scene. Even the visual gimmick that enhances his big, crazed eyes is pretty effective. And Lady Gaga's not-bad walk-on as a waitress somewhat covers the shame of her part as "Lady Gaga posing with guns in front of a stock photo of a gas station" from MACHETE KILLS.
But there's definitely some laughable shit in here too. The biggest laugh that didn't seem intentional to me was when Powers Boothe (who is as good as you'd expect playing an evil senator) refers to his dear departed son, Nick Stahl's character from part 1, and holds up a framed photo of him. And he looks like an evil monster! In fact I'm pretty sure it was just one of the publicity stills from the movie, something like this: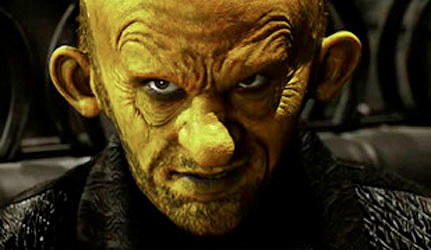 You're telling me he doesn't have one photo where his son just has a normal, non-sinister look on his face?
Okay, after writing all that I guess of talked myself into it, and I can admit it to the world: I kinda liked SIN CITY 2 REVENGE OF SIN CITY for what it was. It's something Rodriguez had help with, had been planning for years, and based very closely on a pre-existing story. So it's not enough to reverse MACHETE KILL's announcement of his death as a director.  But I guess now I'll keep a shovel near his grave just in case.
This entry was posted on Monday, December 1st, 2014 at 1:57 pm and is filed under
Comic strips/Super heroes
,
Crime
,
Reviews
. You can follow any responses to this entry through the
RSS 2.0
feed. You can skip to the end and leave a response. Pinging is currently not allowed.