Hanna (Saoirse Ronan from ATONEMENT and THE LOVELY BONES) is a young girl raised by a single dad (Eric CHOPPER Bana). She grew up away from the city and was home schooled, so she's different from other kids. And by that I mean she grew up completely isolated in a remote cabin near the Arctic Circle and spent all her time training in combat, hunting and the speaking of multiple languages. Her dad is a rogue CIA guy but instead of doing freelance work like Seagal he just spends all his time growing a Unabomber beard and turning this bright little girl into a murder machine. She's the girl Beatrix Kiddo hopes Vernita Green's daughter never turns into. Some day when Hanna decides she's ready she'll literally flip a switch that will set off a war with the bitch (Cate Blanchett) that killed her mom.

Most of the movie is about Hanna and her dad separately on the run, dad being chased by the CIA, Hanna by a gay assassin (Tom Hollander, the little prick villain from PIRATES OF THE CARIBBEAN 2-3) and his two skinhead pals. These pursuers are relentless and ruthless, killing innocent people along the way. Of course, Dad leaves his share of bodies too. But in self defense.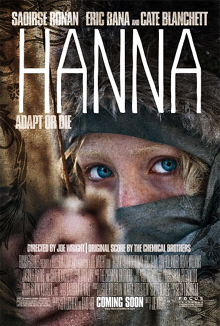 There's been some hype about the action scenes, inevitably a little exaggerated because of the embarrassing state of filmatism in theatrically released Hollywood action films. The chases are effective, but be warned that when Hanna fights it's mostly in shaky closeup like they do now. But it's fine. The good news is that Bana has two long take fights, the standout actually done in one continuous shot. Filmatically (though not in fighting style) it's similar to the one in THE MARINE 2 because the camera rotates around him the whole time.
The stunt coordinator is Jeff Imada, who's now known for the BOURNE movies but has also done traditionally decipherable stuff including most of John Carpenter's movies, RAPID FIRE, THE CROW and some of BLADE. Recently he did BOOK OF ELI which also made a good if not earth-shattering attempt to use longer takes in the fight scenes. Imada also studied Jeet Kune Do under Dan Inosanto – studied in the traditional sense, not in the living out in the snow bowhunting caribou sense. But it's still a credit worth mentioning.
The director is Joe Wright, whose previous work I haven't seen but it's PRIDE AND PREJUDICE, ATONEMENT and THE SOLOIST. Regardless of the quality of those movies they're definitely in the neighborhood of Oscar-bait, so it's cool that he's decided to follow them up with an action and revenge picture. Good for you, mister.
For the musical score he hired the Chemical Brothers (Teddy and Kevin Chemical I believe are their Christian names) so every once in a while you get some thumping computery rhythms going, but it's not one of those annoying wall-to-wall dance music type of action movies, it has to work its way up to it. Actually it seemed to me like most of the movie was music-free and quiet like THE AMERICAN.
To me an asskicking little girl is more interesting treated seriously like this than funny like in KICK-ASS. She's a little palefaced ninja running around in the snow, she knows how to snap a neck or ride the undercarriage of a car but she only knows what "music" is by what she read in a book. She's taught every detail about how to pretend to be a normal girl… everything except everything that makes it believable. When it comes down to it all she's doing is spewing out a list of made up facts. She just wants to be a girl and have her first friend but it's hard to do with her background, not to mention her situation of being on a savage mission of revenge and being hunted and all that. So it's both cool and tragic (I believe the youths would call it coolgic if they had room in their vocabulary for such nuanced emotions).
What I like best about the movie is the way it contrasts Hanna with this other girl Sophie (Jessica Barden) who she meets on the side of a road and spends some time with. It's a funny comparison because Sophie's folks talk alot about how to be good and open-minded parents, but their daughter is always disrespectful to them and embarrassed of them. Meanwhile Hanna's had about the worst childhood she could, but she's incredibly close to her dad and turned out very polite and smart. Sophie talks non-stop about pop culture and gossip and shit, Hanna is mostly quiet but can launch into memorized facts from her encyclopedia. Sophie's parents are maybe too open about adult subjects in her presence, Hanna knows so little about it that when a boy she likes tries to kiss her she flips him and just about chokes him out.
Other than the tragic past and the cold-blooded murdering Hanna seems like an ideal child and great role model for all the other brats. Sophie luckily doesn't have one of those god damn smart phones to twiddle away with, but she definitely seems like one of today's little knuckleheads with their brains twisted in 76 thousand directions per second by all the twittering and facebooking and information overload. Hanna was raised so far away from all that that she's actually terrorized by the sounds and stimuli of a sparse Moroccan hotel room.
And yet these kids really like each other. They get along well. It's sweet.
This is one of the better movies I've seen this year, I really liked it. But I don't want to hype it up too much. Its pleasures are simple. It's a pretty basic story and not too original in its general concept, but that's part of what I like about it. A simple action plot with some care, some heart and a little artiness going into the filmatism. Not too much explaining or spoonfeeding of backstory. I like a movie that's not overly complicated but leaves room for you to read plenty of depth into it if you care to. Also I like bows and arrows.