Steven Soderbergh's take on an action/spy thriller – built around "The Face of Women's MMA" Gina Carano after he saw her on Strikeforce while flipping channels around – lives up to my high expectations. It's written by Lem Dobbs and it's like the kid sister of THE LIMEY, mixing the style of that Soderbergh classic with kind of a more upbeat ex-Marine-badass-operative-betrayed-and-on-the-run type of story. It has THE LIMEY's sense of quiet, deliberate pace and dread and also its dry you-just-fucked-with-the-wrong-person type of humor. Of course, professional fighter Carano has different strengths as a performer than Terence Stamp does, so her movie has less emotion and more punching, kicking, choking, armbars, heads broken through furniture, foot chases, etc. Gina's not gonna mourn the loss of the daughter she never knew, and Terence isn't gonna climb up onto a roof. In my opinion. And it's great to have both of them.
Carano (if you haven't seen her real fights maybe you saw her cameo in BLOOD AND BONE) plays Mallory Kane, an experienced operative for a private contractor who does covert missions rescuing hostages and shit like that. She begins the movie having, you know, like… a disagreement with her colleague Channing Tatum (FIGHTING), and then she flashes back through the story of how she got doublecrossed as she hauls ass in a commandeered vehicle, headed to settle the score with her boss/ex-boyfriend (Ewan McGregor).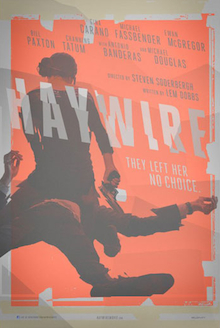 The other agents and bosses include Michael Fassbender, Michael Douglas, Antonio Banderas and Mathieu Kassovitz. The fights are choreographed by J.J. Perry (UNDISPUTED II) and are the clear highlight of the movie. We're seeing alot of MMA-inspired submission holds in action movies these days, but not usually with this kind of blunt efficiency. It almost reminds me of seeing Seagal's early movies the first time because the fights are so quick and dirty and the hits look and sound so hard. You know I love elaborate, stylized Shaw Brothers type numbers. This is the opposite of that, but it's another great approach. These characters are very professional. It always seems like they really are trying to subdue their opponent as quickly as possible, not trying to show off. No time for sadism or to stop and say a line of dialogue. The lack of music and the not-too-exaggerated sound effects also add to the sense of realism. Sometimes I felt like an eyewitness. Uh, hey guys… break it up?
Mallory's also Seagal-esque in her total domination of foes (all male), but she's not as indestructible. She tends to get knocked around at first, which makes it great when there are witnesses. It's like, oh no, look at this fuckin woman beater, he's gonna seriously hur– oh, shit. What is she doing to him? She's not quite The Terminator. She sports a number of bruises and cuts throughout the movie.
Soderbergh, thank God, agrees with us about the sad state of action filmatism. I'm happy to report that he lives up to his word, taking advantage of Carano's skills by not shooting too close up and by doing lots of long takes. And he mostly avoid handheld cameras. Check out this behind the scenes photo where you can glimpse some sort of crazy next-gen technology they're using that actually holds the camera for them: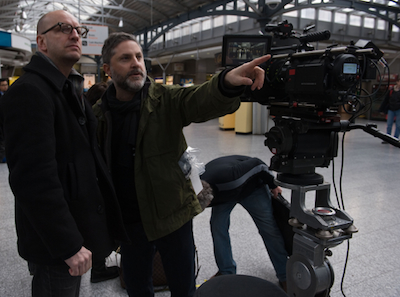 Can you believe that!? I think it's used to move the camera smoothly or possibly to hold it still and, like, point it at stuff. Kinda hard to wrap your mind around. It'll be interesting to see if other directors decide to start using this technology. I have also heard that tripods have been invented. (not verified)
I was writing somewhere else about how crazy it is that Soderbergh wanting to shoot the fights clearly is a major selling point mentioned in all the interviews, articles and reviews. I believe as recently as 10 years ago this would've seemed ridiculous to even mention. At that time it would be considered basic filmatistic competence, now it's rare enough that it's considered a novelty. Still, I think these fights would stand out even if we were in a better era for action movies. It's true that they're refreshingly against the grain, but they're also just plain good.
As long as I'm using Seagalogical comparisons I should say that this is most like the Golden Era Seagal works, where the action is more street-level violence, hand-to-hand scuffles, and less guns, car stunts or CGI. They hired Carano because of her Muay Thai and her MMA, so it would be stupid to waste a bunch of time acting like she's a champion sharpshooter. But she is on the run so they do give her a couple really exciting foot and car chases, the car ones mainly shot from inside, reminding me of parts I loved in CHILDREN OF MEN, THE DRIVER and UNIVERSAL SOLDIER: REGENERATION. You feel like if she crashes you're going through the windshield.
One little detail I noticed that illustrates Soderbergh's respect for clear filmatism is during a foot chase. The camera is looking down on Mallory running. There's a traffic light or something hanging between us and the street, but as Mallory turns she arcs right around it so that our view of her is never blocked. Almost as if they, like, planned the shot in advance.
I think all the fights are done without music, but alot of the other scenes are heavily score driven, another great one by David Holmes. It's reminiscent of OUT OF SIGHT with its driving basslines, super-tight drums and eerie electric pianos, but with horns in more of a Lalo Schifrin style. Very GET CARTER with maybe a drop or two of James Bond.
I guess some people have claimed that Carano's acting is weak. I completely disagree, I didn't notice a single poor line delivery or anything like that. But even if she wasn't as good I think that complaints like that are missing the entire reason for this movie to exist. By casting a fighter to act Soderbergh is offering an alternative to the usual practice of casting an actor to fight. Compare Carano in HAYWIRE to Angelina Jolie – an Academy Award winning (and 2-time SAG winning, and 3-time Golden Globe winning) actress who I like – playing a very similar character in SALT. Jolie's fine in the movie, but does she carry herself as convincingly as a woman who knows how to handle herself in a fight, in a double-cross, in a chase? Does she look like she's the one doing the fighting and running and jumping? Does she move on screen in ways that are as interesting, as badass? Of course not. If somebody prefers the Academy Award winning actor's version of this character it's a free country but still, you gotta be fuckin kidding me. If Carano's acting was weak it would be worth the sacrifice.
I mean, I don't think Tony Jaa's a very good actor, but I bet his version of ONG BAK is better than the version with, say, Viggo Mortensen would be. Although I would definitely watch that. Actually, maybe that's a bad example. You know what, there's room for both. Let's have both.
Joe Morgenstern of the Wall Street Journal liked HAYWIRE, but in his final paragraph as he compliments Carano for being "very much at home in a strong cast" he writes, "It remains to be seen whether Ms. Carano's star presence will take her beyond action roles, but she's certainly appealing in this one…" I'm sure he didn't mean anything by it, but it's a funny attitude that people have, as if for some reason Carano would've done this movie in hopes of eventually getting enough experience to be in a period drama or a romantic comedy or something. Like you do a genre movie as an audition for "real" movies "beyond action roles." The truth is it's usually the other way around. You do an amazing dramatic performance and then you're allowed to play a super hero or super villain (see: Eric Bana, Christian Bale, Heath Ledger, Jeremy Renner, Tom Hardy, etc.) In fact, most of the respected supporting cast here had to do years of "beyond action roles" before they would ever be cast in something like this.
But I'm sure Morgenstern would agree that it would be a waste of Carano's gifts if she tried to do non-fighting roles. At least wait until your body's getting frail, like Jackie Chan.
I like most of Soderbergh's movies, and even the ones I don't love are almost always an admirable attempt at something interesting. Who else can do both an upbeat studio movie starring George Clooney, Brad Pitt, Matt Damon and Julia Roberts, and a micro-budget partially improvised experiment starring a lady he found working at a KFC? And seem to be passionate about both? He's the only one. I love his broad range of interests, but of course my favorite movies by him are the ones where he tries to combine his commercial entertainer instincts with his thoughtful artist ones. My favorite from him is still the one that balances those the best, OUT OF SIGHT. It manages to be broadly entertaining, funny, romantic and joyful, but also a little bit mournful and contemplative. Like Elmore Leonard.
I think HAYWIRE is aimed for that same balance, but tips closer to THE LIMEY and what I consider Arthouse Badass. I'd like to think it could win over a wide audience like DRIVE did, but it didn't seem to work on the middle aged couple who talked through pretty much the entire movie, or the two little kids that some lady brought. (The kids were quieter than the adults, but afterwards one reported "I didn't like that movie that much.") I figure they might not like the way both story and character are more implied and referred to than spelled out. In the opening we don't really know what they're talking about, as the events happen they're a little confusing, eventually the explanation is pretty simple. But it's kind of like the "Rabbit's Foot" in MISSION:IMPOSSIBLE 3: it doesn't really matter that much specifically why they're after her. It just matters that she finds out. And hopefully beats some dudes up.
Same goes for the character of Mallory Kane. I mean, you know I would enjoy it if there was a "Just How Badass Is She?" line in here somewhere. But I like that they don't waste our time with some dumb backstory. Tatum tries to guess one, but (like the one the Joker tells in DARK KNIGHT) it's probly bullshit. If you need one, just make some shit up, it would've been like 2 or 3 lines of dialogue and you would've been happy. "You might think I joined the service because of my dad. The truth is, he was never there for me. Always off fighting some battle, even after he came home. I got into alot of trouble. Burglary, car theft. Eventually I took it too far, almost got killed, got locked up instead. There were two ways I could've gotten another chance: from Jesus, or from The Marines. I chose the Marines."
Blah blah blah, why do we need to know that? We know Mallory Kane through what she knows: how to avoid being tracked, where to hide, when to surrender, how to relate to cops. We know she was in the Marines, and isn't anymore. We see what her dad does, what he's willing to do for her, and also the look on his face when he sees what she does. But even that's pretty ambiguous – I read a little bit of fear, and then a little pride, but I wasn't entirely sure.
Actually the father-daughter relationship is one thing that's similar to OUT OF SIGHT, where Karen Sisco's ex-cop dad seems to be her best friend. But Bill Paxton's alot younger than Dennis Farina, or Terence Stamp. Man, we're getting old. Game over, man.
Now that I think about it I don't remember any explosions in the movie. That's weird. Maybe that's why they don't like it. Explosions are important. There's also a major sequence early on that's done kind of like a music video, with people talking but we don't hear it. Nothing too challenging but you know how people are. Sometimes they're disappointed if they don't get exactly what they expected, exactly what they got last time. Do something even slightly off-kilter and you might get sued.
I don't think it's as extreme as what happened with THE AMERICAN, but based on the Rotten Tomatoes computer machine HAYWIRE seems to be well liked by critics and not liked by "audiences." Therefore I'm afraid I shouldn't dream about the Mallory Kane series of movies that should so obviously happen. Soderbergh has said he plans to retire soon, and also that he did everything he wanted to do in an action movie with this one and can't see himself doing another one unless he thought of something new. But I think it would be great if he stayed on as a producer and helped other cool directors to take the character in different (but still clearly photographed) directions.
I mean if he really wanted a WRATH OF KANE or a LONG LIVE THE KANE I'm sure he could do it DTV if he had to. That wouldn't be that much different from what he did with BUBBLE and THE GIRLFRIEND EXPERIENCE, which were released on DVD the same day as theaters.
Oh well, I'm happy we at least got this one. That alone is a miracle. It's just so random that he happened to see Gina Carano on TV and then remembered her when his version of MONEYBALL fell apart and he kinda felt like doing a spy movie. If Soderbergh DVRd or Hulued everything he wouldn't even have known who she was to make a movie about her. Thank you, TVs and remote controls. I owe you one.
.
.
.
(Note: I think this is the fight Soderbergh saw, or at least it's the one she'd just had before he met her. She didn't want to go because she still had a black eye.)
This entry was posted on Sunday, January 22nd, 2012 at 1:01 am and is filed under
Action
,
Martial Arts
,
Reviews
,
Thriller
. You can follow any responses to this entry through the
RSS 2.0
feed. You can skip to the end and leave a response. Pinging is currently not allowed.