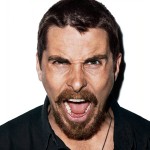 I got mixed feelings about this piece because it works on one level but then in my opinion it oughta work on another level too. This is the movie version of the controversial book about Pat Bateman, the yuppie who is obsessed with designer clothes and mutilating women.
In the movie, Pat says right upfront that he has no insides, but I don't think he really believes it. I think some part of him believes that because he has this secret life stabbing homeless dudes and chainsawing women, he is a little bit different from all the soulless, materialistic businessmen he keeps getting confused with. He has something that makes him stand out. And not to give anything away, because I'm not sure I really understood the ending otherwise I would give it away, but I think it has kind of an ironic Twilight Zone type ending that all this may have been a delusion so he doesn't even have THAT to make him unique. The sap.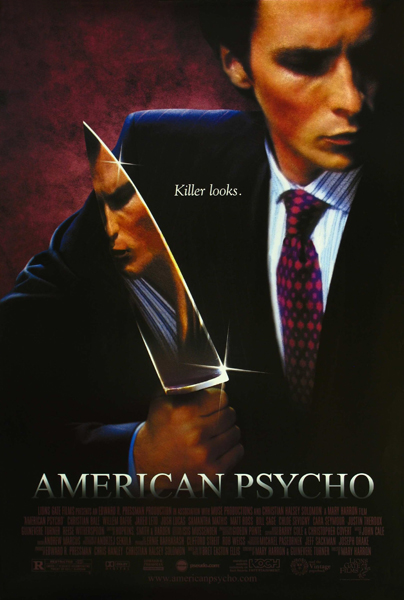 Well unfortunately I think the movie is kind of the same way. The surface is all real good, but it is operating under the delusion that it has something underneath too. And I mean it really makes a run at it. But in the end, like Pat, you realize that maybe there really is no insides at all.
I mean let's be honest folks, making fun of yuppies in the '80s is like sharpshooting the side of a really big barn. Not that the movie doesn't do a good job of shooting the barn. I laughed at alot of this stuff. I liked all the shots of the fancy food that is too small for the plates. I liked how every restaraunt has it's own oversized novelty menu. And I like how when all the yuppies discuss the fonts on their new business cards, dramatic music plays and the intensity of Pat's eyes tells us that he has been driven to murder.
Christian Bale, the dude that plays Pat, is PERFECT. I can't imagine anyone else more perfectly summing up the essence of this character, from his snobby ass conversational tone to his toned abs. His pretty hair do, muscular body and smooth, tanned complexion look so authentic that this movie can be hilarious just by showing him run around naked holding a chainsaw.
And the little details of Patrick's empty life are very funny, from his detailed monologue about which facial cleansers he uses in the morning to the way he meticulously tapes newspapers to the floor before a murder – not to hide evidence, I'm sure, but to protect the carpet. Jesus, Pat. You're a real american psycho in my opinion.
But when it comes down to it, I mean, we all know that yuppies are a bunch of fucks. I mean okay, maybe there's one or two individuals out there living in a rock in zimbabwe that don't know that yuppies are a bunch of fucks. But even those individuals, I would say there is about an 80, 85% chance they are either retarded or just call it something else besides "yuppie," because the zimbabwe culture is different.
Anyway, this is not new information, this thing about the yuppies. There needs to be a little something more to connect this satire to ourselves or at least to '90s equivalents of Pat.
So if you look at this just as a slasher picture with a gimmick, it's a pretty good one. I mean if you're thinking along the lines of Maniac Cop, Ice Cream Man, Uncle Sam, Leprechaun, Jack Frost, Dr. Giggles, etc. then this is a pretty damn good one. I mean REAL damn good. The attention to detail and what not goes above and beyond the call of citizenship or whatever the saying is. But if you want it to be Clockwork Orange or Fight Club or even Maniac then you can for fucking get it. It's not scary or an Important Satire of Our Times but yes, it is funny and I look forward to American Psycho In the Hood or some other straight to video sequel with Ice-T and Mario Van Peebles.